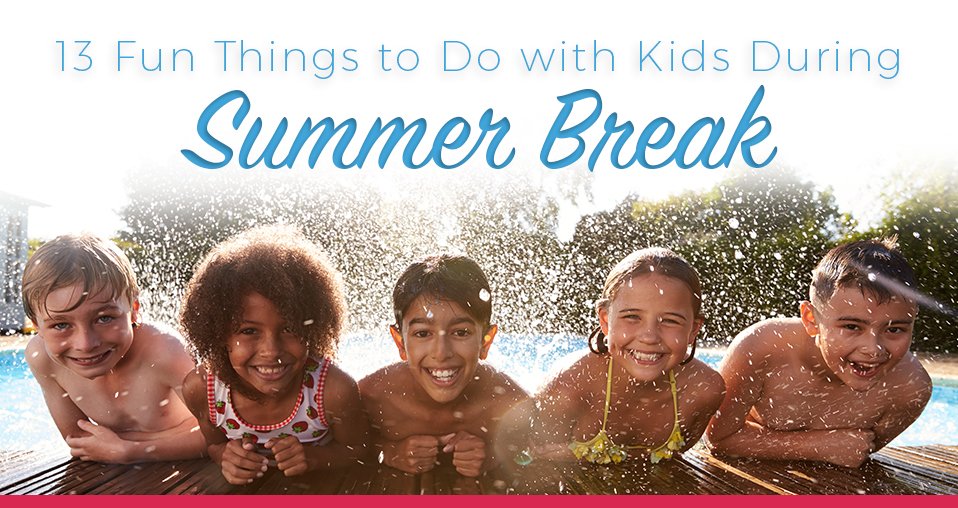 School's out for the summer, which means it won't be long before you hear, "I'm bored!" Organized activities keep the sibling spats to a minimum — and many offer an educational element as a bonus. Check out these easy, fun activities for kids to fend off summer boredom!
Plant a Garden
When it comes to summer activities for kids, gardening is one of the best ways to help your kids learn. They learn how to care for plants properly and they get a hands-on lesson in science. Plus, it's an ongoing project that keeps your child engaged throughout the summer.
You don't need a large backyard — or any backyard at all, really — to grow a garden. Here are some gardening ideas with options for every type of home:
Container garden: Grab a few pots and plant your favorite flowers or veggies. You can fit small pots of plants on a small deck or patio. You can even plant a small container herb garden indoors if you don't have any outdoor space.
Vegetable garden: If you have space in the ground, plant a traditional garden with your child's favorite veggies. Raised garden beds are an easy way to grow the plants even if your soil isn't the best.
Themed garden: Have a little fun with your garden by choosing a theme. Salsa gardens and pizza gardens are two options. Plant the veggies you need to make the food. For instance, plant tomatoes, peppers, cilantro, garlic and onions for a salsa garden. After harvesting the veggies, make the dish. If you prefer flowers, plant a butterfly garden with lots of plants to attract them.
Sunflower house: Combine gardening and play with a sunflower house. Plant sunflowers in a square shape with a gap for a door. As the flowers grow, they form the walls of a fun "house" for your child.
Play Water Games

When the sprinkler and kiddie pool get boring, break out some new water game ideas to keep cool and have fun. Try one of these water activities:
Water balloon piñatas: Add a watery twist to the traditional piñata with water balloons. Fill several water balloons and hang them from a branch with string. Let your kids take turns swinging at the balloons until they pop!
Sponge balls: Regular kitchen sponges become fun water toys with a few easy steps. Cut the sponge into strips about a half-inch thick. Place them side-by-side in a bundle. Tie a string or twist tie in the middle. The ends of the sponge spread outward to create a ball-type shape. Soak the sponge balls in water and throw them at one another. They're like water balloons, but you can keep reusing them.
Water limbo: Grab the hose and challenge the kids to a game of limbo. Hold the hose so it sprays a horizontal water stream. The kids take turns doing the limbo under the water stream. Lower the water after each round.
Water gun tag: Instead of a free-for-all water gun fight, use the toys in a tag game. Only the person who's "it" gets a water gun. Tagging happens when the person who's "it" hits someone else with water from the water gun. Hand off the water gun to the new person.
Water gun ball race: Another way to play with water guns is with a ball race. Each person has a small, lightweight ball and a water gun. Choose a start and finish line. Players move their balls from start to finish using the spray from the water gun to move the ball.
Volunteer
Teach your child to give back while getting rid of summer boredom by volunteering. Many charitable organizations let kids volunteer with a parent accompanying them. Let your child find a local charity for a cause that's meaningful on a personal level.
If you can't find an established charity with volunteer opportunities for kids, come up with your own community service projects. It could be as simple as cleaning up the neighborhood or offering to clean up sticks in a neighbor's yard. Help your child look around your community to find problems or areas of need and then do something about it together.
Organize a Scavenger Hunt
Scavenger hunts keep kids active and they're lots of fun. Create a list of items to find based on your location. For example, you might hold the scavenger hunt in your neighborhood, at a local park or along a hiking trail. The items found on each of those lists would be very different. Have the kids collect physical objects, take photos of the items or simply check the box when they find the items on the list.
One fun option is to create a farmer's market scavenger hunt with the produce you want to buy as items on the scavenger hunt list. When you get home, use those ingredients to create a meal.
Create a Summer Bucket List
A summer bucket list is a great way to fit in lots of fun things. Get a large sheet of paper or poster board. Write a list of all the places you want to visit over summer break. Draw a small box in front of each item so you can put a check mark in the box when you complete it.
The activities and locations don't have to be extravagant or far away. This is the perfect way to check out all those local attractions you might normally skip. Here are a few ideas to get you started:
Zoo
Children's museum
Science center
Botanical gardens
Arboretum
Beach
Berry picking farm
Farmer's market
State park
Local lake for boating or fishing
Fish hatchery
Butterfly garden
Amusement park
Mini golf
Bowling
Water park
Zip lining
Roller skating
Batting cages
Arcade
Summer festival
Horseback riding
Local sporting events
Drive-in theater
Make a Park Passport
Check out some new parks this summer by creating a park passport! Start with a mini notebook or pieces of paper folded and stapled to create a mini book resembling a passport. Decorate the front cover. Inside, write the names of different parks in your area with a page for each one. After visiting a park, place a stamp on the corresponding page.
Let the kids write a few sentences or draw a picture to represent the trip to the park. See how many stamps you can get on your park passport by the end of the summer.
Cook

The summer heat can keep you indoors in the air conditioning. When you're inside, head to the kitchen to whip up lots of fun recipes. Cooking is the perfect way to teach your child a basic life skill. You also mix in a little math and science without boring textbooks or worksheets, making cooking one of the best educational summer activities for kids.
Start by decorating a plain apron as a fun summer craft project. Fabric paints work well to customize the apron. Keep the decorated apron handy all summer for your cooking experiments. Another way to make summer cooking projects fun is by supplying your child with a separate set of cooking utensils, measuring tools and other cooking accessories.
With the basic tools in place, it's time to go over some basic kitchen safety rules. Emphasize the importance of never using knives, the stove or small appliances without permission and supervision from an adult. Teach your child the importance of washing their hands and observing food safety rules. Start with some basic recipes, so your child can practice basic cooking and safety skills.
Keep these tips in mind when cooking with kids:
Delegate age-appropriate tasks: Part of safely cooking with kids is assigning age-appropriate activities. Consider your child's age, coordination and ability to follow directions when deciding which tasks to let your child.
Always supervise: It's never safe to leave a child alone in the kitchen during cooking. It only takes seconds for a child to pick up a knife, touch a hot stove or stick their fingers in a moving mixer.
Let your child plan: Getting kids involved in the entire cooking process, starting with selecting what to cook, gets them more excited about the project. Use kids' cookbooks or Pinterest to help your child find cooking activities.
Leave enough time: Cooking with kids always takes more time than cooking on your own. Choose a time when you aren't rushed to cook with your child so you don't get frustrated by the extra time it takes to get the food on the table.
Integrate learning: Cooking is an educational activity, but you can enhance the value even more with a few steps. Let your child read the recipe and verify the amount of ingredients to add. Have your child find the correct measuring utensil or point out the correct measurement line when pouring the ingredients.
Let messes happen: It's tough to clean without at least a little mess. Kids seem to multiply the messiness. Go into the activity knowing the kitchen will end up as a mess. Having this expectation upfront can make it easier to handle in-the-moment.
Write a Book
Inspire your child's imagination by writing and publishing a book this summer!
Start with the writing and illustration process. Scan your child's artwork to create a digital image. Photographs also work for the book's illustrations. Upload the text and illustrations to your computer so you can make a hardcover photo book of the story. Most online vendors who sell personalized photo gifts also offer hardcover books. Seeing the story and illustrations in a physical book form makes writing more exciting.
Participate in Reading Programs
The kids may grumble when you ask them to read during the summer, but reading programs can help inspire your child to pick up a book. Reading is the perfect way to cool off in the air conditioning and it helps keep those important literacy skills sharp during summer break.

Check with your local library for reading programs. Many libraries host their own programs with fun prizes for reaching certain goals. Bookstores and even some restaurants or other businesses may also host reading programs.
Another option is to come up with your own incentive program to encourage your kids to read. Come up with rewards for reading a certain number of books or for a certain number of minutes. You might treat your child with a trip to the ice cream shop after reading 10 books, for instance.
Make Wearable Crafts
Crafts inspire creativity — and wearable crafts are functional long after you make them. Tie-dye is an easy option for creating wearable art. If possible, do the tie dye outdoors to avoid permanent stains inside your home. You can tie dye shirts, headbands, socks and other clothing items for a fun look.
Bracelets are another easy wearable craft option for summer fun. Gather different types of string, beads and other decorations and let your child get creative.
Look at thrift stores or garage sales for secondhand items that can use some updating. Purses, shirts and shoes work well. Let your child use fabric paint, sequins, beads and other craft supplies to decorate and personalize the piece. It's an inexpensive way to bulk up your child's dress-up clothes bin.
Stargaze
You don't need a telescope to enjoy a little stargazing on a clear summer night. Grab some blankets and pillows to make a comfy viewing spot. One fun option is to blow up a large inflatable kiddie pool and pile the blankets and pillows inside. Download a star app on your phone so you can spot the various constellations in the summer night sky. Or, you can get creative and make up your own constellations based on what you think the stars look like.
Camp in the Backyard

Camping is a popular way to pass the time during summer, but you don't have to load up the car to spend the night under the stars. Pitch a tent in your backyard for a quick camping getaway. It's the perfect way to give camping a try. If little campers decide they prefer indoor sleeping, you can simply head indoors for the night.
Perform Science Experiments
Encourage your child to be a scientist this summer with fun science experiments. You sneak in a little learning disguised as fun. Moving the science experiments outdoors during summer keeps the mess out of your home, but most of the activities work indoors as well.
Here are some fun science experiments to get you started:
Colored flowers: Demonstrate how plants draw in water with white carnations. Tint the water with food coloring. Place the white carnations in the water. Watch over the next few days to see how the flowers change colors.
Baking soda reactions: Combine art and science with this experiment. Tint vinegar with different colors of food coloring. Cut a piece of watercolor paper into a fun shape. Cover it with a light layer of baking soda. Use droppers to place tinted vinegar on the baking soda. As the two ingredients react, the color spreads on the paper. You get a beautiful watercolor effect when you're done!
Mentos and Coke: If you're up for a messy outdoor science experiment, reach for the Mentos and a two-liter bottle of Coke. Drop the Mentos in the bottle quickly and step back to watch the geyser of soda.
Shiny pennies: Experiment with various cleaning methods to turn dull old pennies into shiny treasures. Grab several different safe household materials, such as vinegar, baking soda, lemon juice and other items your child wants to try. Use the items to clean the pennies. Note which materials do the best job of making the pennies shiny and like new.
Your Imagination Is the Only Limit!
With a long list of fun summer activities for kids to do at home, you're ready to conquer summer boredom. How will you spend summer break with your kids?