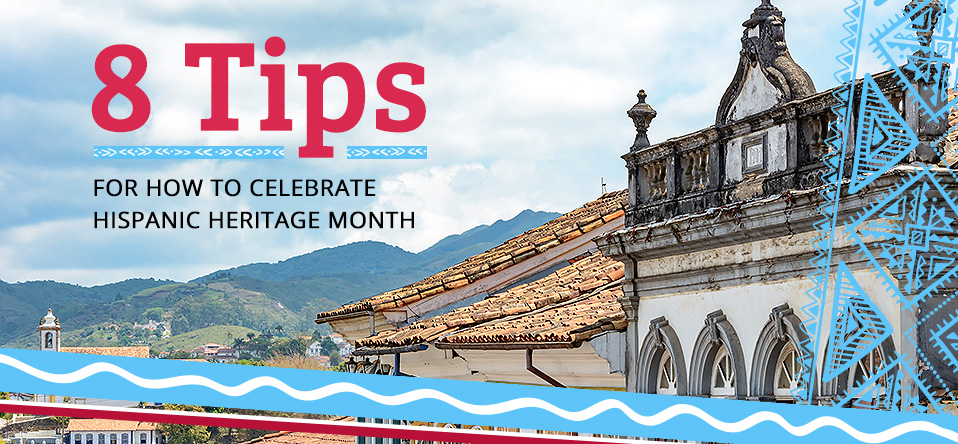 What would the holidays be without Jose Feliciano's "Feliz Navidad"? Can you imagine baseball without Ted Williams, Sammy Sosa, Mariano Rivera or Roberto Clemente? These contributions and others hailing from Spanish-speaking countries around the world have imprinted themselves on our American way of life in countless ways, and it's time to honor them.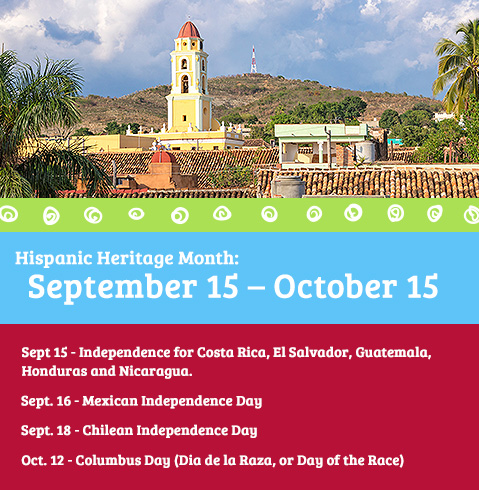 Hispanic Heritage Month runs from September 15 to October 15 each year, and that timing is significant: September 15 is the anniversary of independence for the Latin American countries of Costa Rica, El Salvador, Guatemala, Honduras and Nicaragua. Mexico and Chile celebrate their independence days on Sept. 16 and 18, respectively, and Columbus Day (Dia de la Raza, or Day of the Race, a holiday in many Latin American countries) falls on Oct. 12.
It's set aside as a time for Americans to celebrate the histories, cultures and contributions of the people of Spain, Mexico, the Caribbean, Central America and South America. Initially established as a one-week celebration in 1968 under President Lyndon Johnson, President Ronald Reagan expanded it to a month in 1988, to acknowledge the growing Hispanic population in our country.
A population growing by leaps and bounds each year. According to the U.S. Census in 2010, 50.5 million people in the U.S. (16 percent of the population) identified as Hispanic or Latino, making it the largest ethnic minority in the nation. By 2013, that number had already jumped to 54 million Americans.
So, this year, why not try recognizing Hispanic Heritage Month by partaking in Hispanic traditions and honoring the many ways in which Hispanics have enriched our lives? If you're not sure where to start, never fear. Here's a list of eight suggestions for how to celebrate Hispanic Heritage Month.
1. Honor Hispanic People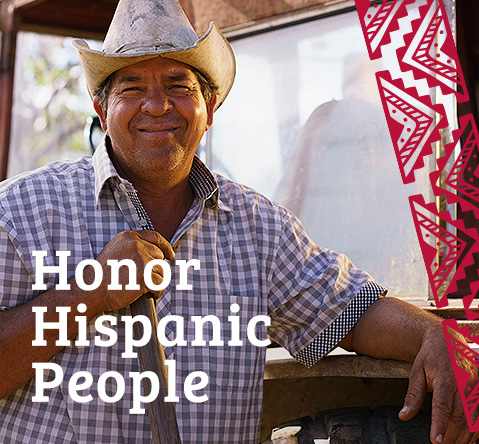 It would be impossible to list all the contributions made by Hispanic people to American life. But there's no celebrating Hispanic Heritage Month without paying tribute to a few.
Read "My Beloved World," the autobiography of Sonia Sotomayor, a New Yorker of Puerto Rican descent who, in 2009, became the first Hispanic American to serve on the U.S. Supreme Court, as well as only the third woman to serve in the entire 220-year history of the nation's highest court.
Visit a farmers' market and give thanks to the United Farm Workers union (formerly the National Farm Workers Association), founded by Cesar Chavez, a revolutionary Mexican-American who dedicated his life to nonviolent protest in support of humane treatment of workers and civil rights. His union fought against pesticide use, low wages and cruel working conditions for farm workers.
You might also simply enjoying watching TV in color this month — thanks to Guillermo González Camarena, a Mexican engineer from Guadalajara who invented the color wheel component that helped make black and white TV a thing of the past.
2. Appreciate Hispanic Art
Visual art is one of the few ways in which we can experience a culture. Latino landscapes, portraits, social or political issues and cultural touchstones all can be found in the work of Hispanic artists. Look for opportunities near you to experience their works. Many museums and galleries feature the work of Hispanic artists during Hispanic Heritage Month. The National Association of Latino Arts and Culture provides information about initiatives or arts programs around the country.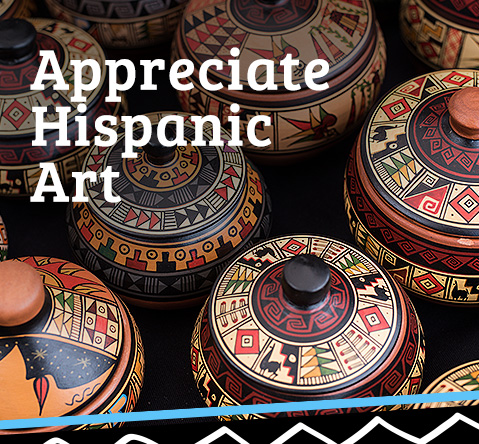 Alternatively, explore from the comfort of your home. Peruse the Smithsonian Institute's online exhibition, "Our America: The Latino Presence in American Art," with works created by artists of Mexican, Cuban, Puerto Rican and Dominican descent since the 1950s.
Though its written content is entirely in Spanish, the beautiful collections found at El Museo Nacional del Prado, Spain's premier museum, have no language barrier. The 200-year-old museum has the largest collections of Bosch, Titian, El Greco, Rubens, Valázquez and Goya in the world. Delight in perusing the website and discovering some of the world's greatest works of art and the masterful artists who created them.
Though they may not be half as well known as those found at El Museo Nacional del Prado, Mexican folk artists are prized for their functional, handmade pieces depicting their experiences and traditions. Created by indigenous people, peasants or craftsmen without formal training, folk art pieces often include pottery of many styles, as well as wood carvings, blown glass, lacquerware, masks, metalware, textiles and wall crafts. If you're in the Chicago area, stop in at the National Museum of Mexican Art — admission is free — or visit one of the many museums around the West that house Mexican folk art, which are listed on the Los Amigos del Arte Popular's website.
Moreover, why not try your hand at your own Mexican folk art? With just a plain terracotta pot and some brightly colored acrylic paints (try red, white and green for the Mexican flag!), you can create a colorful, hand-painted pot in the style of Mexican folk art, incorporating dots, zig zags, triangles and stripes.
3. Read Hispanic Literature
Immerse yourself into the lives and times of some of the world's greatest writers. Read the poems of 1971 Nobel Prize-winner Pablo Neruda, a Chilean who was awarded the prize "for a poetry that with the action of an elemental force brings alive a continent's destiny and dreams."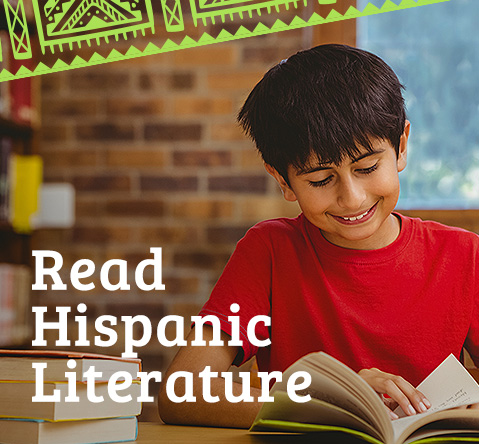 Read one of the most important novels ever written, "El Ingenioso Hidalgo Don Quijote de la Mancha," also known as "Don Quixote de la Mancha," written by Miguel de Cervantes, a Spanish writer and poet of the Spanish Golden Age. The novel is considered the first "anti-romance" because it dispels the myth of the shining knight on a white horse by telling the story of a man who goes mad upon reading a book of ballads and decides to become a knight.
Discover the work of Sor Juana Inés de la Cruz, a Mexican nun who wrote numerous poems, essay and plays. She is considered one of the most important writers of the Spanish language. Her calling forced her to surrender her library and give up her writing.
On the other hand, open the pages of "Love in the Time of Cholera" or "100 Years of Solitude," the internationally acclaimed novels by Gabriel García Márquez, a Colombian author and winner of a 1982 Nobel Prize. Described as "magical realism," his works combine elements of fantasy with conventional storytelling that depicts his heritage and the Hispanic experience.
4. Listen to the Music of Talented Hispanic Performers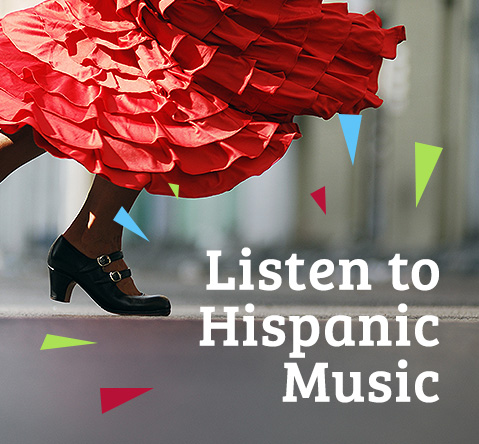 Broadway aficionados are certainly celebrating Hispanic Americans these days. After all, the smash hit "Hamilton," a hip-hop musical based on the life of founding father Alexander Hamilton, was written by Lin-Manuel Miranda. (He also plays the lead role) Miranda, a Puerto Rican, stole the 2016 Tony Awards when his musical won a record-breaking 16 Tony nominations and took home 11 of them. Can't make it to Broadway this month? Pick up the soundtrack, which is now the biggest-selling cast recording in American musical history.
Watch "West Side Story" or "The King and I" and dance along with Rita Moreno, the Puerto Rican star of those films whose body of work earned her all four American entertainment awards: Academy, Tony, Grammy and Emmy.
Of course, there's also the music of such beloved Hispanic musicians and singers as Jennifer Lopez (whose family were Puerto Ricans), Shakira (a Colombian), Ricky Martin (a Puerto Rican), Christina Aguilera (whose father is Ecuadorian), Gloria Estefan (a Cuban), Carlos Santana (a Mexican-American) and Tito Puente (whose family were Puerto Rican).
5. Discover Hispanic-American History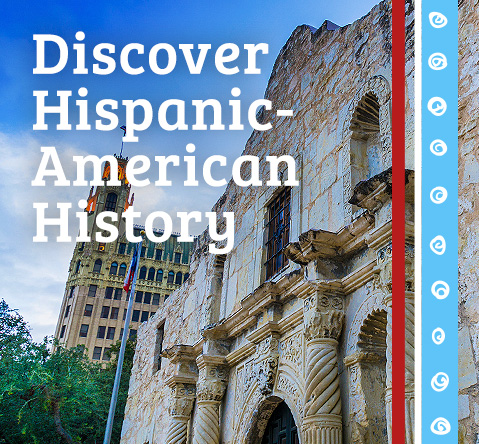 You may not realize just how pivotal a role Hispanics have played in the shaping of American history. Go back 500 years to when Spanish explorers discovered California, Florida, the Southwest and the Mexican states. Later, during the Revolutionary War, Bernardo de Gálvez, the governor of the Louisiana Territory, sent weapons and supplies to General George Washington's army. The Treaty of Guadalupe Hidalgo ended the Mexican War, helping the U.S. to gain Texas, New Mexico and Upper California. Since its founding, the U.S. has been deeply influenced by the Spanish-speaking world.
>Immerse yourself in the history of Hispanic Americans by watching "Latino Americans," a 2013 PBS special detailing the histories of Latinos from the first European settlements to today. The website for the special contains episodes, a timeline of events and even an opportunity to share your own video story of what being Hispanic means to you, and how you celebrate your heritage.
You might even choose to explore some history face-to-face by visiting one of the many Hispanic Heritage Sites in America. These include The Palace of Governors in Santa Fe, NM; the Hispanic Society of America in New York City; the National Cesar Chavez at La Paz property in Keene, CA; the Forts of Old San Juan in Puerto Rico; and the El Centro Español de Tampa in Florida's Latin Quarter. In addition, the National Register of Historic Places identifies properties that are significant for Hispanic heritage, including St. John the Divine Catholic Church in Kansas City, KS; Chicano Park in San Diego, CA; Lerma's Nite Club in San Antonio, TX and many others. Examples of Spanish architecture abound in many of these places.
6. Have Fun the Hispanic Way
Celebrating Hispanic Heritage Month should include fun. Try a few cultural traditions of the Hispanic world.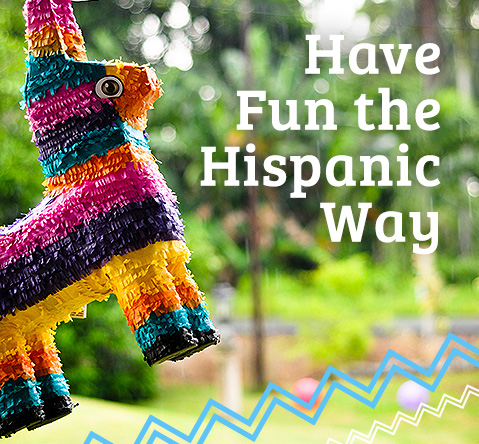 Play Toma Todo, a game from Mexico. With a top made of paper, called a pirinola, each player takes a turn spinning the top and following the instructions that are facing up and either takes or replaces chips from the "pot" in the middle of the players. The player who has the most chips wins.
And what's a Hispanic celebration without a piñata? Drop by any party store to pick one up, or make one with a balloon, papier-mâché and whatever treats or toys you decide to fill it with. Players take turns whacking the piñata with sticks while blindfolded (and, optionally, dizzy) till it bursts open and spills the treats inside. History has it that Marco Polo brought the idea to Italy and Spain, and missionaries brought it from Spain to the New World. The traditional shape of a piñata — a sphere with seven conical points symbolizing the seven deadly sins — was said to contain the pleasures of life. The person batting it with a stick was meant to represent faith, which can defeat evil, with the treats inside being the sweet rewards to follow.
Or, why not take yourself for a Hispanic-themed shopping spree? Visit Zara, one of Spain's most famous clothing lines and one of the world's largest and most successful fashion retailers.
If nothing else, you could always try a little Spanish on for size, just in honor of the month. Learn some basic Spanish phrases, such as hello, goodbye, please, thank you, how are you, I'm sorry and you're welcome. Practice them throughout Hispanic Heritage Month. De nada!
7. Explore the Hispanic World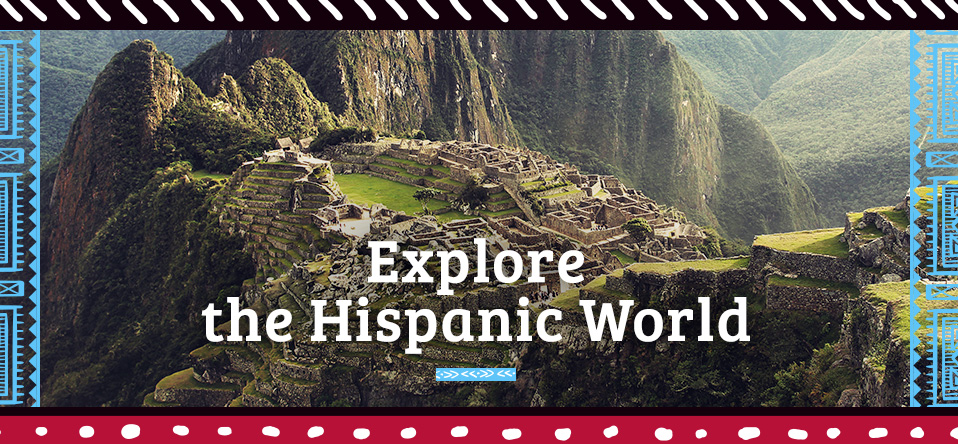 Whether you're a globetrotter or an armchair traveler, you can explore American sites steeped in Hispanic culture.
Locales in South and West Texas, Puerto Rico and the Virgin Islands, the American Southwest, the California Coast, the Georgia-Florida coastline, Florida shipwrecks and Santa Clara, CA all are among those listed on the National Park Service website as areas where Hispanic heritage is demonstrated in national parks. The NPS is enhancing its interpretive services, its collaborations with community organizations and its production of scholarly documents as part of its American Latino Heritage Projects efforts.
Whether you take a family trip or simply peruse the NPS website, you'll learn a lot about the Hispanic heritage that is part of America's most beautiful places.
Why not actually visit some Latin American or Spanish-speaking destinations? Do as the Hispanics do — a recent study reveals that Hispanics take more time off work each year than Americans do, and they visit more destinations of personal significance. Enjoy a little time off for Hispanic Heritage Month and visit some of the most stunningly beautiful and culturally rich nations in the world.
Brazil's beaches and colonial sites are prized destinations, and Buenos Aires, Rio and Machu Picchu, the Incan citadel in Peru, are can't-miss South American locales. Costa Rica is one of the most biologically diverse countries in the world, and it's one of the most popular tourist destinations, with more than two million visitors a year.
But some of the off-the-beaten-path destinations are worth a visit as well. Consider Cartagena, Colombia, where you can enjoy gorgeous beaches or visit old Spanish forts. Visit Punta del Este in Uruguay and scale the giant, concrete hand rising from the quiet, white sand beaches, or traverse the dunes and cliffs along the coast. The beach at Viña del Mar in Chile is near Pablo Neruda's house and offers colorful charm.
If sapphire water is your thing, check out The Great Blue Hole in Belize — a submarine sinkhole considered one of the best scuba diving locations in the world. It's the second-largest reef system, just behind the Great Barrier Reef. Alternatively, you might consider Lake Titicaca in Bolivia, set in the Andes Mountains of Peru and Bolivia, which offers a nearly perfect reflection of sky for a spectacular vista.
Explore Mayan ruins set amid the jungle in Tikal, Guatemala, a World Heritage Site. And if you're visiting Machu Picchu, you might also pop into Cuzco, Peru, the former Incan capital, featuring breathtaking architecture.
Feel like a little adventure? Hop on over to Angel Falls, Venezuela, for the tallest waterfall in the world, which sits at 3,212 feet. You can even hitch a ride in a helicopter to see the view from the top.
But you don't need to leave the country to explore Hispanic destinations. According to AARP, some of the U.S. cities where Hispanic culture flourishes are:
Philadelphia, PA: In the Fairhill neighborhood, visit El Centro de Oro, home to Latino restaurants, bookstores, music stores and galleries.
Tubac, AZ: This city, just a half-hour from the Mexican border, is steeped in Hispanic culture and traditions, which are often celebrated in its festivals, arts and foods.
St. Louis, MO: The city's thriving Hispanic population is felt in area grocery stores, restaurants, art galleries and music houses, where Latin music pours from its doors.
Trenton, NJ: Visit the New Jersey State Museum, which houses a permanent collection of Latino artwork.
Santa Ana, CA: A full 78.2 percent of Santa Ana residents speak Spanish as their first language, and Sept. 16, Mexican Independence Day, is celebrated with fervor here.
Salt Lake City, UT: With 22 percent of the population being Hispanic, Salt Lake City offers quite a lot of Latino culture. This includes the Utah Brazilian Festival, the Peruvian Festival and the Mexican Fiesta.
Finally, if your budget doesn't allow for a Hispanic travel adventure, take a virtual trip. Talk to a Hispanic family member or friend about their background, traditions and experiences. You're sure to learn a lot without ever leaving home.
8. Dine the Hispanic Way
A life without chips and salsa, tacos, guacamole, tamales, burritos, enchiladas, chili, margaritas or black beans and rice just might not be worth living. In the U.S., often times the places that Hispanic influence is most evident in is in what, and how, we eat.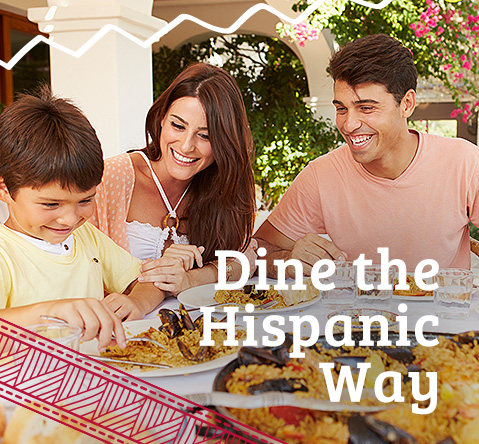 Take, for instance, the fast food industry. According to The Washington Times, sales of tortillas now outpace those of hamburger and hotdog buns, and salsa has surpassed ketchup as America's favorite condiment.
One of the best ways to celebrate Hispanic Heritage Month is to visit a Hispanic restaurant. Mexican and Tex-Mex restaurants abound, but why not give El Salvadoran a try, with its pupusa, a thick handmade corn or rice flour tortilla stuff with meat, cheese and refried beans? What about Cuban, Peruvian, Argentinian, Chilean or Spanish cuisine? Look for opportunities to sample Colombian arepas, a food made of ground maize dough or cooked flour; Cuban picadillo, or hash; Costa Rican gallo pinto, a rice and bean dish; Spanish paella, a flavorful combination of rice, spices, meat and seafood; or Peruvian ceviche, a dish of raw seafood cured in citrus juices and peppers.
You might even want to throw a fiesta! Stop by your neighborhood Mexican carniceria, or meat market, and pick up a few pounds of carne asada, which is thinly sliced beef marinating in juices and spices, or hit the local panaderia, or Mexican bakery, for some pastries and sweet breads. Then whip up some margaritas and a taco bar, blast some Cuban rhythms, hang a piñata and dance the night away.
Your food will be even better if you've planted a Hispanic heritage garden, in which you've grown staple crops common in the Spanish-speaking world, including corn, beans, squash and peppers. This is a great way to get your kids involved in recognizing Hispanic Heritage Month.
Mix up some fresh tortilla soup or spicy black beans with rice in a Ceramcor ceramic Caldero sauce pot, and serve it up to fiesta guests, or make it as a delicious dinner for your family at home. Though traditional Mexican cooking often uses earthenware or clay pots, noted for the unique flavor they contribute to foods, these pots often contain lead glazes, which are not safe for food use. It's often difficult to find lead-free Mexican pots, so make sure you buy from a Caldero brand with a superior reputation, like Ceramcor which makes Xtrema ceramic Calderos and Ovenex burrito bowls.
Ceramics are incredibly versatile, as they're able to go from extreme heat to extreme cold, and they can be used to store food in the refrigerator. They can even go in the microwave. Their attractive surface stands up to scrubbing, and they make beautiful serving dishes. They are the least reactive cookware out there, and they're perfect for one-pot meals, which are staples of Hispanic cuisine, from arroz con pollo (chicken and rice) to paella, albondigas or tortilla soups, black or refried beans, Spanish chorizo and potatoes, burritos, enchiladas or pulled pork tacos.
So pour yourself an icy margarita, slather some guacamole on a chip, dance the merengue and pay tribute to the thousands of ways in which Hispanic nations have touched our lives. Try celebrating Hispanic heritage all month long, and perhaps the rest of the year, too.