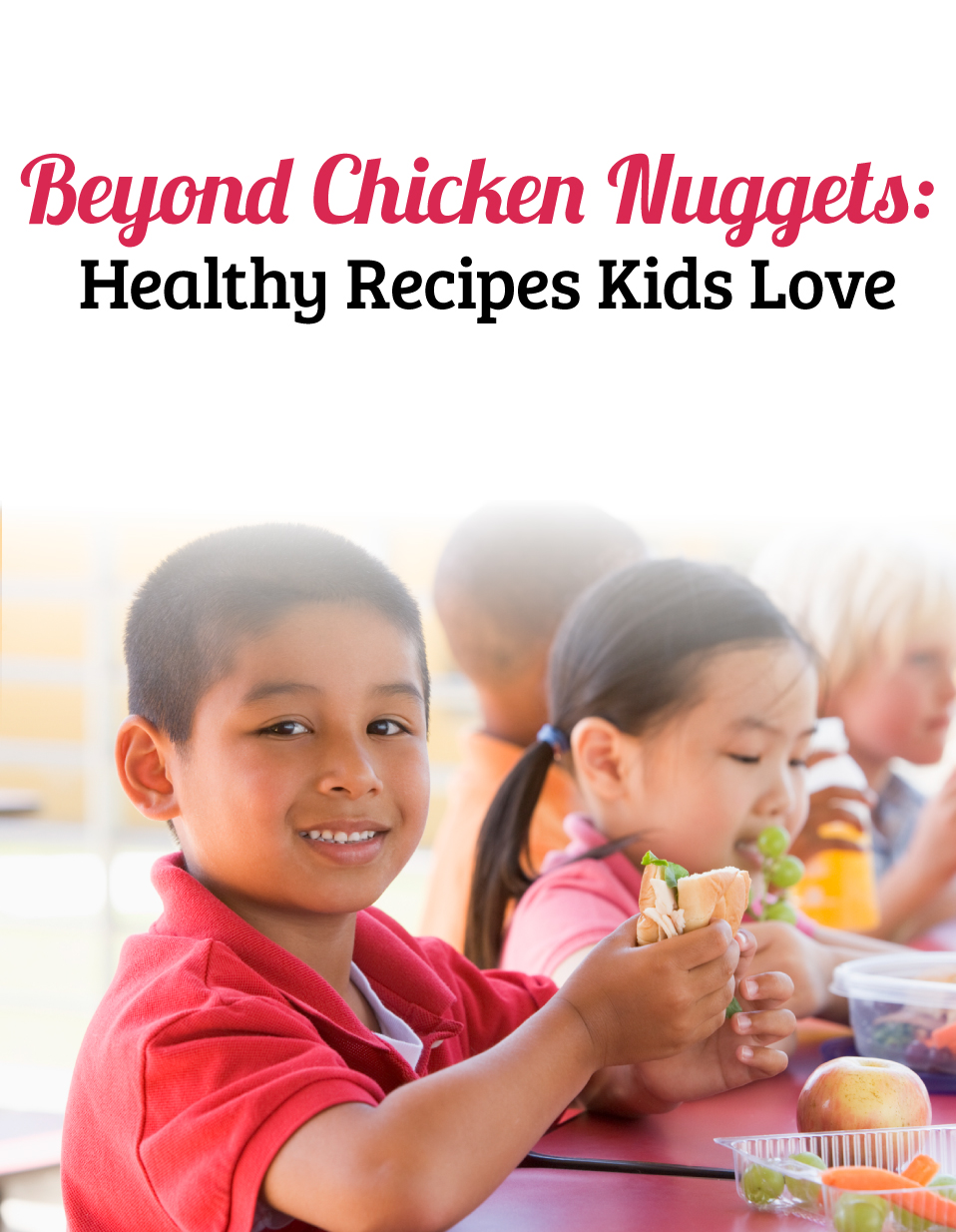 When dinnertime rolls around, it often comes with a heaping side order of headaches, whining and a laundry list of demands worthy of a busy restaurant full of hungry diners. Picky eaters present a major challenge on a nightly basis — do you cave in and whip up another batch of Kraft Easy Mac or slip another frozen pizza in the oven?
If you're cooking for kids and are sick and tired of chicken nuggets, Hot Pockets and PB&Js, it might be time for a change. Kids' foods tend to be carb city with no meaningful nutrients — no greens, no healthy fats, no Vitamin A, C or D. Get your head out of the microwave and whip up something a little more inspired.
Rather than cleverly add pureed kale to an unsuspecting batch of brownies, we suggest you try recipes for picky eaters that will win your children over. We've rounded up some recipes kids love — without any dubious trickery — that you'll gladly eat alongside them.
 
 
 
 
 
 
 
 
 
 
 
Alphabet Soup with Veggies
A cute way to practice for the upcoming spelling test, as well as get some valuable veggies, this easy soup is a great meal for the little ones, and the perfect side soup for Mom and Dad. We think they'll be calling out for a second serving of veggies with this one.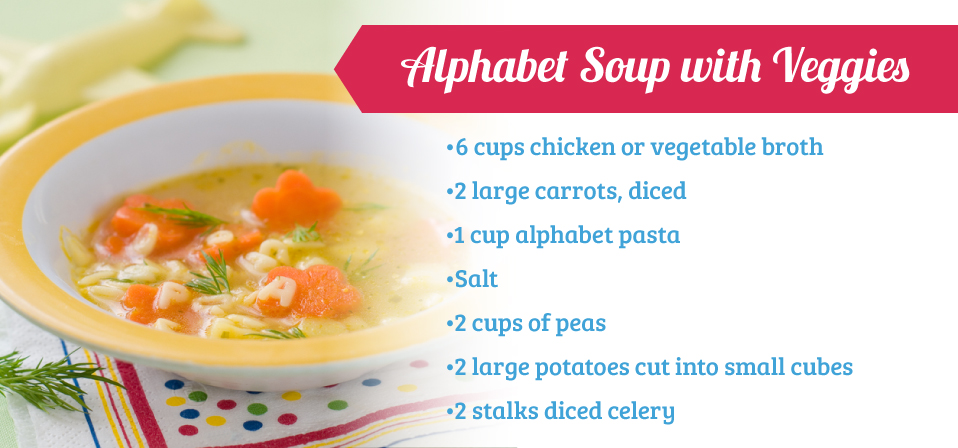 Ingredients
6 cups chicken or vegetable broth
2 large carrots, diced
1 cup alphabet pasta, or if you're feeling less committed to the theme, any pasta is fine
Salt
2 cups of peas
2 large potatoes cut into small cubes
2 stalks diced celery
Instructions
1. First, you'll add the broth and potatoes to a large pot, bringing the liquid to a boil.
2. Cook potatoes for about 15 minutes
3. Then, add carrots, celery and pasta, along with a bit of salt.
4. Let the mixture simmer until pasta, potatoes and carrots become tender. This should take roughly 6-8 minutes.
5. Add peas and simmer for an additional minute or two.
6. Divvy up the soup and serve hot.
Baked Chicken Tenders with Tropical Fruit Salsa
Yes, these are technically chicken tenders, but they're made with real chicken breasts, rather than "pink slime," and feature a delightful garnish of summer vegetables for an added fresh, gourmet element. Don't be discouraged by the multiple dipping bowls, this recipe is both easy and guaranteed to please.
Ingredients
Chicken Tenders
Non-stick vegetable oil spray
3 boneless, skinless chicken breasts
Salt & pepper
½ cup all-purpose flour
1 teaspoon garlic salt
2 eggs
1 cup bread crumbs
A pinch of cayenne pepper
1 whole lemon
Fruit Salsa
¾ cup raspberries, finely chopped
¾ cup mango, finely chopped
1 bunch diced scallions
2 tablespoons chopped cilantro
1 tbsp. diced jalapeno peppers
1 tbsp. lemon juice
Salt and pepper
Instructions
1. Preheat oven to 450 degrees.
2. Place a greased wire rack atop a baking sheet.
3. Cut chicken into thin strips, about a half-inch thick, seasoning with salt and pepper to taste.
4. Mix garlic salt and flour in a small dish. In another, add eggs, beating with a fork until completely blended. In a third dish, mix coconut shreds, bread crumbs, cayenne and salt and pepper.
5. Dip each chicken strip in first in the flour mix, then immediately into the egg bowl, and finally, in the coconut mixture, firmly pressing on the strips so the coconut sticks to each piece. Place chicken on wire rack and spray with a healthy coat of cooking spray.
6. Bake the chicken roughly 10-20 minutes — this depends on thickness — or until the breading is crispy and golden brown.
7. For the salsa, add all ingredients to a medium-sized bowl and stir until everything is evenly dispersed.
8. Let the mixture stand for 10 minutes.
9. Serve chicken strips with salsa. Garnish with limes if desired.
Pasta Salad with Veggies
A delicious, yet super simple take on a backyard cookout staple, this pasta salad is loaded with veggies and is both a great dinner idea for fussy eaters and a welcome addition to the neighborhood block party.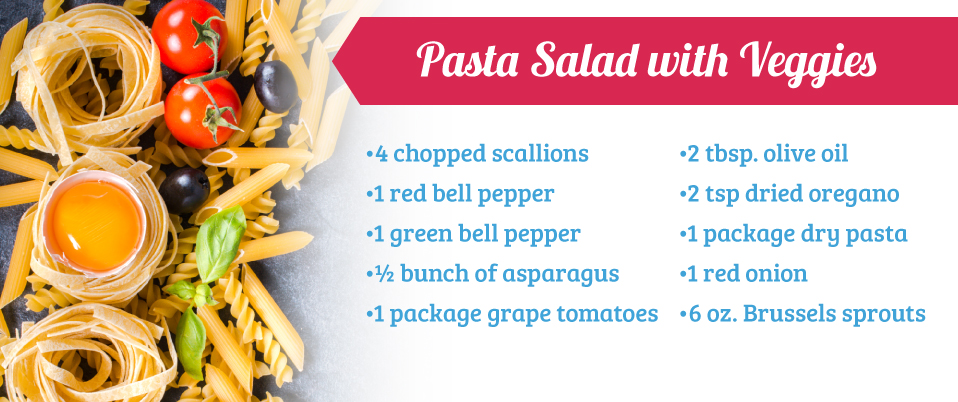 Ingredients
4 chopped scallions
1 red bell pepper
1 green bell pepper
½ bunch of asparagus
1 package grape tomatoes
2 tbsp. olive oil
2 tsp dried oregano
1 package dry pasta
1 red onion
6 ounces Brussels sprouts
Instructions
1. Pre-heat oven to 400 degrees F.
2. Finely chop all vegetables, placing them in a large bowl. Add olive oil and oregano to the mix, stirring ingredients until evenly coated.
3. Next, place vegetables on a large baking tray and roast for 15 minutes. Flip once about halfway through.
4. While veggies are cooking, cook pasta according to instructions on the box. When the pasta is finished cooking, run under cold water immediately to cool, and set aside.
5. Pull vegetables out of the oven and let them cool completely. Add to the pasta and place in the fridge.
6. Serve when cooled to desired temperature or store for up to two days in the refrigerator.
Quick and Easy Italian-Style Chicken
A classic Italian meal, made with chicken, tomato, red wine sauce and fresh herbs, this healthy dinner will earn your kids' love and will give them the nutrients they need to power them through the day.
Ingredients
2 tsps. olive oil
2 cups sliced mushrooms
1 green bell pepper, cut into thin strips
2 cups tomato pasta sauce of choice
2 boneless, skinless chicken breasts cut in half
3/4 tsp. salt, divided
1/4 teaspoon ground black peppercorns
1/2 cup Cabernet Sauvignon
2 tablespoons chopped fresh basil
Instructions
1. Heat oil on medium-high in large pan
2. Add chicken and season with pepper and salt to taste.
3. Cook chicken for about 4 minutes on each side.
4. Remove from stovetop and set aside.
5. In the same pan, sauté mushrooms and bell pepper over medium heat.
6. Add salt and cook for about 4 minutes, and stir periodically.
7. Add the wine, cook for two minutes.
8. Add tomato sauce, cooking until the entire dish is heated all the way through.
9. Add chicken back in the mix and reduce the heat to a low simmer.
10. Cook for another 4 minutes, stirring.
11. Remove from heat, garnish with basil and serve.
Healthy Vegetarian Pizza
Okay, sure. The term "healthy pizza" conjures up flashbacks of school lunches gone awry due to some not-tasty low fat cheese. However, we think your kids will like this one, which sneaks in some asparagus, and instead of rubbery, low-fat mozzarella, we've added a little Swiss to the mix, which is sure to delight the adults in the room too. Before you get started, it is worth mentioning the recipe does include made-from-scratch dough, but feel free to save some time by picking up a pre-made whole-wheat crust of your choice.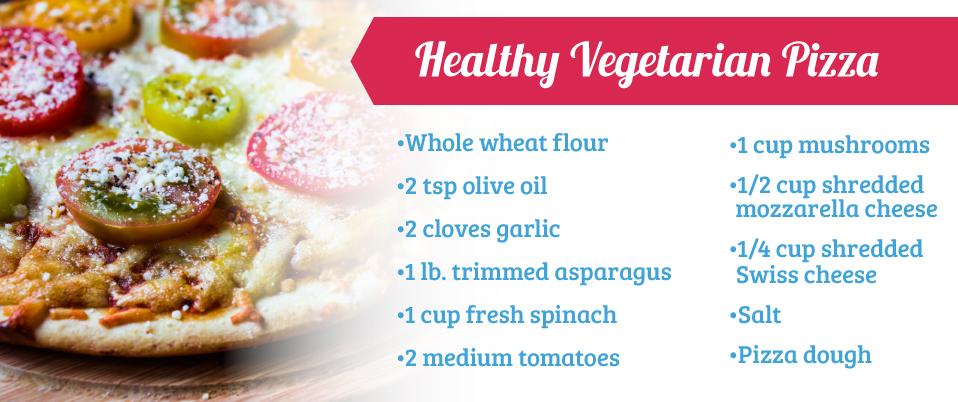 Ingredients
Whole wheat flour for dusting
2 tsp olive oil
2 cloves garlic, coarsely chopped
1 lb. trimmed asparagus
1 cup fresh spinach
2 medium tomatoes — sliced
1 cup mushrooms
1/2 cup shredded mozzarella cheese
1/4 cup shredded Swiss cheese
Salt
Pizza dough
Instructions
1. Make pizza dough — instructions below — then divide into four pieces. Shape each piece into a disk, and let rise for a second time as directed. Skip this step if you opted for store-bought dough.
Preheat oven to 400°F, and coat two large baking sheets thinly with cornmeal and flour.
2. Meanwhile, heat the oil over medium heat in a small pan. Add garlic and sauté until it becomes tender, which should take roughly five minutes. Let cool, and pour oil through a mesh strainer. Set aside and either discard the garlic or save for later.
3. Lightly cover a large workspace with flour, and roll dough until it stretches to about about 8 inches long, 4 inches wide and 1/2 inch thick.
4. Create a half-inch rim around edge of the pizza dough by pinching. Then place each patted dough on baking sheet.
5. Brush dough with a light coat of the garlic oil
6. Divvy up the veggies and place them evenly on the crusts.
7. Top with mozzarella and Swiss cheeses.
8. Bake pizzas for about 10 minutes, or until cheese starts to bubble.
9. Remove from oven, slice pizza, and serve.
Whole Wheat Pizza Dough
*Makes enough for four six-inch personal pizzas
1 cup warm water
1 1/2 tsp. active dry yeast
1/2 tsp. sugar
2 cups whole wheat flour
1 1/2 tsp. salt
Olive oil for greasing
Instructions
1. Add warm water to a large bowl, and add sugar and yeast. Do not stir until yeast begins to foam.
2. Once the water starts foaming, stir until the yeast and sugar is completely dissolved.
3. Mix flour and salt into the mixture, stirring until it begins to resemble a dough. It should be soft and sticky.
4. Place dough atop a lightly floured work surface and knead for about 10 minutes. Add more flour if the dough seems overly sticky.
5. Place dough in a large bowl greased with olive oil, kneading the dough until coated.
6. Cover the bowl with a clean kitchen towel, and keep in a warm location for about an hour, or until the dough has doubled in size.
7. Next, you'll divide the dough into four pieces. Place each ball of dough on a greased baking sheet, this time, covering with saran wrap. Let sit until dough has doubled yet again. This time it should take roughly 30 minutes.
Keep in the fridge for later use, or go ahead and start making some pizza.
Stuffed Butternut Squash with Chicken Sausage
At first blush, this recipe might seem better suited for more adventurous little ones, but give it a chance and it's so simple your kids can offer a helping hand. Chicken sausage makes this meal a bit more hearty, but feel free to mix up the proteins if desired — think ground turkey or tofu, breakfast sausage or ground beef. Loaded with Parmesan and garlic, this sweet and nutty squash recipe will win the kids over in no time — and you can rest easy knowing they've met their veggie quota for the day.
Ingredients
1 butternut squash
1/2 cup breadcrumbs
2 cloves garlic
1 cup baby kale
1 cup mushrooms
1 cup of chicken sausage – casings removed
1 tbsp. butter
¼ grated Parmesan cheese
1/4 teaspoon oregano
1/2 c. water
Salt and pepper
Instructions
1. First, heat the oven to 400 degrees F.
2. As it heats, cut the squash in half lengthwise. Remove the seeds and discard.
3. Next, place squash halves face down on a greased baking sheet, covering the tops with aluminum foil. Let the butternut squash bake for about 20 minutes.
4. Remove from oven, and take off the foil covering. Let sit for ten minutes or until cool.
5. With a sharp knife, score the sides of the squash for easy scooping, and scoop the par-cooked squash into a bowl.
6. Next, chop garlic, kale and mushrooms, and place in a medium-sized bowl. Add the sausage, butter, breadcrumbs, parmesan and seasoning to the same bowl, and stir until evenly distributed. Stuff the squash.
7. Put the squash back on the baking sheet, drizzling a tablespoon of water over each side of the squash. Pour the rest of the water on the sheet to create a moist heat.
8. Cover again, and send back to the oven for an additional 30 minutes of baking. Once tender, remove squash from the oven.
9. Ditch the foil, add an extra layer of cheese to the squash, placing the sheet back into the over uncovered. Leave the squash in the oven until cheese starts bubbling. Remove from heat, and serve.
Ground Turkey and Veggie Chili Recipe
A hearty chili on a cold day is something we all can enjoy — whether you're a picky kid or a food-enthusiast grown-up, it really can't be beat when it comes to satisfying our urge for spice, comfort and substance. This healthy, hearty chili is the perfect way to get some veggies into growing bodies and only takes about 40 minutes to make. Enjoy!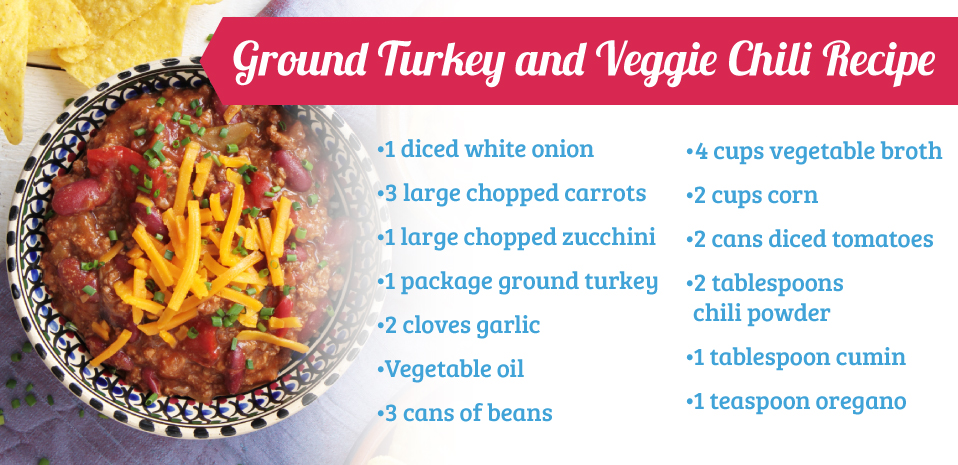 Ingredients
1 diced white onion
3 large chopped carrots
1 large chopped zucchini
1 package ground turkey
2 cloves garlic – chopped
Vegetable oil
3 cans of beans, drained and rinsed. Pinto, garbanzo, black — anything goes!
4 cups vegetable broth
2 cups corn
2 cans diced tomatoes
2 tablespoons chili powder
1 tablespoon cumin
1 teaspoon oregano
Instructions
1. In a frying pan, sauté onion and garlic in oil, cooking until tender and translucent.
2. Add ground turkey to the mix, cooking until browned
3. Next, add all ingredients to one large pot. Cover with a lid and bring to a boil.
4. When you've got the mixture boiling, turn the heat down, bringing the mix to a simmer.
5. Cook for roughly thirty minutes or until the firmer veggies like carrots and zucchini have become tender.
6. Add garnishes, if desired, and serve.
Dinner Time on the Horizon?
While you might not win over every picky little eater with every recipe on the list, give 'em a little credit, they might just surprise you for eating something unexpected, trying new veggies and expanding their selection beyond the branded, boxed frozen selection.
While it's probably easier as mom or dad to make dinner for the family alone, including the kids from time to time can foster a lifetime love of food and make trying things such as beets, squash and asparagus less intimidating. Make things fun and don't force them finish something they don't like. When the possibility of punishment is present, kids dread trying new things. Approach cooking and eating with curiosity, and kids will begin to love the great adventure of culinary discovery.
Sometimes the right cookware makes all the difference. Our selection of Xtrema non-stick ceramic cookware makes whipping up a healthy meal for the whole family a breeze, from the prep stage all the way through cleaning up. With pots and pans, cookware, bakeware and utensils, we've got it all — even bright-colored wares that might lure the youngest chefs into the kitchen just in time for dinner.