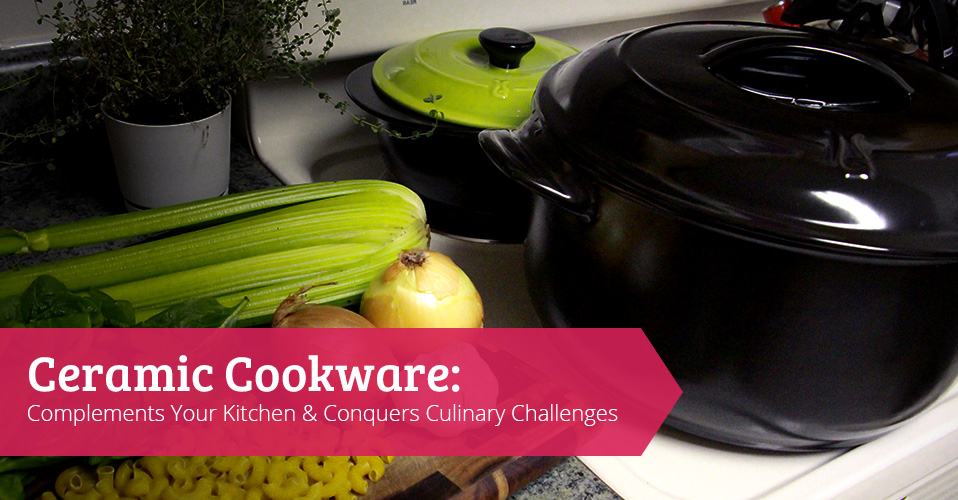 Most kitchens contain a mass of cooking utensils, from pots and pans that hold big and small portions of your favorite food to lids, pot holders, serving dishes and more. Whatever the collections hold, they all support the same point: Food is important. We not only need it to live, we care about how it tastes and looks, how it is presented, even where it came from and how it got in front of us.
People in kitchens all over the world struggle at some time or another with a lack of the proper tools for their mission, whether that is to sauté, fry, broil, bake or sear the food. Just about everyone at some point or another has avoided cooking an item or certain dishes because they think, "I don't have the pan for that."
Others may even have the pan but be disappointed or dissatisfied with its performance if they experience one or many of these common cookware problems:
Leached metals
Metallic taste
Sticking
Leached chemicals
Staining
Scratching
Uneven heat
Heat loss
Limited temperature tolerance
Lack of versatility
Options for cookware include metals such as tin, aluminum, stainless steel, cast iron or copper, and then there is metal non-stick cookware that is either coated with a thin polymer layer made of Teflon polymer or a synthetic coating made of Sol-Gel ceramics.
Xtrema 100% Ceramic Cookware offers a new alternative line of products to master virtually any cooking task, from the simplest to the most challenging.
What is Xtrema Ceramic Cookware?
The concept of ceramic cooking and serving vessels literally has ancient roots and news is not hard to find about archaeologists unearthing whole intact pieces of pottery and ceramics from thousands of years ago. The Xtrema product line represents the evolution of advance ceramics that serves many purposes related to food and drink: cook, carry, hold, present, store and chill.
Xtrema's ceramic materials contain clay and water and inorganic minerals from the earth's crust with different techniques being used to mold and shape and then heating the ceramic special formula to take and hold form. Xtrema Ceramic Cookware is 100% solid ceramic, unlike many metal cookware products that are coated with a thinly applied non-stick plastic or synthetic ceramic glaze. Xtrema cookware is literally made of natural non-reactive inorganic materials: clay and water fired in a natural-gas powered kiln to 2,500 degrees.
The all-ceramic cookware handles with ease, all those foods you love but dread cooking because they stick, they stain or they leach unwanted metal flavors from the pan. No matter if the menu calls for tomato-based recipes, eggs, creamy sauces, soups, fried chicken or crackling sweets, you will find what you need in the Xtrema line:
Skillet
4.5-inch one-egger (individual servings)
7-inch
9.5-inch omelet
10-inch braiser
11-inch wok
12-inch
Sauce pots
16-ounce
1-quart
1.25-quart
2.5-quart
3.5-quart
5.5-quart
10-quart Dutch oven
Baking
2-quart oblong
4-quart oblong with removable roasting rack
6-quart oblong
9-inch roasting rack
12" pizza & grill pan
Xtrema also offers all-ceramic teapots, as well as a line of accessories to complement your ceramic cookware such as nylon and wood utensils, silicone pot handles, trivets and much more. Each person's preferences and peeves about cookware will be different, but all-ceramic Xtrema benefits the kitchen, cook, food, guests and our Earth.
Benefit #1: Ceramic Cookware Safety
Is ceramic cookware safe? The number one feature of Xtrema's all-ceramic cookware is safety. Ceramic resists bacteria, so it provides a healthy cooking surface the first or the 5,000th time you use it. Ceramic does not contain any toxins or metals, so the cookware does not pose any risk of exposure to gases or leached chemicals.
Benefit #2: From and for the Environment
Since ceramic cookware consists of 100% natural non-reactive inorganic materials, it is greener, more eco-friendly and much healthier for you than metal cookware or various types on non-stick coated cookware. Ceramic cookware is created with super-heated materials, so it withstands hottest-hot temperatures without breaking, which gives you better protection against fire, burns and injury in the kitchen. While some question the composition of their cookware and the chemicals it contains, the natural healthy composition of Xtrema is what makes the ceramic cookware safe for you and your family.
Benefit #3: Versatility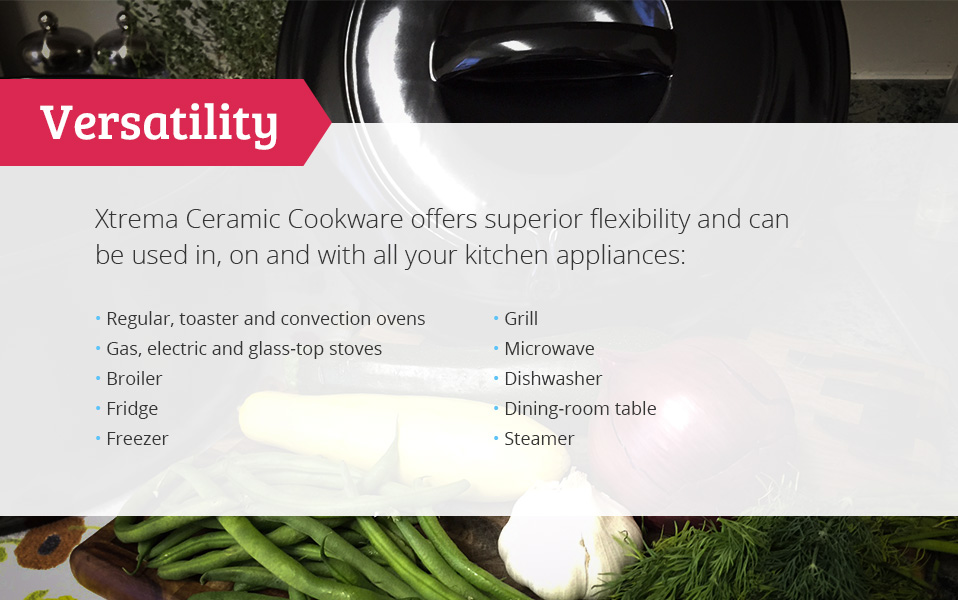 Xtrema's low thermal-expansion co-efficient (its ability to withstand extreme temperatures) makes it able to do anything you need to take care of your culinary business. Experience and logic prove the versatility of Xtrema cookware.
Benefit #4: Durability
Xtrema Ceramic Cookware comes with a 50-year warranty against scratches and thermal breakage and does not stain. It reflects handmade quality, and its fire-tempered materials make it versatile enough to be used in any cooking appliance, with small pieces and large pieces to fulfill your needs for many years to come. Metal melts at 900 F to 2,200 degrees F, but Xtrema all-ceramic cookware can withstand temperatures up to 2,500 degrees F.
Benefit #5: Attractive Style
The variety of different pieces Xtrema offers can go from the grill, broiler or stovetop straight to the table for a beautiful presentation. Stylish, shiny, high-gloss black ceramic pieces suit any occasion, and the cookware not only serves as tableware, it also keeps food hot throughout the entire meal. Xtrema offers a line of colored lids that spruce up the kitchen with red, green and white options.
People often put the ceramic cookware on their wish list: Brides and grooms register for it, new moms request it instead of baby items, and you cannot go wrong giving Xtrema ceramic cookware as a gift — it's perfect for housewarming and a nice surprise for any holiday.
Benefit #6: Enhanced flavor
Xtrema Ceramic Cookware contains nothing to influence the taste of your food, like how people say metal cookware transfers a metallic flavor. Xtrema is non-reactive, so it doesn't change the taste of anything you cook in it and maintains the essence, flavor and nutritional value of your food.
Benefit #7: Even cooking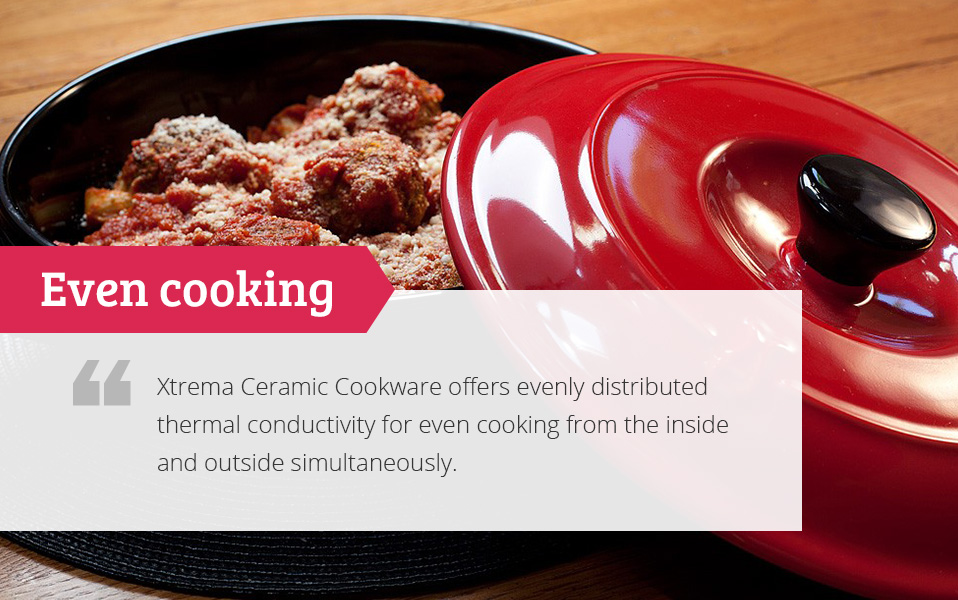 Since Xtrema Ceramic Cookware is made of solid ceramic of a uniform thickness and grade, its ability to conduct heat is unmatched and it has superior heat retention. It offers evenly distributed thermal conductivity (far infrared process) for even cooking from the inside and outside simultaneously. Some sources consider the far-infrared process to be the most effective and beneficial way to cook.
Benefit #8: Easy cleaning
Some people complain that it can be difficult if not impossible to clean some of the stuck-on messes cooking generates. Xtrema pieces usually rinse clean with plain water but can be put in the dishwasher or washed with liquid dish soap.
If something does stick little, you can scrub the piece with soap and a stiff-bristled nylon brush or scrubbing pad. On the rare occasions when you need a little grit to remove some baked-on grime, try baking soda, Bon Ami or Bartender's Friend. You can also use a Brillo or an SOS pad and for ease of clean-up.
Benefit #9: Reduced Fat
With so much concern over fat in the human diet, it's a plus that the properties of ceramic cookware enable you to eliminate that butter, vegetable oil or grease you'd normally use to lubricate your pan. You don't have to use as much of these ingredients with Xtrema but can if you want.
Benefit #10: Variety
Just a quick glance at the product list above or the Xtrema website tells you how extensive the product line is, and everything in it aims to enhance your experience in the kitchen. You'll not only find ceramic cookware but also all-ceramic lids and teapots, as well as nylon, silicone, glass and wooden accessories. The list includes: pot covers with easy-grip knobs, steamer baskets, utensils, hot pads, gloves, mitts and more necessity tools to complement your ceramic cookware.
Ceramcor and Xtrema also offers a line of storage containers for the fridge and freezer, dinnerware, and an elegant glassware line that includes bowls, candle holders, wine openers and racks and serving pieces.
Ceramic Cookware Compared to Cast Iron
Let's be honest, the iron skillet derives its alleged "seasoning" of the pan from leftover grease and oils. Foods cooked in it leave it behind, and some are applied to it for conditioning.
When you use your cast-iron skillet, it might still smell like the food you cooked in it the last time, maybe bacon, fried chicken or stir fry. That carryover effect doesn't happen with Xtrema ceramic cookware because its ceramic cooking surface retains no odors for prior cooking. It is not recommended that you use water on a cast-iron pan, wash it with soap or scrub it with any kind of cleanser since any of that disrupts the "seasoning" of the pan. If you do get the cast-iron pan wet, you must be sure to dry it immediately so it won't rust.
You cannot cook tomatoes or tomato-based foods in an iron skillet because the acid in the fruit reacts with the PH balance of the pan. Xtrema Ceramic Cookware is non-reacting, meaning it just cooks the food with no reaction to its content.
Ceramic cookware won't transfer metals or chemicals, unlike cast iron. Some people believe that they can use benefit from the additional iron minerals, but research has shown that extra, accumulated iron in the human body can boost the risk for afflictions like cirrhosis, diabetes, cardiac arrhythmias and even liver cancer.
An experiment involved cooking 20 foods in an iron skillet and then measuring the iron content of the food. The results revealed that an egg, for example, contained a natural 1.5 milligrams of iron. This number increased to a content of 4.76 milligrams when the egg was cooked in a cast-iron skillet.
Stainless steel or another metals can provide an alternative, but each has their challenges, too. Many people have questions about the mixes and toxicity of metals that can be used for cookware. Some types of metal cookware can contain trace and toxic amounts of aluminum, chromium, nickel, molybdenum, cadmium and lead.
Metals are more likely to leach if the pan surface is dinged or scratched, but there's always a chance of metals being released under normal circumstances, too. Another benefit of Xtrema cookware is that it maintains the pure flavor of the foods you cook.
Ceramic versus Non-Stick Teflon
Teflon is also known as PTFE and by its longer, scientific name, polytetrafluoroethylene. Scientists define it as a vinyl/plastic polymer similar in structure and behavior to polyethylene. While the technology surrounding Teflon is advancing, widely known disadvantages still exist. If overheated, aged, scratched or chipped, the chemicals in Teflon can leach into food and be harmful to the human body. Birds are sensitive to PTFE fumes, and others worry that if birds are sensitive, humans on some level are too.
Perfluorooctanoic acid (PFOA) is a long-chain perfluorinated chemical that does not occur naturally in the environment and has been associated with some kinds of Teflon and metal cookware. The Environmental Protection Agency says the PFOAs are found in low levels in the general population and typically stay in the body for long periods of time.
A growing number of people, who buy new cookware, take it upon themselves to avoid problematic or under-researched options by using non-metal, 100% ceramic cookware.
Xtrema Helps Make a Happy, Healthy Home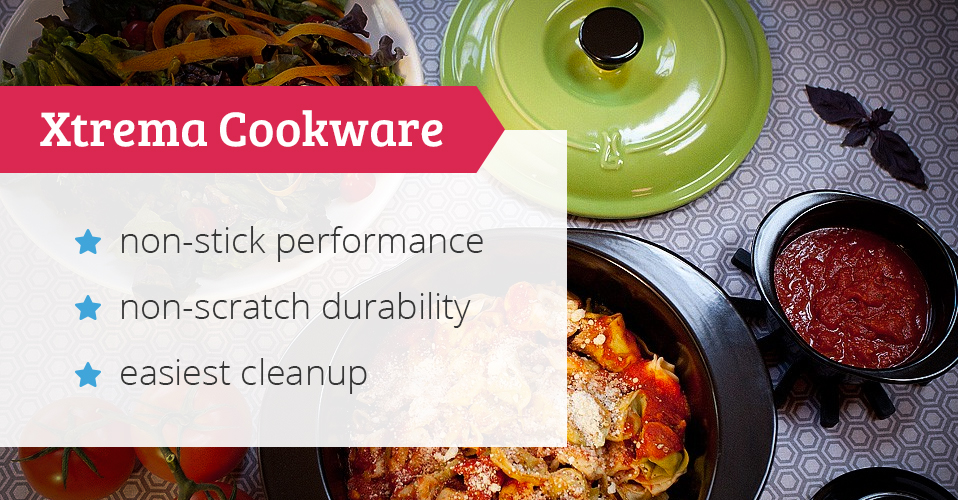 You are probably beginning to see why and how Xtrema cookware makes sense in your kitchen and life. It brings the safest, greenest and most eco-friendly option to your home, and you don't have to sacrifice any of the elements you value as you whip up sizzling, creamy, sweet, salty, delicious dishes you and your family like.
Xtrema offers non-scratch durability and the easiest cleanup among cookware, much of which you can't put in the dishwasher or microwave like this all-ceramic choice. You can use it to help eliminate more fat from your diet and can count on its versatility to get you through any kitchen job. It's not just the cookware but the lids, utensils and accessories that go with it and make your life easier.
With specially made nylon cookware protectors, you can "nest" your Xtrema pieces to make more room in the cookware cabinet and finally organize it the way you'd like. The protective silicone handles prevent burns and also give you a steady, non-slip grip.
Xtrema represents the best in quality ceramic cookware and an all-purpose solution that can take your cookware from the stove-top to the oven to the table and to the fridge. The all-ceramic cookware is versatile, adaptable and gives you maximum control as well as reliable and lasting performance.
As we gather in kitchens, buzz around food tables and remember the genuinely good experiences, we all know food matters and that the kitchen can be the center of the household. Xtrema's excellent cookware holds the power to conquer culinary challenges, complement the kitchen and add more health to the heart of your home.