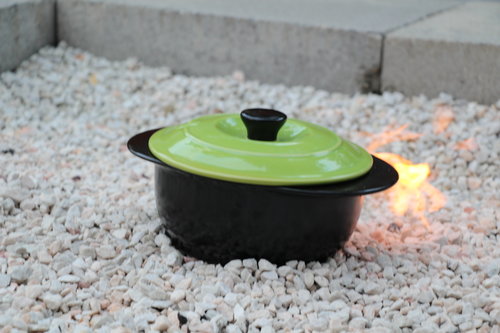 Nothing tastes quite as good as a meal cooked over a campfire. Whether it's the smell of the burning wood or watching the flickering flames, campfire meals instill memories of sitting under the stars and being in nature. As an added bonus, making your own meals while camping is a great way to feel independent and in control out on the campground.
Before you pack up the tent and find a spot to sleep, we have some camping tips to help make one-pot camping recipes your saving grace while eating on the go.
Make a List of Cooking Supplies
The last thing you want to do is arrive at your campsite without everything you need. There's no going back for that forgotten item once you're in the woods. Make sure you have these items on your list to make cooking easy:
Fire supplies
Matches and lighter fluid are going to save you a lot of time when it comes to building your fire pit. It might even be a good idea to pack along a lighter, just in case the matches get wet and not be of any use. You'll also need some sort of fuel for your fire. It's best to burn dry, seasoned wood, so bring your own or buy what you can when you arrive, as some campsites have it available for sale.
Kindling (dried up sticks), crumpled newspaper and other items can help get the fire started, as well. It can be easiest if you keep all of your fire supplies in the same box so you don't have to go looking for each one when it's time to eat.
Dishes
You're going to need something to eat on while you're camping. Plastic dishes are great because you won't break them on the trail and they can be really easy to clean up. Paper and plastic are OK if you have convenient trash receptacles nearby. Try to stick to one place setting per person – including a plate, bowl, fork, spoon, knife and a cup or water bottle. Tin mugs also work well if you like to drink something hot, such as coffee or tea. Don't forget a large knife for cutting food while cooking, as well as large stirring spoons.
A portable grate and aluminum foil
If you're cooking over a fire pit, it's a good idea to bring a portable grate you can place over the flames. Aluminum foil can be used to cover the grates if you want to put food directly on top of it, or you can wrap pieces of food in the foil to keep them warm. You can also put foil-wrapped food directly in the fire without it getting burnt.
A Dutch oven
The secret to successful one-pot camping recipes is to bring along a Dutch oven. Camping with ceramic cookware means you only need one cooking pot for the entire trip. It can be used to make breakfast, lunch, dinner and even ghost-story snacks.
Other Quick Tips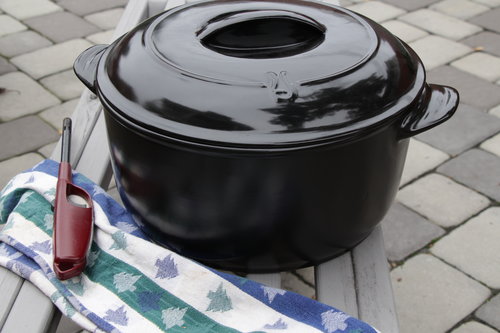 Plan meals in advance. Know what you want to cook for each meal before you go camping. That way, you can easily pack all the ingredients. It's a good idea to measure out ingredients in tiny plastic containers or bags to make food prep easy.
Let items pull double duty. Frozen items can act as ice packs around other items that need to stay cool. Try using some frozen juice cans, frozen meats, frozen vegetables and other items to help keep items cold.
Keep your food covered. Even while cooking, it's a good idea to keep a lid on your cooking pot. That way bugs, floating ashes and other unwanted things won't make their way into your Dutch oven. A lid also helps retain heat. Also, it can be helpful to use the aluminum foil to keep ingredients covered until it's time to use them.
Make clean up easy. It can be a challenge to wash dishes on the trail. Keep a pot of water on the fire while you eat to have hot water ready for washing. If it's tough to keep a bar of soap in a clean spot, try tossing it in a clean sock while it isn't in use. This will keep bits of dirt from sticking to the soap so it's fresh and ready for use later.
One-Pot Camping Recipes
Here's the tasty part of camping. It's finally time to plan all the yummy things you'll get to eat while on your trip. After a long day of hiking, swimming or even laying the hammock, it's nice to fill your belly with delicious meals.
Try these Dutch oven camping recipes the next time you head out on the trail:
Breakfast Quiche
Loaded with protein from eggs and sausage, it's easy to make this Dutch oven breakfast quiche for early morning breakfast. It takes just a few moments to bake over the fire, and you've got yourself a filling meal to get you through the day.
1 tablespoon vegetable oil
4 eggs
¼ cup flour
½ cup cottage cheese
1 cup shredded cheddar cheese
½ cup of cooked, crumbled sausage
1 bell pepper, diced
Coat the bottom of the ceramic cookware with the oil until covered. Whisk the eggs, cottage cheese and flour together in a small bowl. Pour into the bottom of the Dutch oven. Stir in the sausage and bell pepper until coated with the egg mixture.
Sprinkle the cheese over the top. Cover the Dutch oven with the lid and let it cook for about 15 to 20 minutes, peeking inside every few minutes to see how it looks. The center should be cooked through when it's done.
Potato Casserole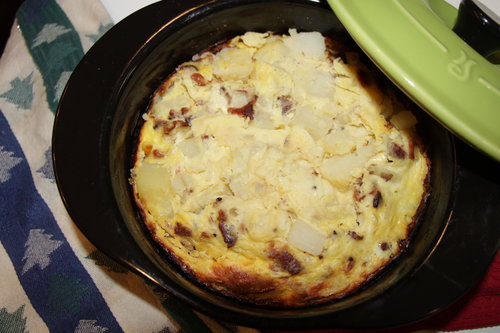 This hearty, one pot camping recipe can be eaten as breakfast or dinner. It's full of tasty food to keep you energized through all camping requires of you.
1 tablespoon vegetable oil
2 russet potatoes, peeled and cubed
6 eggs
4 pieces of sliced, cooked bacon
1 clove of garlic, minced
Salt and pepper to taste
Coat the bottom of the pan with cooking oil.
Whisk the eggs and stir in the potatoes, garlic and crumbled bacon. Pour it into your ceramic cookware and place the lid over top. Let it cook over the fire for about 20 minutes or until cooked through. It's important to keep the lid on the Dutch oven so the potatoes steam and are tender when done.
Blueberry Almond Baked Oatmeal
A steaming pot of baked oatmeal is great to eat while camping. Full of fiber to keep you full, you'll be ready to hike for miles after eating a bowl of this stuff in the morning. It's a great recipe when camping with ceramic cookware.
3 cups quick-cooking oats
½ cup brown sugar
2 teaspoons baking powder
2 eggs
1 cup milk
Salt to taste
½ cup butter, melted
1 cup blueberries
½ cup sliced almonds
Mix the oats, brown sugar, baking powder and salt in a large bowl. Stir together eggs, milk and butter before combining it with the oat mixture. Mix it all together until combined. Fold in the blueberries and almonds.
Place the lid on the Dutch oven and bake for about 45 minutes to an hour. Serve with milk.
One Pot Chicken and Vegetable Pilaf
This meal is loaded with vegetables, rice and chicken to keep hungry campers full and satisfied. Plus, clean up with this one-pot camping recipe is a breeze.
1 tablespoon vegetable oil
1 onion, diced
2 chicken thighs, boneless and skinless
1/3 cup of rice
2/3 cup chicken stock
1 cup frozen mixed vegetables
1 dry curry seasoning packet or 2 teaspoons of fresh curry paste
Add the oil to the Dutch oven and wait for it to get warm. Add the diced onion and cook until softened. Brown the chicken. Add the rice and curry and stir it all together for a minute.
Pour in the chicken stock and vegetables. Mix it all together. Bring the mixture to a boil, remove the Dutch oven from the direct heat and move it to a lower heat, and then cover. In about 15 to 20 minutes, the rice should be tender and the chicken stock reduced and ready to eat.
Minestrone Soup
A hearty bowl of soup is a great meal to make when camping with ceramic cookware, but it's especially comforting on chilly nights or rainy days at the camp. This minestrone soup is loaded with vegetables and a rich broth to help fill you up without weighing you down for all your planned activities.
1 tablespoon vegetable oil
1 onion, finely diced
3 carrots, finely diced
3 celery sticks, finely diced
2 russet potatoes, peeled and cut into small cubes
2 tablespoons tomato puree
4 cups vegetable stock
1 can chopped tomatoes
1 can cannellini beans
½ cup of pearl couscous
¼ head of cabbage, shredded
Heat the oil in the bottom of the Dutch oven. Add the onion, carrots, celery and potatoes, stirring until they are softened, about 5 to 8 minutes. Add the tomato puree, vegetable stock and canned tomatoes, and stir until combined. Bring the soup to a boil, and then move it to a lower heat and cover for about 10 minutes.
Add the beans and couscous, and let the soup continue to cook for 10 minutes longer. Stir in the cabbage, only cooking for 2 additional minutes. Spoon the soup into large bowls and serve with big chunks of crusty bread.
Ditch the Sticks S'mores
If you love the taste of gooey, chocolaty s'mores, but can't wait to toast individual marshmallows, try this Dutch oven camping recipe for s'mores without the sticks.
1 bag of semisweet chocolate chips
½ cup peanut butter
1 bag extra large marshmallows
1 box of graham crackers for dipping
Grease the bottom of the Dutch oven with butter or oil. Spread the chocolate chips over the bottom of the pan. Dollop the peanut butter over the chocolate chips. Top the whole mixture with extra large marshmallows.
Place the lid on top of the Dutch oven and put it over the fire, letting the chocolate and peanut butter become gooey and melted. Remove from the heat and using a torch, toast the top of the marshmallows. Break off pieces of graham cracker to dip in the sweet, delicious dessert.
Crispy Fried Salmon
If you're fishing on your camping trip, it can be really exciting to get to eat the fish you caught. This is a great opportunity to include the kids in the whole process of catching, cleaning and cooking their fish. While this recipe is for salmon, it could work for a variety of fish.
1 pound of salmon or any fish you prefer
1/8 cup olive oil
Salt and pepper to taste
3 tablespoons Dijon mustard
A dozen buttery crackers, smashed into crumbs
Coat the fish in the olive oil, salt and pepper. Then rub the mustard all over it until well covered.
Roll the fish in the broken cracker crumbs, making sure the fish is evenly coated. It helps to gently shake off any excess.
Heat a little bit of oil in the bottom of your Dutch oven. Fry the fish, one side at a time, until the crackers turn a golden brown. Salmon doesn't have to be cooked through – in fact, that can dry it out. About 4 minutes on each side is plenty for a tender piece of fish.
Deep Dish, Dutch Oven Pizza
Don't deny your cravings for pizza while you're on a camping trip. This recipe makes a delicious, deep dish pizza without a lot of extra work. Bring the right ingredients, and you can have pizza in 20 minutes.
1 pound of raw pizza dough, bought at the grocery store
1 cup tomato sauce
2 cups shredded mozzarella cheese
1 bell pepper, diced
½ cup pepperoni slices
½ onion, sliced thin
1 small can sliced olives
Grease the bottom of the Dutch oven with oil. Spread the dough out on the bottom of the pan until it's even. Top the dough with the sauce, followed by the cheese. Place the rest of the toppings as you see fit.
Cover the Dutch oven with the lid and place it over the flame, cooking about 15 to 20 minutes or until the crust has puffed up and the pizza is done cooking. Eat immediately.
Enjoy One Pot Camping Meals With Xtrema Cookware
You've got plenty of activities to keep you busy at the campsite, so there's no reason to let cooking and cleanup take up too much time. These one-pot camping recipes are a quick and easy way to get everyone fed.
These meals are just some of the delicious things you can make in a Dutch oven, either on the campsite or at home. Consider a Dutch oven or other Xtrema products the next time you go camping.