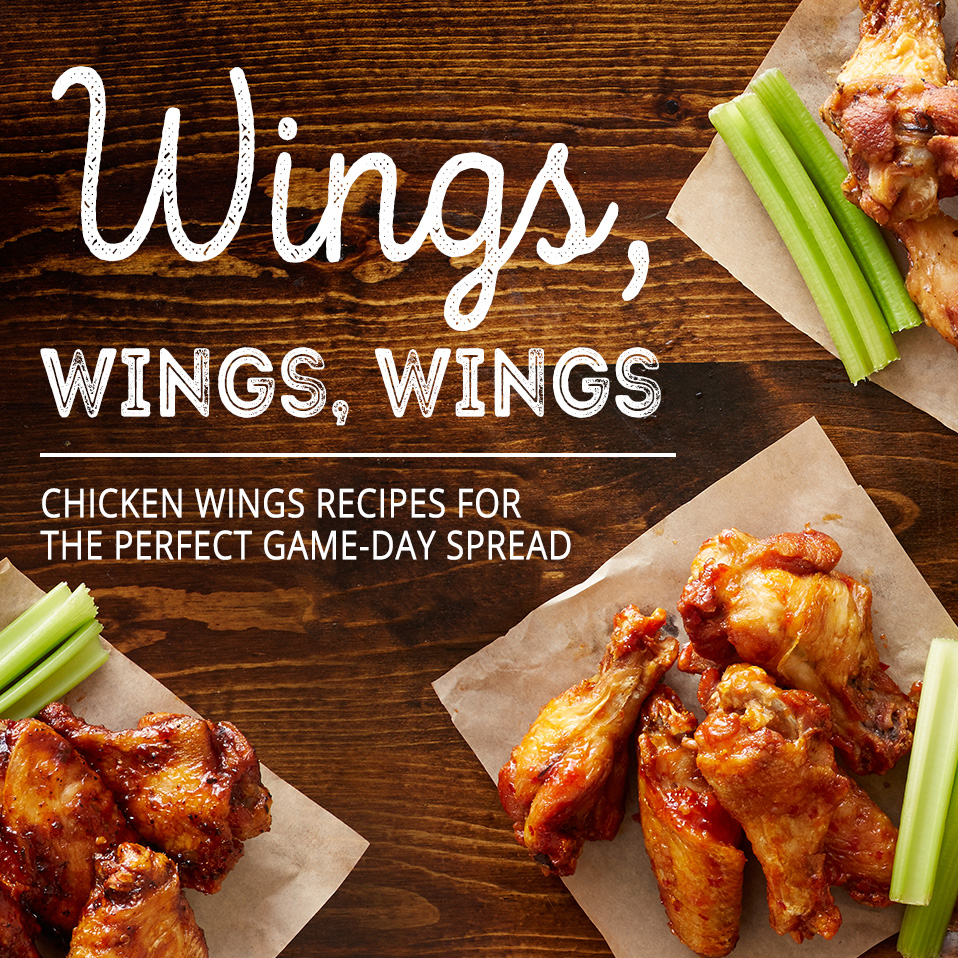 When we think of chicken wings, we tend to think of the fried, the breaded and the spicy stuff dipped in ranch dressing. But wings can be more versatile than one might imagine. Baked or fried, minimalist or heavily coated in sauces and spices aplenty, chicken wings rule the game-day smorgasbord.
And, with football season just around the corner, it's wise to be well-prepared for the inevitable couch-side noshing.
Here's a look at some of our favorite wing recipes that don't come from a bucket.
Sweet 'n' Spicy Wings
Here's one of our favorite recipes for chicken wings. Combining both heat and sweet, this recipe brings that classic wings flavor — complete with a sticky glaze as addictive as candy. Whip up a big batch of these bad boys before your next sports-related get-together — they're guaranteed to be a winner.
Ingredients
1/4 cup of chili powder
1/4 cup of maple syrup
1 teaspoon of cayenne pepper
3 tablespoons of soy sauce
4 pounds of chicken wings, thawed
1/4 cup of grapeseed oil
1/2 cup fresh cilantro, chopped
Instructions
Rinse the chicken wings and arrange in a shallow dish. Set aside.
In a separate bowl, add soy sauce, chili powder, cayenne pepper and cilantro.
Whisk together and pour over chicken wings, tossing to coat on all sides.
Cover the dish, then place in the refrigerator for at least two hours.
When ready, remove chicken from marinade.
Heat the grapeseed oil in a large skillet and add the maple syrup. Let the mixture start to bubble, then add the chicken wings.
Cook for 4-5 minutes on medium-high heat, then flip and repeat the process.
Continue to cook the chicken, stirring often, until all pieces are cooked all the way through.
The wings should have a sticky consistency when done.
Remove from heat and serve.
Sriracha-Sesame Chicken Wings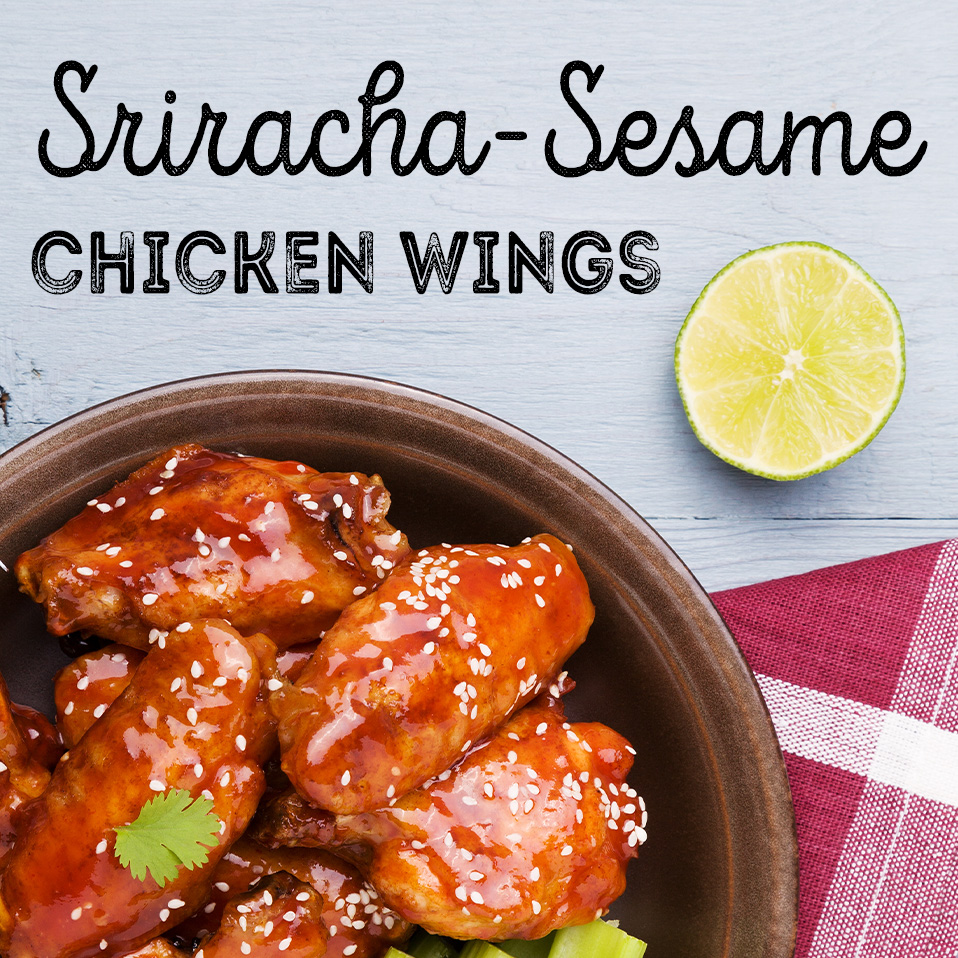 A little sweet and savory action here, these wings take everyone's favorite hot — but not too hot — sauce to the next level. Nice and crispy, and delightfully sticky, these wings are sure to rule the next game day, with foodies and junk food addicts alike gobbling them right up.
Ingredients
2 1/2 pounds of chicken wings
1/4 cup of cornstarch
1/4 cup of flour
2 teaspoons of garlic powder
1/4 cup of vegetable oil
1/4 cup of soy sauce
1/4 cup of sriracha sauce
2 tablespoons of honey
2 tablespoons of hoisin sauce
4 tablespoons of sesame seeds, for garnish
Instructions
In a large mixing bowl, combine cornstarch and flour with garlic powder and pepper.
Stir until evenly blended. Then, coat chicken with the dry mixture.
In a large skillet — such as one of our short-handled skillets — add vegetable oil and heat on medium high until oil begins to bubble.
Work in batches, using tongs to rotate the pieces. Add a few wings at a time, cooking on one side for about four minutes, or until chicken is a golden brown.
Flip and repeat. Remove from heat and repeat the process until all chicken is fried. Set on a large baking sheet and dab excess oil with a paper towel.
Meanwhile, prepare the sauce. In another mixing bowl, whisk together sriracha, hoisin sauce, honey and soy sauce.
Coat chicken with sauce and sprinkle sesame seeds over the top.
Balsamic & Garlic Baked Chicken Wings
Equally at home alongside mashed potatoes and fire-roasted veggies, or as the star of your game-day party, these wings are a healthier alternative to all the beers, chips and pizza slices synonymous with the big game. Hey, sometimes it pays to take a break from all the cheese.
Ingredients
2 pounds of chicken wings
1/4 cup of olive oil
1/4 cup of balsamic vinegar
4 garlic cloves, minced
2 tablespoons of rosemary
Freshly ground black pepper
Salt, to taste
Instructions
Preheat the oven to 425 degrees.
As the oven heats up, add balsamic vinegar, olive oil, garlic, rosemary, salt and pepper to a mixing bowl.
Whisk together.
Add wings, tossing until all chicken pieces have been coated with the oil-and-vinegar mixture.
Then, spread wings over a large baking sheet.
Bake for about an hour. You'll want the skin to crisp up, but not burn. Turn about halfway through the process for best results.
Remove from heat and serve.
Habanero-Peach Chicken Wings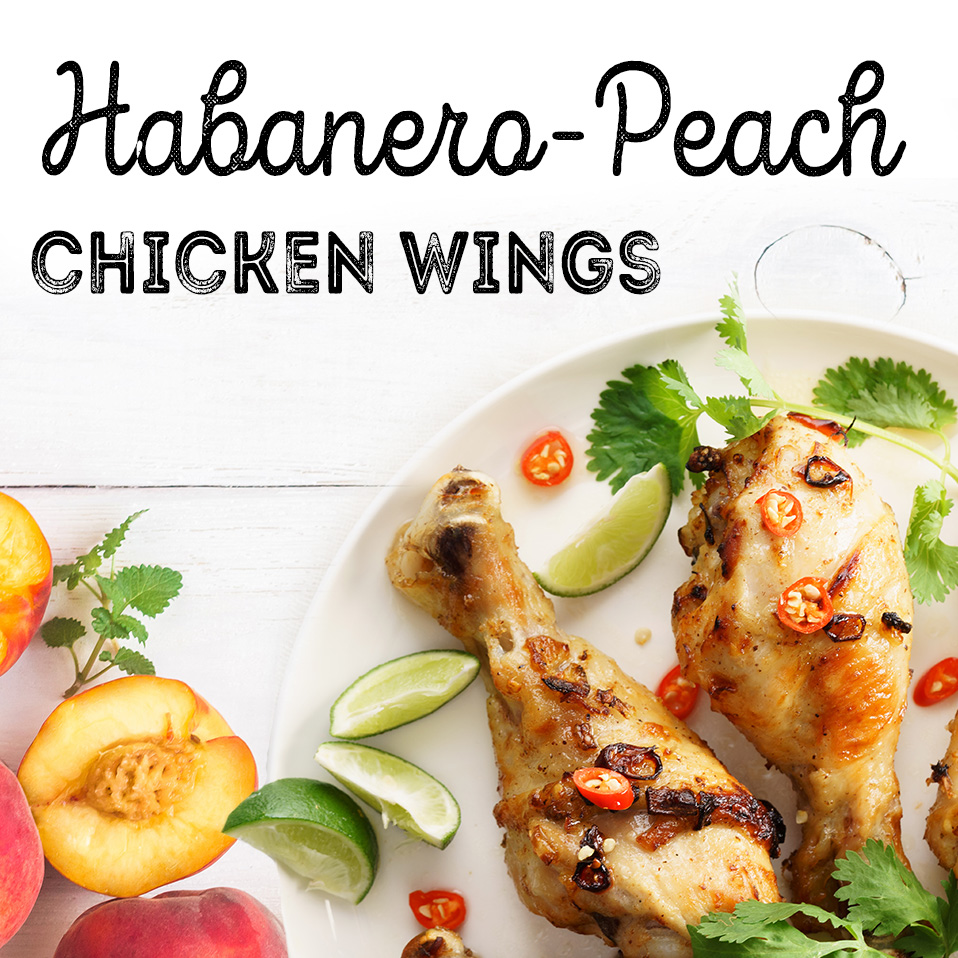 Fruity, with a little punch of rum, these habanero-peach wings are the perfect reminder of warmer weather come and gone. A departure from the classic Buffalo wing or the breaded crispy versions, these wings pack some serious spice. The spice-wary among us should be warned — you may want to keep a glass of milk nearby in case things get too hot for you.
Ingredients
3 tablespoons of brown sugar
1 teaspoon of honey
2 cloves of garlic, minced
1/4 cup of vegetable oil
1 teaspoon of diced habanero peppers
1 cup of peach preserves
Pinch of salt
1/4 cup of dark rum
4 pounds of chicken wings
Additional oil, for frying chicken
Instructions
Turn the stove to medium-high heat.
In a saucepan, add vegetable oil, brown sugar, peach preserves, honey, garlic, rum and habanero, along with a pinch of salt.
Stir gently and bring to a boil. Then, add rum and keep stirring. Reduce heat and let simmer for about an hour, until sauce reaches a sticky consistency.
Trim and rinse chicken wings, clipping the tips. Pat them dry.
In a large skillet, add vegetable oil and turn the burner to medium high. Add chicken to the hot oil, and cook for about 10 minutes, turning periodically. Transfer to paper towers and repeat until all chicken has been cooked.
Let cool, then, a few pieces at a time, dip the chicken into the pot containing the glaze. Coat each piece evenly, then transfer to a platter and serve.
Chicken Parmesan Baked Wings
Baked up nice and crispy, these Parmesan wings are a hit with all age groups. A more elevated version of the chicken nugget, our baked wings are perfectly spiced and topped with fresh Parmesan cheese.
Ingredients
1 teaspoon of dried oregano
1 cup of panko breadcrumbs
1 teaspoon of paprika
1 teaspoon of onion powder
1 teaspoon of ground black pepper
1/2 teaspoon of ground cumin
2 pounds of chicken wings, trimmed and cleaned
2 tablespoons of olive oil
2 tablespoons minced fresh basil
3 cloves of minced garlic
1/2 cup of fresh Parmesan cheese
Salt, to taste
Instructions
Preheat oven to 425 degrees. In a mixing bowl, combine the onion powder, panko breadcrumbs, paprika, garlic, oregano and cumin.
Stir gently until all ingredients are evenly distributed.
Next, you'll want to arrange the wings on a large baking sheet. Top both sides with the dry mixture, making sure all meat is covered.
Place chicken wings in the oven, baking for about 25 minutes, or until chicken turns a crispy, golden brown.
While the chicken is cooking, whisk olive oil, basil and Parmesan cheese in a small bowl.
Remove chicken from the oven and top with the olive oil-Parmesan mixture. Transfer to a serving platter and enjoy!
Note: For extra variety, serve with marinara sauce, hot sauce or Dijon mustard for dipping.
Vegan Cauliflower Hot "Wings"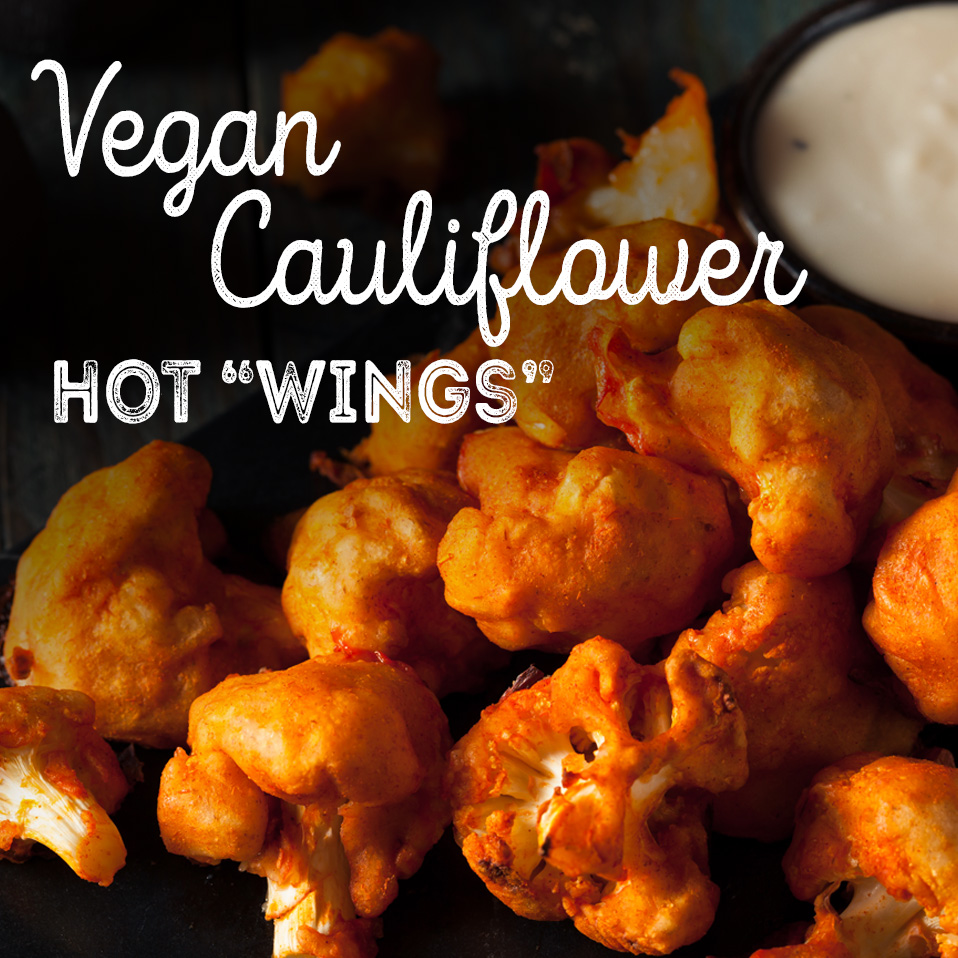 For the sake of inclusivity — and deliciousness — here's a delightful vegan hot "wings" recipe. Cauliflower is a hot commodity these days, and is more adaptable than you might think. Plus, this recipe is relatively healthy, chock-full of spice — and offers a vegan option that stretches beyond the bounds of chips and salsa. Never again do your veggie friends need to be left out of the game-day fun.
Ingredients
1 head of cauliflower
1/2 cup of almond milk
1/2 cup of water
1/2 cup of flour — all-purpose is your best bet, but rice or almond flour work too, if you're gluten-free
3 cloves of minced garlic
2 tablespoons of chili powder
Salt and pepper to taste
1/4 teaspoons of ground pepper
1 cup of hot sauce — your choice
1 tablespoon of vegetable or grapeseed oil
1 cup of Buffalo sauce — see recipe below
Instructions
Grease a large baking sheet with oil. Then, preheat the oven to 450 degrees.
Wash and dry the cauliflower, remove stalks and cut florets into bite-sized pieces.
In a large mixing bowl, stir together the almond milk, flour and water. Then, add hot sauce, garlic, chili powder and salt and pepper. Whisk together until the batter mixture thickens to a consistency that can coat the "wings."
Next, dip cauliflower florets into the batter, one by one. Arrange cauliflower on the greased baking sheet.
Once the vegetables have been coated with batter, place the baking sheet in the oven for about 30 minutes, flipping once halfway through. The cauliflower should be a golden-brown color.
Remove from heat and let cool. Place cauliflower in a mixing bowl and pour the Buffalo sauce over the top. Stir together until cauliflower is completely covered in the sauce.
Then, put cauliflower back on the baking sheet and slide it back into the oven for another 20 minutes.
Enjoy these veggie-friendly wings with some additional hot sauce, ranch, bleu cheese or whatever else your heart desires.
Dippin' Sauces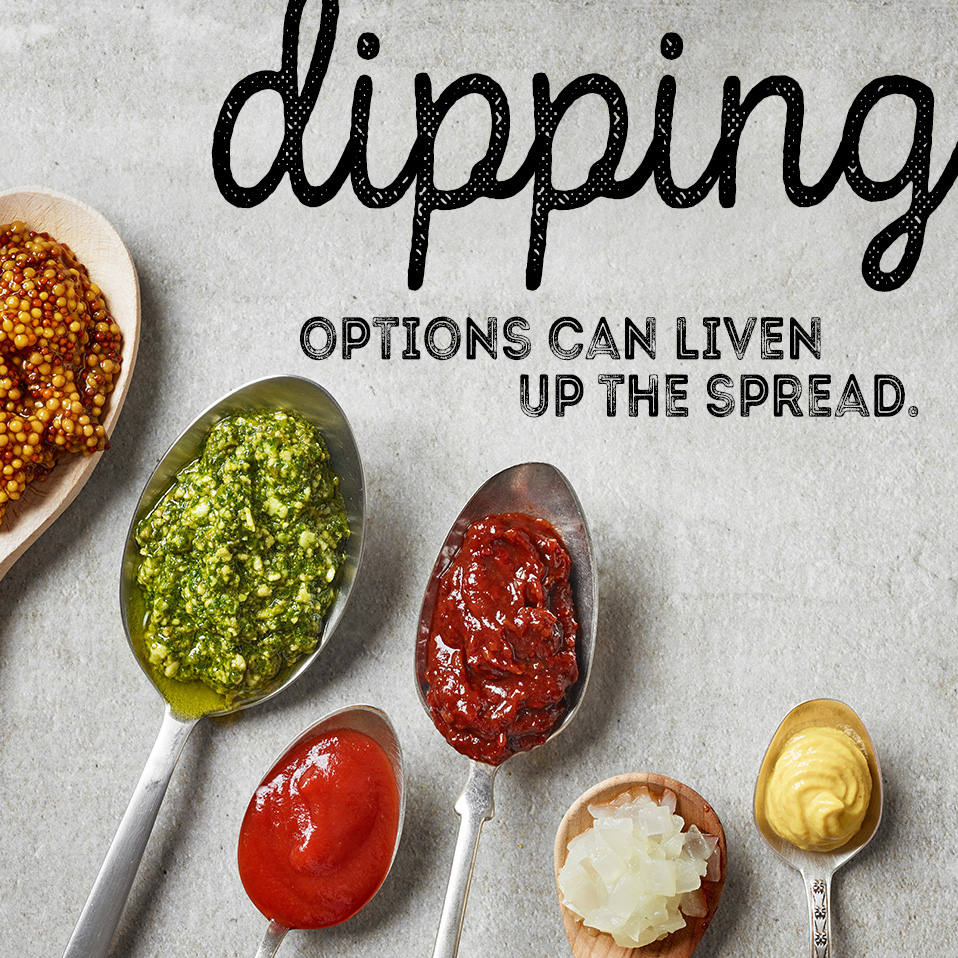 OK, wings generally come equipped with some great flavors, so most of the time people are more than happy with tasty, pre-sauced wings. But, sometimes a few dipping options can liven up the spread. Improve the prospect of people actually eating those garnish veggies you set aside.
Whether you need to turn up the heat meter or bring a little sweet-and-sour action to the table, we've selected a couple of quick sauce options sure to make the cut.
Orange-Honey Dipping Sauce
Because game-day dining can often be a cheese-fest, you may want to try something that shakes things up a bit. Fruity, tangy barbecue sauce strikes a perfect balance when paired with savory, breaded chicken wings — cutting through starchy, denser offerings with ease and clarity. Here's an easy, yet unique, dipping sauce recipe, and you may want to double it if you're planning on having company over — they're sure to gobble this up in no time flat.
Ingredients
1/4 cup of honey
1 cup orange juice
1/4 cup of barbecue sauce
1-inch piece ginger, thinly sliced
Ground pepper and salt, to taste
1/4 cup of apple cider vinegar
Instructions

In a smaller mixing bowl, whisk together orange juice, honey, barbecue sauce and ginger. Transfer to a saucepan and turn the burner to high.
When the liquid begins to boil, dial down the heat to medium and let cook for about 10-15 minutes, or until sauce becomes thick and sticky.
Remove from the burner and discard any chunks of ginger. Stir in the apple cider vinegar and season with salt and pepper, if desired.
Buffalo Sauce

This wouldn't be a complete list of chicken wings recipes without mentioning the legendary sauce from Buffalo, N.Y. In this case, we've taken a chicken wing staple and made it vegan. A touch healthier than its buttery counterpart, this sauce is sure to delight meat-eaters and herbivores alike. Time to start dipping.
Ingredients
1 teaspoon of brown sugar
1/8 teaspoon of cloves
1/2 cup of melted coconut oil
1 cup of hot sauce
1 teaspoon of chili powder
1/4 teaspoon of garlic powder
1/8 teaspoons of dry mustard
1 1/2 tablespoons of apple cider vinegar
Salt and pepper, to taste
Instructions
Place the coconut oil, hot sauce, vinegar, dry mustard, brown sugar, cloves, chili powder, garlic powder, salt and pepper in a food processor.
Puree until smooth.
Add the mixture to a small saucepan and turn the heat up to medium. Bring the sauce to a boil, stirring gently the entire time.
When the sauce begins to bubble, remove from the burner and set aside.
Transfer to a clean dish and serve alongside chicken or cauliflower wings, or use it as a hot sauce.
Getting Ready to Feed the Team? Ceramcor's Got All the Supplies You Need
While we're all about eating healthy whenever possible, sometimes you want to make an exception. With fall right around the corner and football season gearing up, it can be a challenge to find treats that are both wholesome and satisfying. We hope you're inspired by these wing recipes. If you're putting together a spread for your next get-together, give one or two a try, chop up some veggies and stock the fridge with some cool brews. Easy as that.
And, if you're on the hunt for some new kitchen equipment, we've got bakeware, cookware and the nonstick frying pans you need to rule the kitchen — covering everything from frying up a big batch of wings or sautéing vegetables to those life-saving one-pan meals for your day-to-day dining.