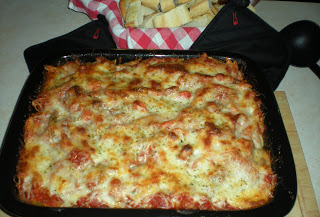 Xtrema Italian Baked Penne Pasta —
Greetings friends and Fellow Foodies,
Check out this Xtremely tasty and simple baked penne we cooked up over the Christmas Holiday for over 20 Xtremely happy and satisfied guests. This is a quick and easy way to impress family and friends, or to entertain guests at a small or large function.
What you need:
1 Red Pepper chopped
1 Yellow Pepper chopped
1 medium Vidalia Onion Chopped
Brown 1/2 lb of loose Italian Hot Sausage
Add 1/2 cup of Sun Dried Tomatoes
Add 2 diced Garlic Cloves
Sprinkle Sea Salt and Black and Red Pepper to add some Xtrema Kick
1 and 1/2 jars of Newman's Own Sockarooni Sauce
Layer with 16 oz of Mozzarella Cheese
2 lbs of Penne Pasta
What to do:
Saute the chopped onions, peppers, sun dried tomatoes and brown the Hot Italian Sausage.
Sauce- Add the chopped onions, peppers, and browned Hot Italian Sausage to the Sockarooni Sauce and mix well.
Pasta- Boil as directed on the box using the Xtrema 5.5 qt. Sauce Pot
Using the Xtrema 3.75 Oblong Baking Dish, layer as follows;
Start with just sauce at the bottom of the pan; add layer of pasta
Add layer of Sockarooni Sauce and chopped vegetables
Add layer of mozzarella cheese
Repeat these steps one more time
Garnish with crushed Red Pepper, and fresh basil
Bake at 375 degrees for approximately 20-25 minutes or to brown and bubbly
Let cool for around 5 minutes and bring the dish straight to the table for a delicious Xtrema Hot Italian feast!
Happy Holidays,
The Xtrema Cook