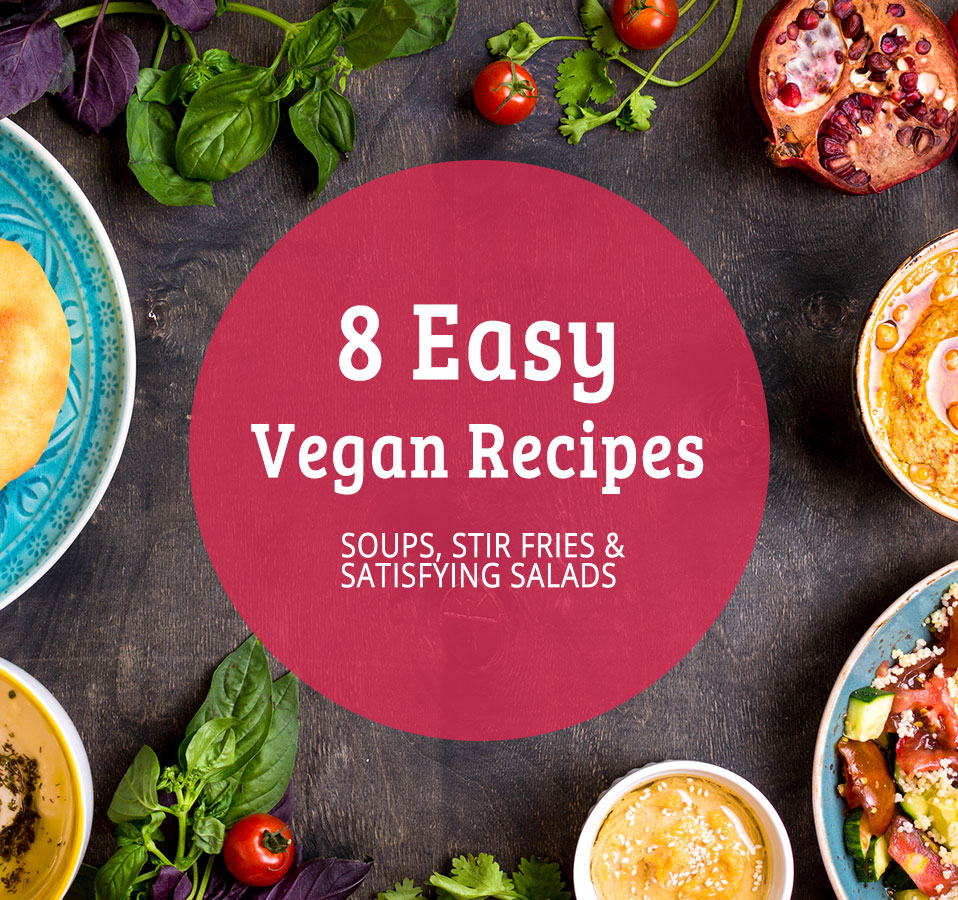 Going vegan can seem daunting. Whether you've given up meat in an effort to lose weight, or you've been struck with an ethical epiphany, starting from ground zero can be a bit overwhelming.
In any case we've put together a collection of easy vegetarian recipes, all of which contain no animal products whatsoever. From non-sad salads and hearty soups to taking on tofu, we've got you covered — and we promise, you won't be slaving away in the kitchen chopping vegetables for hours on end.
Basic Shopping Guide
You'll make things easier for the long haul if you stock up on some pantry staples you'll use time and time again that can function as the base for any last minute meal.
Fruits & Veggies
Sort of the mainstays of the vegan food pyramid, no? While fresh goods from the farmer's market always seem like the best way to stock up on roots and greens, don't underestimate the power of frozen. Frozen fruit is typically more nutrient dense than unfrozen produce, since it's flash frozen at its peak ripeness right up until you thaw it.
Broccoli
Carrots
Celery
Cauliflower
Cucumbers
Tomatoes
Bell peppers
Zucchini
Mushrooms
Asparagus
Kale
Garlic
Onions
Kale or spinach
Baby spinach
Lettuce greens
Apples
Oranges
Grapefruit
Lemons
Plums
Nectarines
Bananas
Melon
Grapes
Mangoes
Cherries
Berries
Grains
Proteins
 Oils & Fats
Coconut oil
Olive oil
Canola oil
Avocado
Peanut butter
Almonds
Cashews
Walnuts
Chia seeds
Ground flax seeds
Sesame seeds
Tahini
 Sauces and Toppings
A basic olive oil, salt and pepper seasoning can be boring. If you don't have time to chop garlic and make marvelous marinades, a little hot sauce goes a long way. Try these sauces and toppings:
Marinara Sauce
Hoisin Sauce
Tackling Tofu, Tempeh and Other Fake Meats

You're bound to forever dodge questions about where you're getting your protein. Fake meats, tofu, you name it — they can be a bit hard to swallow for the novice vegan, but tofu is undeniably delicious once you give it a chance. When it comes to easy tofu recipes, stir-fry reigns supreme. Grab some veggies and try these recipes that'll make you forget about meat in a heartbeat.
Tofu & Broccoli Stir-Fry
It doesn't get any easier, or tastier, than the simple yet satisfying tofu, broccoli stir fry. We like this recipe because it's easy, quick (30 minutes or less), and feeds a family of four without going nuts on portion size. Feel free to sub the broccoli out for literally any other vegetables you have on hand, frozen or otherwise.
Ingredients
1/2 cup vegetable broth
1/4 cup dry sherry or rice wine
3 tablespoons reduced-sodium soy sauce
3 tablespoons cornstarch, divided
2 tablespoons plus 1 teaspoon sugar
1/4 teaspoon crushed red pepper, or more to taste
1 14-ounce package extra-firm water-packed tofu, drained
1/4 teaspoon salt
2 tablespoons canola oil, divided
1 tablespoon minced garlic
1 tablespoon minced fresh ginger
6 cups broccoli florets
3 tablespoons water
Directions
Start by combining the broth, sherry and soy sauce with sugar, red pepper and one tablespoon of cornstarch in a small bowl and set aside.
Next, cut the tofu into small cubes (about ¾ inch). Pat tofu dry with a paper towel and then sprinkle with a bit of salt. Next, you'll add the remaining cornstarch in a large bowl with tofu. Gently shake until the cubes are sufficiently coated.
In a large non-stick pan, add 1 tablespoon of oil heat on medium-high. Add tofu cubes and cook until brown on all sides. Remove from heat and set aside.
Then reduce heat to medium, add the rest of the oil, plus garlic and ginger. Cook the mixture for about 30 seconds, then add broccoli and water, cover the pan and cook for about 2-4 minutes. Add the remaining broth, gently stirring into the vegetable mixture. Let the sauce thicken, and then add the tofu once again and mix everything together. Remove from heat and serve.
BBQ Tempeh Bowl
Think barbecue is always synonymous with meat? Think again. Caramelized onions and sweet potatoes meet smoky tempeh BBQ and avocado. This hearty bowl is loaded with nutrients, big on flavor and topped off with a creamy vegan ranch sauce.
Ingredients
2 cups leafy greens
4 ounces tempeh, sliced into thin triangles
2 Tbsp. BBQ sauce
1/2 small sweet onion, diced
1/2 avocado, diced
1/4 cup sprouts
1 tangerine, peeled and sliced segments
1 cup baked or grilled, cubed sweet potato
Easy Vegan Ranch:
1 Tbsp. vegan mayo
2 Tbsp. lemon juice
1 tsp maple syrup
Black pepper
1 tsp extra virgin olive oil, for pan
Directions
Add olive oil to warm skillet. Once the oil has been heated, add tempeh and onion and sauté for about two minutes, then flip. Coat tempeh with a generous helping of BBQ sauce and then cook for an additional minute or so—just until the edges start to blacken. If you find the tempeh is drying out, add a bit of water to the pan to moisten things up. Add black pepper to taste and remove from heat.
The next phase is the plating. Grab a bowl put down a generous helping of greens, then add the tempeh, sprouts, onions, orange, avocado and sweet potato.
For the ranch dressing, simply mix all ingredients together with a whisk and drizzle over the salad.
For Something a Little Heartier

Vegan Linguine
Sometimes you're craving something a little more substantial than a quinoa bowl. We love this vegan linguine recipe, as it breaks the mold of the typical vegan dish. It's not super healthy, but sometimes you need a big bowl of pasta and red sauce.
Ingredients
1 tablespoon olive oil
2 cloves garlic, thinly sliced
¼ teaspoon crushed red pepper flakes
1 jar marinara sauce
1 jar Spanish olives, drained and roughly chopped
1 jar capers, drained and roughly chopped
½ cup fresh parsley, coarsely chopped
½ teaspoon lemon zest
1 box linguine
Directions
In a large saucepan, add garlic, olive oil and crushed red pepper. Cook over medium heat for 2 minutes.
Next add in the marinara, plus capers, olives parsley and lemon zest. Bring the heat down to low and let the mixture simmer for 15 minutes.
In a separate pot, cook the pasta — follow instructions according to the package. Drain the linguine and add sauce.
And voila, shortest recipe ever. Transfer to serving dish and enjoy.
Soups & Stews

Simple, satisfying and the epitome of comfort foods, soups are the perfect dish for vegans looking for something beyond steamed vegetables. We've picked a few crowd pleasers that won't require slaving over the stovetop for hours. Plus, you might even have leftovers.
Vegetarian Pho
This pho recipe is deceptively quick and easy. Load it up with extra veggies and a generous helping of sriracha for a little extra spice.
Ingredients
64 ounces homemade or low-sodium vegetable broth
6 green onions, thinly sliced
1 tablespoon fresh ginger, peeled and grated
Salt to taste
1 1/2 tablespoon vegan butter
6 ounces shiitake mushrooms, tough stems removed
1 1/2 tablespoon hoisin sauce
2 teaspoons sesame oil
14 ounces rice noodles, cooked according to package instructions
8 ounces bean sprouts
2 jalapeño peppers, thinly sliced
Fresh cilantro, basil, lime wedges, hoisin sauce, and chili garlic sauce or sriracha for serving
Directions
Combine broth, ginger, green onion and salt in a large soup pot and bring to a roaring boil. Reduce heat and let the soup simmer for about 15 minutes.
Meanwhile, heat a large skillet over medium heat and melt butter substitute. Add mushrooms stirring often until tender — this should take about 6 minutes. Add in the hoisin sauce and sesame oil and cook the mixture until the sauce thickens and mushrooms are completely coated. Cook one more minute for good measure, and then remove from heat.
Divvy up the rice noodles and add to a large soup bowl. Fill bowl with the broth and top with jalapeno, bean sprouts, mushroom, basil and cilantro. Add lime, sriracha and hoisin sauce to taste.
Hearty White Bean Vegetable Soup
Enjoy a tasty, hearty soup, served up in a half an hour. Since it's vegetable-based, many of the ingredients are interchangeable. Feel free to sub kale for spinach, chard or whatever strikes your fancy. This recipe is perfect for a cold, stormy night in. Serve it with toasted French bread or rolls for total perfection.
Ingredients
1 Tablespoon olive oil
1 medium onion, diced
2 medium carrots, diced
2 celery ribs, diced
1 large leek, sliced into ½″ rings, washed well to remove any sand and drained in a colander
2 cloves garlic, chopped
3 Tablespoons tomato paste
1½ cups cooked white beans, rinsed
1 (28 ounce) can diced tomatoes
6-8 cups vegetable or chicken broth, or water
2 sprigs fresh thyme
2 cups diced butternut squash
4-5 kale leaves, ribs removed, roughly chopped
Salt and freshly ground black pepper, to taste
Directions
Start by heating oil in a large pot, then add onion and stir often, until the onion begins to soften. Add leeks, celery and carrots, cook for about 5 minutes — stir often so they don' t stick to the pot. Finally, add garlic and cook for just 30 seconds.
Next, add the tomato paste, and cook for 30 seconds (keep stirring!). Then add diced tomatoes, beans, broth, thyme and the squash. Season with salt and pepper, to taste. Bring the soup to a simmer and cook for another 15-20 minutes, or until squash has softened.
Add the chopped kale and let cook for another 5-10 minutes. Taste it, and add more salt and pepper if needed.
Salads

As vegans, vegetarians or vegetable enthusiasts, you're likely offered salad as a consolation meal when dining with others. Salads sometimes get a bad rap. Understandably so, as they're often associated with the kind of heinous iceberg lettuce and ranch dish that plays second fiddle to dry chicken breast or meatloaf. Salads are nearly impossible to screw up, they barely take any time to put together, and they are pretty darn inclusive — running the gamut from a simple mélange of organic greens to hearty potato or pesto pasta.
Here are a few hearty salads that make great stand-alone meals.
Farro Salad with Roasted Eggplant, Caramelized Onion and Pine Nuts
This delicious salad is relatively simple, but functions as a sophisticated, yet satisfying meal. Farro, eggplant and caramelized onions are the stars of the show in this non-traditional salad.
Farro
2 cups water
1 cup semi-pearled farro, or about 3 cups cooked farro
1 bay leaf
1 dried red chil1 pepper, optional
1 teaspoon minced hot green chili such as serrano, optional
3/4 teaspoon Aleppo pepper, or more as needed
3/4 teaspoon dried mint, preferably spearmint, optional
Salad
1 1/2 pounds eggplant, cut into 1-inch cubes (about 8 cups)
1/2 medium red onion, thinly sliced (less than 1/4 inch)
4 tablespoons extra-virgin olive oil
1/2 teaspoon fine sea salt
1/2 cup loosely packed torn fresh mint leaves
2 tablespoons white balsamic vinegar or red wine vinegar
1/4 cup lightly toasted pine nuts
Directions
Place a rack in the center of the oven and preheat to 425°F.
Mix water, farro, bay leaf and chili to a large saucepan and bring contents to a boil. Reduce heat to simmer, then cover saucepan for 20-25 minutes or until the farro has become tender. Then remove the chili pepper and bay leaf (unless you want to surprise your dining companions) and transfer the farro to a large bowl. Add mint and chopped peppers, then toss to combine.
For the "salad" part of this meal, place the eggplant cubes and onion on a large baking sheet. Add salt, plus two tablespoons of olive oil and mix it all up with your hands (keep em clean!).
Cook for 15 minutes, and flip the vegetables. Cook for an additional 15 minutes and add 1/4 cup mint and a tablespoon of vinegar. You'll want to roast the eggplant and onions until the eggplant becomes tender and brown, and the onions are caramelized. Once the vegetables have reached their desired texture, add mix to the farro, then add oil and vinegar and season with salt to taste. Garnish with the remainder of the mint and pine nuts.
Layered Raw Taco Salad
A vegan take on a perennial favorite, this nutty taco salad will keep you satisfied for hours, with vegan cream sauce, guacamole and walnut "meat" joining forces to create a truly unique dish.
Walnut Taco Meat:
1/2 cup walnuts, soaked for 2-8 hours
1 & 1/2 tsp chili powder
1/2 tsp cumin powder
Fine grain sea salt, to taste
Cayenne pepper, to taste (optional)
Vegan Cream Sauce
1 cup macadamia (or cashew) nuts, soaked in water for 2-8 hours
11-12 tbsp. water (use as needed to achieve desired consistency)
2-3 tbsp. fresh lemon juice, to taste
Sea salt, to taste
Guacamole
1 large ripe avocado
1/4 cup chopped red onion
1/2 small tomato, chopped
1/2 tsp ground cumin
1 tbsp. + 1 tsp lime juice
1/4 tsp fine grain sea salt, or to taste
Filling: Combine all ingredients in a food processor, but be sure to leave the walnuts a bit chunky for that "meaty texture." That's it. Alternatively, if you don't have a food processor, you can chop all ingredients and blend together by hand in a medium-sized bowl.
Cream sauce: Another great use for that food processor (if you're going vegan this is really a great investment.) Drain the nuts and give them a good rinse. Add to food processor and blend until completely smooth. For the sauce, you'll want to eliminate all chunks and lumps. Add in a 1/2 cup of water and two tablespoons of lemon juice, and keep on blending. If desired, add salt.
Guacamole: In a medium bowl, smash avocado with a fork, and be sure to leave some chunks. Add onion, tomato, lime juice and stir. Then add cumin and salt — you may want to adjust the quantities to taste.
Assemble: In a large bowl, add a couple of generous handfuls of greens and top with roughly a ¼ cup of guacamole. Add the walnut meat, plus two tablespoons of salsa, and drizzle the top with the cream sauce. Top with chopped tomatoes and the red and green onions and serve.
Smoothies

If there ever was a case for keeping things simple, it's the smoothie. Make them sweet, savory, nutty or chock full of kale. All it takes is your favorite vegan milk or juice (coconut water is a good choice), and a variety of fruits, greens and add-ons (try chia seeds, bee pollen or pea protein).
5-Minute Vegan Breakfast Smoothie
A tasty breakfast in under 5 minutes? This fruity, gingery treat is perfect for the days you're running late for work, or don't feel like firing up the skillet.
1 cup almond milk
1 ripe banana, sliced
1 cup frozen fruit medley (it's up to you — berries, mango, pineapple)
1 tablespoon coconut oil
1-2 tablespoons chia seeds
1 teaspoon ginger
As far as directions are concerned, this one is pretty straightforward. Add all ingredients and combine until smooth. Pour into a glass, or portable mug if you're on the go, and drink up.
Now that vegan cooking is within your realm of possibilities — it's time to get started! If you're new to veganism or cooking in general, check out our selection of ceramic cookware and accessories to help make cooking a breeze.