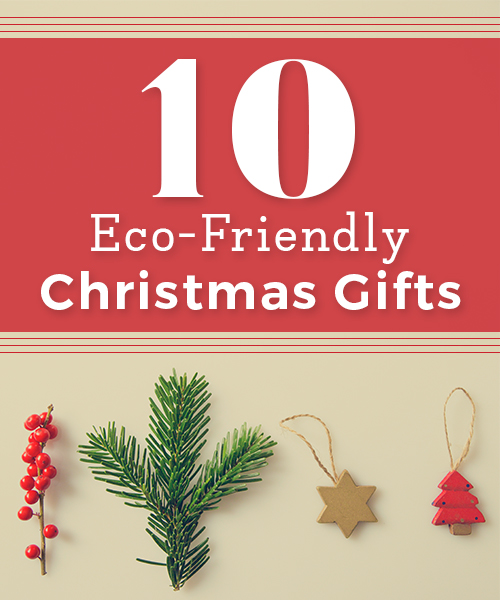 The Christmas season brings colorful lights, beautiful decorations, holiday parties and a long shopping list. Eco-friendly gifts are a good way to tackle your holiday list for everyone. Many of them let you give yourself the gift of skipping a trip to the crowded, overpriced mall. Whether the recipient already does their part to help the environment or needs a little encouragement in their eco-friendly ways, these gift ideas will put a smile on their face and reduce their carbon footprint. As a bonus, you can feel good giving them, knowing your gift does a little part to help the environment.
Experiences Instead of Physical Gifts
Most people on your list have all the "stuff" they need. Buying them more physical items just takes up space and increases consumption. Take a minimalist approach to make Christmas more eco-friendly by gifting experiences instead of items. Local experiences are even better, because the recipient can get to the location without creating a lot of travel pollution.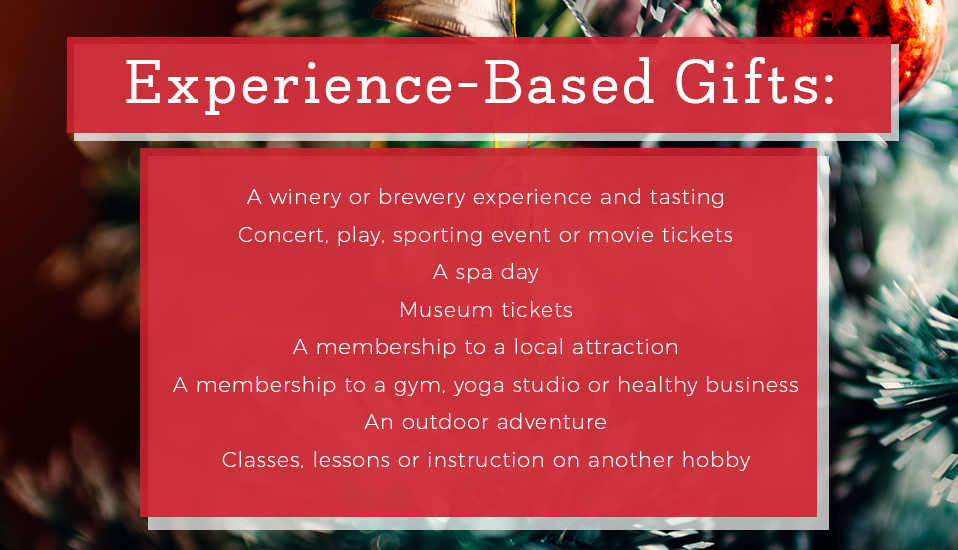 When you give an experience, you might buy tickets to an event, buy a gift card to cover the cost or book a session for the recipient. Consider the interests and hobbies of the recipient when choosing an experience-based gift. Some ideas for an experience include:
• A winery or brewery experience and tasting
• Concert, play, sporting event or movie tickets
• A spa day
• Museum tickets
• A membership to a local attraction
• A membership to a local gym, yoga studio or other healthy business
• An outdoor adventure, such as hiking, camping or skiing
• An art class
• Classes, lessons or instruction on another hobby
When possible, choose experience options that support the sustainable lifestyle. For example, you might book a spa treatment at a day spa that uses organic, eco-friendly products. You might find a local winery that uses sustainable farming practices to grow their grapes. These strategic choices make the gift even more sustainable and eco-friendly.
Honorary Donations
Another route for eco-friendly gifts for someone who has everything is a donation in the person's name. You put your money toward something positive, and the recipient gets the honor of having the donation made in their name. You get extra eco-points if the donation goes toward an eco-friendly cause, such as conservation or environmental concerns.
Straight monetary donations made under the recipient's name are one option for the gift. Many organizations offer special gifts around the holidays for donations. This lets the recipient have a physical reminder of the donation. Others might offer a certificate when you donate on behalf of someone else. Give the recipient the certificate to show your generous act.
Another option is a symbolic adoption on behalf of the recipient. This is common for animal-related organizations. You might symbolically adopt an animal at a zoo or animal sanctuary to cover the cost of care, for example. These types of donations often come with photos or similar items about the selected animal that work well as something physical to give the recipient.
Repurposed Items
One of the easiest ways to be green is to keep things out of the landfill. Gifting repurposed items is one way to achieve that goal. With a greater awareness and support of the green movement, repurposed items are more readily available than ever. You can go to any craft or maker fair and find booths full of repurposed shelves, clothes, furniture and more with options at any budget level. Find a repurposed item that fits the recipient's personality and lifestyle.
If you feel crafty, you can make your own repurposed items as gifts. Turn an old sweater into a custom coffee sleeve. Make a DIY shelf or wine rack from an old pallet you have in the garage. Create an individualized lamp out of an old glass bottle. The possibilities are vast and range from beginner to expert levels.
The great thing about repurposed items is the unique character. Even if an artisan sells multiples of the same type of item, each tends to have its own unique look and style since they're all made from different items.
Things That Grow
One of the easiest sustainable gifts to give is a plant or related items. A potted plant or seeds to grow plants provide a gift that lasts long after the holiday snow melts. Choose a plant that can grow well indoors during the winter months, such as a houseplant, succulents or potted herb garden, so the lucky recipient can start enjoying the greenery immediately. Another option is to stick with seeds so the recipient can plant them once the growing season begins.



Pair the plants with other gardening or plant-themed items to create a well-rounded gift option. Consider these ideas:
• Flower pots made of eco-friendly materials
• Durable gardening tools that will last so they don't end up in the landfill
• Watering can
• Organic plant food
• Plant stakes or markers made of recycled materials
• Indoor grow kits to start seeds early
• Books on sustainable gardening practices
If the recipient doesn't have a green thumb or has no interest in gardening, consider a membership to a local Community Supported Agriculture (CSA) organization as a Christmas gift. When the weather warms up again, the lucky recipient gets fresh, locally grown veggies every week throughout the growing season without getting dirty or remembering to water plants. Look for a CSA that uses sustainable and organic farming practices to make the gift as green as possible. Supporting local agriculture not only keeps money in the community, it minimizes the environmental impact by significantly reducing the distance the produce travels to get to the consumer.
Coffee and Tea Sets
For the caffeine addict on your shopping list, coffee or tea related gifts are a smart choice. Choose eco-friendly materials when selecting things like teapots or mugs. Our line of teaware features green ceramic craftsmanship, so you can feel good about giving it to the tea lovers in your life.
Don't forget the actual tea or coffee to go along with the kettles and mugs. Look for free trade coffee or tea to make the gift even more eco-friendly. Include our silicone tea infusers with a package of loose-leaf tea for a safe and green way to brew tea at home. These green products let the recipient experience the full flavor of the selected beverage without extra chemicals or heavy metals in the brew.
Eco-Friendly Food Storage
The kitchen is a major source of trash. Eco-friendly and re-usable food storage options cut down on all the plastic, foil and other trash generated from the recipient's kitchen. These gift items work well in a larger kitchen-themed gift, such as a cookware set or serving items.
Here are a few examples of eco-friendly food storage items that work well as gifts:
• Bee's Wrap: This sustainable food wrap option replaces traditional plastic wrap in a reusable format. The product consists of organic cotton, beeswax, tree resin and organic jojoba oil. Warmth from your hand allows the wrap to mold around your food or container and forms a seal as it immediately cools. With proper care, the washable, reusable wrap can last a year. Bee's Wrap is recyclable, biodegradable and compostable, so it won't end up in a landfill once it has fulfilled its use in the kitchen.
• Linen Bread Bags: Reusable drawstring bags made of linen keep bread fresh while keeping plastics out of the kitchen. Pop a fresh loaf of artisan bread from a local bakery into the bag just before giving it as a gift. Pair it with a bottle of organic, eco-friendly wine and an upcycled cutting board for a complete gift.
• Fridgex Storage Containers: Our line of Fridgex storage containers, made of eco-friendly silicone, offers another gift option in the green food storage category. These containers can transition from the freezer straight to the oven without any waiting. The construction is unbreakable, durable and long lasting, making the containers eco-friendly. The Fridgex line is also 100% recyclable and non-toxic to the environment.
Solar-Powered Items
The recipient may not have solar panels on the roof, but small items run by sun power can make a little impact on energy consumption. One option that works for anyone on your shopping list is a solar-powered phone charger. Who doesn't have a cell phone these days? Most of us know what it's like to see the battery percentage slowly drain, with no electrical outlets in sight. A solar-powered charger lets the recipient stay in touch anywhere without consuming electricity.
Wooden Kitchen Utensils
Whether the recipient cooks all the time or only uses the stove to reheat leftover Chinese food, a basic set of kitchen utensils is necessary. Instead of choosing plastic utensils full of toxic materials, give a gift of Jonathan's Wild Cherry kitchen utensils to everyone on your list.
Why are these utensils so special? The beautiful cherry wood used to make the spoons, tongs, turners and more comes from well-managed, sustainably harvested forests. With proper care, these utensils can last a lifetime. That cuts down on the old metal utensils that end up in the landfill. Pair the wooden utensils with other kitchen supplies or a cookbook with beautiful photographs, and you have a complete gift package, perfect for all levels of cooks.
Locally Crafted Items
Items made locally get from the source to the consumer with a much shorter transport time, which reduces emissions, making them environmentally friendly gifts for the people on your holiday shopping list. You also financially support a local, independent artisan, which will make you feel good about your holiday purchases.
You can find local items in many sources. Seek out these options:
• Local vendor fairs or events
• Holiday events with vendor booths
• Locally owned shops
• Advertisements in local publications
• Selling groups on Facebook and other social media
• Word of mouth
Local artisans make almost anything you can think of, from home décor to homemade food.
Quality Ceramic Cookware
Think about some of the cheap metal and non-stick cookware on the market these days. It doesn't take long for the pans to show signs of wear. They become junk and get tossed out with the rest of the garbage which adds to our already full landfills.


Protect the environment by gifting someone special a set of quality ceramic cookware. The longevity of the set means the recipient won't need new cookware anytime soon.
Our Xtrema Cookware offers a number of benefits for your recipient. Check out these reasons to give Xtrema as an eco-friendly holiday gift this year:
• All Natural Components: Xtrema cookware uses natural materials, including clay, water and inorganic mineral and refractory clay.
• Chemical Free Construction: Our cookware contains no lead, cadmium, heavy metals, PFOA or PTFE, making the pieces safe and chemical free.
• Durability: The Xtrema cookware pieces are made of ceramic that won't scratch and withstands temperatures up to 2,500°F, compared to the melting point of metal at 2,200°F.
• Warranty: This line comes with a 10-year warranty against scratching. The gift of Xtrema cookware is one that will last year after year.
• No Leaching: The solid ceramic cooking surface of Xtrema cookware means your food won't leach any chemicals or trace metals. This provides the recipient with healthy food.
• Versatility: Xtrema cookware works with a variety of cooking appliances, including ovens, stovetops, broilers, toaster ovens, convection ovens, grills and microwaves. The pans can go in the freezer and in the dishwasher. The recipient will get a lot of use out of this versatile cookware!
Eco-Friendly Christmas Gift Wrap Ideas
You spent the time picking out the perfect green gifts, but don't stop there. Wrap that gift in an eco-friendly package to further your commitment to sustainability.
Try these eco-friendly gift-wrap options:


• A Cloth Bag: You can never have too many reusable bags. Instead of using a paper gift bag that will get thrown away, pack gifts in a cloth bag that the recipient can reuse. You get bonus points if you buy a recycled reusable bag.
• Clothing or Other Cloth Item: Why stop at cloth bags? Any type of cloth works as a wrapping for a gift. Use a scarf or cloth napkin as the wrapping to eliminate waste.
• Newspaper, Magazines and Catalog Pages: Before sending these paper items to the recycling bin, use them as gift-wrap for presents. Magazines and catalogs typically have shiny, colorful pages that hold up well, making them ideal for wrapping small gifts. Newspaper pages are much larger, allowing you to wrap larger gifts easily.
• Last Year's Wrapping Paper and Gift Bags: If you fold old gift-wrap and bags carefully, the paper stays flat and crisp, allowing you to reuse it for future gifts. This keeps the paper out of the trash for an eco-friendly wrapping option.
• Decorated Box: Instead of buying new gift boxes, use boxes you already have around the house. Add a fun touch with paint, stamps or other designs to make them look festive.
• Other Papers Around the House: As long as it's large enough to cover the present, almost any type of paper works as an alternative gift wrap. Try old maps, calendar pages, children's artwork and brown paper bags.
• Useful Container: Use a container related to the gift as the outer packaging. Put cooking-themed gifts inside a Ceramcor Xtrema skillet with a lid, for example, or put gardening supplies inside a clay pot with the saucer on top. A simple piece of twine to hold the lid in place completes the gift.
With so many choices, you can buy sustainable Christmas gifts for everyone on your list. Start shopping now to make this holiday season bright, merry and green.