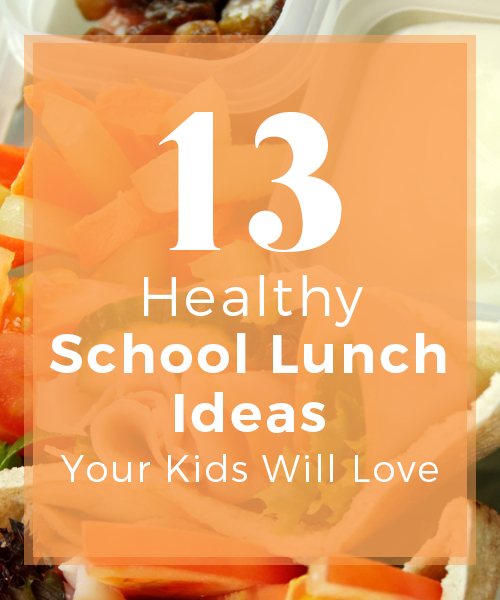 It's hard to believe back to school season is upon us already — and with it comes the challenge of brainstorming a variety of healthy school lunch ideas for your kids. Meal planning for kids can be a pain (especially if you find yourself overwhelmed with finding school lunch ideas for picky eaters), but the research shows it's worth it — according to the Centers for Disease Control and Prevention (CDC), proper nutrition promotes the optimal growth and development of children. So, as you're scrambling to try to plan meals for your kids, remember that not only are you putting them on track for growth and development, but also teaching them healthy eating habits that can last a lifetime.
The best place to start is the basics. Remember the food pyramid you learned when you were younger? Chances are it has evolved a bit since you last looked at it, but it's the perfect place to start in planning healthy lunches for kids. The most recent version of what we knew as the food pyramid is now called MyPlate. While it looks a little different than what you may remember, it still focuses on distinct food areas from most to least important. These are grains, vegetables, fruits, milk, meat and beans and oils. In your healthy school lunches, you should try to focus on the first five food groups. It's really easy to dedicate a small section of your kids' lunch to each.
Once you've established the basics, it's a good idea to see if there are ways to get creative with the foods you've chosen. This doesn't need to be a complex food DIY crafting project — it can be as simple as cutting a sandwich into an unusual shape, or making a funny face with some of the fruits and veggies. Remember ants on a log? It was as simple as taking celery, adding peanut butter and sprinkling a few raisins on top. That's the kind of creative flair we're talking about.
Fortunately, with the Internet, there is a lot of inspiration for you as you plan your healthy school lunches based on these five food groups — so you won't have to reinvent the wheel. We've collected a few of our favorite components of healthy lunches for kids below to get you started.
Deconstructed Sandwich
Often in the form of a kabob, the deconstructed sandwich is exactly what it sounds like — all of the elements of a traditional sandwich in another form. For example, perhaps a turkey and cheese sandwich would become kabobs with lunchmeat, cubes of cheese and cherry tomatoes. You could also incorporate leftovers from a previous night's dinner and substitute chicken, steak or fish for the lunchmeat and alternate other items to match. While the bread often gets ditched for the deconstructed sandwich, there are certainly ways to incorporate it if you want — perhaps most easily in the form of cubes.
Kids' Sushi
Before you start making assumptions, no, we're not suggesting that you spend all kinds of money on fancy sushi for your kids' lunches. Instead, this can be another creative way to present a sandwich, veggies, fruit or even dessert. The options are truly endless! The foundation is a wrap with some sort of spread — choose from yogurt, peanut butter, avocado, etc. Then, what you add is totally up to you. You could do a traditional turkey, cheese and avocado on the wrap — or go for a peanut butter and strawberry for a play on peanut butter and jelly. Either way, you get everything on the wrap, roll it up and slice it. Voila! You have a healthy lunch option that looks like a sushi roll. If you want, add some sort of dip for your kid's sushi to put it over the top. Perhaps a yogurt ranch dip for a veggie roll, or vanilla yogurt for a fruit roll.
Apple Cookies

Cookies don't have to be the sugary dessert you are constantly trying to pry from your kids' hands. In fact, there's a significantly healthier version that makes a great addition to healthy school lunches for kids. The base of the cookie is the combination of an apple, sliced thin, with a light coating of peanut butter. Toppings can vary depending on what your kids enjoy most — some of our favorites are nuts, chocolate chips, raisins or small fruits. Yum!
Pizza Bites
If your kids crave pizza, we've a healthy solution that just might do the trick. The secret is to substitute a veggie for the pizza crust. So, instead of purchasing a bag of bagel bites or mini pizzas that come with a high dose of sodium, you'll create a healthy new version of a classic. We've seen zucchini crusts, cauliflower crusts and even sweet potato crusts. Just pick your preference and check out some of the recipes available online. Your kids will appreciate keeping their favorite toppings, and you'll sleep better knowing you've created a heathier version. Looking for school lunch ideas for picky eaters? Try making a pizza with a tortilla as the crust. It's a little less of a change, you can sell it as a thin crust and it's still much better than those prepackaged pizzas.
Roll Ups
Fruit roll ups are a classic, but the fruit roll ups you can get in the store are packed with sugar and barely any nutritional value. Rather than spending money on something that isn't going to benefit your kids, we've found several recipes for simple fruit roll ups you can make at home. There's a lot of flexibility here, depending on what type of fruit your kids enjoy most. The basic ingredients you'll need are fruit, lemon juice and honey. Mix it all up in the food processer and then let it dry out in the oven for several hours. While it does take time to get in the traditional roll up form, the prep work is minimal, and it's a much healthier option that buying that box from the store.
Kabobs
Pretty much everything you've ever considered putting in your kids' lunch box has a kabob version. Have you considered the kabob version of a salad, or pizza? A chicken cobb salad could be a kabob with a hard-boiled egg, avocado, bacon, cherry tomato, lettuce, chicken and cube of cheese. Pizza kabobs might be naan, pepperoni slices, cherry tomatoes and mozzarella cheese cubes. If you already have the protein covered, consider a kabob filled with veggies or fruits. This is an easy way to incorporate any of the five main food groups quickly, without needing to use too many of your creative juices.
Yogurt Bark

While we love this idea, we should probably warn you that it is frozen, so the longer it's away from the freezer, the messier it will become to eat. Nevertheless, it's a solid choice for healthy school lunches. Cover a pan with parchment paper — the size doesn't really matter, but keep in mind this will need to be in the freezer for several hours, so you'll want to choose a size that will fit conveniently. Spread a layer of yogurt over the parchment paper, as evenly as possible. Then, add toppings. One of our favorites is to sprinkle cereal or small pieces of fruit over the yogurt. Then, put it in the freezer until the bark is frozen solid, remove it, break it apart and you have a healthy yogurt bark. It's a wonderful addition to healthy school lunches if you can keep it cool.
Savory Muffins
While sweet muffins are awesome, the amount of sugar in them is less than ideal. However, there are muffins that can make a wonderful addition to your kids lunches — savory muffins. We've two favorites in this category, the first is more of a breakfast muffin, but it's packed with nutrients, so why not use it for lunch? The base is scrambled eggs and can include everything you've ever considered putting in an omelet. That's actually pretty much what they are — omelet muffins! The second is one we've seen quite a bit online — corn dog muffins. The base is cornbread, and then you add a mini hot dog to each of the corn bread muffins while you bake them. The result is a corn dog muffin — adding a little variety to your healthy lunch.
Energy Bites

If energy bites don't sound familiar, perhaps protein bites do. Going by two separate names, the core ingredients of these delicious bites are good in moderation and can serve as a healthy dessert for kids — and a healthy snack for you. You'll need rolled oats, peanut butter, honey, your favorite nuts and chocolate (optional). We've also seen them made with dried fruit, which is another great addition. We won't pigeonhole you to one recipe — there is a variety available online depending on your ingredient preferences. Nevertheless, most use rolled oats, peanut butter and honey as the base and don't require much (if any) time in the oven. They're easy to prep and convenient to have as an addition to school lunches and around the house.
Baked Fruit
If your kids have a sweet tooth, you may want to try baked fruit. It's sweet, but without all the processed sugars that come with many desserts. Strawberries are one of our favorites — just slice them up and pop them in the oven on a low temperature for a few hours and you'll have little sweet treats to send with your kids in their lunches. Another favorite is apples, which you can use as a substitute for potato chips. Just cut the apple into circular slices and bake them the same as the strawberries and you'll have lots of apple chips! These are a healthy alternative to those snack bags of chips you can buy at the grocery store. There are plenty of options to bake other fruits as well, these are just two we love.
Chicken Nuggets
Yes, you read correctly — chicken nuggets. Your kids can have them and you can provide them with a clear conscience. The secret? Cover those chicken nuggets with cooked quinoa instead of breadcrumbs. Of course, they're also baked, not fried, but the secret to making them crispy is to cover them with cooking spray. Yes, that adds some oil to your diet, and you can skip that step if you want. However, even if you cover them in cooking spray, we're sure it's still much healthier than the fried version. Besides, quinoa is so packed with nutrients, you'd be hard pressed to find a coating that beats it.
Wraps
Much like a simplified version of kid's sushi (without the rolling), you can put pretty much anything in a wrap. If you find yourself missing one of the food groups for your healthy lunch, chances are you can find a way to put it in a wrap. A dessert wrap might be a banana with chocolate spread. Or, if you need some additional fruit or veggie servings, you can almost always combine fruits and veggies in a wrap with some sort of healthy spread. It also gives a little variety to some of the ingredients you may usually put in a sandwich.
Sandwiches

While traditional sandwiches sometimes get a bad rep for being boring or unhealthy, they are certainly still a lunch staple. We couldn't bring ourselves to leave them out. We're sure we don't have to review how to make a sandwich, or what you might be able to put into one, but there are some ways to spice up these traditional lunch favorites for your kids. Instead of keeping sandwiches in their usual form, with a straight or diagonal cut down the middle, consider rolling a peanut butter and jelly sandwich after you've made it. Not all sandwiches have a good base for rolling, so another idea is to get creative with your sandwich cuts. Whether you decide on a simple heart, or try for an animal outline, it will be sure to brighten your kids' day when they see their sandwich with a little creative flair.
Once you've decided what to pack your kids in their school lunches, the next thing you need to know is what you're going to store them in. Our FridgeX Silicone Collapsible Food Storage Set is the perfect solution for three big reasons. First of all, they are FDA-approved containers for bother storing and baking, so you know they're safe for your kids and don't need to worry about hidden toxins that come with some other plastics. Second, they absorb cold, so whether you pack your healthy lunches the night before, or just put these containers in the fridge the night before, they act as a cooler, without the bulk. Third, they collapse for storage, which makes the nightmare of your crowded Tupperware drawer suddenly disappear. Bonus: your kids can collapse them after lunch in their backpack, making them easy to transport home. They come in a variety of sizes and are sure to give you exactly what you need to transport those healthy lunches.
Sure, the back to school season can be stressful, and the thought of coming up with months of healthy lunch ideas for kids may seems overwhelming, but we hope these ideas help relieve some of that stress. Remember, by focusing on providing healthy school lunches for your kids, you're enhancing their growth and development and ensuring that they are developing healthy eating habits that can last a lifetime. And who knows, you just might find some of these lunches work well for you too!