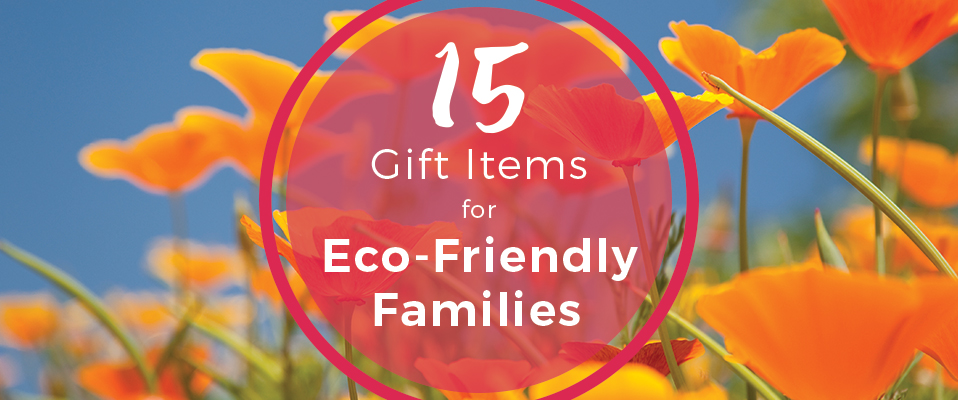 With more and more people becoming conscious of how their usage of products affects the environment, it is important to take into account their desire to preserve the planet for generations to come. If purchasing natural gifts for someone who is eco-friendly, make a conscious effort to consider their wants and needs. Choosing eco-friendly products for them will show that you have not just blindly purchased an impersonal gift card — but that you have put much thought into the gift and that, you care enough to give them something they can use.
Below are 15 ideas that will highlight some of the most popular eco-friendly gifts and give you a starting point as to where to look when considering your purchase.
Cloth and Clothing
Purchasing recycled clothing items as well as reusable cleaning cloths and bags is one of those great organic gift ideas. It is a way of showing that special someone you appreciate that they care for the environment:
15. Hand warmers. Fair Indigo makes recycled hand warmers that are both stylish and practical. They come in a variety of styles and designs and are different from the typical glove in that they go up a little higher on the arm. However, they do leave your fingers free for texting or grasping objects that you may not be able to grasp with full gloves or mittens. Seven people at the company scan the globe to find unique products made according to fair trade. Many of the products contain organic ingredients.
14. Arm warmers. Arm warmers are the key to staying warm while cycling or participating in other outdoor activities in cooler weather. It is often easier to keep your legs warm with thicker pants, but your arms can be tricky without adding extra bulky layers. Elle B See makes these items from repurposed sweaters.
13. Reusable cloth bags. Cloth bags from Eco-Bags Products, Inc. are made to be used repeatedly. They can replace thousands of plastic bags that would otherwise clog our landfills. Eco-Bags started in 1989 by making a classic string bag. This has expanded to include cloth bags that are made from recycled cotton.
Eco-Bags now makes a variety of products including the original string bags, canvas tote bags, lunch bags, produce bags and bamboo reusable utensil sets. Their goal is to limit the use of single-use plastic bags.

12. Microfiber cleaning and anti-bacterial cloths. E-cloth was started in 1995 in Europe and was not sold in the U.S until 2008. E-cloth makes use of a special microfiber technology in its cloths that allows for superior cleaning by using only water — there are no chemicals. Tests have shown that these cloths are able to remove almost 100% of bacteria from various surfaces by use of the special microfiber technique. all but .01% of that bacteria, grease, and dirt goes down the drain as the cloths are rinsed.
Tech Gadgets
Let's face it. In this tech savvy culture, you can't go wrong by purchasing a unique and practical gift for the tech guru on your list. And if you can make it environmentally friendly, that is a sure bonus. Check out the gifts that are sure to please anyone who is technically well informed:
11. Solar tree. A Solar Suntree is actually a wooden tree with solar panels attached. It includes a mini USB and complete instructions on how to recharge your phone using solar panels. Made from sustainable bamboo, it is one of those perfect sustainable gift ideas for an environmentally conscious friend.
10. Bamboo dry erase board. While not exactly a tech gadget, the Bamboo Desktop To-Do-Board is the new way of using a dry erase board. You can display it flat either on your desk or on its stand, and you can clean it using the wipes or special cleaning spray. It's constructed of sustainable bamboo, and it comes with a pen and eraser — effectively eliminating those reams of paper that may have previously been used for notes!
Tools for Recycling
While many of us are good at recycling when we remember, others are diligent and make every effort to ensure they recycle at every opportunity. For the ultra-conscious recycler, there are tools that make the process easier than ever:
9. Organizer for recyclables. A recycling organizer can make the process easier by allowing the recycler to separate their recyclables into glass, bottles, cans, paper or plastic. With three separate compartments and color-coordinated pedals that are used to remind you which items you are recycling, this stainless steel can has three separate bins.
8. Reusable water bottles. Reuseit makes glass water bottles, which can replace the scores of plastic water bottles that you buy from the grocery store. In addition, you don't have to worry about potential contaminants leeching into your beverage with a glass water bottle.
Help for Those With a Green Thumb
Though not everyone has a green thumb, the professional or aspiring professional grower who wants to make the environment safer will really enjoy a gift that reflects both his and her interests and tastes:

7. Indoor plants. What better gift to give your environmentally conscious friend than a plant? Some of the best indoor plants are ones that you may be familiar with but didn't know that they are environmentally pleasing for the indoor environment of a home.
Chrysanthemums have beautiful blooms, but they also are listed as one of the top plants for purifying the air according to NASA. One of the drawbacks is that they are poisonous to children and pets.
Spider plants thrive even if you occasionally forget to water them. They are great for removing chemicals such as carbon monoxide from the air.
Ficus are common office plants that are perfect for the office environment because they will thrive in indirect lighting. They also are wonderful at purifying the air. Be careful of their sap because it is an irritant to people and to pets.
Red-edged dracaena, known as the dragon tree plant, is another air purifier and is known to remove formaldehyde from the air.
The beautiful peace lily can thrive in indirect light and is another good choice for an office plant. It also removes formaldehyde from the air, and its droopy leaves will return to normal once watering it again.
The non-toxic Boston fern really thrives in humid environments and is one of the best plants for removing formaldehyde from the air.
Though toxic if children or pets eat the leaves, the golden pothos purifies the air and doesn't need frequent watering. Drooping leaves will return to normal after it receives its required hydration.
The snake plant can survive with low lighting and little watering, and it made NASA's list of air-cleaning plants. The biggest drawback is that it is toxic to pets, possibly causing them to be nauseous and induces vomiting.
Bamboo palms aren't harmful to pets and children. They also reduce formaldehyde in the air and are hardy as long as they are not overwatered.
An aloe vera plant will survive even if it occasionally doesn't get watered. This plant absorbs carbon dioxide in the air, and the aloe vera gel contained in the leaves is soothing to burns.
Beauty Products
Your environmentally conscious consumer of today isn't the same as those from the 1960's. Just because a woman is environmentally conscious doesn't mean that she isn't beauty conscious as well:
6. Beauty brushes. Beauty brushes are an essential in the morning ritual of many women as they are used for applying various types of makeup. EcoTools makes brushes that have handles made from bamboo and cruelty-free bristles — and they donate 1% of their sales to an organization that helps use resources to make a healthier planet.
5. Nail care products. Many nail care companies are trying to get away from the harsh acetones that have been prevalent in products for years. Londontown makes their gluten free, vegan, and cruelty free products with essential oils and vitamins to help create stronger nails. Their products include nail lacquers, restorative creams, strengthening lacquer, nail hardener, and cuticle oil.
4. DIY facials. Facials are a wonderful way to rejuvenate skin of all ages, but not everyone wants to go to a spa or salon to have a facial. For the perfect at-home facial spa experience, purchase the ReFa Pro Skin Rejuvenation Platinum Electronic Roller. This roller is portable, waterproof, and is a good substitute for your aesthetician. It can renew the skin all over your body with its unique rolling massage.

3. Natural soaps. Another great organic gift idea is Dr. Bronner's soaps. These soaps represent organic products with more than 150 years of soap making and five generations of a family, that has been devoted to making the highest quality soaps.
Emanuel Bronner was born in 1908 to a German-Jewish family and was the third generation in his family to be a master soap maker. Currently, the fourth and fifth generation members of the family run the company. Dr. Bronner's has been involved in making personal care products that are USDA certified organic as well as giving back to charities across the globe.
Additionally, not only does Dr. Bronner's use organic all-natural ingredients in its soap products, but also it purchases its raw ingredients from fair trade projects across the world. This means Dr. Bronner's only purchases these ingredients or products from organizations devoted to treating their workers with fair wages and providing benefits to their workers and their families.
As a result of Dr. Bronner's devotion to fair trade, underserved communities world-wide have been able to fund fresh-water well drilling in their communities and provide medical equipment for their clinics and remodel their schools.
Dr. Bronner's soap products are different from other soap products in several respects. While other soap products take the glycerin out during the distilling process, Dr. Bronner's leaves it in thereby adding moisturizing properties to the soap. The additional fat in Dr. Bronner's' products creates a lather that is not harsh. Not only do they use essential oils, but also their soaps are much more concentrated. The packaging is superior to that of other soaps, too, since it's made from 100% recycled plastic.
Cooking  Tools
Even in the kitchen, there are ways to "go green" and be eco-friendly. Here are a couple of ideas for those eco-conscious people who know their way around the kitchen:
2. Solar Oven.Wouldn't it be great if you could harness the sun's solar power to help with cooking? With solar cooking, you can make that type of cooking a possibility. One of the best methods for solar cooking is the GoSun Stove. This will enable you to cook even if you cannot see the sun. This solar cooking uses a variety of cooking methods including roasting, boiling and frying.
Solar energy expert and founder Patrick Sherwin who realized one day that he could cook his lunch using vacuum tubes started the company. By gathering a team of engineers and designers, Sherwin's team was able to create stoves that harnessed the energy of the sun to expertly cook food.
The popular grill is portable and won't burn your food. You can use it to roast, boil or steam and bake. It uses the simple principles of having reflectors that reflect the sunlight and heat the cooking chamber. A vacuum tube then converts the sun into heat in the insulated tube. Temperatures can actually reach up to 550 degrees F.
Without smoke or cinders, the GoSun Stove is simple to clean up, and there is no need to purchase costly fuel. The exterior of the GoSun is cool to the touch because the insulated vacuum tube keeps the heat inside where it is cooking the food.

1. Ceramic cookware. Founded in 2007, Ceramcor makes ceramic cookware that is safe for your family and won't leach dangerous chemicals into your food. Ceramcor is committed to making products that are healthy not only for the consumer, but also for the planet. The ingredients in the ceramic cookware include inorganic materials such as Kaolinite Cordierite. These materials are non-toxic, and no chemicals or non-toxic materials are used in the cookware's manufacturing, either.
To make cookware non-stick, many manufactures use Teflon to coat it. However, once the Teflon becomes scratched, pieces of it may come off into your food. Teflon also has been shown to be a carcinogen —which can increase your risk of developing cancer.
With Ceramcor Xtrema's cookware, there is no use of toxic materials. It is resistant to scratches and can withstand temperatures up to 2,500 degrees F. It can be placed in the freezer, and it can go under the broiler — making it versatile enough to go from freezer to stovetop to tabletop. Additionally, Ceramcor cookware has a 10-year warranty against scratching and thermal breakage.
Ceramcor's ceramic cookware is also easy to clean and extremely versatile — which is a refreshing change from some of the cast iron cookware on the market. Though it is dishwasher safe, the company recommends hand washing using baking soda or other cleansers as well as brillo pads or SOS pads. While the cookware is not non -stick, spraying it with a non-stick spray will lessen the likelihood that food will stick to the surface of the pan.  Using low heat to cook with Xtrema is recommend for improving the quality of the cooking experience as well as the flavor of the food.
When considering buying an eco-friendly gift, consider purchasing Ceramcor, the gift to last a lifetime.