Fad diets come and go, but finding a new way to prepare and enjoy your food (for both you and your family) will provide a healthier atmosphere that is easier to maintain in the long run. Rather than making drastic changes to your eating habits that are difficult to stick with over time, it might be easier to adopt clean eating recipes that will fill your family while keeping you all away from unhealthy, heavily processed foods.
So what is clean eating? Unlike short-term programs that are designed to help you lose weight or get in shape, learning how to eat clean is a long-term lifestyle choice that centers around eating several smaller meals each day that are based on fresh proteins and complex carbohydrates.
Although eating clean recipes means different things to everyone who practices it, here are a few basic guidelines:
1. Focus on Whole Grains
Many American meals are centered around heavily processed food like white bread, pasta and flour-based products such as white rice. Clean eating moves away from this and encourages whole grains that include the bran and germ, both of which are usually removed during the processing steps. Whole wheat bread and grains like quinoa, brown rice and oats are complex carbs that are better for your body and can easily be substituted for more traditional white foods like bread and regular pasta.
2. Drink More Water
Fresh, pure water helps to move food through your body and will make you feel fuller. Followers of a clean eating lifestyle should try to drink at least 1-2 liters of water per day, but you might want to start off with just a few glasses to give your body time to adjust to the increase in fluids. You can also add some lemon juice for an improved flavor.
3. Increase Your Veggie Intake
Everyone knows that vegetables are good for you — they contain lots of vitamins, are high in fiber and help fill you up. So it should be no surprise that a clean eating diet leans heavily toward a large veggie intake. Fresh, unprocessed vegetables are best since they don't contain any added calories or unneeded flavorings, which you'll often find with frozen or canned veggies. With a balanced clean eating diet and the recipes below, you should expect to eat about 2-3 cups of fresh vegetables per day.
4. Cut Down on Alcohol
Since most alcoholic drinks are heavily processed and include needless calories, you should reduce or eliminate most alcohol consumption when following a clean eating plan. Moderation is key — one drink a day for women and two for men is the top limit. Stay away from mixed drinks that include fruit juice or soda, or those that are complicated or contain uncertain ingredients.
5. Kick Meat off Your Menu
Most meats have a lot of saturated fats, which you want to avoid while on a clean eating diet. Keep your meat consumption to less than three ounces per serving and try substituting beans or tofu in your burgers when eating out. These little changes can make a big difference over time.
6. Eliminate Saturated Fat
Although it might seem like daunting task at first, reducing your intake of saturated fats can be done easily by replacing butter with a healthier choice like olive oil. Nuts are another good swap with salad staples like cheese and croutons. You can also easily replace a bagel and cream cheese with one topped with peanut butter instead. Make it a game in your family to seek out saturated fats and find healthier alternatives.
7. Get Rid of Sugar
Many Americans automatically add too much sugar to their diet without evening thinking about it. Consider how often you might add extra sweetener to your coffee or breakfast cereal. Soft drinks and sugary desserts, like ice cream, also add a ton of sugar to your diet that you can easily go without, and you might not even notice them when they're gone. Check your food labels for products that have sugar listed toward the bottom rather than one of the top five ingredients. This will help you steer clear of heavily sugar-infused products.
8. Add Fruit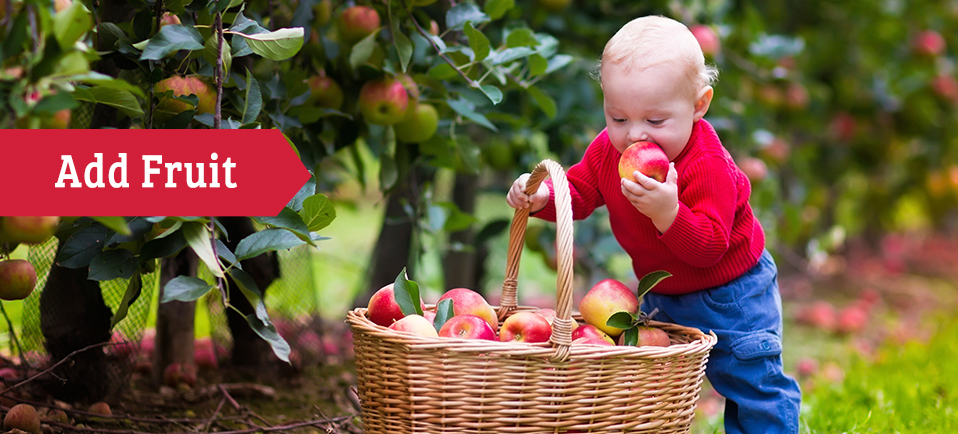 Mother Nature's candy is packed with vitamins and fiber, and it's an easy way to add sweets to your diet, which your family might miss when you reduce your soda, fruit juice and desserts. Fresh, unprocessed fruit is best. There's nothing easier than tossing an apple or banana into your kid's lunchbox to give them a healthy alternative to sugar-added desserts. But some canned and dried fruit can be almost as healthy as unprocessed fruits, so check the label to make sure sugar and food dyes haven't been added. This will help ensure that you're choosing the best options for a clean eating lifestyle.
9. Reduce Salt
Aside from drawing out flavor, there's little reason to add salt to your diet. Use herbs and spices instead, which will greatly reduce your sodium intake.
A quick glance through our clean living diet recommendations might make it seem like you are getting rid of your favorite foods, but never fear — you can replace most of the off-limit items with healthier, fresher choices. Instead of focusing on the food that you can't eat, here's a quick list of the foods that you can enjoy on a clean eating diet. If the mood strikes, you can even overindulge in most of these choices to satisfy a sweet tooth!
Bananas. These are a great ingredient in smoothies.
Apples. Any variety is a great afternoon snack, or slice it and add it to your breakfast meal.
Carrots. These can be added as a steamed side dish to any meal, or can be a quick and easy clean eating recipe addition to your afternoon snack.
Lean Protein. Chicken breast, lean ground turkey and fresh salmon are all good substitutes for beef. Recipes that call for processed cheeses can be modified to use lower-fat substitutes like mozzarella or non-fat yogurt.
Beans. Adding black beans, edamame or lentils will increase your fiber and vitamin intake while reducing unnecessary fats from snacks and salad toppings.
Eggs. Although once considered to be high in fat and cholesterol, recent research has shown that eggs are actually good for you as long as they are prepared without all the added butter and oil of more traditional egg-cooking methods. Poached and boiled eggs are good for your eyes, are low in calories and are among the most nutrient-rich foods you can find. Eating 2-3 eggs a day can have surprising health benefits — just don't weigh it down with bread and heavily processed breakfast meats that usually accompany this dish.
Whole Grains. You can easily substitute brown rice for white rice in most Mexican and Chinese dishes without noticing a change in flavor. The same holds true for pasta dishes. In most cases, your taste buds will be too busy noticing the sauces and veggies that are central to the dish, so this easy swap will keep you healthier without sacrificing the denseness or overall flavor.
Flavorful Oils. Instead of adding salt or vegetable oil to your cooking process, reach for healthier options like extra-virgin olive oil, coconut oil or balsamic vinaigrette. This is a better option for both salad dressing and as a cooking method that will help keep your meals cleaner without the added calories.
Our Favorite Clean Eating Recipes
Even when you've made the decision to eat healthier, it can be a hard sell to get kids onboard who are used to high-sugar temptations or the convenience of fast food. To that end, here are several clean eating recipes that will help you swap out your kids' favorite food choices for healthier options. They probably won't even notice a difference!
Grilled Chicken Strips

This recipe provides a tasty and healthy alternative to fried or fast-food chicken strips.
Ingredients:
4 boneless, skinless chicken breasts
4 large garlic cloves
1/4 cup olive oil, extra virgin
Juice of 2 limes
1/2 teaspoon coarse salt
Ground pepper, to taste
Basil, to taste
Directions:
1. Finely chop the garlic cloves. Place them in a resealable bag or a storage container, like the Xtrema 8-ounce round bowl with cover, along with the olive oil, lime juice, salt, pepper and basil. If it's available, fresh basil is best.
2. Refrigerate for at least four hours, or overnight.
3. Slice each chicken breast in 3-4 long strips.
4. Place each chicken strip in the garlic mixture and drench heavily. You can also place the chicken in the liquid and let sit for about 2 hours.
5. On medium-high heat, place the marinated strips on a cooking rack.
6. Cook for about 8 minutes, rotating them halfway through to ensure that all sides are cooked thoroughly.
Peanut Butter and Banana Smoothie
There's nothing better for kids than a milkshake, and this clean eating version will have kids of all ages asking for more! It will also keep you full throughout the day so you don't experience that mid-afternoon crash that many people struggle through during the long work week. Freezing the bananas ahead of time helps them slice easier and will keep the smoothie cold for longer.
Ingredients:
2 bananas, frozen
2 cups milk — either 2% cow milk or soy milk
2 tablespoons creamy peanut butter
1 tablespoon maple syrup
1/2 cup Greek yogurt, reduced fat
Directions:
1. Peel and slice the bananas, placing each piece in a blender or smoothie maker.
2. Add the milk, peanut butter, maple syrup and Greek yogurt.
3. Blend on high until smooth. If you are using an older blender or are using a hand mixer, add a few ingredients at a time.
4. Blend together until smooth and creamy. You can add additional Greek yogurt or maple syrup until you find just the right taste for you and your family.
French Toast Sticks

Ingredients:
6 slices whole wheat French bread
6 egg whites
1 cup non-fat milk
3 tablespoons maple syrup (optional)
1 tablespoon olive oil
1/4 teaspoon ground cinnamon
1/4 teaspoon ground nutmeg
Directions:
1. Cut French bread into even slices, about 4 inches each. Set aside.
2. Stir together egg whites, non-fat milk, cinnamon and nutmeg. Set aside.
3. Heat olive oil in a skillet, like Xtrema's 10-inch ceramic skillet with cover.
4. Dip the French bread in the egg mixture, making sure that it coats both sides of the bread.
5. Cook each bread slice in the skillet for about 4 minutes per side. The bread should be lightly brown with no remaining wet areas.
6. Serve with the maple syrup, if desired.
Surprise Pumpkin Pasta

Sometimes, the best way to get utilize clean eating recipes for kids is to trick them into it! That's why we love this pasta recipe! It includes plenty of vegetables, many of which are hidden from even from the most suspicious young sleuths.
Ingredients:
13 ounces brown rice or whole grain pasta
1 pound ground turkey or chicken
1 onion
1 clove garlic
1 fresh carrot
1 Roma tomato
1 zucchini
1 roasted red pepper, chopped
15 ounces canned pumpkin puree
10 ounces pasta sauce
1 tablespoon cream cheese, low fat
Directions:
1. Finely chop the onion and garlic. Set aside.
2. In a separate bowl, finely chop and shred the carrot, tomato and zucchini and set aside.
3. Based on the package instructions, cook the pasta but leave it slightly undercooked. Set aside.
4. Over medium heat, brown the ground turkey or chicken. Drain the fat.
5. Add the onion and garlic to the skillet and sauté until cooked through.
6. Add the carrot mixture and continue cooking until the vegetables are tender.
7. Stir the pepper, pumpkin and pasta sauce into the skillet. Continue stirring until well-blended.
8. Cover and simmer for about 8 minutes or until the zucchini is cooked through and is soft.
9. Remove the lid and add the cream cheese.
10. Remove the skillet from the heat and stir until the cream cheese is melted.
11. Stir the pasta and pumpkin mixture until everything is blended together.
Parmesan Chicken
Ingredients:
4 chicken breasts
3 egg whites, beaten
1/4 cup flour blend, gluten-free
1/3 cup shredded Parmesan cheese
2 teaspoons garlic powder
1/2 teaspoon black pepper
Directions:
1. Preheat oven to 350 degrees. Prepare a baking dish by spraying it lightly with olive oil.
2. In a large bowl, stir together the cheese, flour, pepper and garlic. Set aside.
3. Drench the chicken breast in the egg whites, then cover each breast with the cheese mixture.
4. Place each chicken breast on the baking dish.
5. Bake for 50 minutes or until cooked through.
What Are You Waiting For? Get Cooking!
We hope you enjoy trying out these recipes as much as we have!
Before you make your final purchases of high-quality Xtrema ceramic cookware, don't forget to add a copy of the Clean Cuisine book to your shopping cart. This new publication from medical doctor Andy Larson and his wife, Ivy, a certified health fitness specialist, Clean Cuisine features an 8-week clean eating plan that helps increase overall nutrition while reducing inflammatory problems. It also includes more than 100 clean eating recipes along with exercise suggestions and a step-by-step system to get your entire family to eat healthier. For less than $26, this book is perfect for anyone who's looking to improve their overall health while making better decisions for their family's well-being.