Stir fry is the ideal weeknight dinner. The best stir fry recipes bring together protein, veggies and, if you're so inclined, a rice or noodle.
You hardly have to follow a recipe to make something great. No broccoli, no problem — swap in choices like cabbage or bok choy. Or go nuts — add in baby corn, kale, onions, sesame seeds or actual nuts.
But if you want to make a stir fry that really shines, there are a few simple rules. Balance. Separation. Restraint.
While you are welcome to take the rules, throw them out the window, and still end up with a meal equal parts satisfying and tasty, we've put together a handful of easy stir fry recipes you can make in your own wok.
We've also provided some guidelines that'll help you lay the groundwork for a successful stir fry experience. From seasoning the wok correctly to striking the right balance between the sweets and the savories, the protein and the vegetables, here's your guide to making the tastiest stir fry of your life.
Why Stir Fry In a Wok?
While you aren't required to purchase a wok in order to make a delicious stir fry, it does up your flavor game. Here's why — a wok is the center of all great stir fry recipes. The high sides help the entire dish to cook evenly, meat, vegetables, and all, avoiding burnt parts or overly mushy components.
What makes a wok more useful for stir fry than your average frying pan is the fact that woks have a curved shape, which allows you to divide the different parts of the meal into different temperature zones, rather than forcing you to separate the meal into multiple segments and multiple pots and pans.
It's also versatile. Sure, you can fill up a whole calendar year of meals from stir fry alone, but the wok also works for steaming vegetables, whipping up meat and even making soups. It's not just a niche item you dig out a few times a year when you're trying to replicate your favorite takeout dishes.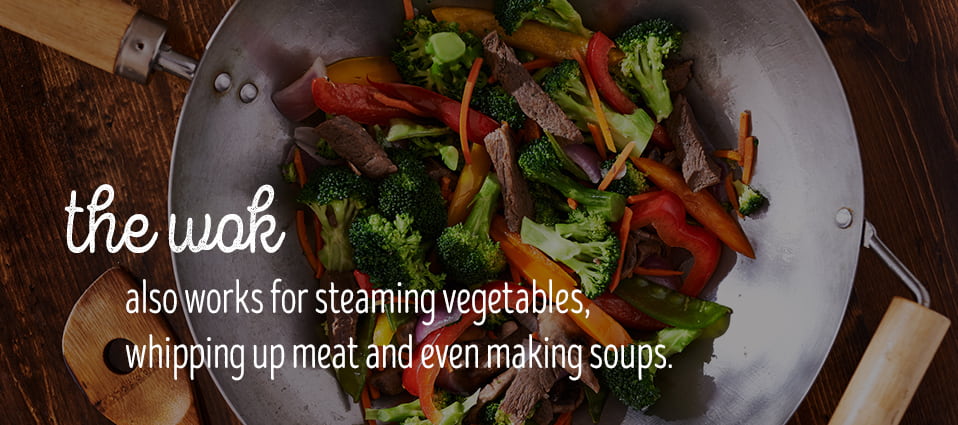 Finally, the non-stick wok allows you to use less oil than you would with a standard frying pan, creating a leaner version of the meals you crave. Long story short, the home wok lets you to make a complete meal using a single container.
The Bones of a Good Stir Fry
As a general rule, a stir fry is composed of a few different elements. Go shopping for about a pound of a protein plus four cups vegetables and a collection of aromatics. Using these guidelines, add at least one from each group.

Proteins: Pick One
Chicken — cubed thighs or breasts work best
Tofu — cubed
Pork tenderloin — cubed
Shrimp
Steak — flank or skirt
Fish — go firm with fish, such as salmon, tilapia or mahi-mahi
Tempeh
Seitan
Veggies: Four Cups, Any Combination
Broccoli
Bok choy
Mushrooms
Cabbage
Kale
Spinach
Asparagus
Green beans
Snow peas
Tomatoes
Carrots
Eggplant
Cauliflower
Bell pepper
Aromatics
Garlic
Onion
Scallions
Ginger
Add-Ons
Fresh lemon or lime juice
Peanuts
Cilantro
Thai basil
Jalapenos
We're going to look at some specific recipes below, but keep in mind any combination of the above elements will add up to a successful stir-fry. And if you want more veggies, you can throw them in the wok — nobody's stopping you from getting more than the requisite five-a-day.
General Tso's Shrimp
Whether inspired by a real military hero or not, General Tso's sauce is a versatile stir fry sauce you can use to season everything from chicken to tofu and any green vegetable that strikes your fancy. This recipe for stir fry features lightly breaded shrimp, plus broccoli and cauliflower, for a wholesome take on a Chinese classic.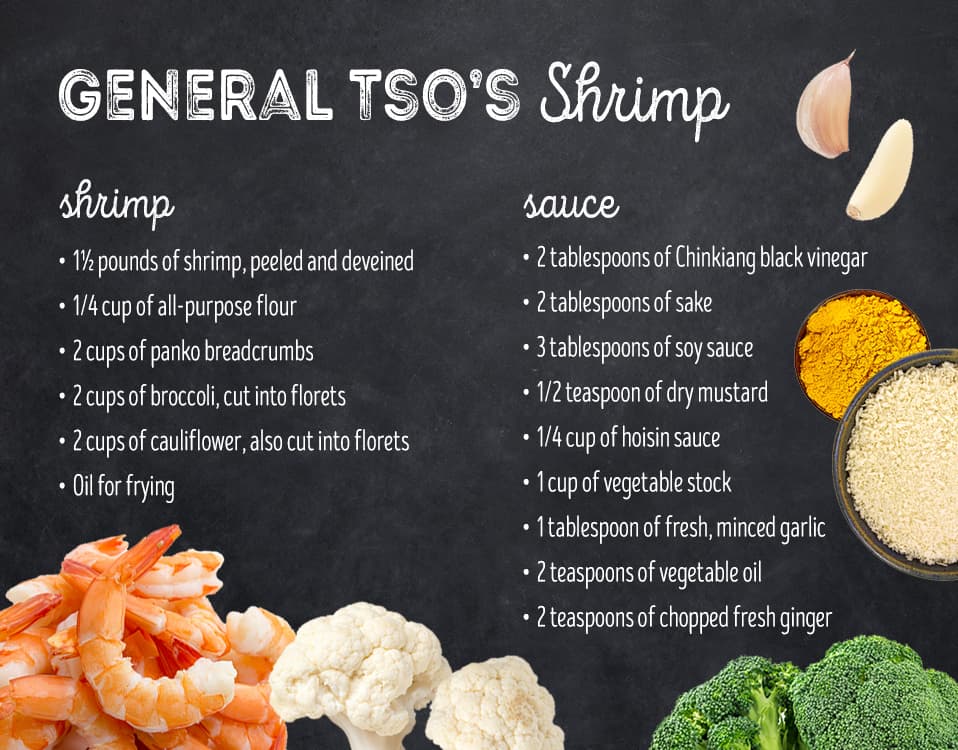 Ingredients
Shrimp
1½ pounds of shrimp, peeled and deveined
¼ cup of all-purpose flour
2 cups of panko breadcrumbs
2 cups of broccoli, cut into florets
2 cups of cauliflower, also cut into florets
Oil for frying
Sauce
2 tablespoons of Chinkiang black vinegar — if you can't find this, rice vinegar works, too
2 tablespoons of sake
3 tablespoons of soy sauce
½ teaspoon of dry mustard
¼ cup of hoisin sauce
1 cup of vegetable stock
1 tablespoon of fresh, minced garlic
2 teaspoons of vegetable oil
2 teaspoons of chopped fresh ginger
Instructions
We'll start with the sauce. In a small mixing bowl, mix together the vinegar, sake, soy sauce, hoisin sauce, dry mustard, and vegetable stock. Whisk until mustard powder is fully dissolved.
In a small pan, heat oil. Add ginger and garlic, and sauté until the aromas begin to release.
Add the rest of the sauce mixture and bring to a boil, then turn off the heat. Set aside.
Meanwhile, in a medium mixing bowl, mix panko breadcrumbs and flour. Then dredge deveined, cleaned shrimp in flour mix.
Add an inch of oil to your wok and fry coated shrimp, working in batches, for about 3 minutes. Remove from heat and use a paper towel to remove excess oil. When shrimp are done, remove the frying oil and add 2 teaspoons of fresh vegetable oil.
Add broccoli and cauliflower, cooking for a few minutes, until veggies begin to char. Add the sauce and stir in the shrimp.
Cook until sauce is warmed all the way through, which should take about 2 minutes. Remove from heat and serve with rice, if desired.
Chicken and Veggie Noodle Stir Fry
When noodle time strikes, take to the wok. This chicken stir fry is the perfect answer to that lo mein craving. We used traditional noodles here, but feel free to swap them out for zucchini noodles for a lower-carb, lower-calorie option.
Ingredients
1 tablespoon of sesame oil, plus additional
2 teaspoons of vegetable oil
2 boneless, skinless chicken breasts, thinly sliced
3 tablespoons of soy sauce
1 onion, chopped
1" of ginger root, grated
2 cloves of garlic, minced
1 cup of snow peas
1 cup of cabbage
1 cup of sliced mushrooms
3 tablespoons of rice vinegar
Dash of salt
1 pound of lo mein noodles — udon or even spaghetti noodles are just fine in a pinch
½ cup of chopped peanuts
¼ cup of fresh cilantro
Instructions
Add sesame oil to your wok, along with the chicken pieces and half the soy sauce. Cook until the chicken is cooked all the way through, remove from the wok and set aside.
Next you'll add the garlic, ginger and onion, plus vegetable oil. Cook over medium heat for about two minutes. Add mushrooms, cabbage, snow peas, the rest of the soy sauce and vinegar. Cook for about three minutes.
Meanwhile, bring a large pot of water to a boil and add salt. Cook noodles for about a minute, then remove from heat and add to the wok. Add a teaspoon or so of additional sesame oil and toss noodles with veggies.
Add in chicken and combine in the wok until all ingredients are heated evenly. Remove from wok and top with peanuts and cilantro.
Pork Stir Fry
This pork loin stir fry is as good on its own as it is alongside a hearty scoop of brown rice. Honey and ginger, plus a little chili sauce for heat, provide a perfectly balanced dish. Top with cilantro and peanuts to punch up the Thai flavors. Enjoy.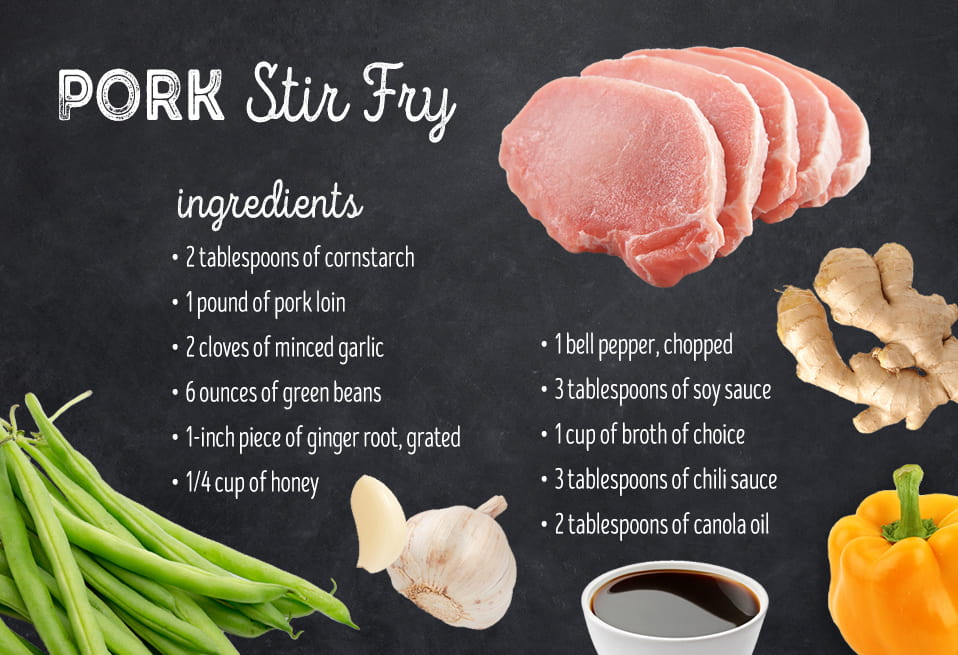 Ingredients
2 tablespoons of cornstarch
1 pound of pork loin
2 cloves of minced garlic
6 ounces of green beans
1-inch piece of ginger root, grated
¼ cup of honey
1 bell pepper, chopped
3 tablespoons of soy sauce
1 cup of broth of choice
3 tablespoons of chili sauce
2 tablespoons of canola oil
Instructions
In a small mixing bowl, combine broth with cornstarch. Whisk together until smooth. Add in garlic, ginger, chili sauce, soy sauce and honey. Set aside.
Cut pork into strips. In a wok or skillet, add one tablespoon of the oil and stir fry the pork. Cook until the juice from the meat runs clear.
Then remove pork from heat and stir fry the vegetables with the remainder of the canola oil. Cook for about two minutes, then add the sauce.
Bring sauce to a boil and stir for about a minute or until the sauce is thickened. Stir in pork. Serve with rice, if you'd like, and top with peanuts and cilantro.
Crispy Peanut Tofu with Veggies
Double down on the protein with this tasty treat. This recipe is guaranteed to make the meat-eaters in your life see the other side with tofu that's equal parts savory and textural. The nutty flavored, soft-on-the-inside, crispy-on-the-outside tofu and a solid lineup of veggies mean nothing is missing, not even the meat. Between the nutritional yeast, the nuts and the bright-flavored garnishes, this stir fry recipe hits all the marks.
Ingredients
1 block of extra-firm tofu
3 tablespoons of nutritional yeast
2 tablespoons of cornstarch
3 cloves of garlic, minced
2 tablespoons of toasted sesame oil
¼ cup of low sodium soy sauce
¼ cup of light brown sugar
3 tablespoons of smooth peanut butter
2 tablespoons of sesame seeds
3 cups of broccoli florets
2 cups of chopped mushrooms
1 red pepper, chopped
3 green onions, chopped
⅓ cup of chopped cilantro
1 lime
2 tablespoons of sriracha
Instructions
Place a clean dish towel or paper towels on a cutting board and set tofu on top. Cover tofu with an additional cloth or paper towels and place a weight, like a can or a substantial dish) on top of the whole thing. Let sit for about 15 minutes.
This takes the excess moisture out of the tofu and allows it to absorb the flavors of the stir fry more easily. Then cut tofu into cubes.
In a small bowl, combine cornstarch and nutritional yeast. Toss tofu in the mixture, then heat half the sesame oil in the wok. Add tofu and cook for roughly 5 minutes, or until it becomes golden brown and crispy.
Remove from heat and set aside. Heat another tablespoon of the sesame oil in the wok on medium high and add garlic and broccoli. Cook for about 5 minutes, then add in mushroom and red pepper.
Cook for another three minutes and set aside.
In a small mixing bowl, whisk together peanut butter — you may want to soften this in the microwave first — soy sauce, sriracha and brown sugar. Add sauce to the wok and stir in crispy tofu.
Let sauce thicken and bubble on medium-high heat, and stir in vegetables. Toss with sesame seeds, cilantro and green onion, and squeeze the lime over the whole dish. Serve with rice or noodles, if desired.
Flank Steak Stir Fry
A nice option for beef stir fry if you're trying to save a few bucks on meat, this veggie-loaded delight elevates a less-expensive cut of beef, softening tougher bits into succulent submission. You do need to give the meat a chance to rest, but we promise, it's not an all-day affair by any stretch of the imagination.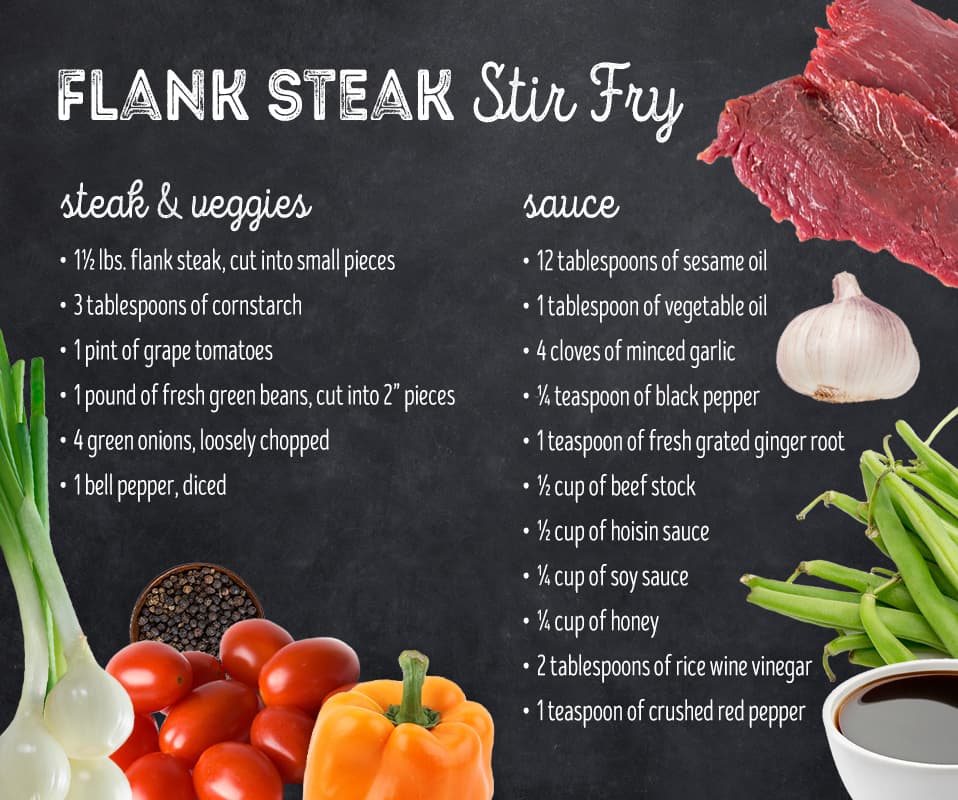 Ingredients
Steak and Veggies
1½ lbs. flank steak, cut into small pieces — best if you cut across the grain
3 tablespoons of cornstarch
1 pint of grape tomatoes
1 pound of fresh green beans, cut into 2" pieces
4 green onions, loosely chopped
1 bell pepper, diced
Sauce
2 tablespoons of sesame oil
1 tablespoon of vegetable oil
4 cloves of minced garlic
¼ teaspoon of black pepper
1 teaspoon of fresh grated ginger root
½ cup of beef stock
½ cup of hoisin sauce
¼ cup of soy sauce
¼ cup of honey
2 tablespoons of rice wine vinegar
1 teaspoon of crushed red pepper
Instructions
First, toss the beef strips with the cornstarch and let stand for about 15 minutes. In a mixing bowl, whisk together all sauce ingredients minus the garlic, ginger and 1 tablespoon of vegetable oil. These items go straight into a smaller pan and simmer on medium high for about two minutes.
Then add sauce in bowl into the garlic and ginger. Simmer for about five minutes and keep warm as you cook the meat.
To cook the meat, add two tablespoons of vegetable oil to your wok and stir fry the steak. Depending on the size of the pan, you may need to work in batches.
Remove beef from heat, being careful not to overcook. Add green beans and pepper to the pan. Cook in leftover oil for about four minutes, then add the sauce.
Add tomatoes and green onions, and cook for another two minutes, before adding beef back into the pan. Stir-fry for about thirty seconds and remove from heat.
For the Perfect Stir Fry, It's Time to Get a Wok
Okay, you can make decent stir fries in a run-of-the-mill frying pan, but trust us, if you want to do these one-pot dishes right, get a wok. Our ceramic version brings the great, healthier non-stick approach to the table — and you don't need to spend a whole chunk of time properly seasoning your wok and guiding it through an adolescent phase. Yes, this is a thing.
Our ceramic wok comes ready to take on meat, veggies, and any iteration of aromatics and savory sauces. What are you waiting for? Check out our wok and other cooking utensils to up your stir fry game.