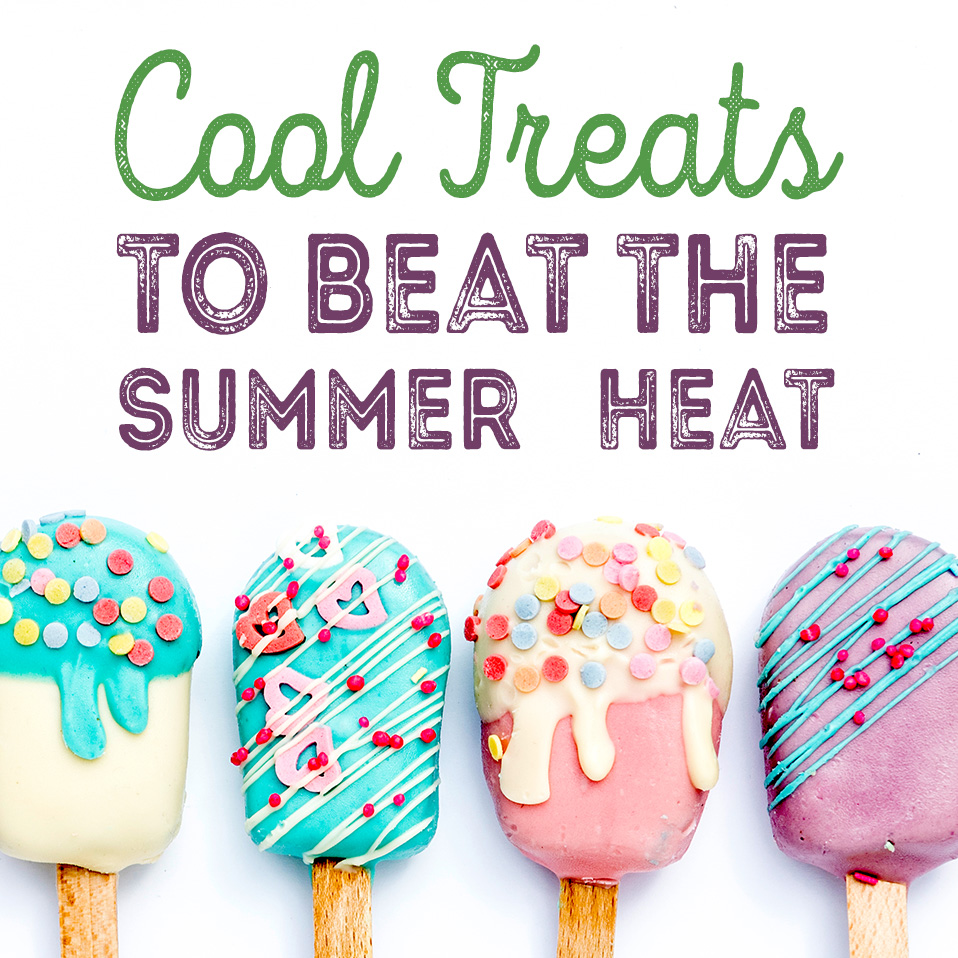 Brace yourself for a sizzling summer heat wave with fun treats that keep you from overheating. Cool treats are the perfect way to fend off the summer temperatures. From easy ice cream recipes to homemade popsicles, these summer recipe ideas keep you going between dips in the pool and summer gatherings with friends.
Homemade Ice Cream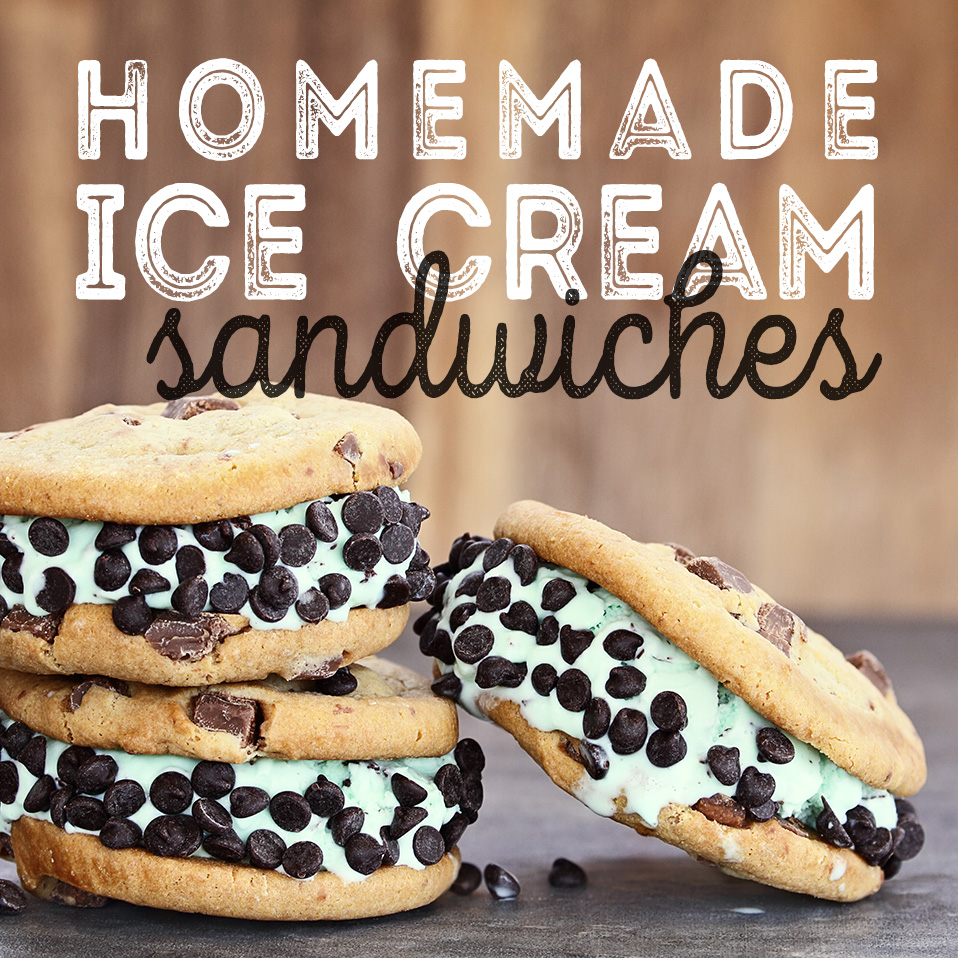 Ice cream is a natural choice as a summer treat. Instead of heading to the local ice cream shop, make your own ice cream at home. Ice cream makers simplify the process and often yield ice cream that tastes much better than store-bought versions. Use your own ice cream recipes or use ice cream mixes from the store with your ice cream maker.
If you don't have an ice cream maker, shake your way to tasty ice cream by using the bag method. Mix together 1 cup of half-and-half, 2 to 3 tablespoons of sugar, and 1 teaspoon of vanilla extract. You can add in other flavorings or ingredients, such as cocoa powder for chocolate ice cream or strawberries for strawberry ice cream. Stir the ingredients well, and pour the mixture into a medium-sized zip-top bag.
Seal the bag well while eliminating as much air as possible. You can put it in another bag of the same size for a better seal.
Fill a larger zip-top bag with about 4 cups of ice. Add 6 tablespoons of rock salt to the ice. Regular salt will also work. Place the bag of ice cream mixture inside the ice bag. Seal the ice bag, and start shaking. It takes at least five minutes to freeze the ice cream. Grab a towel or a pair of gloves if the bag gets too cold to handle. Carefully check the mixture to see if it is solid enough. Reseal and continue shaking if needed to get an ice cream consistency you like.
When you want healthy ice cream recipes, frozen bananas serve as the perfect base. In fact, you can make ice cream with only frozen bananas, although you may want to add in some flavoring. Place the frozen bananas in a high-power blender. Blend them until they are smooth. This can take several minutes, so be patient as the frozen bananas become creamy and similar to ice cream.
You may need to add a bit of milk to thin the blended bananas to an ice cream consistency. Add a few drops of vanilla extract.
You can add other flavorings to the banana ice cream, including:
Unsweetened cocoa powder
Nut butter
Nuts
Fresh fruits
Cinnamon or other spices
Coconut
Nutella
Chocolate chips
Maple syrup
Sprinkles
Ice Cream Treats
Ice cream is great on its own, but using it to create different treats amps up the flavor. Use your homemade ice cream in the treats, or use store-bought ice cream to save time. Both options are tasty.
One simple idea is to make homemade ice cream sandwiches. Use fresh-baked cookies as the outer pieces. Smooth slightly softened ice cream between the two cookies. Freeze the ice cream sandwiches to refreeze the ice cream. If you want a lighter version, use low-fat frozen yogurt instead of ice cream. Wrap the individual ice cream cookies in plastic wrap to keep them ready to go in the freezer.
Another option is to create easy ice cream bars. Start with a pint-size container of ice cream. Tear off the carton to free the ice cream while maintaining its carton-like shape. Slice the ice cream to create round slices about an inch thick. Press a popsicle stick into the ice cream to make the handle. Place the ice cream on a wax-paper-lined tray and place it in the freezer to ensure the ice cream is hard.
Pull the ice cream bars out of the freezer. Dip the ice cream into melted chocolate quickly, holding onto the stick to keep your hands clean. Freeze the bars again to solidify the chocolate.
For a different take on the classic summer treat, make an ice cream pie. Start with a graham cracker pie crust. Soften your favorite flavor of ice cream slightly to make it easier to stir and spread. Add in fun ingredients, such as chopped up candy bar, brownie pieces, nuts or pieces of fruit.
Spread the ice cream mixture into the pie crust. Top the ice cream with whipped cream. Top the pie with crushed cookies, sprinkles, chopped nuts or other garnishes. Freeze the pie until it is firm.
Another simple ice cream treat is an ice cream cake made with store-bought ice cream sandwiches. Line a pan with the unwrapped ice cream sandwiches. Spread a layer of whipped cream on top. Add a second layer of the sandwiches. Top with more whipped cream, chocolate syrup and any other toppings you want to use.
Homemade Popsicles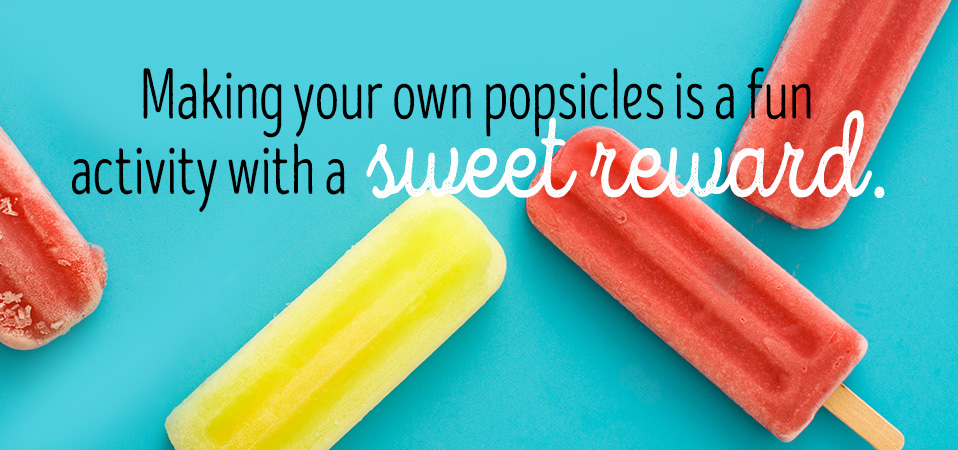 Making your own popsicles is a fun activity with a sweet reward at the end. You choose your own ingredient, so you can make them as flavorful or healthy as you want. Popsicle molds are available in a variety of sizes and shapes.
If you don't want to buy and store molds, use paper cups to create your own mold. Cover the filled cup with aluminum foil or plastic wrap, and cut a slit for a popsicle stick. The wrap holds the stick steady while the liquid freezes. After the popsicles freeze, simply tear off the cups to enjoy them.
You can make homemade popsicles out of almost any liquid. Using your favorite fruit juice or other drink is a very basic and easy method of making your own popsicles. Add small pieces of fruit in the juice for some texture and extra flavor.
If you want to get a little more creative, try one of these popsicle recipes:
Pudding pops. Make your own version of pudding pops by mixing pudding with whipped cream. The whipped cream makes the popsicles creamier without being too icy. Fill the mold with the mixture, add sticks and freeze until solid. You can layer different pudding flavors to make your own creations.
Yogurt pops. A similar option is to use yogurt as the base for the popsicles. Use your favorite flavor of yogurt to fill the molds, or start with plain Greek yogurt and add your favorite mix-ins and flavorings. If you use plain yogurt, add a little honey or maple syrup for a touch of sweetness.
Layered popsicles. Make colorful popsicles with a layered approach. Using the paper cup method, pour a small amount of the first liquid in the bottom. Let it freeze. Lift the foil to pour in the next liquid. Let it freeze. Continue adding other liquids, freezing after each time. By carefully lifting the foil to pour in more liquid, the stick remains in place as you build the popsicles.
Fruit popsicles. Start with frozen fruit chunks. Add 1 cup of frozen fruit, ¼ cup of whole milk, 1 teaspoon of lemon juice and a few drops of vanilla extract. Blend the ingredients in a blender or food processor until they are smooth. Place the blended mixture in the popsicle molds and freeze.
Root beer float popsicles. Turn this classic summer drink into a frozen treat with these homemade popsicles. All you need is root beer and vanilla ice cream. Working with softened ice cream is easiest. Alternate small amounts of cold root beer and softened vanilla ice cream in the mold until you fill it. The root beer may fizz up, so work slowly to avoid a mess. Put the sticks in the molds and freeze.
Other Frozen Treats
There's something satisfying about biting into a delicious frozen treat. Ice cream and popsicles aren't the only frozen treat options this summer. Try one of these ideas:
Frozen grapes. Wash the grapes, and let them dry before freezing. Spread them out on a tray, and freeze the grapes until they are hard. Place them in a plastic baggie, and keep them in the freezer until you're ready to munch on them. The grapes get hard similar to a popsicle, but they remain soft enough to bite and chew right out of the freezer.
Frozen applesauce bites. Another quick snack to keep in the refrigerator is frozen applesauce bites. Simply place small blobs of applesauce on a tray lined with wax paper. Let the blobs freeze solid. Place them in a baggie to store in the freezer to quick, cold snacks.
Yogurt bites. Make yogurt bites in mini cupcake pans. Start with granola in the bottom. Top with a thin layer of your favorite flavored yogurt. Add chunks of fresh fruit on top. Freeze the yogurt bites.
Chocolate covered bananas: Combine a bit of chocolate with bananas for a tasty and healthy summer treat. Cut a peeled banana in half. Slide a popsicle stick into the cut end to create a handle. Dip the banana in melted chocolate, place it on a tray covered in wax paper, and freeze it until it is solid. You can add chopped nuts, sprinkles and other extras right after you dip the bananas.
A similar option is to slice the bananas into small coin-like pieces. Spread peanut butter between two pieces to form a sandwich. Dip the "sandwich" into chocolate, and freeze it.
Smoothies
Smoothies are healthy, delicious and cool, making them perfect for hot summer days. All you need is a good blender that can blend ice or frozen fruit. You really can't go wrong when you experiment with different smoothie ingredients.
A basic smoothie recipe combines fruit and liquid. Use frozen fruit to create the thick, smoothie texture, or use fresh fruit, and add a few ice cubes when you blend. Juice or some type of milk is commonly used as the liquid in the smoothie. You can add other ingredients for additional flavor, texture and nutrition. Yogurt is a good addition, as it creates a smooth, creamy texture.
When adding the liquid, start with a small amount. Blend the ingredients until smooth, and check the consistency. If it's too thick, add more liquid, and blend for a few more seconds to integrate the liquid.
Sweetener is optional in smoothies. Bananas often add enough sweetness, especially when combined with other fruits. If you want extra sweetness, add just a touch of honey, molasses or stevia. Always taste the smoothie before adding sweetener. You may find it sweet enough without any added sugar.
Consider these options for smoothie ingredients:
Fresh fruit
Frozen fruit
Yogurt
Kefir
Rolled oats
Flax seed
Chia seeds
Nut butters
Kale or spinach
Liquid options include:
Milk
Non-dairy milk (almond, cashew, coconut or rice)
Orange juice
Other fruit juices
Coffee
Coconut water
Fruit Slush
Another refreshing option is a fruit slush. Watermelon works well for this summer treat. Start by cutting up the watermelon. Place it on a large plate or tray, and put it in the freezer until it is frozen. Put the frozen watermelon pieces in a blender, and process them until they form a smooth slushy consistency. You can add other fruits or flavoring, such as lime juice, to create a custom flavor.
Frozen pineapple is another option. Blend the frozen pineapple chunks. Add coconut milk to thin out the blended pineapple until it reaches the consistency you want. Keep it thicker to eat the pineapple slush with a spoon, or add more coconut milk for a thin slush you can drink with a straw.
Refreshing Chilled Drinks
Soaring summer temps make you thirsty for cool, refreshing drinks. Water is great for hydration, but something with a little more flavor makes a fun treat for sweltering summer days. Try updated versions of lemonade, ice tea and even hot chocolate when you're thirsty. Here are some ideas: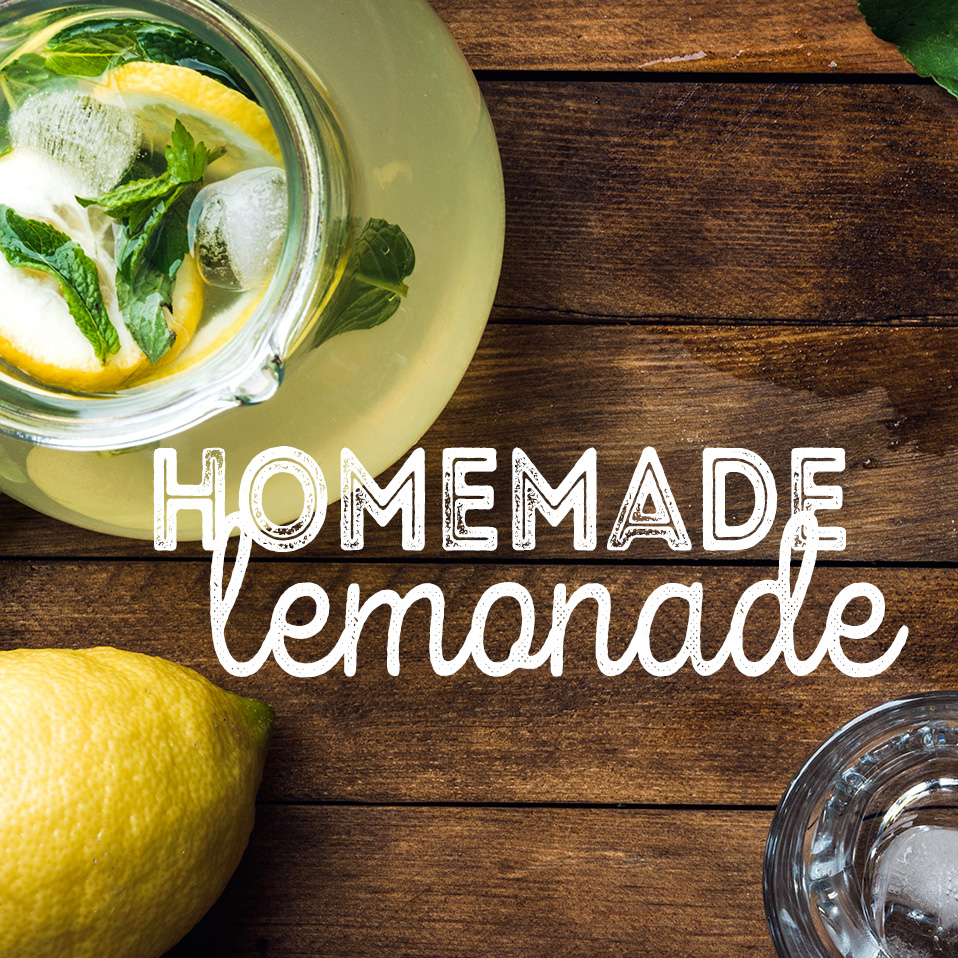 Homemade lemonade. Grab some lemons, and start squeezing, then add something sweet to it. There's something satisfying about sipping fresh-squeezed lemonade. Make the task easier with a citrus squeezer. Add enough sugar or other sweetener to match your taste preferences.
You can stop with plain lemonade, or you can have a little more fun with this refreshing summer drink by adding flavor to it. Blend or muddle other fruits into the juice. Berries work well for this drink, including raspberries and strawberries.
Lemonade slushy drink. Give your homemade lemonade a new flavor by combining it with ice cream. Add equal parts of the homemade lemonade and vanilla ice cream to a blender. Process the combination until it becomes smooth and frothy.
Frozen hot chocolate. Hot chocolate isn't the first drink that comes to mind during a summer heat wave, but you can give that winter staple a makeover with a simple frozen hot chocolate recipe. Blend together 3 cups of crushed ice, 2 cups of milk and 3 tablespoons of hot cocoa powder until it is smooth and combined. Pour the mixture into a cup. Add chocolate sauce and whipped cream. Top the concoction with chocolate shavings or chocolate sprinkles.
Flavored ice tea. Sip classic ice tea with a twist when you add your own flavorings. Start by brewing a jar of fresh ice tea. If you prefer sweet tea, add sugar to the brewed tea. Puree your choice of fresh fruit. Strawberries or raspberries work well. Mix the pureed fruit with the brewed tea. Add as much or as little of the puree as you want depending on your taste preferences. Garnish the glasses with whole strawberries for a fun touch.
How will you stay cool this summer? Having the right kitchen tools lets you enjoy your cool summer treats faster. Our four-piece Ovenex rainbow ceramic bowl set is the perfect way to mix and serve summer treats. Our durable bowls are versatile and beautiful, with bright colors to decorate your summer table.