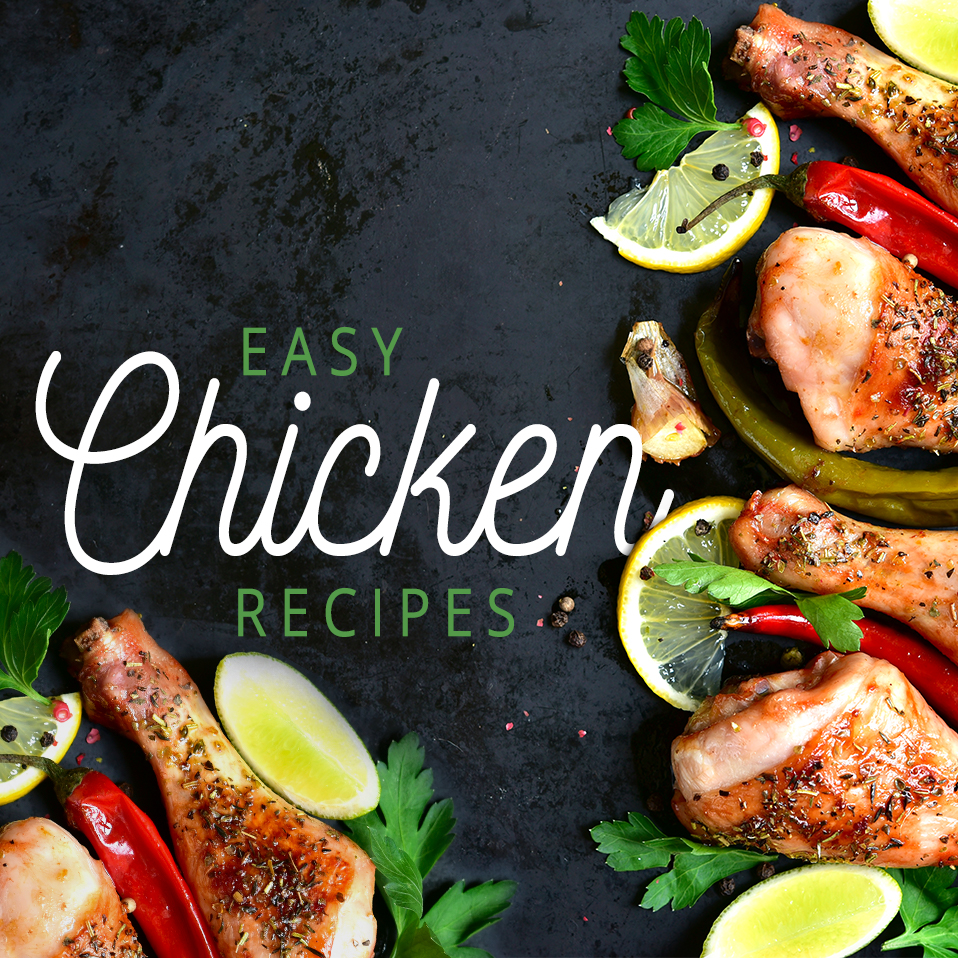 Chicken kind of rules the kitchen. It's easy. It's affordable. And above all else, it's endlessly versatile. Chicken sadly gets sidelined in favor of more "interesting" trendy meats— we're looking at you, pork belly, brisket…bacon, but we think it deserves a little more credit.
Skin-on chicken requires few adjustments to make a moist, delicious feast. Lean, boneless skinless chicken breasts offer lean protein with serious shape-shifting potential. Drumsticks and thighs? They do well with a marinade and some tasty sides.
Let's rethink the bird and give credit where credit is due. Here are some chicken recipes perfect for dinner—whether you're short on time or just want something delicious.
Grilled Chicken Recipes
Nothing says easy summer chilling like chicken kebabs fresh off the grill. But that's not all—grilled chicken has a lot going on—perfect with summer fruits, grilled asparagus and so much more—chicken and the barbecue are the perfect team—easy food you can throw in a foil pack and char into submission.

Grilled Chicken Thighs With Ponzu Sauce
Shockingly easy and delightfully fresh, throw these thighs on the grill next time you're in the market for an easy meal bursting with flavor. Marinate these thighs while you're at work, and throw 'em on the grill for dinner.
Ingredients
• ¼ cup of cilantro
• ½ cup of ponzu sauce
• 1 cup of grapeseed oil
• ¼ cup of scallions
• 4 cloves of garlic, minced
• 3 tablespoons of sesame seeds
• 1 large yellow onion, loosely chopped
• 1 green bell pepper
• 6 boneless chicken skin-on thighs
• Cooked brown rice, for serving
Instructions
Combine oil, ponzu sauce and garlic in a mixing bowl. Whisk together.
Add chicken thighs to a Ziploc bag or food storage container and add the sauce.
Place in the fridge and let the chicken marinate for several hours—we'd say give it at least 3.
When it's time to finish the meal, heat your grill to high and prepare the vegetables.
Combine onion, and bell pepper in a tinfoil pouch, then add chicken and sauce.
Seal the pouch and throw the mixture on the grill.
Cook on high for about 20-30 minutes, or until chicken is cooked all the way through.
Thighs should be about 175 degrees in the center, as a point of reference.
Remove pouch from heat and transfer to a serving dish. Garnish with chopped cilantro and scallions and serve with rice, if desired.

Honey BBQ Grilled Chicken Legs
You can't compile a list of chicken recipes without a little BBQ. Nice and smoky, and we promise, really simple, these chicken legs are a guaranteed crowd pleaser.
Ingredients
• 2 pounds of chicken legs
• 1 tablespoon of honey
• 2 teaspoons of chili powder
• 1 tablespoon of Worcestershire sauce
• 1 teaspoon of garlic powder
• ¼ cup of apple cider vinegar
• 3 tablespoons of tomato sauce
• 2 chipotle peppers
• 1/3 cup of molasses
• 1 tablespoon of vegetable oil
Instructions
To make the sauce, combine honey, chili powder, garlic powder, Worcestershire sauce, vinegar, tomato sauce, molasses and chipotle peppers in a mixing bowl and whisk together.
Transfer to a small sauce pan and heat barbecue mixture until warm all the way through.
Remove from heat and preheat your grill, setting the temperature to high.
Meanwhile, arrange chicken on a large baking sheet and coat with oil.
Then, generously brush the chicken with the barbecue sauce making sure all pieces are thoroughly coated.
Place the legs on the grill and cook for about 20 minutes, turning every few minutes, and cover with barbecue sauce each time the chicken is rotated.
Remove from heat and let cool for at least five minutes before serving.

Barbecue Chicken Kebabs
These grilled chicken skewers bring some barbecue heat to the table.  This particular dish works well in a time crunch by switching things up with a departure from the classic teriyaki topper. There's no need to wait around for the marinade to sink into the chicken—just chop up some veggies, string these bad boys together and you're good to grill.
Ingredients
• 1 cup of barbecue sauce
• 2 chicken breasts, cut into cubes
• 1 pint of grape tomatoes
• 1 yellow bell pepper
• 1 large white onion
• 1 cup of pineapple, cubed
• 2 tablespoons of grapeseed oil
• 3 cloves of garlic, minced
• 1 teaspoon of hot sauce (tabasco or something similar)
• 6 skewers
Instructions
Preheat the grill on medium high heat and close the lid, so as to not release the heat,
Meanwhile, in a large mixing bowl, add barbecue sauce, garlic, grapeseed oil and hot sauce.
Whisk together until thoroughly mixed. Build your skewers, dividing chicken and vegetables amongst your six sticks.
Set on a baking sheet or large dish and pour about half of your marinade over the skewers.
Place the skewers directly onto the grill, then gently brush the sauce over the chicken and veggies. Cook for about 4 minutes and flip.
Then, coat the other side with the remaining sauce.
Cook for another 4-5 minutes, checking to see if the chicken has cooked all the way through.
Remove from heat and serve. This dish works well with rice, or on its own with standard barbecue fare.
Chicken Breast Recipes
Chicken breasts take a back seat when it comes to drumming up culinary excitement. Synonymous with dieting and portion control, the skinless, boneless flavorless bird has become something of a symbol in the dieting community.
But all that's about to change. Below, we've listed some of our favorite chicken breast recipes—guaranteed to shake up your idea of what makes for a satisfying dish.

Simple Chicken Breasts—the Perfect Base for Any Meal
This particular recipe can be used as the base of many great chicken-centric dishes, or alone as alongside some simple grilled veggies, mashed potatoes or a fresh, green salad. You get it. It's light, versatile and best of all; this recipe guarantees your bird stays nice and moist (hey, it's a challenge for those who are new to the chicken game).
Ingredients
• 2-4 boneless chicken breasts
• 2 tablespoons of olive oil
• Salt and pepper, to taste
• You'll also need a meat tenderizer or a heavy mug
Instructions
First, you'll want to flatten the chicken breasts. Place the breasts on a cutting board and pound them with your meat tenderizer until flat.
If you don't have a tenderizer, don't fret, a big, heavy mug, jar or any other clean and weighty kitchen implement will do just fine.
Once sufficiently flattened, you'll want to season both sides of each breast with salt and pepper.
Next, grab a large skillet and heat olive oil over medium high heat. Add chicken breasts to the hot oil and don't touch for about a minute. Then flip them over and reduce heat to medium-low.
Cover (make sure your lid is nice and tight) and cook for 8-10 minutes. Turn off heat and leave the chicken in the pan for about ten more minutes. Remove cover and take a look at the chicken.
While you'll want the breasts to come out juicy, there should be absolutely no pink in the middle. If it's still a bit pink, cook for a few more minutes.
Slice, serve and add to any salad, sandwich or pasta—anything goes.
Use the same method with a marinated chicken, and you've got yourself a whole different meal.

Chicken Breast and Oven Roasted Vegetables
A beautiful dish that highlights the simplest of culinary pleasures, this chicken dish is loaded with root veggies, roasted with garlic, herbs and olive oil—plus, the understated power of the chicken breast. This platter is the kind of thing you can proudly bring to your next potluck or whip up in short order if you're looking for something to eat for lunch throughout the week.
Ingredients
• 2 chicken breasts
• 1 bulb of garlic, peeled
• 1 tablespoon of rosemary
• ¼ cup of olive oil
• 2 beets, cut into small cubes
• 2 carrots, chopped
• 1 sweet potato, cut into cubes
• 1 yellow onion
• 6 cloves of garlic, minced
• Salt and freshly ground pepper
• 3 tablespoons of thyme
• 4 tablespoons of rosemary
• 1 lemon, sliced
Instructions
In a mixing bowl, add half of the olive oil and combine with rosemary, thyme, garlic, salt and pepper.
Add chicken cubes to a large Ziploc bag or storage container with the cut vegetables.
Place the bag the fridge for a minimum of two hours.
Preheat oven to 475 degrees.
Arrange chicken and vegetables on a large baking sheet and drizzle remaining oil over the top.
Arrange lemon slices over the mixture, then place in the oven. Cook for about 40 minutes, or until chicken hits about 165 degrees in the center (you can check this with a meat thermometer).
Remove from heat and transfer the chicken breast to a separate dish, covering loosely with tinfoil.
If desired, place vegetable mixture back in the oven for additional baking.
Let the chicken cool for about 10 minutes, then serve with vegetables and remaining juices.

Baked "Fried" Chicken
When it healthy chicken recipes, you don't often think of "fried" chicken, but there's truly nothing that beast crispy, breaded tenders. We've skipped the deep fryer in favor of the trusty oven—and went with lean chicken breasts, coconut flour and a hint of garlic. And trust us, you'll want to keep this one in your back pocket if you've got kids that live on nuggets or chicken most likely found in a bucket.
Ingredients
• 2-3 chicken breasts cut lengthwise into strips
• ½ cup of coconut flour
• ¼ cup macadamia nuts, chopped finely
• 3 cloves of garlic, minced
• 4 tablespoons of vegetable oil
• Salt and pepper to taste
Instructions
Heat oven to 400 degrees.
Place oil on a baking sheet and set aside.
In a medium-sized mixing bowl, add coconut flour, garlic and nuts, gently toss together.
Season breasts with salt and pepper, and top with the breading mixture making sure all sides are coated evenly.
Arrange chicken in the pan, then place in the oven. Cook for 15 minutes on one side, then flip the tenders and cook for an additional 10-15 minutes. Breading should emerge a crisp, golden brown.
Remove from heat and serve.
These chicken tenders work well with a side of broccoli or asparagus and some simple, roasted potatoes.
Recipes with Chicken
Let chicken play a supporting role. Whether you're using up a couple of extra chicken breasts from earlier in the week or trying to keep things interesting by incorporating chicken into a whole new pool of flavors, here are some easy chicken recipes that range from light and healthy to full-on flavor country.

Strawberry Chicken Salad Wraps
Okay, normally chicken salad is a big creamy mess—no offense to the "salad" lovers among us.  We went ahead and created a lighter version, heavy on the flavor—tanginess, fruit and fresh herbs—plus, the centerpiece, chicken breast.
Ingredients
• ½ cup of apple cider vinegar
• 2 tablespoons of Dijon mustard
• 2 tablespoons of fresh lemon juice
• 2 tablespoons of scallions, sliced thin
• 3 tablespoons of fresh basil, chopped finely
• 1 tablespoon of fresh thyme
• Salt and pepper, to taste
• 3 cups cooked, cubed chicken meat
• 1 cup of strawberries
• 1 cup of diced grape tomatoes
• Romaine lettuce leaves washed and cut lengthwise into wraps
Instructions
In a large bowl, combine apple cider vinegar, Dijon mustard, salt, pepper and lemon juice.
Whisk together until all ingredients are thoroughly blended.
Add chicken, scallions, basil, thyme, strawberries and grape tomatoes to that same bowl, gently stirring with a wooden spoon until all solid ingredients are covered with the dressing.
Arrange romaine lettuce on serving platter and fill with salad mixture.

Green Curry With Chicken and Veggies
This green curry recipe is a million times easier than it looks. Sure, it looks like it just came from the Thai restaurant—which may score you some points if you're on dinner duty for the family. Beautiful and mellow, but loaded with complex coconut flavor, bamboo shoots and our ever-transforming star of the kitchen—chicken.
Ingredients
3 tablespoons of neutral oil, like grapeseed or canola
2 chicken breasts, cut into small cubes
1 can of green curry paste
1 cup of chopped potatoes
1 large yellow onion, chopped
1 cup of chopped carrots
1 bell pepper, chopped
1 can of coconut milk
1 ½ cups chicken stock
1 teaspoon chili paste
½ cup chopped fresh basil leaves
2 whole limes
Brown rice or riced cauliflower—to serve on the side
Instructions
Heat oil in a large skillet, then add the onion. Fry onions until they become translucent, then stir in the curry paste and cook for about a minute.
Add chicken and stir fry until curry paste coats the meat.
Add chicken stock, coconut milk, carrots, potatoes, bell pepper and chili paste. Bring the curry to a boil, then reduce the heat to a simmer.
Cook for 12-15 minutes, leaving the skillet uncovered.
Stir curry periodically. When chicken is fully cooked, stir in basil leaves and squeeze lime juice into the mix.
Serve with rice, or just eat it as soup.

Chicken Pesto Pizza
Perhaps a California staple, the chicken pizza doesn't get as much play as plain cheese or any iteration of the meat lover's pie, but chicken and pizza are a match made in heaven. Now, surely you're familiar with the barbecue chicken pizza—but we're partial to pesto.
While you're free to use whichever sauce your heart desires—whether that's regular old red, a light drizzle of olive oil, or yes, even barbecue—here's how to get the chicken pesto pizza dreams are made of:
Ingredients
• 1 large chicken breast
• ½ pound of prepared dough
• 2 cups of fresh basil
• 3 cloves of garlic, minced
• 1 cup of olive oil
• 2 teaspoons of lemon juice
• ¼ cup of walnuts
• 1 cup of mozzarella
• 2/3 cup of Parmesan cheese
Instructions
Place the dough in a large mixing bowl and brush with olive oil. Knead gently with your hands to coat the dough with olive oil and cover with plastic wrap for about 30 minutes.
Preheat oven to 425 degrees and place a pizza stone on the top rack to heat it up.
Place chicken in a baking dish, brushing with olive oil, and top with and pepper. Let the chicken breasts cook for about 15-20 minutes and remove from heat.
Let cool and make the pesto. Add basil, nuts, garlic, olive oil and lemon juice to the bowl of a food processor and combine until ingredients are smooth.
Cut chicken into small pieces, then set aside.
Then, roll out some parchment paper and roll out the pizza dough on top. Spread with the pesto sauce, then add mozzarella cheese and chicken pieces. Layer parmesan over the whole pie.
Carefully slide the pizza onto the stone that has been heating up in the oven.
Bake or 20 minutes, or until crust becomes a golden brown color and the cheese has melted. Remove from heat and let cool. Slice up and serve.

Chicken Tacos
Grilled chicken breast, along with some taco-friendly veggies make these tacos an easy way to hit all the food group requirements (do we still use that thing?).  While tacos are pretty easy to slap together without much thought, we've opted to provide a recipe that can either be followed to a T or, can be easily switched up every taco Tuesday, Thursday or any day.
Ingredients
• 16 whole Corn Tortillas (Small Size)
• Four skinless chicken breasts, cut into small strips
• 1 tablespoon of cumin
• 1 tablespoon of chili powder
• 1 teaspoon of cayenne pepper
• 4 tablespoons of oil (we suggest using a neutral like grapeseed, avocado or canola)
• 8 ounces of chipotle chilis (two 4-ounce cans)
• 3 tablespoons of honey
• 1 cup of chopped mushrooms
• 2 cups of chopped kale
• 1 cup of diced onions
• 1 cup of diced tomatoes
• 1 lime, sliced
Instructions
In a mixing bowl, combine chipotle peppers, chili powder, cayenne pepper, honey, cumin and two tablespoons of the oil.
Whisk wet ingredients together, then add chicken.
Gently stir until chicken pieces have been coated with the chipotle mixture.
Then, transfer chicken to a large Ziploc bag and store in the fridge. Let the meat marinate for at least two hours.
In a large skillet (our 12" short handled skillet works great), add the chicken and cook on medium high heat.
Meanwhile, in another pan, add the remaining two tablespoons of oil and heat pan on medium high.
Add onions, kale and mushrooms, cooking for about five minutes or until tender.
When chicken and vegetables are fully cooked, remove from heat and set aside.
Heat tortillas in the same pan you cooked the chicken in.
When done, divide the chicken and sautéed vegetables among the tortillas, then top with tomatoes and a squirt of lime juice.
Shop Ceramcor—Chicken Recipe Essentials
Alright, now that you're equipped with all the chicken basics needed to start your multicultural poultry kitchen, you're going to need some supplies. Not to worry, Ceramcor has got it all covered.
From Ovenex serveware that's practically designed with the bird in mind to Fridgex storage supplies for those inevitable leftovers, we've got all the supplies—from the prep to the putting away.