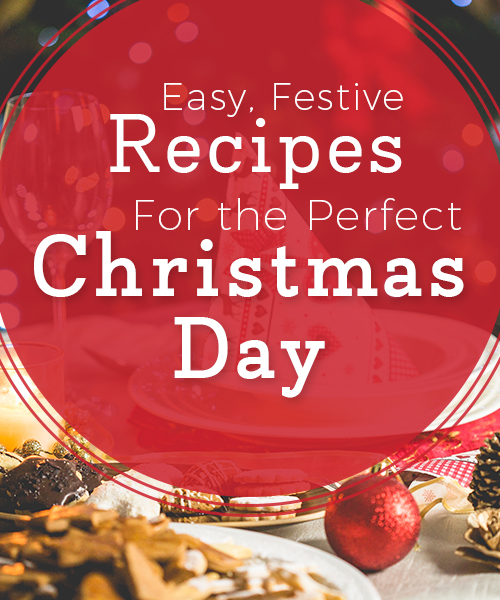 Christmastime tends to be one of the busiest times of year, and once the day itself rolls around, the last thing we want to think about is preparing meals, treats and more to entertain scores of hungry family members.
We know you value your time, sanity and a delicious spread of homemade goods equally, so we've prepared a quick guide to selecting the best items for this special day. They're easy to put together in short order and are sure to delight holiday revelers.
Christmas Morning Breakfasts
There's nothing more magical than waking up on Christmas morning and opening gifts with the kids and family. On the other hand, maybe you prefer sleeping in and enjoying a day full of visiting and cheer. Whatever your plans, here are a few ideas to take Christmas breakfast to the next level.
Cinnamon Spice Pancakes
A holiday twist on a breakfast favorite, these easy-to-make pancakes are elevated with a hint of the spices of the season. We've used whole grain flour to up the health factor, as well as create a substantial consistency that's sure to satisfy.

Ingredients
• 1 ½ cups whole wheat flour
• 2 tablespoons coconut sugar
• 1/3 cup melted coconut oil
• 1 large egg
• 1 ½ cups your choice of milk
• 2 tablespoons baking powder
• 1 tablespoon cinnamon
• 1 teaspoon ginger
• ½ teaspoon nutmeg
Instructions
1. Whisk dry ingredients together in a large bowl.
2. In another bowl, mix oil, egg and milk until thoroughly blended. Then stir in the dry mixture.
3. Heat and oil a large skillet, turning burner to medium-high.
4. Ladle the batter onto the skillet, cooking roughly two minutes on each side, or until a light golden brown.
5. Serve warm, topping with maple syrup or your favorite jam.
Christmas Breakfast Casserole with Winter Vegetables
If you're not interested in a sweet breakfast, look toward savory winter vegetables for inspiration. This one-dish wonder is the perfect choice to ease you into the day, providing equal parts flavor and sustenance. We've added kale and root vegetables in place of the usual hash browns for a hearty take on the breakfast classic.
Ingredients
• 1 pound of chicken sausage
• 12 large eggs
• 1 ½ cup plain almond milk
• 2 cups kale
• 2 cups chopped sweet potatoes
• 1 cup chopped parsnips
• 1 large yellow onion – diced
• 1 cup mushrooms
• 2 tablespoons olive oil
• 2 cloves garlic – chopped finely
• 2 cups shredded Swiss cheese
Instructions
1. Preheat oven to 375 degrees.
2. In a large skillet, brown chicken sausage
3. Add olive oil, garlic, mushrooms, kale and onion. Sauté for about five minutes, or until tender.
4. In a large bowl, crack all 12 eggs, add almond milk and whisk together until blended thoroughly.
5. Coat a 9×13" pan with olive oil and line the bottom of the dish with the sweet potatoes and parsnips.
6. Add the cooked sausage and vegetables to form the next layer.
7. Pour the egg mixture over the casserole and top with cheese.
8. Place casserole in the oven, uncovered, and bake for an hour.
9. Edges should be a light golden brown and eggs should be soft, but completely set.
10. Serve warm.
Christmas Appetizers
As guests stop by for a long day of holiday traditions, you'll want to have a few snacks on hand to tide them over before dinner. Here are some of our favorite Christmas snacks.
Baked Brie with Sun-dried Tomatoes and Basil
Nothing beats creamy cheese and fresh herbs. Perfect for a chilly afternoon inside the house, serve alongside your favorite wines or a mulled apple cider.
Ingredients
• 8 oz of Brie cheese
• ¼ cup of sun-dried tomatoes
• 1 tablespoon extra-virgin olive oil
• 1 tablespoon fresh ground peppercorns
• 1 tablespoon fresh basil
• 3 cloves garlic — diced
Instructions
1. Preheat oven to 400 degrees.
2. Remove cheese from wrapping, and place on a baking sheet.
3. Top Brie with garlic, tomatoes and pepper. Drizzle with oil.
4. Bake for about ten minutes, or until soft.
5. Top with fresh basil and serve with water crackers or sliced baguette.

Spiced Christmas Nuts
This simple nut recipe is the perfect festive snack for a long day of opening presents and visiting relatives. Christmas spices make the recipe a bit more exciting than a handful of basic peanuts — and much healthier than that adorable pile of frosted sugar cookies.
Ingredients
• 1 1/2 cup almonds
• 1 cup walnuts
• 1 cup hazelnuts
• 3 tablespoons maple syrup
• 3 tablespoons brown sugar
• 2 teaspoons of cinnamon
• 2 teaspoons of nutmeg
• 1 teaspoon cloves
• 1 teaspoon ginger
Instructions
1. Preheat oven to 400 degrees.
2. In a mid-size pan, add all ingredients with exception of the nuts, heat thoroughly until runny.
3. Remove from heat. Add nuts to a large bowl and mix in wet ingredients.
4. Pour mixture onto baking sheet and top with a little extra brown sugar.
5. Place nuts in the oven and bake for about 25 minutes, stirring once to make sure they cook evenly.
6. Remove from heat and transfer to a fresh, greased baking sheet. Let cool and enjoy.
Dinner
A big roasted turkey is nice, but if you're looking for a change from Thanksgiving or you don't want to spend hours in the kitchen, consider one of our alternative meat dishes. Opting to keep things both simple and savory, these dishes have the true makings of a perfect holiday centerpiece. Roast some extra veggies or make a quick side, and you'll serve a top-notch meal that's sure to delight your dinner guests.
Bacon Wrapped Pork Loin with Figs (serves 6)
When in doubt, choose bacon. Paired with fig, this pork-centric delight is as easy to make, as it is delicious. Serve with a side of mashed potatoes, grilled veggies or a collection of holiday snacks.
Ingredients
• 2 pounds of pork tenderloin
• 1 large sweet onion
• 1 cup chopped figs, fresh or thawed frozen
• 6-8 slices of thick cut bacon
• 2 tablespoons vegetable oil
• 3 tablespoons dark brown sugar
• Ground peppercorns to taste
• 1 bulb garlic
Instructions
1. Pre-heat oven to 350 degrees. Remove any excess fat from the pork with a sharp knife, and dry with paper towels.
2. Coat the pork with oil, add pepper to taste and wrap with bacon until meat is completely covered.
3. Place on a large baking tray, and cook meat for roughly 10 minutes. Bacon should appear partially cooked.
4. Add figs, onion and garlic (peeled cloves) to the tray, evenly coating with the remaining tablespoon of olive oil.
5. Cook for another ten minutes, or until the underside of the meat is browned. The middle of the tenderloin should register at 150 degrees.
6. At this point, increase the heat to a broil and cook for another 5 minutes.
7. Remove from heat and let cool for a few minutes prior to serving.

Roast Beef With Roasted Root Vegetables (serves 6)
A less time consuming alternative to the old turkey dinner, a classic pot roast is the perfect comfort food. Moreover, with roasted root vegetables, it's definitely worthy of holiday meal status.
Ingredients
• 3 pounds beef (boneless rump roast or sirloin tip)
• 2 tablespoons vegetable oil
• 1 bulb of of garlic (peeled and chopped)
• ½ cup beef broth
• Salt and pepper
• 1 large yellow onion
• 1 cup chopped turnip
• 3 beets (peeled and chopped)
• 2 large carrots (chopped)
• 3 sprigs fresh thyme
• 2 tablespoons rosemary
• 1 tablespoon tarragon
Instructions
1. Preheat oven to 500 degrees.
2. Chop and wash all vegetables and place on a large roasting tray. Drizzle with olive oil and top with herbs, salt and pepper.
3. Drizzle the beef with olive oil and broth and set on top of the vegetable mixture. Salt and pepper the meat, if desired.
4. Place the tray in the oven, immediately lowering the heat to 400 degrees. Cook for one hour if you prefer the meat medium, or about 50 minutes for medium-rare.
5. Remove the meat, but leave vegetables in the oven for another 30-45 minutes. If they seem a bit dry, add a bit of broth or water to keep them moist.
6. Cover beef with foil and serve when vegetables are fully cooked.
Side Dishes
Side dishes usually play a secondary role to the big showpieces like turkey, glazed ham or Cornish game hens. On Christmas, however, sides are your chance to shine. Incorporate flavors new and old, while centering on some of the best flavors of the season: hearty vegetables, sautéed onions and plenty of garlic.
Balsamic Roasted Beets and Brussel Sprouts (Serves 6)
This simple, yet delicious, dish works well for a weeknight dinner for two or as a Christmas Day side dish. It offers a little tartness with a garlicky kick. We prefer beets and sprouts, but you can add more veggies.
Ingredients
• 1 bunch beets, peeled and sliced
• 1 1/2 pounds Brussel sprouts
• ¼ bacon – chopped into bits
• 3 tablespoons of balsamic vinegar
• 2 tablespoons olive oil
• 3 cloves garlic
• Thyme
• 1 tablespoon dried rosemary
• Salt and ground black pepper to taste
Instructions
1. Preheat the oven to 450 degrees, and coat a large baking tray with olive oil.
2. In a small bowl, mix chopped garlic, balsamic vinegar, olive oil, rosemary, salt, and pepper.
3. Chop vegetables, and spread evenly over the baking tray, topping with bacon.
4. Pour oil mixture atop the vegetables and place in the oven, roasting for about an hour or until vegetables are slightly crispy on the outside.
5. Remove from heat and transfer to a serving dish. Let cool for a few minutes before serving.
Vegan Mashed Potatoes (Serves 6)
Mashed potatoes don't have a reputation for being the healthiest, but our vegan mashed potatoes use mostly olive oil and plenty of garlic.
Ingredients
• 5 lbs. potatoes
• ¼ cup olive oil
• 1/8 cup vegan butter – Earth Balance or something similar
• 4 cloves of garlic
• 1 large onion – chopped
Instructions
1. Chop potatoes and add them to a large pot of boiling water. Leave the skin on if desired, otherwise peel.
2. Boil potatoes for about 40 minutes, and drain liquid once they're soft.
3. Meanwhile, in a large pan, heat a small amount of olive oil and add onions. Sauté until they become tender and translucent.
4. Add butter, olive oil and chopped garlic.
5. Mash potatoes thoroughly. Fold in sautéed onions.
6. Transfer to a serving dish.
Sweet Treats
We're big fans of healthy eating, but sometimes we need a little treat. Here are some of our favorite festive treats that are both easy to make and delicious.

Spiced Cranberry Cake
A Christmastime take on the upside down cake, this cranberry-led dessert is the perfect follow up to a hearty meal. It's made with whole wheat flour, so it's a little more healthy than the standard holiday dessert. Enjoy with a hot cup of tea or coffee to finish off the day.
Ingredients
• ¾ cups coconut sugar
• ¼ cup melted coconut oil
• 12 ounces of fresh cranberries
• 1 ½ cups whole wheat flour
• 2 teaspoons of baking powder
• 2 tablespoons dark rum
• ¼ cup fresh orange juice
• ½ cup almond milk
• 1/3 cup vegetable oil
• 1 cup white sugar
• ¼ teaspoon salt
• ½ teaspoon nutmeg
• 1 tablespoon cinnamon
• 1 teaspoon almond extract
• 2 large eggs
Instructions
1. Heat oven to 350 degrees.
2. In a large skillet, heat coconut sugar, coconut oil, rum, cinnamon and nutmeg over medium heat. Stir until the mixture begins bubbling. Cool.
3. Meanwhile, in a medium saucepan, add orange juice and cranberries and simmer until the berries pop.
4. Mix berries into the original mixture.
5. In a large mixing bowl, blend flour, baking powder, salt and white sugar.
6. Then whisk eggs, oil, almond milk and almond extract into the dry mixture.
7. In a 9" cake pan, add cranberry mixture first, layering batter over the top.
8. Bake for 35 minutes, and cool for an additional half hour before serving.
Cinnamon Chocolate Pudding Cups
Vegan and made with silken tofu, these little dessert cups are deceptively health conscious — but you don't have to tell your guests. Cinnamon and cayenne pepper work together to add a little kick to these creamy cups.
Ingredients
• 1 cup semi-sweet chocolate chips
• 1 package of silken tofu
• 1 tablespoon of vanilla extract
• 1 tablespoon cinnamon
• 2 teaspoons agave nectar
• 1 teaspoon cayenne pepper
Instructions
1. Melt chocolate chips using a double boiler. If you don't have one, the microwave is fine.
2. In a large blender, add melted chocolate chips, tofu, vanilla and agave.
3. Blend until smooth and thoroughly combined. The texture should be identical to that of traditional pudding.
4. Transfer to a large bowl and cool for at least a half hour.
5. When you're ready to serve, transfer to small bowls or holiday mugs.
6. Top with cinnamon and cayenne pepper.
Ready for Christmas?
We know we haven't alleviated the mounting pressure to find the perfect gift for every person on your list, but now you can feel confident that you can serve delectable food. We believe that preparing food, no matter the holiday or occasion, should be as easy and stress-free as you'd like.
Whether you want to challenge yourself and prepare a gourmet feast for your 20 closest friends or you want to get it over with in 20 minutes, we understand. Consider our selection of Ovenex ceramic bakeware for preparing healthier meals or our selection of Fridgex storage containers for the inevitable leftover holiday cookies, cakes and sides.