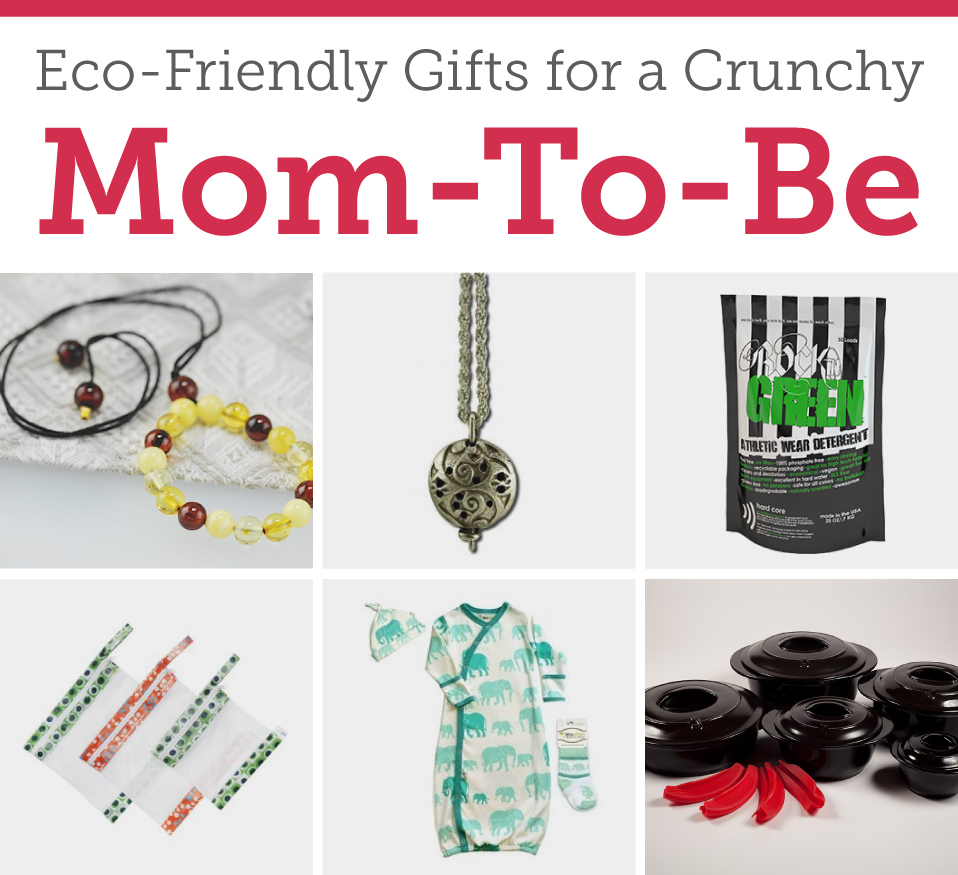 If you've been shopping for a perfect present for a crunchy mom, you might be overwhelmed by the options or find yourself questioning whether your gift idea is "crunchy" enough.
For starters, what exactly is a crunchy mom? While a standard definition can be hard to come up with, a crunchy mom is a parent who practices what some might consider a green and natural approach to taking care of her family. Crunchy moms tend to lean toward organic eating options and it's not unusual to find them growing their own vegetables in the backyard — or, in some cases, on the kitchen counter. While most crunchy moms also believe in Western medicine, they might first choose to treat minor illnesses with herbal products before reaching for a pharmaceutical.
There are several theories behind how the word "crunchy" came to describe this all-natural lifestyle, but it's commonly thought to represent the crunch of granola or the sound that leaves make when hiked upon. Regardless of its origin, the term crunchy seems to fit the cloth-diapering, extended breastfeeding crowd of moms who do their best to make healthy choices for their families.
So how do you find the perfect gift idea for a crunchy mom-to-be? If you're lucky, she might have an eco baby registry, which will provide you with more than enough ideas to get you started.
But if the mom-to-be hasn't set up a natural baby registry but you know she has a green lifestyle, we've put together a perfect list of organic baby shower gifts.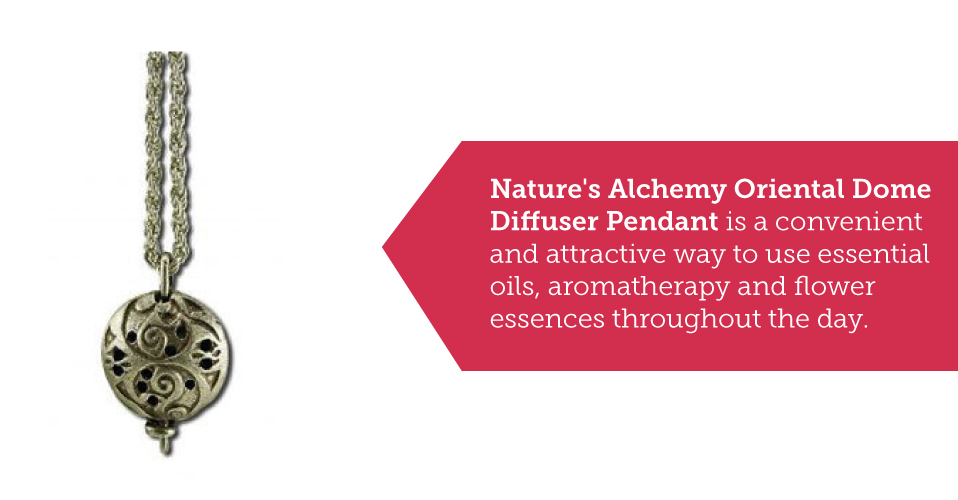 Nature's Alchemy Oriental Dome Diffuser Pendant
A convenient and attractive way to use essential oils, aromatherapy and flower essences throughout the day. Simply put your favorite oil on the included absorbent pads and slip it inside this beautiful pendant. Other shapes, like a heart or Celtic knot, are also available, and each one comes on a 24-inch rhodium plated chain. If the mom-to-be on your list already has one of these pendants, you could gift her a variety of essential oils.
Amber Teething/Nursing Necklace
Babies love to play with mom's jewelry, and these amber beads are naturally infused with anti-inflammatory and immune-boosting properties. Although designed for adult use, many moms say their babies are soothed by playing with the beads while nursing. These necklaces are made from genuine amber from the Baltic Sea.
Snackmaster Dehydrator
Dehydrators are a great gift, although perhaps a little pricey, that moms can use for themselves and their kids. This countertop-sized model is perfect for making jerky or dried fruits and vegetables while retaining the nutrients of fresh produce. Dehydrators save money, reduce the waste from traditional store-bought food and work in just hours, putting them at the top of the list on many eco-friendly baby registries.
Tula Baby Carrier
A favorite brand because of its padded shoulder straps, ergonomic seat support and the quality that comes from a hand-made product, these carriers were inspired by the founders' travels to other cultures where they saw how moms carried their babies. Note: Baby carriers are like jeans — it can be hard to pick them out for someone else because everyone likes their own particular style and design. Unless the mom-to-be has a specific one listed on her green baby registry, your best bet might be to give her a gift card that she can use at her favorite retailer.
Glass Water Bottle
Keeping up with the latest trend in water bottles can be a challenge for even the crunchiest of moms and her friends, but this 22-ounce glass bottle will replace everything else she has. With more than a dozen colors, you can find a bottle that compliments her stroller, diaper bag, or just her everyday fashion sense. Both the glass bottle and the removable silicone sleeve are dishwasher safe and it includes a no-leak flip top. Best feature — the glass and lids are BPA/BPS free and contain no phthalates, PVC or polycarbonates.
Himalayan Salt Lamp
These lamps are great for both mom and baby. They're dim enough that they can replace a nightlight, as long as they are placed on a sturdy table since they are heavier than standard lamps. There's a lot of scientific theory behind salt lamps, but in a nutshell, the warmth from the bulb releases naturally occurring negative ions from the salt. These tiny molecules are believed to help increase chemicals in your body that can improve your mood. They can also eliminate allergens and mold from the air. Think of this like a natural air purifier that makes no noise and doesn't take up a significant amount of space. If you're making a group purchase for an upcoming baby shower, two Himalayan salt lamps — one for mom and one for baby — would be a great hit with a crunchy mom.
Non-Toxic Kitchenware
We'd be remiss if we didn't include a few of our own products on this list. After all, xtrema.com sells kitchen products that are healthier and more environmentally friendly than most other products on the market. Since moms use their cookware almost every day, using a product that doesn't leach harmful chemicals into food is imperative.

Consider the 16-piece FridgeX Silicone Collapsible Food Storage Set, which can go directly from the oven to the freezer, so a casserole can be prepared on a Sunday afternoon and be immediately frozen for Monday night's dinner. FridgeX products are 100 percent green and are made of silicone in an earth-friendly factory. Or, if the crunchy mom on your list cooks a lot, she'll probably love the 14-piece Xtrema by Ceramcor 100% Ceramic Cookware Set. This pure ceramic set is non-scratch, doesn't leach metals or chemicals and is easy to clean. Each piece is handcrafted to meet our high standards of fine ceramic cookware.
Cloth Postpartum Pads
The first week or so after giving birth can be difficult when it comes to dealing with postpartum flow. Although the hospital or birthing center usually provides new moms with a supply of heavy duty pads, they're bulky, uncomfortable and definitely not environmentally friendly. But with reusable GladRags, new moms can use a fitted terrycloth holder with changeable inserts. The all-cotton pad is comfortable and washable and comes in different sizes.
Cloth Diapers
These are probably one of the best baby shower gifts for mom, crunchy or not. Today's cloth diapers are versatile, and easy to use, and they stay in place. Gathered leg openings prevent leaks, and the natural fabric is soft against baby's skin. Plus, you'll be helping mom keep hundreds of disposable diapers out of landfills.
Reusable Bags
Any parent could use these eco-friendly, washable polyester bags. They store easily and are great for snacks, toys, extra clothes or could even substitute as a casual purse.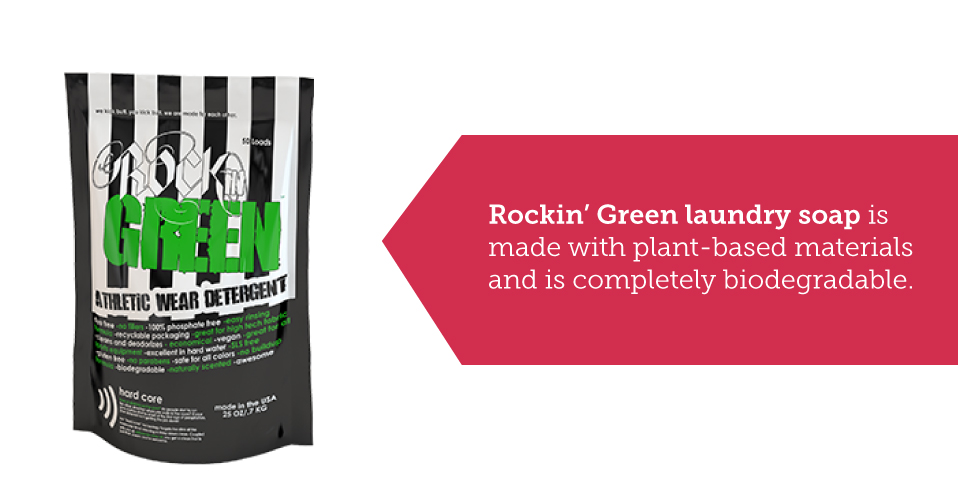 Eco-Friendly Laundry Detergent
There's a lot of laundry that needs to be done when a baby is little, and making sure that the ingredients in the detergent are gentle and safe can be a challenge. Available in fun scents like smashing watermelons and lavender mint or unscented, Rockin' Green laundry soap is made with plant-based materials and is completely biodegradable.
Mama-To-Be Gift Set
Give her the gift of pampering while she still has time to devote to herself. This gift set, which is both vegan and gluten free, includes travel sizes of wellness spray, body wash, stretch oil and organic tea. All products are developed by a nurse and herbalist and are made in the United States.
Boppy or Nursing Pillow
Every new parent needs a Boppy or something like it. They help prop the baby as they learn to sit up, provide a comfortable base for feeding and are a good way to provide tummy time. Fashionable covers provide an easy way to clean up after spills or, in some cases, explosions, and they can match any decor or personal fashion taste.
Wipes Pouch
Inexpensive and eco-friendly, these pouches keep wipes moist and away from dirt or juice leaks that might happen inside a diaper bag. Moms can fill them up with their preferred baby wipe of choice, they are easily refilled.
Coconut Oil
We could go on and on about the benefits of cold-pressed coconut oil, but here's just a quick glimpse:
It's a natural, anti-bacterial moisturizer that's perfect to use on baby's dry skin or to heal eczema
It's a perfect diaper rash cream that can heals baby's delicate skin faster than other products
It's a hair conditioner for both moms and babies and treats cradle cap
It removes makeup without irritating a mom's skin or eyes
It reduces stretch marks when rubbed on the belly
It can even increase breast milk supply when added to a mom's diet.
Basically, coconut oil can ease the symptoms or heal many of the problems that new moms and babies experience in the weeks following birth. At only $20 a jar, it's worth the small investment. Along with the gift, give the mom-to-be a list of its benefits so she can find the best way to use it.
Natural Birth Affirmations Recordings
Created by a two-time mom who had a difficult first labor, these audio files — available as digital downloads — help moms visualize a natural and positive birthing experience. There are two twenty-minute versions available: a secular affirmation and one based on the Christian Bible.
Nipple Ointment
Although breastfeeding is usually a crunchy mom's first choice for feeding her baby, nipple chafing and soreness can occur even in the most prepared of situations. Lanisoh breast cream, which is endorsed by the American La Leche League, is a safe and natural treatment option to heal dry, cracked nipples. Another option is Natural Nipple Butter, which works wonders for any dry skin condition.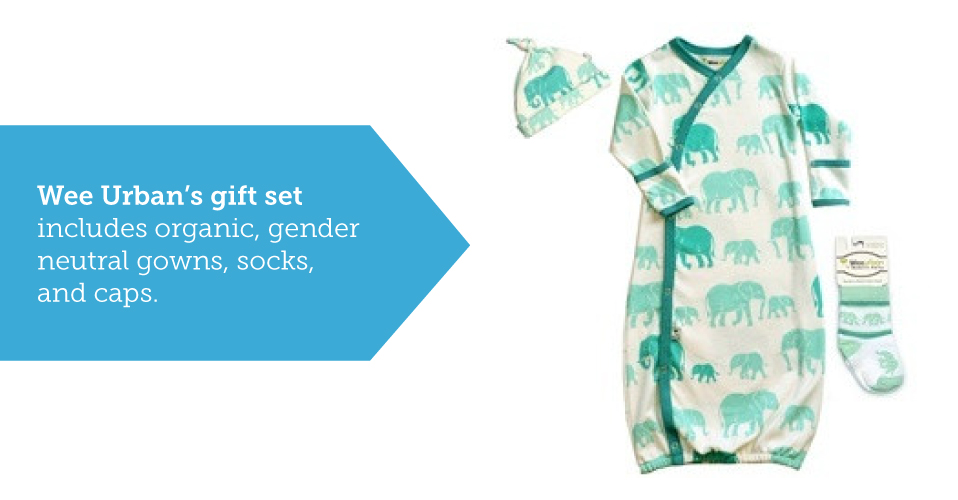 Bring Me Home Gift Set
New babies need to come home from the hospital or birthing center in a perfect, comfy outfit. Wee Urban's gift set includes organic, gender neutral gowns, socks, and caps. The open bottom makes for easy diaper changes and it comes in a variety of prints and colors to match the new parent's personalities.
Steel Sippy Cup
Klean Kanteen is already a well-known brand that provides a safe alternative to plastic drinking bottles, but they also have a baby-friendly sippy cup. Simply attach one of the optional eco-friendly nipples, and the cup transforms into a bottle that can be used through weaning and into early school years, as it's easily transformed into a more traditional travel canteen. They're so popular, it's common to see steel sippy cups on many organic baby registries.
Baby Hats
Since babies lose most of their body heat through their head, and even the thickest of newborn hair is likely to thin or fall out completely, new moms love to have options for keeping their baby's heads warm and secure. Baby skull caps come in a variety of colors and patterns, but the ones offered by Under the Nile are made with 100 percent hand-picked Egyptian cotton.
Organic Baby Wash
Perfect for both newborns and moms, California Baby Shampoo and Bodywash has no added scents or dyes and is both gentle and safe for the most sensitive skin. Moms can trust an organic baby wash to moisturize while healing gentle skin that's just been introduced to the world.
Washable Breast Pads
A good-fitting, absorbent breast pad is one of the best things a new mom can find. Typical breast pads are crinkly and uncomfortable and don't fit smoothly inside a bra, especially with the constantly changing size demand. Milkies pads, on the other hand, have a multilayer design that supports cup sizes while effectively concealing leaks.
Microfiber Cloths
Green moms want to keep their homes clean without using harmful cleaning products around their kids. One trendy product for crunchy moms are e-cloths and Norwex. Both use microfiber technology which cleans 99% of bacteria using only water and the cloth.
If you're not living a crunchy lifestyle yourself, it might be intimidating trying to pick out an eco-friendly and organic gift for a mom-to-be. But take a look at our list above and at the Ceramcor website where we offer a huge line of green gifts that are perfect for an organic baby registry.