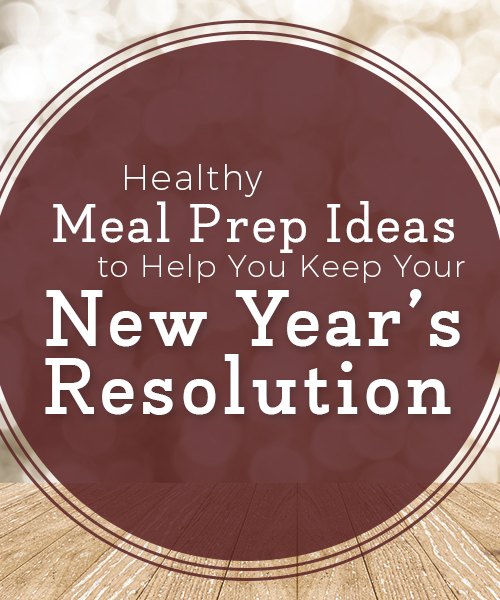 New Year means new beginnings — or so we think. Each year many of us resolve to be better people, live healthier, get in shape, be more productive and so forth.
How many of us have been to the gym just after the festivities die down in January, only to find that everyone else in the neighborhood is there sweating it out together? Stick to the plan for the whole month, though, and the newbie gym rats' start dropping like flies.
The same logic applies to dieting. We try to take on too much at once, embracing the green concoctions, the turmeric shots and the weeklong slog of nightly chicken breasts with limited seasoning and a side of broccoli. It's easy to see why we quickly retreat back into our old pizza and wine habit.
However, don't get disheartened so quickly. If you want to stay on track eating healthy all year long, we've got a few tricks up our sleeve to help you turn your meal planning woes into a healthy set of habits that'll keep you fueled up and fit for many New Years to come.
Meal Prep for Recipes — The Secret Sauce to Staying Healthy
The term "meal prep" may conjure up visions of a Sunday evening spent packing bologna sandwiches or chopping vegetables until your dominant hand gives out, but it's really all about a little organization.
First, you'll want to make sure you have the right tools. A well-stocked arsenal of containers and cookware will make you look forward to cooking. Sure, if you're the kind of person who microwaves a burrito on a paper towel each night and calls it dinner, you may need to make an initial investment.
But trust us on this one — part of the reason you might think you don't like to cook is probably because you haven't mastered how to meal prep. You might find yourself digging around for utensils after you've started to get things going, and that gets frustrating. Disorganization adds time and energy into the mix that would ideally be better spent cooking and eating a delicious meal.
The Supplies for Weekly Meal Prep
The best way to take on a new challenge is to be prepared. If you're new to the whole cooking game or just need a refresher on what tools work best for you, we've put together a list of what the items we think will set you up for healthy meal success. At the very least, you'll want to make sure you have a top-notch skillet in the mix, as well as some good knives, a spatula and some other good stuff. Here's our comprehensive list — feel free to adjust as needed:
1. Storage Necessities
These items will make you look forward to packing a lunch each day or storing leftovers from a big pot of soup for later use. Investing in a solid lineup of bags, jars and reusable containers in all shapes and sizes will pay for itself in short order, since they make keeping snacks on hand at all times a total breeze. Here's a breakdown of the most efficient storage options:
• 1 package quart-sized Mason Jars
• 1 package heavy-duty aluminum foil
• 1 package plastic wrap
• 1 package wax paper
• 1 box of quart-sized Ziploc bags
• 1 box of sandwich bags
• Fridgex silicone storage essentials
2. Cookware
Even if you have all the bags, foils and storage containers you need, you'll still want to get the right cookware to prepare it all. Trying to pan sear, a beautiful piece of fish in a rusty old frying pan isn't going to bring you a whole lot of satisfaction.
For optimal cooking efficiency and pleasure, you'll want to ensure your kitchen is stocked with the following cookware:
• Ceramic skillet – You'll use this for just about everything from simmering sauces to steaming vegetables, fish, chicken and more. We like the Xtrema 10" skillet. It's a larger surface area and is great for almost any kind of dinner items you have on the menu.
• Medium saucepan – Great for any stew-type dishes, curries, etc. that your might pair with rice, quinoa and the like.
• Large saucepot or Dutch oven – Surprisingly versatile, use this as a slow cooker of sorts, perfect for a big batch of soup, chili or a simple pot roast.
• Baking sheet pan – Great for more than just cookies, this workhorse is an ideal prep sheet, as well as the perfect dish for roasting veggies, meat and more.
• Muffin tin – Miniaturize anything baked — egg muffins, mini-meatloaves and other items can be cooked in a muffin tin. You can also make a healthy, veggie-loaded version of your favorite muffin.
If you find you need to upgrade or replace more than a few items, we have a number of Xtrema cookware sets available that'll help you stock up your kitchen in one fell swoop.
3. Utensils
You'll be doing some stirring, cutting, whisking and more as you get recipes together, so here are the utensils you'll want to have:
• Spatula – Fry eggs, meats and more with ease.
• Large stirring spoon – For sauces, soups and more.
• Paring knife — Ideal for peeling fruits and vegetables and chopping small items
• Chef's knife — Can be used to cut up a variety of foods. It's good a lots of kitchen tasks.
• Cutting board — You'll be lost without this one. Invest in a good, large cutting board that's easy to clean.
• Whisk — This kitchen staple is best for getting ingredients to blend together smoothly.
• Mixing bowls — You'll want to be sure you have a variety of mixing bowl sizes to accommodate the ingredients in your various recipes.
• Measuring cups — Measuring cups are likely self-explanatory, but it's best to measure out the ingredients as listed in the recipe you're trying to follow—until you're brave enough to start experimenting on your own.
• Measuring spoons — Along the same idea as measuring cups, you'll want to be sure you're pretty accurate with the amounts of different ingredients in your recipes.
• Can opener — Sometimes the easiest thing to do is make a meal from canned ingredients. You'll, of course, want some way to open them.
5. Spices and Such
We have several recipe ideas below, but one thing you should know before we dive into the nitty-gritty is that you can take the basic bones of a lot of these recipes and change it up with different sauces and spices. For that reason, we've compiled a list of things that no pantry should go without — some hacks, so to speak, that will set you on the right path toward total meal domination:
• Olive Oil
• Black peppercorns
• Salt
• Vegetable or canola oil
• Balsamic vinegar
• Whole wheat flour
• Quinoa
• Brown rice
• Soy sauce
• Sriracha (or hot sauce of your choice)
• Canned beans
• Garlic
• Tahini
• Non-stick cooking spray
Naturally, your list of staples may vary a bit based on whether you're a spicy food fiend or a condiment aficionado, but the point is, it's always a good idea to keep a few basics in stock, so you'll be able to whip something up quickly even if you've forgotten to hit the market on the way home from work.
A Few Miscellaneous Meal Prep Tips
Aside from great recipes, there are a few standalone things you should make or buy for healthy eating throughout the week:
• Keep a rotating cast of fruits on hand like bananas and apples that you can eat on the go.
• All those mason jars and sandwich bags we mentioned you should buy – those are perfect containers for quick salads or storing cut up fruits and veggies.
• Make up a whole batch of hardboiled eggs at the beginning of each week. Be sure to store them in a container like one of our Fridgex containers to keep your fridge smelling fresh.
• Keep things like almonds, baby carrots, hummus and an assortment of raw vegetables on hand for easy snacking, or for something to nibble on throughout the workday. We understand you won't want to make everything from scratch, so it's good to keep a few items in the mix for when hunger strikes.
• To save even more time, do some weekly meal prep before you head back to the office on Monday morning. Store things like onions, tomatoes, cucumbers and other veggies you know you'll use during the week and keep them in the fridge. Chop up lettuce and set aside for quick salad assembly. Again, our Fridgex storage containers will keep things fresh for the week to come and promise to help you cut cooking times way down to the end.
Now, Onto the Recipes
Below we've put together some of our favorite recipes that can be prepped and made in about 30 minutes or less. Sure, sometimes it's nice to spend a couple hours whipping up a special meal, but other times? It can be a challenge to muster the energy to even evaluate the situation you've got in your fridge. The best part? Most of these recipes can be easily adapted, so even if you only manage to learn a few of them, you'll be able to swap out the seasoning or add some different vegetables to the mix for endless variety. Resolution burn out is real, after all.
Please note, we've designed these recipes to feed two adults. If you have a whole family to feed or want to plan by making enough food for multiple meals, we'd suggest doubling up on ingredients.
Breakfast
It's the most important meal of the day — well, honestly, they're all important — but sometimes you're in a rush and end up resorting to less-than-healthy options first thing in the morning because you're not prepared. In an effort to help you break away from the old cereal rut or that sugary protein bar you eat in the car, we've compiled a few of our favorite breakfasts that can be made in short order to set the tone for the day:


A twist on oatmeal that'll have you contemplating why you've waited so long to shake it up from the usual brown sugar and fruit topped oats. Savory eggs meet cheese, butter and oatmeal — a winning combination that promises to stick to your bones throughout the day. Feel free to mix up the veggies or tweak the cheese ratio.
Ingredients 
• 2 large eggs
• Butter
• 1 cup of rolled oats
• ¼ cup of shredded Swiss cheese
• ½ cup of baby spinach
• ¼ sliced white mushrooms
• Salt and pepper
Instructions
1. In a saucepan, (we like the Xtrema 10" covered skillet), boil two cups of water, then add the oats along with a bit of salt.
2. Reduce the heat to medium-high, and let the oats simmer for about 5 minutes.
3. While the oats are cooking, sauté the vegetables in a skillet.
4. Once the veggies are done, cook the eggs. Season the skillet with butter (or non-stick spray) and add eggs. Cook until the whites are cooked, but yolks remain runny.
5. Serve oatmeal and top with eggs, veggies and cheese.

An easy way to have eggs made portable, these low-carb muffins are the perfect way to fuel up before a long day at the office. Change up the veggies for a different approach. The possibilities are endless — so you'll have fun experimenting with different flavors throughout the year.
Ingredients
• 6 large eggs
• 2 jalapeño peppers, diced
• 1 medium yellow onion, diced
• 1 red bell pepper, chopped
• 1 cup mushrooms
• 1 cup baby kale, chopped
• 1 cup cheddar cheese
• 2 cloves garlic, diced
Instructions
1. Preheat oven to 400 degrees.
2. Chop the veggies and mix them together in a medium-sized bowl. Set aside.
3. In another medium-sized bowl, crack eggs and whisk together until thoroughly blended.
4. Coat a muffin tin with non-stick cooking spray and set aside.
5. Coat a large skillet with non-stick cooking spray.
6. Sauté vegetable mixture in the skillet. This should take about five minutes or so.
7. Fill muffin cups about 2/3 of the way with veggie mixture.
8. Fill the cups the rest of the way with eggs, and top with cheese.
9. Place the muffin tin in the oven and bake for about 15 minutes, or until eggs appear to be set.
10. Let cool for 5-10 minutes and serve.

We know — avocado toast is in the midst of a serious moment. However, hear us out. This quick and tasty toast is a meal that takes about five minutes to make, and it can easily be dressed up with a different lineup of veggies and seasonings. In an effort to keep things healthy, we've opted for sprouted whole grain bread instead of regular white.
Ingredients
• 4 slices sprouted whole grain bread
• 1 large avocado
• Sea salt and ground black peppercorns to taste
• 3 tablespoons chopped cilantro
• 1 cup cherry tomatoes, sliced in half
• 1 ½ cup arugula
• 1 small lemon
Instructions
1. Prepare vegetables.
2 Toast slices of bread.
3. Mash avocado on bread, ¼ avocado per each slice.
4. Top with arugula, tomatoes and cilantro.
5. Squeeze lemon juice over the top and serve.

Loading your favorite whole-wheat wrap with eggs, veggies and chicken sausage makes for a perennial favorite that healthy eaters and brunchers alike will savor. Again, this is an easy one to alter to your preferences to keep things interesting.
Ingredients
• 2 large whole wheat tortillas
• Non-stick cooking spray
• 4 large eggs
• 3 chicken sausages, casings removed
• ¾ cup mushrooms, chopped
• ½ large white onion, diced
• 1 cup spinach, chopped
• ¼ cup salsa of your choice
Instructions
1. Coat a 10" skillet with non-stick spray, and heat the pan on medium-high heat. Add sausages, chopping up into small bits.
2. Add veggies, cooking until mushrooms are brown, and onions are translucent.
3. Remove meat and veggies and set aside
4. In a small bowl, crack eggs and whisk together until thoroughly blended
5. Give skillet another coat of non-stick cooking spray
Lunch
We don't know about you, but lunch time is where many of us slip up when it comes to staying on the healthy eating wagon. So, in addition to a couple good recipes, we've included some helpful tips so you can throw together a salad or veggie bowl that's both quick and tasty in a pinch:

This one is flexible as far as ingredients go. Change up the veggies, the dressing and the proteins. Anything goes, but we've listed some of our favorite salad toppers as an example.
This recipe makes enough for two salads — to make enough for a few lunches, increase accordingly. As a general jar salad rule, you'll want to add your dressing first and layer with the heartiest ingredients toward the bottom, and the greens, herbs and other delicate items toward the top.
Ingredients
• 1 cup cooked quinoa
• 3 tablespoons olive oil
• 2 tablespoons balsamic vinegar
• 1 cup grape tomatoes, sliced in half
• ½ cup fresh basil and cilantro, chopped
• 1 cup shelled and cooked edamame
• 2 cups chopped spinach
• ½ cup strawberries, sliced
• 1 quarter cup thinly sliced almonds
Instructions
1. In a small bowl, whisk together oil and vinegar.
2. Add oil and vinegar mixture to the bottom of the jars.
3. Next add strawberries, tomatoes and edamame.
4. Top with almonds and quinoa, and finally, add spinach and herbs to the top.
5. To serve, dump the jar into a bowl. The dressing will coat the entire salad.

A quick and easy alternative to a basic wrap or salad, here's an easy, protein-packed vegetarian sandwich that works equally well for a brown bag office experience as it does as part of a packed picnic lunch on a sunny Saturday afternoon.
Ingredients
• 2 whole grain pitas
• 1 cups cooked lentils
• ½ cup chopped bell pepper
• 1 large tomato, chopped
• 1 large cucumber, chopped
• 1 cup chopped greens
• ¼ cup tahini
• 2 tablespoons olive oil
• ¼ cup chopped onions
Instructions
1. Chop vegetables and mix in a medium bowl.
2. Add lentils, olive oil and tahini and blend all ingredients together thoroughly.
3. Cut pitas in half and fill each piece with the lentil blend.

Balsamic vinaigrette and sundried tomatoes kick the boring old turkey wrap up a notch. Olive oil and avocado ensure you won't be all dried out, so you can skip the mayo if you're trying to watch your waistline. Pack your wrap alongside some bite-sized veggies and a piece of fruit for a well-balanced work lunch that will keep you full for the rest of the day.
Ingredients
• 2 tablespoons balsamic vinegar
• 1 tablespoon olive oil
• 6oz sliced turkey
• 1 cup sundried tomatoes
• 1 small avocado
• 2 large whole wheat tortillas
• 1 romaine heart, torn into smaller pieces
• Salt and pepper
• 2 slices of lemon
Instructions
1. Slice avocado and mash onto the tortillas.
2. Divide turkey between the two wraps.
3. In a small bowl, whisk oil and vinegar together until thoroughly blended.
4. Top with lettuce and sundried tomatoes.
5. Drizzle with oil and vinegar mixture, then give each wrap a little squirt of lemon juice and add salt and pepper to taste.
6. Wrap 'em up and stick in a small container or Ziploc bag.

A delicious take on rice and beans, this is a great dish to whip up the night before and let cool in the fridge. This makes about four servings, so you'll be able to eat this for a lunch or two during the week. Plus, the heartiness of the dish ensure you won't be faced with sad desk salad syndrome at the office.
Ingredients
• 1 cup cooked brown rice
• 1 can black beans, drained and rinsed
• 1 cup grape tomatoes
• 1/3 cup lime juice
• 2/3 cup cilantro
• 1 green bell pepper, chopped
• 2 tablespoons olive oil
• ¼ teaspoon cayenne pepper
• 1 cup arugula, chopped
• 1 chopped red onion
Instructions
1. Cook rice according to package instructions
2. Chop vegetables.
3. In a medium mixing bowl, combine black beans and vegetables, then add brown rice into the mix.
4. Add olive oil, lime juice and cayenne pepper
5. Mix thoroughly and store in the fridge for at least an hour, or until completely cool.
Dinner
After a long day at work, or even an activity-filled weekend, the last thing you want to do is think about dinner — we hear you. Whether you're looking for some quick protein-filled treats, or a filling vegetarian dish, we've got a few ideas up our sleeve you're sure to love as much as we do.

This ten-minute health food powerhouse is the perfect thing for a Tuesday night when the idea of meal prep sounds like a total nightmare. A simple salmon fillet with a bright splash of lemon and a healthy dose of calcium-rich greens will keep you energized and satisfied.
Ingredients
• 2 6-ounce salmon filets
• 1 tablespoon olive oil for salmon, plus one additional for salad portion
• Ground black peppercorns
• 1 whole lemon, juiced
• 2 cups spinach
• 1 cup Swiss chard
• 1 cup kale
• 1 cup cherry tomatoes, sliced in half
• 4 tablespoons balsamic vinegar
Instructions
1. In a small mixing bowl, add oil, vinegar, and mix.
2. Preheat large skillet, turning burner to medium-high.
3. Coat salmon with olive oil and sprinkle with salt and pepper on both sides, leaving skin on.
4. Cook for three minutes and flip over. Cook for an additional five minutes or until it becomes browned. You can tell when the fish is cooked when it begins to to flake when poked with a fork.
5. Remove from heat and set aside, covering with tin foil to retain the heat.
6. Next, add greens to the skillet, along with ¾ cup of water. Cover and let steam for about 4 minutes, or until greens become tender and tomato skins appear wrinkled.
7. Remove from heat and divide into two portions. Top with salmon and glaze with oil and vinegar mixture.
8. Squeeze lemon juice on top and serve.

You can make this in the slow cooker or just let it simmer in a big pot for a few hours. Either way, this dish makes more than enough for two people. Have some for dinner, then save the rest for a lunch later in the week.
Ingredients
• 2 cans kidney beans
• 1 can black beans
• 1 teaspoon cumin
• 2 tablespoons chili powder
• 1 tablespoon ground black pepper
• 1 habanero pepper, chopped
• 2 jalapeño peppers, chopped
• 1 large white onion, diced
• 2 yellow squash, chopped
• 1 large zucchini, chopped
• 2 cans diced tomatoes
• 1 package medium tofu, cubed
• 1 cup chopped kale
• 1 cup chopped spinach
• 1 large sweet potato, diced
• 10 cups water
Instructions
1. Prep vegetables, cut tofu.
2. In a Dutch oven, add all ingredients and turn the burner to medium-high.
3. Bring to a boil, then reduce the heat to simmer for about an hour.
4. If you're ready to eat, serve. Otherwise, reduce the heat to low and leave it for a couple hours.
5. If desired, cut some additional onion for garnish and serve.
6. Store leftovers in large FridgeX container. Eat within a few days.


A flavorful, yet healthy way to get some protein and your requisite daily vegetable quota, this quick curry is the best thing on a cold night when you don't have a whole lot of time to make dinner. While this recipe feeds two adults, we suggest doubling this one for a great make-ahead lunch. Throw it in a Mason jar and microwave at the office for a tasty mid-day boost.
Make a batch of brown rice if you're so inclined, or enjoy it on its own as a hearty stew.
Ingredients
• 1 can pumpkin
• ½ cup coconut milk
• 1 can drained and rinsed chickpeas
• 1 cup chicken stock
• 1 cup arugula
• 1 tablespoon yellow curry paste
• 2 teaspoons brown sugar
• ¼ chopped yellow onion
• ¼ chopped cilantro (for garnish)
• Salt to taste
Instructions
1. In large saucepan, heat coconut milk over medium heat and stir in yellow curry paste. Let the mixture simmer for about two minutes, then add the onion.
2. Simmer for an additional two minutes, and add pumpkin, chickpeas, sugar and the chicken stock. Increase heat to high, and bring to a boil.
3. Lower heat back down to medium and let simmer for another 8 minutes.
4. Remove from heat and divide into two bowls. Top with arugula and cilantro and serve.
5. Serve with rice or flat bread, if desired.

A classic, easy-to-make dinner with a well-rounded cast of nutrients, this chicken bowl hits all the right spots. Shake up the veggies or sub the chicken out for shrimp or salmon.
Ingredients
• 4 tablespoons soy sauce
• 2 tablespoons honey
• 1 tablespoon tahini
• 1 tablespoon black sesame seeds
• 1 jalapeño pepper, chopped
• 4 cloves garlic, finely chopped
• 1 cup chopped red cabbage
• 2 cups chopped broccoli
• 2 large chopped carrots
• 2 cups brown rice
• 4 scallions, chopped for garnish
• 2 six-ounce skinless boneless chicken breast halves
Instructions
1. Make brown rice per package instructions.
2. Coat 10" skillet with non-stick spray.
3. Salt and pepper chicken breasts and place in the skillet. Cook chicken six minutes per side, or until thoroughly cooked.
4. Remove from heat and set chicken aside.
5. In a small mixing bowl, combine honey, soy sauce, tahini and red pepper flakes. Whisk together and set aside.
6. In the same skillet, add vegetables and garlic along with 1 cup of water and cover. Let steam for about 7 minutes or until veggies become tender.
7. Cut chicken into strips.
8. Once the veggies are cooked, remove from heat and drain any excess liquid.
9. Turn burner back to medium heat, add canola oil to coat vegetables completely.
10. Add half of the sauce, along with chicken and blend all ingredients together.
11. Remove from heat.
12. Divvy up rice between two bowls and top with chicken and vegetables. Drizzle remaining sauce over the top and garnish with scallions.
Tasty Snack Hacks
The hardest part of starting any new diet is the realization that many of your favorite snacks are the reason you've added a couple inches to your waistline as of late — chips, cookies, ice cream and carbs, carbs, carbs. To keep you on track between meals, we've listed a few of our favorite snacks to keep you satisfied all day long.

A quick and easy snack that feels a little more like a dessert than a healthy part of your New Year's resolution, these bananas are loaded with protein, potassium and a whole lot of deliciousness. They only take about 5 minutes to make, too. Feel free to double the recipe, and keep these on hand in the freezer to satisfy any emerging junk food cravings. They're also a great alternative to those sugar-laden protein bars so many of of eat for breakfast in a hurry.
Ingredients
• 1 bunch bananas
• ½ cup of almond butter, softened
• ¼ cocoa powder
• ¼ coconut flakes
Instructions
1. Line a baking sheet with wax paper to keep things clean.
2. Peel all bananas and cut them in half, arrange them on the sheet.
3. Add cocoa powder and almond butter to a microwave-safe bowl, and then melt in the microwave for about a minute.
4. Mix cocoa powder and almond butter until thoroughly blended.
5. Coat the bananas with the mixture and sprinkle with coconut flakes.
6. Store in the freezer on baking sheet until chocolate-almond mixture freezes.
7. Once the toppings are set, transfer bananas to quart-sized freezer bag for space-saving storage.

Take the edge off bitter grapefruit and satisfy your sweet tooth at the same time. This simple snack is the perfect pick me up for the mid-afternoon slog, or a great companion to a savory egg breakfast. Fat-burning grapefruit is great for the waistline, too.
Ingredients
• 2 large ruby red grapefruits
• 2 tablespoons honey
• 2 tablespoons chopped fresh basi
Instructions
1. Slice grapefruit into wedges. Remove the membrane with a sharp knife, and take off the peel.
2. Divvy up the fruit into two small bowls, drizzling one teaspoon of honey over each one.
3. Top with chopped basil and enjoy.

Speaking of energy bar alternatives, skip the mystery ingredients, and make a batch of these bite-sized treats instead. Not only are they healthy and easy, but they're the perfect snack size combination of sweet and savory with enough protein to keep you going through all your New Year's resolution workout classes.
Ingredients
• 1 cup dry quinoa
• ¼ cup sesame seeds
• 1 ¼ cup rolled oats
• ½ cup almond butter
• 2 tablespoons agave syrup
• ½ cup chopped nuts of your choice
• 1 tablespoon cinnamon
• ¼ cup chopped dates
• 4 tablespoons coconut flakes
Instructions
1. Preheat oven to 375 degrees
2. In a large mixing bowl, combine quinoa, sesame seeds, dates, oats and nuts. Stir until thoroughly blended.
3. In a smaller, microwave-safe mixing bowl, combine almond butter, agave syrup and cinnamon. Microwave for about 45 seconds, or until soft, and then whisk together.
4. Add wet ingredient mixture to the dry ingredients and stir together. You may need to use your hands to knead them together.
5. Coat a baking sheet with non-stick cooking spray.
6. Take the bar mixture and spread evenly across the baking sheet. Top with coconut and place in the oven to cook for 15 minutes.
7. Remove from heat and let cool.
8. Cut bars to desired size and store in the refrigerator in an airtight container.
Let's Get Started — Stock up on Ceramic Cookware and More
Now that you have some ideas under your belt, we suggest using Pinterest to track favorite recipes — it's one of our favorite ways to log all those delicious ideas we can't wait to try. After you've gotten the hang of cooking and preparing your meals each day, you'll likely find yourself improvising with different ingredients, becoming a quick-and-easy meal kind of chef in no time.
We hope these recipes and meal prep ideas for weight loss, healthy living and more have inspired you to power through any new year's resolutions, or at the very least, change your eating habits for the better. Again, the idea here is to give you some inspiration. Play with proteins and different grains. Try different fruits and veggies according to the season all throughout the year — anything goes.
As with all new habits, it takes a little time — generally about two weeks — to make them stick, so be patient. If you do slip up, it's okay. Don't be hard on yourself — just hop back on the wagon.
Get yourself a holiday gift and upgrade some of that aging cookware you have in your pantry. Trust us it makes all the difference. In addition, they'll start to pay for themselves after a few months of cooking your own food, versus resorting to takeout.