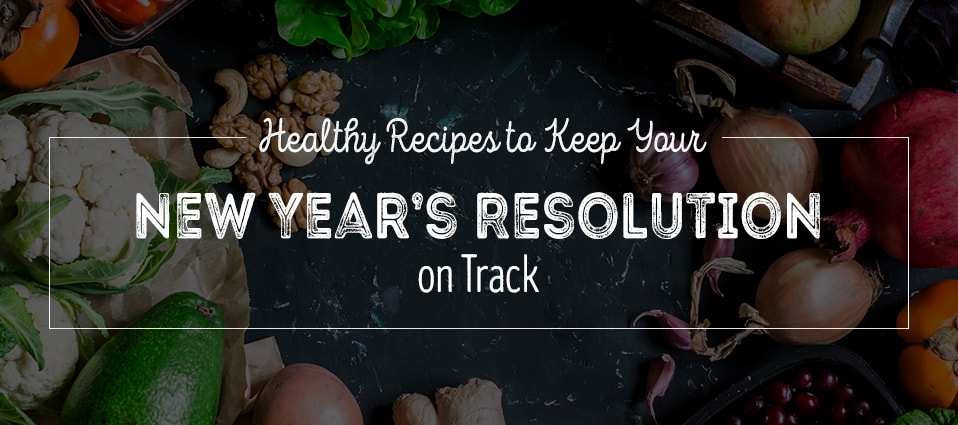 Joining a gym, reorganizing your closet — the new year brings the promise of new habits. Sure, you can revamp your diet in the spring, summer or just in time for Halloween, but January and the fresh start it represents is a time-honored tradition.
Maybe you're cutting carbs, processed foods or just trying to cook more at home — in any case, you'll need some fresh inspiration before you start cooking up a storm.
To get you on the right track, we've rounded up some healthy dinner ideas for putting together the kind of meals that'll keep you in control of your diet from January onward — and for years to come, even. Here's a look at our favorite easy, fast and healthy dinner recipes to lose weight.
Rosemary Chicken with Broccoli Mash
One of our favorite healthy chicken dinner recipes, this chicken breast is accompanied by broccoli mash, which, in our opinion is a touch tastier than the cauliflower version of mashed potatoes. This recipe isn't super complicated — it's perfect for a cozy night in, but doesn't require a ton of prep time.
Ingredients
Broccoli Mash
1 head of broccoli, chopped into florets
2 tablespoons olive oil
3 cups of chicken broth
4 garlic cloves, minced
Salt and pepper, to taste
Chicken
2 tablespoons fresh rosemary
2 tablespoons fresh thyme
5 cloves of minced garlic
2 boneless chicken breasts
1 tablespoon of olive oil
Salt and pepper, to taste
Instructions
To Make the Broccoli
Take out a large soup pot and add olive oil. Heat oil over medium-high heat, then add minced garlic and broccoli. Sauté for about three minutes. You'll notice the garlic begin to get fragrant. At this point, you'll want to add the broth.
Bring to a boil, then reduce to a simmer for about 10 minutes, until the broccoli becomes soft.
Drain the mixture, then add broccoli and garlic to a food processor and puree. Add additional olive oil for a thicker consistency, if you'd like, and remove from the processor when smooth. Season with salt and pepper to taste.
To Make the Chicken
To a bowl, add the garlic, salt, thyme, rosemary, a pinch of pepper and olive oil. Whisk together, then set aside.
Then, place your chicken breasts on a clean work surface, covering with plastic wrap. Pound with a mallet, and remove plastic. Cut chicken in half horizontally, and brush olive and herb mixture over both sides. Set aside.
Grab your non-stick skillet and heat over medium heat.
Add chicken and cook for three minutes without turning. Flip chicken over and add a little water to the skillet. Cover and cook for another five minutes, so the chicken is no longer pink in the middle. As a point of reference, chicken is ready to serve at 170 degrees.
Remove from heat and serve with broccoli mash.
Lemon and Herb Quinoa
This lemony superfood blend comes with a dose of garlic and plenty of herbs. You'll get an added hit of flavor with the addition of basil and parsley. Feel free to dress up the dish with a little fish or chicken, but we think this works pretty great on its own — a real one-dish kind of meal, if you ask us.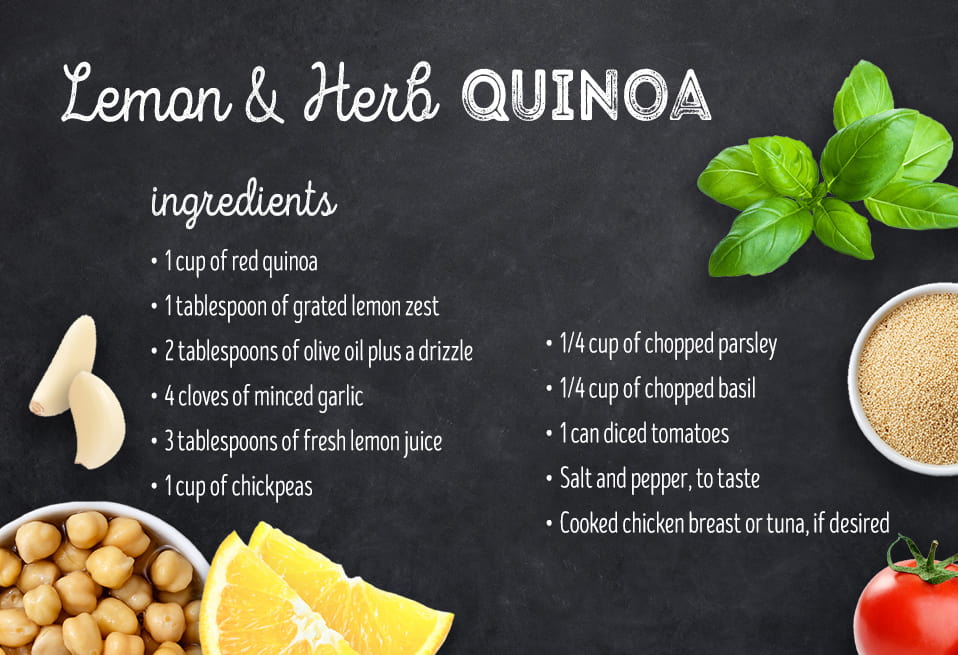 Ingredients
1 cup of red quinoa
1 tablespoon of grated lemon zest
2 tablespoons of olive oil plus a drizzle
4 cloves of minced garlic
3 tablespoons of fresh lemon juice
1 cup of chickpeas
¼ cup of chopped parsley
¼ cup of chopped basil
1 can diced tomatoes
Salt and pepper, to taste
Cooked chicken breast or tuna, if desired
Instructions
In a saucepan or skillet, heat a drizzle of olive oil over medium heat, then add quinoa, two cups of water, plus a pinch of salt. Bring to a boil, then reduce heat to a simmer. Cover and cook for approximately 15 minutes, then remove from heat and set aside.
Meanwhile, heat two tablespoons of olive oil in a non-stick skillet.
Add garlic and sauté for roughly three minutes, or until it becomes aromatic. Then, stir in quinoa and chickpeas.
Remove from heat and place in the fridge for about an hour or until cool.
Stir in basil, parsley, diced tomatoes, lemon, lemon zest, salt and pepper. Add protein, if desired, and serve.
Savory Veggie Pancakes
Okay, maybe this really is just an omelet, but eggs and veggies make a quick and easy meal no matter what time it is. Below, you'll find a recipe that works just as well for dinner, with a hint of soy sauce, as it does for breakfast alongside a hot cup of coffee and a couple of fresh slices of turkey bacon. Oh yes, and it only takes about 10 minutes to whip this all up.
Ingredients
6 large eggs
2 tablespoons of oil or butter
1/4 cup of sliced mushrooms
1/2 cup shredded cabbage
¼ cup of diced fresh scallions
Salt and pepper, to taste
Instructions
Beat eggs in a large bowl. Add salt and pepper and whisk together.
Add chopped veggies to the mix, then grease a large skillet with the oil or butter.
Heat on medium-high, then add the egg and veggie mixture.
Cook for about 7-10 minutes, pushing the cooked parts gently toward the inside of the pan, so uncooked eggs may reach the pan's surface.
When eggs are cooked to desired consistency, remove from heat.
Cut omelet into two to four servings.
Chicken Fajitas
A little south-of-the-border flavor heats up this easy chicken dinner recipe. Our fajita recipe is lean, loaded with veggies and works as well atop a bed of greens as it does inside a whole grain tortilla. Add a bit more heat, if you're so inclined, or throw in whatever combination of veggies you've got in the fridge. The beauty of this recipe is it's pretty unfussy — meaning, there's room for variation.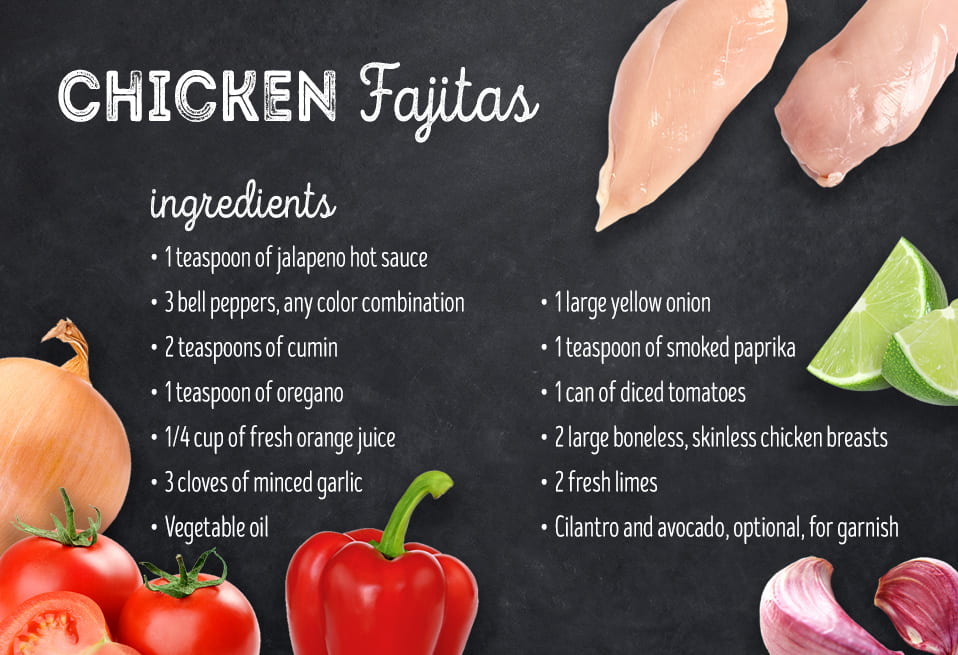 Ingredients
1 teaspoon of jalapeno hot sauce
3 bell peppers, any color combination
2 teaspoons of cumin
1 teaspoon of oregano
1/4 cup of fresh orange juice
3 cloves of minced garlic
Vegetable oil
1 large yellow onion
1 teaspoon of smoked paprika
1 can of diced tomatoes
2 large boneless, skinless chicken breasts
2 fresh limes
Cilantro and avocado, optional, for garnish
Instructions
In a mixing bowl, combine hot sauce, cumin, minced garlic, paprika, oregano and orange juice with one tablespoon of oil.
Whisk together until thoroughly combined. Set aside.
Chop the onion and cut the raw chicken breast into strips.
Place in a large plastic bag with the sauce and let marinate in the fridge.
Ideally, you'll be able to leave this overnight, but an hour minimum is fine if you're strapped for time.
When it's time to prepare the meal, cut peppers and place in a skillet with two tablespoons of vegetable oil.
Sauté the peppers for about 3 minutes, then add chicken and onion mixture, along with the excess marinade and tomatoes.
Cook the mixture for about 8 minutes, or until the meat is cooked all the way through.
Squeeze juice from both limes over the dish and garnish with cilantro, if desired.
Serve alongside sliced avocado and tortillas, rice or steamed vegetables.
Easier Healthier Recipes
It's always good to have a plan B in your back pocket. If you've put together a diet plan, that's the first step toward success, but think back to all those times you made not-so-healthy choices after wrapping up a long day at the office, when you've got kids to cart around or you took on too much work to do.
That said, here are some items you can whip up in a pinch, so there's no excuse for slipping. Let's dig in, shall we?
Miso-Glazed Salmon Kebabs
A skewered salmon dish that works both as an appetizer or a meal, these kebabs are a fun way to get some of those heart-healthy omega fatty acids, a serving of veggies and a whole lot of flavor. A delicious miso marinade takes basic salmon to the next level. Serve with salad and rice, or enjoy as is.
Ingredients
1 cup miso, or soybean, paste
1 cup of tamari
1/2 cup brown sugar
2 teaspoons sesame oil
2 teaspoons soy sauce
2 teaspoons chopped garlic
1 pound of boneless, skinless salmon, cut into 2″ chunks
1 zucchini, cut into slices
1 red bell pepper, cut into chunks
1 pint of grape tomatoes
1 onion, cut into chunks
Wooden or metal skewers
Instructions
Preheat oven to broil. Pro tip, if you're using wooden skewers, you'll want to soak them in water for about a half hour before cooking.
Arrange your salmon chunks, chopped zucchini, onion, bell pepper and tomatoes on skewers. Place skewers in a large baking dish and put in the oven.
Cook for about 8 minutes, or until vegetables become tender and the salmon is flaky and cooked all the way through.
To a small saucepan, add miso paste, brown sugar, tamari, soy sauce, sesame oil and garlic, and whisk together.
As the salmon and veggies cook, bring the sauce to a boil and keep it there for about five minutes. The mixture should thicken into a glaze. When skewers are ready, remove from heat and drizzle generously with the sauce.
Healthy Fried "Rice"
Don't be fooled by the epic ingredient list. This brilliant take on fried rice is the perfect addition to any diet — it feels like you're getting this satisfying blend of umami flavors yet only contains a fraction of the calories you'll find from your favorite takeout menu's fried rice.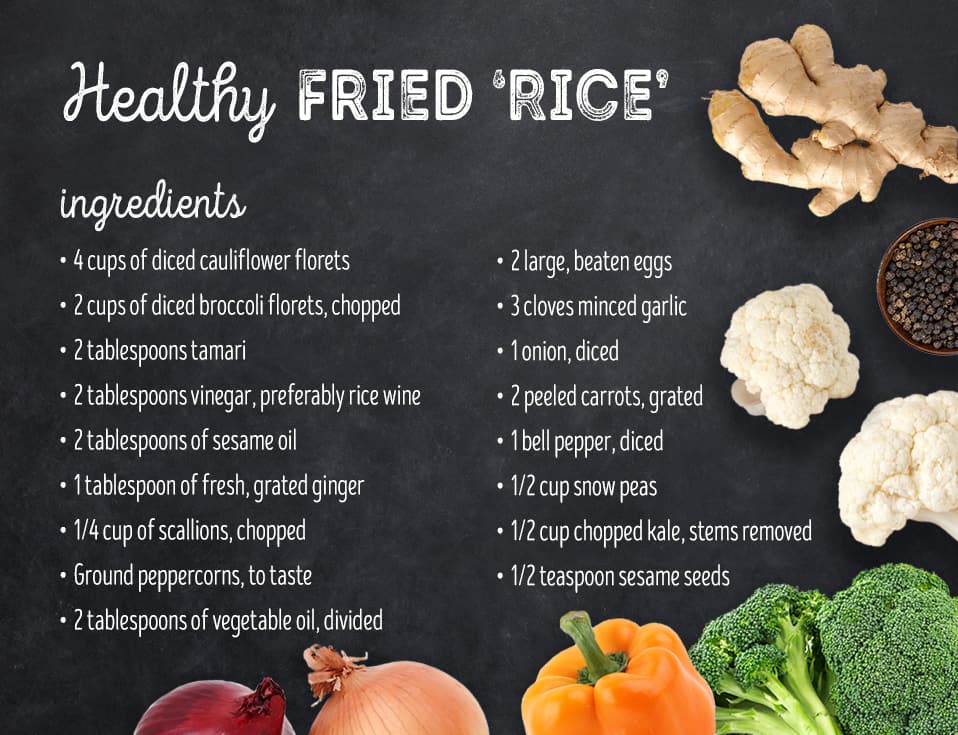 Ingredients
4 cups of diced cauliflower florets
2 cups of diced broccoli florets, chopped
2 tablespoons tamari
2 tablespoons vinegar, preferably rice wine
2 tablespoons of sesame oil
1 tablespoon of fresh, grated ginger
1/4 cup of scallions, chopped
Ground peppercorns, to taste
2 tablespoons of vegetable oil, divided
2 large, beaten eggs
3 cloves minced garlic
1 onion, diced
2 peeled carrots, grated
1 bell pepper, diced
1/2 cup snow peas
1/2 cup chopped kale, stems removed
1/2 teaspoon sesame seeds
Instructions
First, add the cauliflower and broccoli florets to the bowl of a food processor and pulse for about two minutes. The end result should look like rice. Set "rice" aside for now and begin making the sauce.
In a mixing bowl, add rice wine vinegar, tamari, sesame oil, ginger and pepper. Whisk together and set aside.
Then, take out a skillet or non-stick pan and add one tablespoon of the vegetable oil. Heat over medium-high heat, and add the beaten eggs. Cook until eggs are all the way cooked, then set aside.
Add remaining oil to a skillet and heat on medium-high. Add onion and garlic to the pan and cook until onions have turned translucent. This process should take about four minutes. Next, add kale, bell pepper, snow peas and carrots. Cook for about three or four more minutes, or until vegetables are cooked and tender. Stir constantly.
Then, add the tamari mixture, the eggs and cauliflower/broccoli rice. Cook for another four minutes. Stir in sesame seeds and scallions, plate and serve.
Vegan Zucchini Alfredo
If you're keeping low-carb, this is a good one. Aside from the spiralizing — and hey, you can find already zoodled zucchini just about anywhere these days — this little meal is relatively quick to whip up, and made satisfying with the addition of almond milk, pine nuts and a hefty dose of spinach.
Ingredients
3 tablespoons of olive oil
1 cup of cauliflower, chopped
1 pound of spiraled zucchini
3 cloves of minced garlic
2 cups of almond milk
1/4 cup of nutritional yeast
3 tablespoons of pine nuts
1/2 teaspoon of dried thyme
1/2 teaspoon of oregano
2 tablespoons of parsley leaves
Sea salt and black pepper, to taste
3 cups of fresh spinach
Instructions
In a medium-sized pot, add olive oil, garlic and nuts. Cook over medium heat until the garlic begins to turn brown.
Add almond milk and cauliflower. Bring mixture to a boil, cooking until the cauliflower becomes soft. This should take 6-8 minutes.
Then, transfer the mixture to a blender or food processor and add nutritional yeast, salt, pepper, oregano and thyme. Puree until cauliflower is completely smooth.
Meanwhile, add zoodles to a skillet with a drizzle of olive oil. Cook over medium heat for about 3 minutes, then add sauce and spinach. Cook for another 2-3 minutes, then remove from heat and serve sprinkled with parsley.
Kick Off the New Year With the Right Cookware
Between a couple of ways to do chicken and the vegan zoodles, this is just scratching the service. There are countless recipes you can whip up in a jiffy that also won't sabotage your diet.
Our selection of non-stick skillets make it easy to reduce the amount of oil and butter needed to make meals in a pan, meaning you'll get lower-fat, less-calorie-laden options, and veggies and chicken that come out looking like nature intended. Get healthy after the holidays with a new commitment to home cooking.