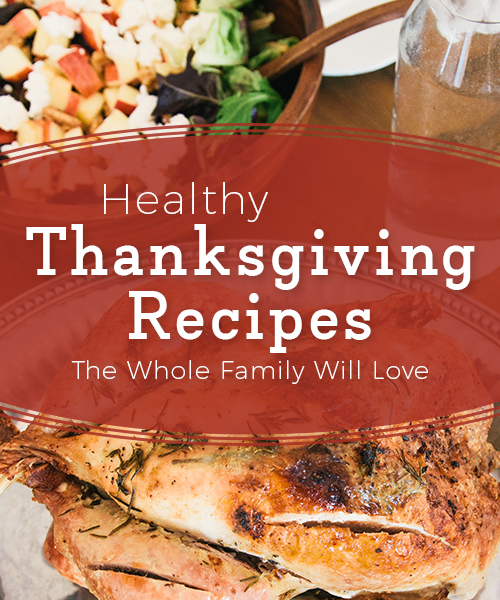 Thanksgiving is a holiday centered on the idea of giving thanks for all we have — our friends and family, good health and all the usual suspects. Yet, we tend to celebrate by going hog wild for a host of foods we normally don't eat throughout the year. That weird marshmallow and Jell-O salad? Check. Green bean casserole? Check. Gravy on everything? Check. While the indulging itself can be pretty darn gratifying, the subsequent food coma often is not.
In any case, we've rounded up a collection of healthy, yet traditional Thanksgiving recipes, as well as some new additions sure to impress in-laws, cousins and whoever else is coming to the table.
The Supporting Sides
Sides are the unsung heroes of the Thanksgiving table. They're the perfect opportunity to try something new and experimental — or sneak some veggies into the mix if your family is cut from the meat and potatoes cloth.
Here are a few tasty sides we're proud to bring to dinner — and they won't hurt the waistline, either.


Fresh Green Beans with Cranberries and Walnuts
A lighter alternative to the usual green bean casserole. Yes, it's healthy, but it's still full of flavor — the perfect low-calorie Thanksgiving recipe in a sea of buttery dishes and decadent desserts.
Ingredients
1 1/2 pounds of fresh, trimmed green beans
2/3 cup walnuts
3 tablespoons olive oil
1/3 cup diced onions
2/3 cup fresh cranberries
Salt and pepper
Instructions
1. First, heat oven to 350°.
2. Start by spreading walnuts in a single layer on a baking sheet. Bake the nuts until the outer skins start splitting — which should take about 15 minutes. Toss once halfway through.
3. Remove the nuts from heat, and once they are cool to the touch, remove the outer skins by firmly rubbing with a clean towel. Chop the walnuts and set aside.
4. Boil water in a sauce pan. Add green beans to water and cook for four minutes, or until slightly tender. Remove from heat and run under cold water. Pat dry with paper towel.
5. Over medium heat, add oil to a large pan. Throw in the diced onions and cook for about five minutes. Next, add the green beans, cooking until they are heated all the way through. Add nuts and berries and cook for another minute or so.
6. Add salt and pepper, if desired and serve.

Hearty Cranberry Dinner Rolls
These sweet and savory rolls are the perfect twist on the basic dinner roll — yet they still feel traditional. They're almost like something straight out of the first Thanksgiving, and they're right at home next to a classic bird, mashed potatoes and gravy.
Ingredients
1/4 cups almond milk
1/3 cup molasses3 tablespoons plus 1 teaspoon vegetable oil, divided
3/4 cup yellow cornmeal
1/2 cup warm water
2 teaspoons yeast
2 1/4 cups all-purpose flour (keep extra on hand)
2 cups whole-wheat flour
1 cup fresh cranberries
Salt
1 egg white
Instructions
1. In a medium pan, add the almond milk, plus 3 tablespoons of oil and combine. Bring the mixture to a boil, and then transfer to a bowl.
2. Add cornmeal to the mix, and let stand for about 15-20 minutes.
3. In a small bowl, add water, slowly sprinkling in yeast. Let liquid stand for five minutes or until yeast starts to foam, then add cornmeal.
4. Stir both flours, cranberries and salt into the cornmeal-yeast mixture. Keep stirring until dough is mixed together, but still looks dry.
5. On a lightly floured work surface, knead the dough until it becomes smooth, adding small amounts of all-purpose flour if consistency is sticky. Keep kneading for about ten minutes.
6. Shape the dough into one large ball. Add 1 tsp of oil and the dough to a large bowl. Knead the dough until it's coated in oil. Then cover the bowl with saran wrap and let it sit for about an hour and a half. At this point, the dough should have doubled in size.
7. Next, coat a baking pan with oil or non-stick spray. Roll dough into an 18-inch length, and cut into 18, one-inch sections.
8. Pinch the edges of each section together to create an imperfect ball shape.
9. Add rolls to the greased pan and cover with saran wrap again. Let the uncooked rolls sit for another hour and a half, or until they once again double in size.
10. Heat oven to 400F degrees.
11. Use egg whites to glaze the rolls and top with anise seeds and cornmeal.
12. Put rolls in the oven, and right away, reduce oven heat to 350F degrees.
13. Bake for 30 minutes or until the tops of the rolls are golden brown.
14. Take the rolls out of the oven, allowing them to cool in the pan for about ten minutes.
15. Remove from the pan and serve when ready.
Nutty Chicken Sausage Dressing
This is a delicious stuffing that's rich in flavor, but it won't completely derail your health conscious efforts. This dish is bursting with fall flavors from fresh herbs to mixed nuts and features chicken sausage to keep things relatively lean.
Ingredients
12 ounces of chopped bread (French bread works best, but white bread works as well)
2 tablespoons vegetable oil
1 cup diced onion
1 cup diced celery
1 cup diced bell pepper
1 package of chicken sausage links
1 cup roasted walnuts or hazelnuts (or a mix)
2 cups chicken or vegetable broth
1/3 cup of fresh parsley
2 tablespoons fresh thyme
Two eggs
Salt and pepper
Cooking spray
Instructions
1. Heat the oven to 350F degrees.
2. Arrange bread on a baking tray and bake for about 15 minutes. Remove from oven and set aside.
3. Then increase heat to 375F degrees.
4. Meanwhile, heat a large pan over medium heat, adding the oil and coating the surface generously. Add peppers, onions and celery to the pan, cooking for five minutes. Add sausage links, removing the casing, cooking for an additional five minutes, until meat is browned. Add chestnuts and heat all the way through. Remove from heat.
5. Next, add the broth to a large bowl. Mix in a quarter cup of the parsley, salt, pepper and thyme. Add eggs, and whisk all ingredients until thoroughly mixed together. Add the toasted bread cubes and combine.
6. Let mixture stand for about five minutes so bread can fully absorb the liquid.
7. Add sausage mixture to the bowl and combine. Grease the baking dish and add the dressing.
8. Bake dressing for another half hour or until golden brown.
9. Remove from heat, and garnish with parsley.

Mashed Sweet Potato Crisp
Part dessert, part decadent side dish. This sweet potato crisp is a touch healthier than the typical sweet potato, marshmallow casserole and provides a nice blend of sweet and savory, crunchy and soft. If you're looking to up the health factor a bit more, use a little less sugar or use vegan butter instead of conventional.
Ingredients
4 tablespoons butter
2 pounds cooked and peeled sweet potatoes
1 teaspoon of nutmeg
1 teaspoon cinnamon
½ teaspoon ginger
Salt and pepper
½ cup chopped hazelnuts
¾ cup brown sugar
Instructions
1. Grease a shallow baking dish generously with butter and preheat oven to 400 degrees.
2. Reheat sweet potatoes and mash with butter, mixing in cinnamon, nutmeg, ginger and salt and pepper to taste. Add sweet potato mixture to greased dish and spread evenly.
3. Top with chopped walnuts and bake for 15 minutes, or until top is golden brown.
4. Remove potatoes from heat, then cover the top with brown sugar.
5. Turn on the broiler, and continue baking until sugar starts to bubble.
6. Remove from heat, cool and serve.
Crispy Asparagus Straws
No, this isn't a way to trick your meat-loving relatives into eating vegetables. This fun mashup of fries and asparagus is the perfect addition to the Thanksgiving table, working just as well as an appetizer and a side dish. Plus, if you're short on time, this dish will go from start to finish in about 15 minutes flat.
Ingredients
1 cup Panko breadcrumbs
1/2 cup grated Parmesan cheese
1 teaspoon oregano
Salt and pepper
1 pound fresh asparagus
1/2 cup all-purpose flour
2 large, beaten eggs
Instructions
1. Preheat oven to 425 F.
2. Use oil or non-stick spray to coat baking sheet.
3. Combine Parmesan with bread crumbs, oregano, salt and pepper in a large mixing bowl
4. Coat asparagus spears in flour, dip in egg mixture, and then dip in Panko/cheese mixture.
5. Line asparagus spears in a single layer on the baking sheet, stick it in the oven and bake until it's crisp and golden brown. It should take roughly ten minutes.
6. Serve.
The Main Event
Now, messing with tradition can sometimes be controversial, so tread lightly here. We've rounded up some alternative mains that are sure to please. Whether it's a new take on turkey or something a little outside the box, shake things up with these tasty Thanksgiving Day centerpieces.


Herb Roasted Turkey With Apple Cider Gravy
A classic Thanksgiving turkey with a subtle makeover, this herb-roasted bird features roasted onion and apples, adding extra nuances into the mix, while keeping the meat nice and moist (not to mention low calorie). The onions and apple cider make for a delicious gravy that's both flavorful and not too heavy.
Turkey
1 medium sized turkey
2 tablespoons vegetable oil
3 tablespoons chopped fresh parsley
2 tablespoon chopped fresh sage
2 tablespoon chopped fresh thyme
2 tablespoon chopped fresh rosemary
1 teaspoon kosher salt
1 teaspoon freshly ground pepper
1 1/2 sliced onions
1 Granny Smith apple, quartered
3 cups water, plus more as needed
Stock
6 cups water
1 medium onion, chopped
1 chopped carrot
1 diced stalk celery
1 teaspoon pepper
1 bay leaf
1 tablespoon fresh thyme
Gravy
3 tablespoons white flour
1 1/4 cups apple cider
2 tablespoons apple cider vinegar
Salt and pepper
Instructions
1. Preheat oven to 475 °F, and add cooking rack to center of the oven for turkey.
2. To prepare the turkey, remove the neck and giblets — set aside.
3. Set the turkey on a rack in a large roasting pan with the breast facing upward and dry with a clean towel.
4. In a small bowl, add oil, salt, pepper and herbs and combine. Cover the entire turkey with the mixture, making sure it thoroughly covers the breast meat, as well as gets under the skin.
5. Add shallots, apple and a teaspoon of each of the fresh herbs (parsley, thyme, sage, rosemary) to the empty cavity. Tie the turkey legs with string, and tuck its wing tips. Add three cups of water to the pan before placing in the oven.
6. Roast the turkey in the oven for about 45 minutes, or until the skin looks golden brown.
7. Remove the turkey from heat. If you are using a meat thermometer, insert in the thigh near the joint.
8. To keep the lighter meat moist, cover only the breast with a double layer of aluminum foil, then add remaining shallots to the pan.
9. Reduce oven temperature to 350F degrees. Put the turkey back in the oven, cooking until a thermometer reads 165 degrees. This should take about 60-75 minutes.
10. Add a cup of water to the pan if water evaporates. This will help so the juices can add to the mix.
11. While turkey cooks, prepare the stock (you can skip this step and use chicken broth if you're running short on time). First, combine the giblets and neck in a large pan with onion, celery and carrots. Add six cups of water and bring to a boil. Add bay leaf, thyme and peppercorns, then reduce heat. Simmer for one hour, skimming foam periodically.
12. Pour turkey stock into a bowl, using a strainer to separate out the solids.
13. Remove turkey from oven and place on a large platter. Let turkey rest beneath tented foil for about 20 minutes. Set aside pan drippings and shallots.
14. As the turkey rests, prepare the gravy. Add a half cup of the stock to a small bowl, whisking in flour until smooth.
15. Then, set roasting pan on stovetop across two burners — cooking on medium-high heat. Add vinegar and cider and increase heat until the liquid begins to boil. Scrape browned bits from the bottom of the pan as the liquid boils. Continue until liquids are reduced by half — this should take about six minutes or so.
16. Add an additional 3 1/2 cups of turkey stock, increasing heat until liquid begins to boil. Keep it at a boil, whisking the entire time, until the liquid is reduced by half — this should take about 10 minutes.
17. Whisk the flour mixture into the pan. Bring to a boil and keep whisking until the gravy thickens — about one to three minutes. Remove gravy from stovetop, pouring through a mesh strainer into a large measuring cup or bowl, tossing the solids. Add salt and pepper to taste.
18. Remove the string on the turkey, carve and serve.

Pork Loin with Swiss Chard and Persimmons
In case you're not too stoked about eating turkey for yet another Thanksgiving, or you just want to add another meat to the table lineup, this pork dish is just the thing.
Ingredients
2 pounds pork loin, tied
1 pound persimmons, cut into slices
6 peeled garlic cloves
1 tablespoon olive oil
1 bunch Swiss chard
1/2 cup dry Sherry
Salt and pepper
Instructions
1. Heat the oven to 425F degrees.
2. Add salt and pepper to pork loin to taste, and place the meat inside a heavy skillet.
3. Take the cut persimmons (make sure stems are removed) and add garlic, oil, salt and pepper — tossing until completely coated. Add the persimmons to the skillet around the pork, and roast for 15 minutes. Flip persimmons, and roast for another 20-25 minutes.
4. Remove pork loin from heat, covering with a foil tent — this allows pork to keep cooking while it cools down. Keep roasting persimmons until tender.
5. Move the persimmons to another dish and set aside. Add the chard to the pan, seasoning with salt. Cook over medium heat for around two minutes, or until the chard have become tender. Remove from heat and add to the same dish as persimmons.
6. Add the dry Sherry to the pan, reducing the liquid by about a third of the original amount. Cut the pork into thin slices, arranging on the platter with the Swiss chard and fruit.
7. Drizzle wine sauce over the pork and serve.
The Sweet Ending
Granted you may not have enough room after all that for a sweet treat, but we are celebrating an important American holiday, so it's ok to eat long after we've had our fill. So go on. Have a piece of pie, a scoop of ice cream or a little slice of cake. Thanksgiving comes but once a year, after all. Here are some delectable desserts to try.

Cranberry-Apple Crisp
A delightful pie made with the flavors of fall, this crisp both counts toward your requisite 5-a-day fruit and veggie intake, and it really tastes like a proper Thanksgiving dessert.
Ingredients
2 Granny Smith apples, sliced into thin wedges
2 1/2 cups fresh cranberries
3/4 cup plus 1/3 cup sugar, divided
3/4 cup flour
6 tablespoons cold salted butter, sliced
1/2 teaspoon ground ginger
Instructions
1. Preheat oven to 350F degrees.
2. Meanwhile, layer sliced apples on the bottom of a 9-inch pie pan. Cover apples with a layer of cranberries, then sprinkle 1/3 cup of sugar over the whole thing. Add one more layer of the apple slices.
3. Next, add the remainder of the sugar, flour and ginger to a large mixing bowl. Mix until contents have been evenly distributed.
4. Add butter, cutting with a fork or pastry cutter until it blends with the dry ingredients to make a crumble-type mixture. Keep mixing until chunks are no bigger in size than a pea.
5. Top the layered fruit off with the crumble.
6. Place pan in the oven, baking for about 45 minutes, or until the fruit begins to bubble and the crumble mixture is a golden brown color.
7. Serve when cool, and top with a scoop of ice cream, if desired.

Lavender-Citrus Fruit Salad
A fruit salad doesn't really excite diners as much as turkey — or even green bean casserole for that matter. But before you write off this recipe, realize that some things are all about the sauce. This fruit salad rocks because, one, it doesn't contain any cantaloupe and two, it's got an artisanal twist. It's the perfect addition to the Thanksgiving spread.

Ingredients
1/4 cup sugar
1/2 cup water
2 tablespoons lemon, lime or grapefruit juice
1 tablespoon fresh lavender
5-7 pounds of chopped fruit — we recommend peaches, pears, nectarine and melon
Instructions
1. Mix water, sugar and citrus juice in a large pan, simmering over medium heat. Keep stirring until sugar is completely dissolved.
2. Add lavender to the mix, simmering for an additional two minutes.
3. Remove from the stovetop, letting the lavender steep for about 15 min.
4. Assemble fruits in a large serving bowl and generously drizzle the syrup over the salad. Refrigerate the fruit salad for a minimum of one hour and serve.

Harvest Pear Quinoa Cake
Crumbly and satisfying — this awesome dessert recipe takes heart-healthy quinoa to an unexpected place: the dessert table. Featuring a solid lineup of the major flavors of fall — pears, nutmeg and cinnamon — this cake is sure to please all diners from the healthy to the traditional.
Ingredients
1 cup quinoa
8 tablespoons of melted butter
3/4 cup packed brown sugar
3/4 cup raisins
2 large pears, peeled and cut into 1/2-inch cubes
1 cup flour
1 1/2 teaspoon baking powder
1 teaspoon cinnamon
1 teaspoon nutmeg (optional)
1 teaspoon ginger (optional)
Instructions
1. Preheat oven to 350F degrees.
2. In a small saucepan, add quinoa and two cups of water, boiling over high heat. Cook until quinoa becomes tender — roughly 10 minutes.
3. Grease a 9 x 5 pan thoroughly with butter.
4. Melt the butter and add to a large mixing bowl. Combine the mixture with raisins and brown sugar until thoroughly mixed together.
5. Add the quinoa and apples, stirring until all ingredients are combined.
6. In a separate bowl, mix dry ingredients (flour, baking powder, ginger, nutmeg and cinnamon)
7. Mix wet and dry ingredients together, blending all the way through.
8. Add to greased pan and bake for about an hour — or until the cake looks golden brown.
9. Cool for ten minutes, then transfer the cake to a dish. Wait until cake is completely cooled before serving.

If you've been tasked with hosting Thanksgiving this year or you're just bringing a simple dish, our collection of Xtrema cookware is up to the challenge. We've got the skillets and saucepans you need to take your holiday meal to the next level — whether you opt for a traditional Thanksgiving menu or are looking to keep things healthy.