We had this the other night and it was delicious! This is a homemade Chicken Pot Pie Recipe which has been passed down through our family and we wanted to share it with all of you.  Hope you enjoy…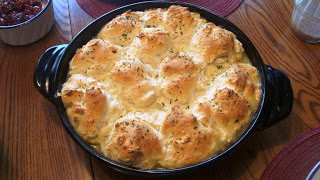 Ingredients:
1 white onion chopped
3 celery ribs chopped
3 carrots chopped
2/3 cup of frozen peas
2 potatoes peeled and diced
3 cups cooked chicken cut up in bite size pieces
1 box of chicken broth
2 T butter
2 T flour
2 cups milk
Box of bisquick
Directions:
Cook onion, celery, and carrots in oil until tender. (15 minutes) Stirring occasionally. Add chicken broth and potatoes and continue to cook until potatoes are tender. Add frozen peas. Drain, reserving chicken broth. Place veggies and cut up chicken in the baking dish. (we used the Xtrema Braiser/Baker)
Make medium white sauce.
Melt 2 T butter, add 2 T flour and stir constantly. Remove from heat and whisk in 2 cups chicken broth and 2 cups of milk. (fat free)  Return to medium heat and cook until sauce is thick and bubbly.  Pour over veggies in baking dish.  Season to taste with salt and black pepper.
Make biscuits following directions on Bisquick box. Drop biscuits on top of filling in baking dish.  Bake in preheated oven until biscuits are golden and filling is bubbling.  (25-30 minutes) Let rest of 5-10 minutes before serving.
For enhanced flavor, use your Xtrema Ceramic Baking Dish.
Happy Healthy Cooking,
Patrick Bergstrom