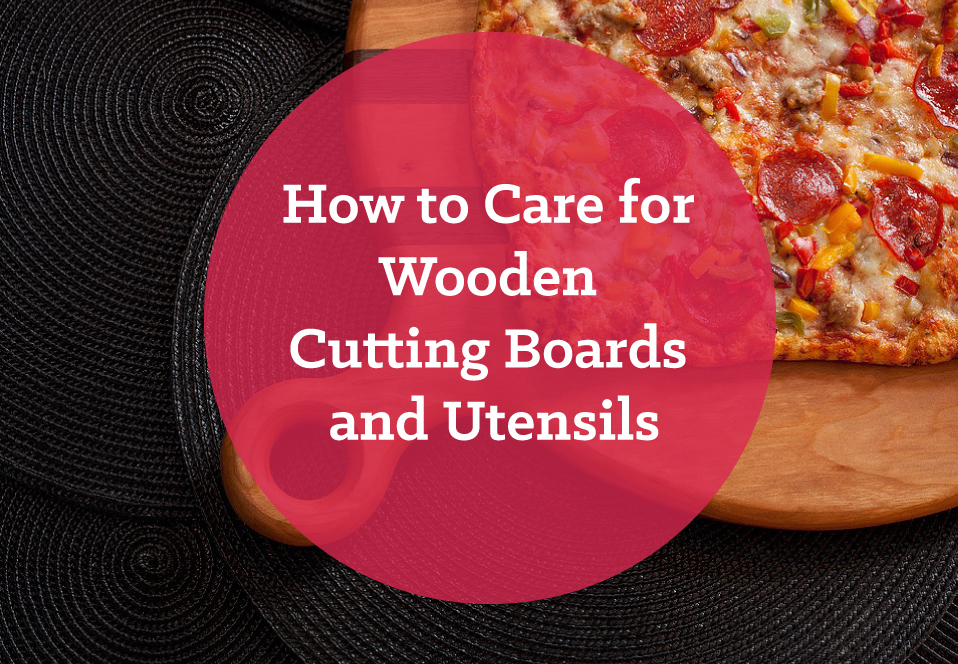 In the hubbub of modern life, it's easy to forget the importance of home cooking. The drive-thru calls to us after work, and our phones offer a direct line to delivery. However, many people have rejected the allure of fast food and triumphantly returned to their kitchens.
To an amateur chef, cooking can seem daunting, but with the proper tools, you can easily make delicious, home-cooked meals. For any cook, the most important items are a sturdy cutting board and durable utensils. Lock down these categories and you will conquer the kitchen to reclaim your place as the leader feeder for your family.
Our beautiful wooden cutting boards and utensils will inspire your inner culinary wizard. Wielding your new skills, you will craft delicious and memorable meals for your family and friends.
Wooden Cutting Board Care
Like anything of value, you'll want to preserve your wooden cutting board and utensils. Most wooden products require a little work to prolong their lifespan. We thought you'd enjoy learning how to care for your wooden boards and utensils.
Other than discussing proper cleaning techniques, we'll show you some of our gorgeous natural walnut and cherry wood cutting boards and utensils. Many of our cutting and serving boards come from Gray Dog Woodworks, who takes special care in creating eco-conscious, unique cutting boards. The company was founded in Maryland in 2013 who specializes in native hardwood, salvaged lumber and up-cycled materials to craft custom cutting boards and furniture.
We also sell Vermont Bowl Company cutting boards. Handmade in the U.S.A., these cutting boards have two finishes which allow users to skip the upkeep of applying mineral oil to their cutting boards.
We also offer Jonathan's® Cherry wood utensil products. These authentic Vermont handcrafted utensils are safe to use with any cookware.
Let's get started learning how to care for your wooden cutting boards and utensils!
How to Care for a Wood Cutting Board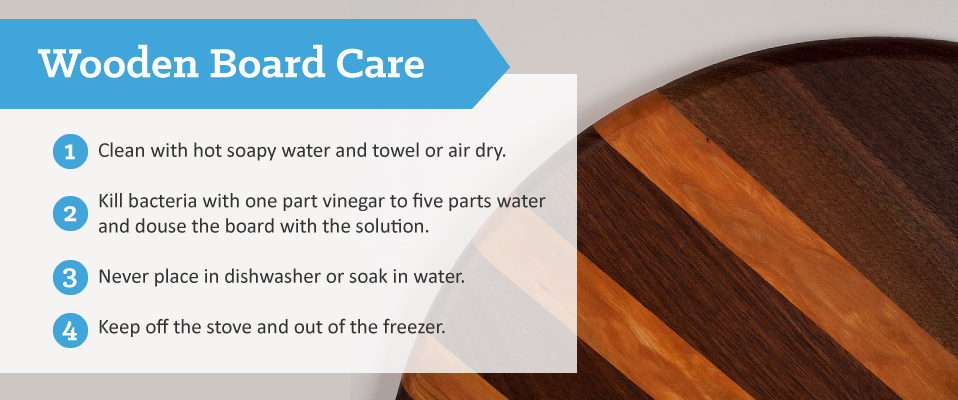 Wooden cutting boards possess a sensitivity you need to respect. Do not use anything rough or abrasive. You do not want to damage the finish by using materials that are too rough for the wood surface.
After every use, simply take your board and clean it with hot soapy water. Immediately dry the board with a clean towel. If you leave water on the board, it can sink into the wood and create mold quickly.
Ideally you should have four separate cutting boards: 1) for meats, 2) for seafood, 3) for fruits and veggies and 4) for serving. Since wood is porous, we don't recommend using it for cutting raw meats.
The easiest way to destroy any bacteria on your wooden board requires the use of a simple vinegar solution. Use one-part vinegar to five-parts water and douse the board with this mixture from a spray bottle. Just let the board sit for a few minutes before rinsing with water and drying.
Another option to naturally clean wooden cutting boards is with salt and lemon. This is perfect for when you need to deep clean your board or if you have a fruit or beet stains on it. Sprinkle salt over your cutting board and use half a lemon (cut side down) to scrub it around the board to really get the grime off. This is perfect for when you need fresh lemon juice for a recipe. Just use the pre-squeezed lemon to clean your cutting board after cooking! Afterwards, rinse with warm water, dry with a towel and lay upright till you need it again.
Do not let your board get too hot or cold. Keep it off the stove and out of the freezer. You should never place the board in a dishwasher or leave it to soak in water.
If you need to deodorize your wood cutting board, sprinkle with baking soda and let sit overnight and then wipe off with a wet towel.
How to Oil a Cutting Board
Since wood is porous, it's important to apply a protective finish so the board won't absorb juices, colors or aromas from previous foods.
We recommend Gray Dog Woodworks' Board Butter. It's a mix of bees wax and all-natural mineral oils to help restore the wood and keep your cutting board in good condition. Rub the oil into the wood with a dry cloth or paper towel. Don't forget to do both sides of the board and all the sides. You should never apply cooking oils to your board as they may become rancid.
Maintaining Your Wooden Utensils
It's both easy and essential to care for your wooden utensils. Wooden spoon care involves similar practices to maintaining wooden cutting board care. After using a wooden utensil, just use a stainless steel soft scrubber pad, soap and warm water.
We don't recommend putting wooden utensils in a dishwasher.
Sometimes wooden utensils and wood cutting boards can feel fuzzy after cleaning. This is natural process that will stop after several cleanings. However, you can remove the raised grain by lightly sanding the board with 220 or 320 grit sandpaper. Don't forget to apply board butter or spoon wax after buffing with sandpaper.
Jonathan's® Spoon Wax for Wooden Utensils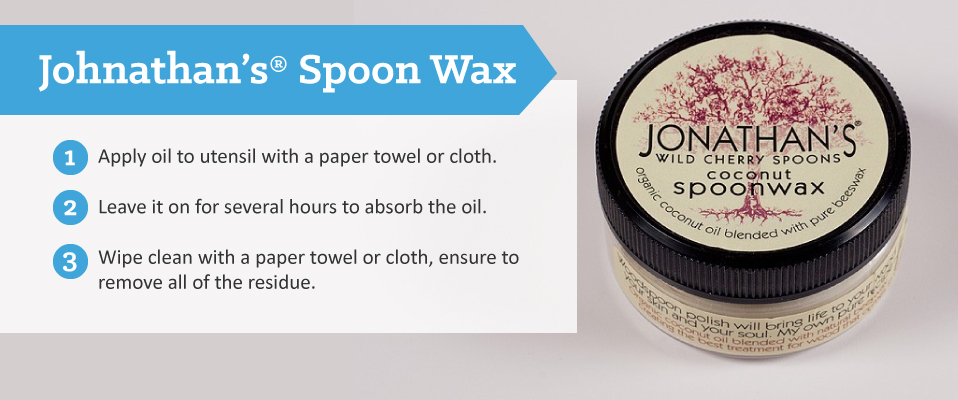 Make a habit of occasionally applying some Jonathan's® Spoon Wax to your wooden utensils. Made from all-natural ingredients like coconut oil and beeswax, this product will enhance the appearance and extend the longevity of your utensils.
Here is a step-by-step guide on how to apply wax to wooden utensils.
Apply the oil using a paper towel or cloth in a uniform manner on the surface of the utensil.
Leave it to absorb the oil up for a few hours.
Wipe clean with a paper towel or cloth, removing all residue. Wash in soapy water and dry immediately afterwards.
Wooden Cutting Board Designs and Uses
A chef's cutting board provides the base for any four-star meal. Cut, dice, chop, julienne — you name it. Any chef worth their salt needs a cutting board at easy access. A cutting board lets you easily prepare your ingredients before you get down to business.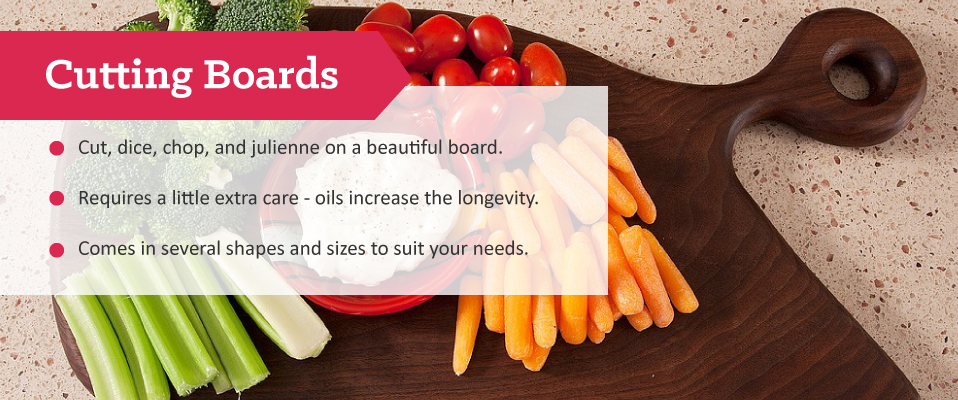 If you've used plastic cutting boards before, you know how a lightweight, rattling, plastic placemat just doesn't cut it! Get yourself a sturdy, beautiful, wooden board — your future self will thank you. Not only will it stay in place, allowing for faster and more precise preparation, but it also keeps your knives sharp because the wood is relatively soft.
A wooden cutting board requires some extra love. With our fine oils, you can enhance the luster and longevity of your board for years to come.
Our boards come in several shapes, sizes and woods. Since you'll prepare a galaxy of food items on your new board, we thought we'd offer a similar range of options. Picture each board placed atop your counter and decide which will best enhance your space, skills and needs.
Browse our wood cutting and serving boards here.
Walnut Herb Cutting Board
This circular board lets you easily prepare your food. The handle lets you transport your prepared food wherever you like — ideally over a pot or pan. Effortlessly move the board over your target and slide the food off the surface. This versatile board is large enough to chop items and light enough to carry them where needed. Its trademark darker hue finish will bring out your kitchen's style. It's also alluringly inexpensive.
Cherry Herb Cutting Board
This cutting board comes in a lighter, rosy finish. Brighten up your kitchen with the natural luminance of this board. Lightweight and compact, this board is ideal for prepping vegetables and herbs. Bring the garden to your table with this board reminiscent of the glow of summer.
Walnut Baguette Bread Cutting & Serving Board
In cooking, people eat with their eyes. Never overlook presentation when laying out a dish for hungry houseguests. This elongated wooden board will impress the most finicky hors d'oeuvre snacker. Perfect for an array of sliced bread, cheeses and other appetizers, the key to this board's appeal lies in the design. The elegant, paddle-shaped board acts as the perfect platter for any array of finger foods.
Impress your friends with presentation along with food. The Walnut Baguette board comes in our signature walnut finish. This darker tint brings out the bright colors of your appetizers. Picture the contrast of this board with sliced red tomatoes, fresh basil and bocconcini with a balsamic glaze. Is your mouth watering?
Cherry Baguette Bread Cutting & Serving Board
This wooden Baguette board offers a lighter-toned, illuminating finish. Perfect for complementing any culinary assortment displayed on its surface, this board is a showpiece. It aids in the preparation and arrangement of hors d'oeuvres — or anything.
Slap together a tasty smorgasbord for your ravenous party guests with this board as the glowing stage. Other than enabling expressive presentation, this long cutting is perfect for prepping longer foods. Baguettes and homemade breads are wonderful when served on a warm wood serving board but why not try serving other foods too.
Especially salmon. The length of this board lets you easily tackle a hefty salmon. Maybe take the salmon from the oven and serve it on the board after you have portioned it. Experience the art of presentation made easy.
Medium Cherry Cutting & Serving Board
This medium-sized board sits in the Goldilocks-zone of cutting boards. It's just right — big enough to prep sizable amounts of food, and small enough to maneuver in the kitchen. The sleek design will add a stylish touch to your kitchen. The light cherry finish brightens up your space with the feeling of its inner warmth. Its size encourages a comfortable presence on your counter, while its handle and manageable weight allow you to move it around effortlessly. Enjoy the grace this board will add to your cooking.
Medium Walnut Cutting & Serving Board
The medium walnut option offers a darker choice to consider. Like its cherry cousin, this board features a distinctive, attention-grabbing design. Bring out the beauty of the darker, winter seasons with this board — and maybe a candle or two.
Large Cherry Cutting & Serving Board
Time to bring out the bigger boards. You can depend on this hefty cutting board. Built to last, this reliable cutting board will handle whatever you desire. With tons of space to shift your chopped handiwork around, this board lets you really spread out.
Moreover, its practical handle helps you move this board from the counter to the table, making it easy to serve food directly from the board — which you'll love to show off. This unique board is handmade from a lighter colored cherry wood.
Large Walnut Cutting & Serving Board
We all want the most space from our kitchens. This large board helps you optimize your work area by converting counter room to your chef's zone. Despite its size, it still maintains a light feel. As a cutting board, it can store easily anywhere you can find room.
Every artists needs a palette. Experiment with your creativity on this board. Take your cooking seriously and elevate your ability with the best tool at your disposal. The walnut tree wood that goes into the making of this board gives it a noticeably darker coloration.
Large Walnut Pizza Cutting & Serving Board
If you make pizza, you need a way to cut and serve it. Do all your pizza cutting and serving in a cinch with this large, durable board. Its design unabashedly exhibits the stunning combination of walnut interlaced with bands of cherry. This complimentary marriage of woods makes for one beautiful board. Just like a combo of tasty pizza toppings, the style of incorporated woods celebrates exquisite taste.
Large Cherry Pizza Cutting & Serving Board
This large cherry board offers a perfect platter to slice and dish out pizza. The rule for good pizza involves getting the pie onto a board with lightning speed. Get your pizza straight from the pan to this board, go to work with your pizza cutter and chow down. Don't waste time dirtying unnecessary serving dishes — serve your pie right where you sliced it. This large board looks great with bands of walnut intersecting the cherry. Give your pizza the respect it deserves.

Johnathan's® Wild Cherry Kitchen Utensils
These handcrafted wooden cooking utensils will bring a touch of elegance to your cooking. Made from sustainably harvested cherry trees in Pennsylvania, these utensils work wonders in the kitchen and look great on the dining room table too.
In sophisticated cooking, nothing substitutes for wooden utensils. In ceramic cookware, the only way too properly deglaze the bottom of the pan involves scraping the surface with a wooden spoon. Metal or plastic utensils will not work properly.
For the uninitiated, deglazing the pan makes every sauce you make all the more sumptuous. When you brown a piece of meat, all these tasty caramelized bits adhere stuck to the pan. Just pour in some quality wine, chicken stock or water and scrub the brown bits off the bottom and into the sauce. This cooking trick just needs a solid wooden utensil.
Of course, you'll learn more cooking techniques as you progress, but you can start with a beautiful and trusty wooden utensil.
Jonathan's® Wild Cherry Natural Wood 6″ Travel Chop Sticks
These compact travel chopsticks are perfect for the Asian food-lover on the go. Beautifully crafted from wild cherry, they look great — wherever you decide to whip them out.
Jonathan's® Wild Cherry Natural Wood 8.5″ Small Spatula
Ideal for maneuvering food while cooking, this smaller spatula encourages ease of movement. You'll use this spatula to conduct your kitchen like an orchestra. Slide food from a cutting board into a ceramic cookware pan and start stirring. An absolute necessity for any chef, this wooden spatula comes from the finest wild cherry sustainably managed forests.
Jonathan's® Wild Cherry Natural Wood 8.5″ Small Spoon
This small spoon lets you easily dip into a sauce or soup, taste for salt, adjust seasoning and keep on stirring. An indispensable kitchen accessory.
Jonathan's® Wild Cherry Natural Wood 10″ Folding Serving Tongs
These strong and slim serving tongs help to toss or mix food while frying. Easily remove food from a hot pan with these tongs without getting burned. Stay safe with these tongs.
Jonathan's® Wild Cherry Natural Wood 11″ Regular Chop Sticks
A perfect tool for any dexterous chef. These chop sticks allow for cunning precision while cooking. Also, they make an excellent substitute for a fork and knife. Their sleek style reflects the highest standards of tasteful Asian minimalistic design. Grab a pair today!
Jonathan's® Wild Cherry Natural Wood 11.5″ Large Spatula
Nothing compares to a reliable spatula. You will likely use this large spatula more than any other utensil. With complete versatility and unparalleled quality, you will love this wild cherry wood spatula.
Jonathan's® Wild Cherry Natural Wood 12″ Spootle Spoon & Turner
The concave feature to this spoon and turner allows for a middle ground between spatula and spoon. This ingenious crossover draws from the best of both tools. Make this hybrid utensil a staple accessory in your cooking.
Jonathan's® Wild Cherry Natural Wood 13″ Slim Spoon
This lithe and artistically crafted spoon will let you master your sauces and soups. The cultivated look of this spoon will also lend an air of culture to your kitchen.
Jonathan's® Wild Cherry Natural Wood 13.5″ Spaghetti & Salad Fork
The unique look to this spaghetti and salad fork not only draws attention, it tackles a whole other area of cooking — spaghetti and salads. Draw noodles from water with the curved teeth of this fork and toss a salad afterwards.
Jonathan's® Wild Cherry Natural Wood 14″ Wok Tool
The angled bottom of this wok tool lets you control the chaos of your wok. Give the wok a flip with one hand while pushing the food away from the sides with your wok tool. Master this and you'll really look professional — the wok tool helps too.
Jonathan's® Wild Cherry Natural Wood Utensil Holder
This all-purpose wood utensil holder was designed to hold all of your wooden utensils. This holder also is a great gift. If your friend's kitchen looks unorganized then maybe they need The Johnathan Woodend Spoons utensil holder from Ceramcor. Get your beautiful wooden utensils out of the drawer and into a holder — they were made to be used and seen.
Jonathan's® Wild Cherry Natural Wood Utensil 6 Piece Set
Get yourself off to a great start with this six-piece set. It has six of our finest utensils and it is perfect for the chef who wants it all. Treat yourself to this awesome set of handmade cherry wood utensils.
Employ TLC
Give your wooden cutting boards and utensils a little tender love and care, and they will love you back. If properly maintained, these products will last a lifetime and sustain your mission in the kitchen.