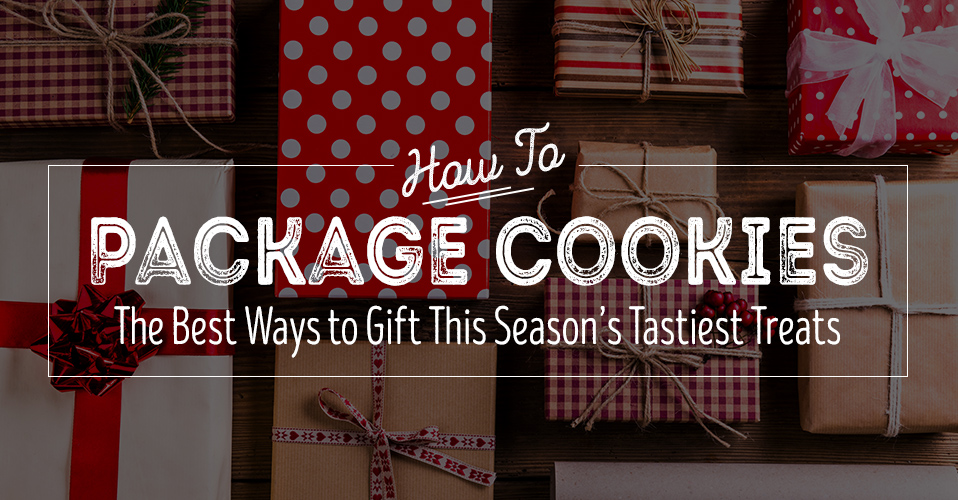 It wouldn't be the holidays without an influx of homemade cookies from neighbors and friends. If you're the type who whips up a whole storm of cookies — from cutout trees to cute little gingerbread people — eventually, you'll run out of space in your kitchen, as well as room in your belly.
And, as we all know, the solution to this non-problem is giving away the goods. Nothing beats giving or receiving a plate of homemade cookies. A goodie box, dish or jar functions as the perfect gift for all the different relationships in your life — from newer neighbors and your great-aunt to your hairstylist and your closest friends.
But if you want your peppermint bark, peanut brittle and perfectly decorated snowman cookies to truly impress, you'll need to step up your plating game. To help you out, we've included some of our favorite cute ways to package cookies.
If you're still in need of a cookie recipe, check out our favorite Christmas cookie recipes for some ideas!
Think Green: How to Package Cookies With Recycled Items
Got extra cardboard laying around? Hoarding Pringles cans like there's no tomorrow? Well, clear out that pantry just in time for the holiday season. Just make sure this stuff is clean, and maybe dressed up a bit.
Pringles Can
Serial snackers, rejoice. If you've got extra chip cans lying around, consider transforming them to house something a little different. First things first, you'll want to wipe out the container. As much as those pizza or barbecue-flavored crisps were delicious the first time around, the flavoring doesn't exactly add extra je ne sais quoi to those double-chocolate macaroons you slaved over for hours.
Here are a few quick steps for transforming your Pringles tubes. You'll need:
Tubes
Wrapping paper
Plastic wrap
Glue
Scissors
Twine
Instructions
1.     First, wrap your cookies in plastic wrap. This will help keep them in the desired tube shape and prevent any lingering chip dust from making its way into those yummy baked goods.
2.     Next, measure the wrapping paper so it covers the can, end to end.
3.     Cut paper and glue it to the canister. Use glue sparingly.
4.     Trace the lid of the canister with contrasting wrapping paper, and glue paper in place.
5.     Let dry and place cookies inside the container.
6.     Wrap the canister with twine and attach a gift tag, if desired.
Empty Foil Containers
Like their chip-holding counterparts, aluminum foil or plastic wrap boxes work great as packaging for baked goods of all types. Wrap 'em up with your favorite holiday paper — we like the Kraft paper look — but sparkles and over-the-top Christmas kitsch rule, too.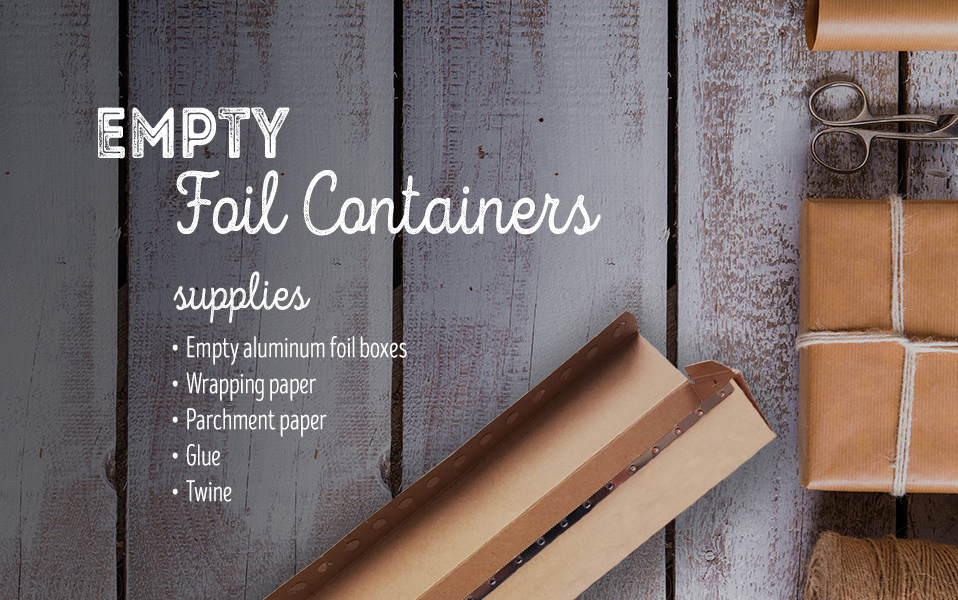 Here's a quick tutorial. You'll need the following supplies:
Empty aluminum foil boxes
Wrapping paper
Parchment paper
Glue
Twine
Instructions
1.     Remove the sharp edge from each box — cut them with scissors or use an X-Acto blade for more precision.
2.     Wrap the outer box with paper of your choosing and secure with a few drops of glue.
3.     Line the inside with parchment paper, then fill with the treat of your choice.
4.     Close the box and top off with twine or a thin ribbon.
Inside Another Gift
Sometimes the perfect gift item requires a little something extra to sweeten the deal. For the baker friend, share some of your favorite recipes, while inspiring new ones. We're talking bakeware accented by the flavors of the season. From new coffee mugs to mixing bowls, cupcake pans and more, here are some gift ideas both edible and lasting.
Cupcake pan: Got a friend who's obsessed with cupcakes and all things baking? A cupcake pan serves as the perfect vessel for a homemade cookie sampler. Line with festive cupcake liners — or, if you're feeling generous, brand-new silicone ones — and put a different variety in each opening. Rounded cookies — like chocolate chip or peanut butter — or flat varieties — like brittles and barks — work best for stacking.
New coffee and tea mugs: If you're putting together a holiday gift basket with all the bells and whistles, consider adding some homemade cookies in the mix, with a favorite tea or coffee and a new set of mugs. Sweets are a great way to add an extra touch to a practical gift.
Bread pans: A new pan is another great way to present a friend with a fresh loaf of homemade banana bread or a lineup of this season's best cookies — straight from your personal recipe book.
Plastic, Paper and the Basics
Here are few ideas for the cookie baker who doesn't have time for an additional craft. We know you're busy, so there's no need to go all out — from sleeves to plastic wrap, simple doesn't have to mean lame.
Cellophane wraps: Cellophane sleeves function as a way to package treats, especially if you're passing out goodies to your child's class or everyone at the office.
It's worth noting: Sturdier cookies work best here. Make sure you make cookies that can be stacked and tossed around a bit, as cellophane doesn't offer much protection. Add some ribbons and gift tags, and you're good to go.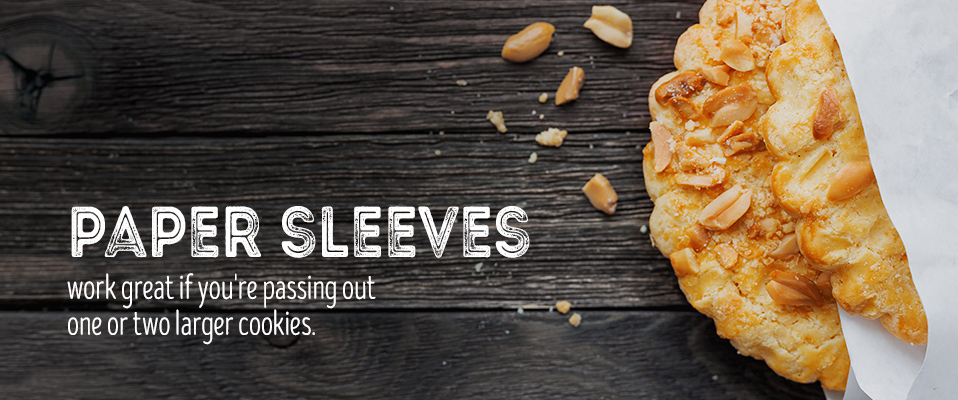 Paper sleeves: Hit up your local craft store for some pre-made packaging options. Paper sleeves — much like you'd use for a CD a few years back — work great if you're passing out one or two larger cookies. The same goes for a cool envelope. Think of it as a greeting card you can eat.
Brown paper bags: If you've got kids or are a frequent desk eater, chances are you've got a significant back stock of the classic food delivery system, the humble brown paper bag. Cookies are a noticeable upgrade from a soggy PB+J or a sad desk salad, but adding a few embellishments can take your sack to the next level.
To-Go Containers
Unlike the Pringles can idea, you can't really get away with recycling used to-go containers. But buying a handful of new ones can add an element of professionalism to your baked goods packaging.
Aluminum to-go boxes bring the ultimate minimalistic approach. Arrange your cookies in rows, and make sure you package them snugly and securely. Top the package off with some twine and a candy cane or a little sprig of mistletoe, and you've got yourself a sweet treat ready to share.
Plain white or Kraft-colored Chinese food boxes may have a more fun look and feel. This type of container works well for smaller cookies, like chocolate chip, jam thumbprints or brittles and bark.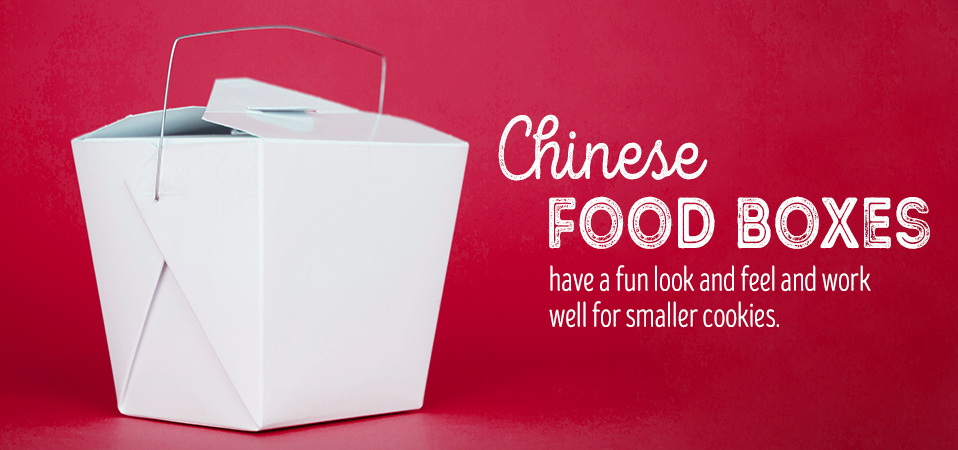 Or, look toward the fast food biz for inspiration. Cardboard boxes built for housing French fries are a cute way to package cookies. No need to eat your way through your city's drive-thrus, either — most craft stores sell these little boxes. Dress up your arrangements with bows, ribbons and cute little tags.
Jars and Glassware
Jars of all shapes and sizes, as well as those mismatched pieces of bric-a-brac found in your local Salvation Army, are all perfect vessels for sending cookies off to new homes, where your friends can enjoy them with abandon.
Mason jars: Smaller jars work well if you're gifting smaller bites like homemade candies and chocolate-covered nuts. Give multiple small mason jars full of treats. Your recipients will be sure to enjoy the variety. Larger mason jars can play the role of classic cookie jar — perfect for bringing a big batch or two of cookies to be enjoyed throughout the season.
Vintage plates and bowls: If you're a collector, chances are you've got a big selection of unique plates or bowls. Arrange your cookies and top off with plastic wrap and a cloth ribbon.
Metal tins: Metal tins and buckets provide a rustic, throwback look and are relatively inexpensive. Stock up on a few holiday-themed tins and give to friends — they'll likely keep these around for future cookie swaps and gift baskets.
Adornments Galore
Want to dress up a basic box or bag? Here are a few tips and tricks that'll impress your friends and family. No one needs to know these are reasonably easy wrapping hacks — so, non-crafters, rest assured.
Paper Snowflakes
Most people probably recall making these little paper snowflakes in elementary school — but did you know they also make the perfect DIY gift tags for simple boxes and cookie-filled bags? We know it's probably been a few years since you've tried this, so here's a quick how-to: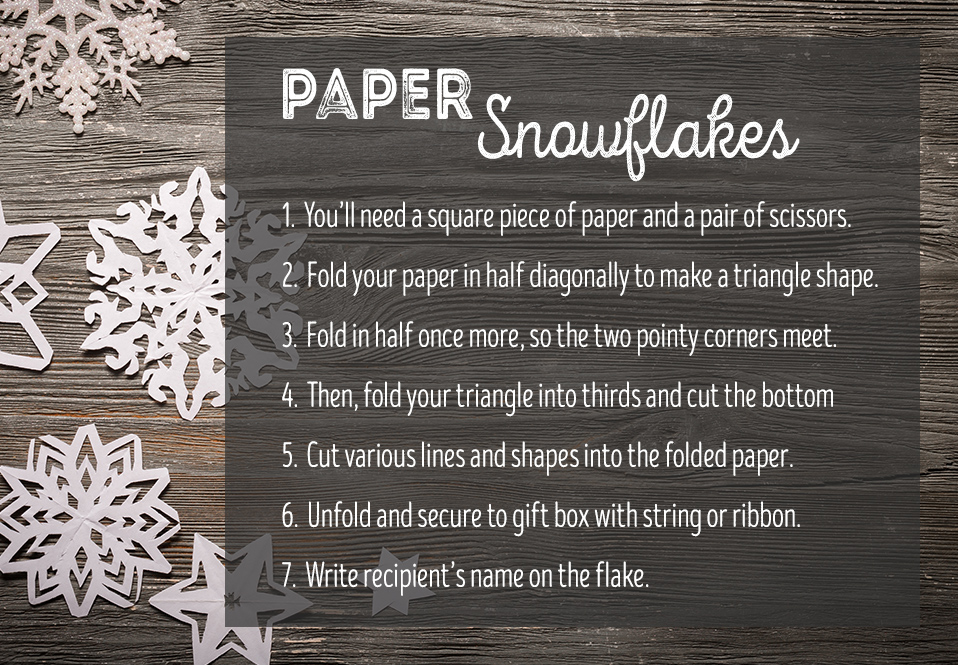 1.     You'll need a square piece of paper and a pair of scissors.
2.     Fold your paper in half diagonally to make a triangle shape.
3.     Fold in half once more, so the two pointy corners meet.
4.     Then, fold your triangle into thirds and cut the bottom — the end with the two pointed edges — so it's straight.
5.     Cut various lines and shapes into the folded paper.
6.     Unfold and secure to gift box with string or ribbon.
7.     Write recipient's name on the flake.
Or…Just Use a Doily
Doilies! Remember those?! Breathe new life into these old paper decorations — attach to folded-over paper bags and staple in place. This detail functions as both an easy upgrade to a basic bag, as well as a gift tag.
Make Your Own Stamps
If you've got lots of people on your holiday list, and prefer to keep things simple, wrap with parchment paper or brown paper. Make your own holiday-themed stamps. Trust us: This approach looks cute and rustic, and best of all, like you put in a lot more effort than you really did.
Carve stars or tree shapes into half of a potato, or cut sponges into basic shapes. Add paint and paper, and you're in business.
Mini Wreaths
Fashion a miniature wreath out of Christmas tree trimmings. Grab some wire and twist together to attach the ends, securing in a circle shape. Cover with a red ribbon and, voilà, you've got the cutest package toppers in town.
Natural Adornments
If you got a real Christmas tree this year, cut a small piece off your tree and tie it onto your gift box with a bit of twine or raffia. Or, look toward dried flowers, mistletoe, a piece of holly — whatever strikes your fancy. Hey, some of this stuff is probably in your house or yard, too. Easy as pie.
Custom Gift Tags
If you've got an artsy streak, purchase a box of old-school luggage tags. Draw or paint a little something on one side and tie onto any bag or box you've put together. A little more original than those stick-on tags, if you ask us.
Tips for Shipping Sweets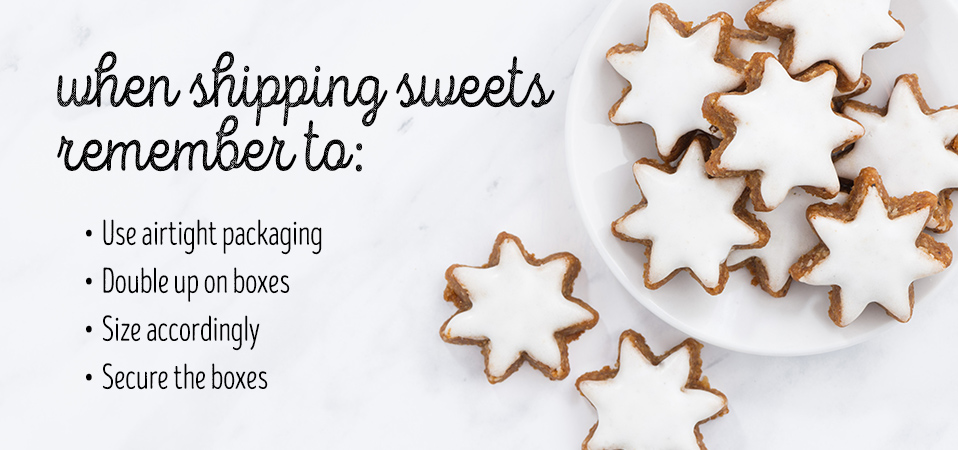 Finally, if you wish to send along a little taste of home to faraway loved ones, you'll need to consider a few things before you package those homemade treats. We're guessing you'd prefer to keep your frosted Christmas trees from looking more like chopped firewood by the time they reach their destination. Here are some tips for sending cross-country greetings that taste ultra-sweet upon arrival:
Airtight packaging: The trick to shipping cookies is to pack them in an airtight container. A tin or jar with a seal works great, or you can use Tupperware. For best results, individually wrap each item in the box.
Double up on boxes: This tip goes for just about anything that can break en route to the recipient. You should double-box your cookie arrangement — adequate defense against whatever happens after you drop it off at the post office. Pack your gift in one inner gift box, then again in another. The outer shell doesn't have to be anything glamorous — just grab an extra box at the post office.
Size accordingly: Even if you've found the most beautiful cookie tin on the planet, if it's too big, you're in trouble. Choose a tin that comfortably fits your cookie arrangement — cookies should be snug, up against one another, but not packed so tightly they start to break. Pack your tin in a modestly larger box to keep your arrangement in place.
Secure the boxes: Ideally, you'll want to package your boxed cookies with sufficient padding to avoid breakage. We know this all sounds a little redundant, but we're just looking out for the cookies. Your perfect cushion is about two to three inches on all sides of the wrapped gift.
Bubble wrap and packing peanuts are always useful, but if you'd like to show your love for the planet by going a little greener, swap out your plastics for shredded newspaper, magazines or junk mail.
Are You Prepared for Baking Season? Shop Ceramcor's Ovenex Bakeware
In the end, we hope you realize giving cookies as a gift doesn't have to feel impersonal. Stepping up the presentation makes all the difference — skip that wimpy paper plate and add a little flair.
Now, before you get caught up in the crafting part of the equation, check out Ceramcor's selection of bakeware for a kitchen upgrade. We've got a solid selection of everything you need to spread holiday cheer, from mixing bowl sets to versatile stoneware baking dishes that bake brownies just as well as they can poach fish. Check out our selection of wares today — and brighten up your kitchen in short order.
The post How to Package Cookies — The Best Ways to Gift This Season's Tastiest Treats appeared first on Xtrema Ceramic Cookware Blog - Ceramcor.