The New 26 Piece Set:
Available March 8th-SUPER SPECIAL PRICE – SAVE $125.00 – Free Shipping in the USA."Experience the Xtrema Difference"
This is a step up from the 20 Piece Set which we have carried for the past year. This new set has everything from the 20 Piece Set plus a few more cookware items to stock your kitchen with.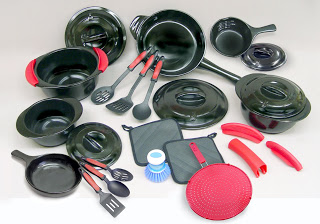 The 26 Piece Xtrema Set includes the 6.5″ Open Skillet, the 16 Oz, 1.25 qt., 2.5 qt. and 3.5 qt. Sauce Pot with covers, the 10 inch Skillet with cover, 2 black cotton/silicone pot holders,a 6piece nylon tool set & 1 nylon brush pot scrubber, 4 Silicone Handle Pot Holders & 1 Silicone skillet handle pot holder and 11″ Silicone Splatter Screen.
Here is what one fan of Xtrema had to say about her Xtrema 20 Piece Set;
I ordered and received the 20 piece set about 2 weeks ago, and all I have to say is this is the BEST cookware I have used in the 20 years I have been cooking. I cook a lot of curry and rice items, and I've been using stainless steel pretty much all my life. I never knew my food could taste twice as better in ceramic cookware otherwise I would've ordered much longer ago. The set heats evenly and I barely have to use high heat. I can heat things up 30 minutes before serving, and the food stays warm on the table. No running back and forth trying to serve off of the stove! Clean up is a blessing as well because I don't have to scour or scrub. Food and grease washes off with amazing ease with a regular sponge. The only thing I wish Xtrema would include is a silicone lid lifter because the lid does tend to get hot, and it can be kind of tricky trying to pick it up with a regular kitchen mitt. other than that small issue, this set is simply perfect and it has made my life so much easier. I gave away all my other stainless steel cookware but I wish I would've just thrown it away and asked everyone to buy their own Xtrema products. I am a true fan!
~ Annie from Dallas, Texas
For Health,
Patrick