Individuals who choose to stop eating meat do so for a variety of reasons. Some do it in protest of the treatment of cows, chickens and pigs in captivity. Animal groups such as PETA encourage people to learn about where their food is coming from, and it also sheds light on the living and working conditions of our nation's farms.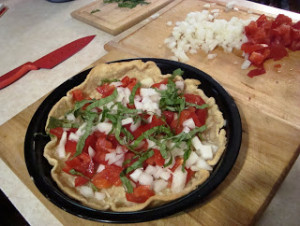 Others have seen the research that supports a vegetarian diet lowering a person's risk of some types of cancer, as well as heart disease. With the growing popularity of Meatless Monday to both cut calories and help reduce animal farming's impact on the environment, more and more people are looking to incorporate meat-free recipes into their repertoire.
Whatever pushes you towards a meat-free diet, know that you're in good company. Many people across the world practice vegetarianism. Traditionally, vegetarians abstain from eating dishes that contain meat, poultry and fish. They get their nutrients from diets rich in fruits, vegetables, grains, legumes, seeds and nuts.
Try Substitutes
Many of your favorite dishes can be made with meat substitutes. Not only will they contain less calories and fat, but you'll hardly be able to taste the difference. Try Quorn, which is made from Mycoprotein to have the texture and taste of meat. is another brand that makes meat-free burgers, chicken nuggets and meatballs.
Vegetarian Cooking
If you're trying to find an easy vegetarian recipe your family will love, start with a soup. This vegetarian chili recipe from allrecipes.com is spicy, hearty and full of vegetables. Your favorite meat eaters won't even miss the hamburger with the addition of meat-free burger crumbles. Make the chili in your 3.5 Qt Xtrema 100% Ceramic Versa Pot to ensure it is heated evenly throughout and will stay tasty even when you come back for seconds.