Comfort foods are the dishes that tend to take us back to happier times. Maybe mac and cheese reminds you of Sunday dinners at your grandmother's, or a big bowl of mashed potatoes makes you think of the holidays. No matter what happy memory comfort food triggers for you, most of these dishes are typically loaded with fat and extra calories that make you feel like curling up for a nap.
Next time you want to indulge in the cozy comfort of your favorite meal, make sure you won't regret the added calories later. Here, we'll show you that it's possible to enjoy those tasty treats without the guilt.
Think of Basic Substitutes
When it comes to home cooking, there are some basic substitutions to keep in mind for healthy comfort food recipes.
Proteins: Fatty, heavy red meats can be substituted with lean proteins. Try ground turkey instead of ground beef, turkey bacon instead of regular pork bacon and chicken instead of steak. Tofu, beans and other plant-based proteins also make for a great, low-fat meat substitute.
Dairy: Low-fat milk is a great way to substitute heavy creams in soups and other comfort foods. Other effective substitutes include low-fat cheese and Greek yogurt instead of sour cream.
Starch: Do you love big bowls of pasta? Lighten up the dish by creating comfort food made healthy. Substitute white pasta for whole-wheat noodles. Think of the same when it comes to bread for sandwiches, breadcrumbs and other dishes. Healthy comfort food substitutes can often be just as good — if not tastier — than the original.
Corn Muffins or Bread
White carbohydrates can leave tummies growling not long after meal time. Try breads or muffins packed with whole grains to help fill you up longer. It takes a little more time for our bodies to digest fiber-rich foods, so you won't be reaching for a snack any time soon.
If you like to serve corn bread with your favorite foods, try this whole-wheat version to cut back on the sweetness found in most other recipes.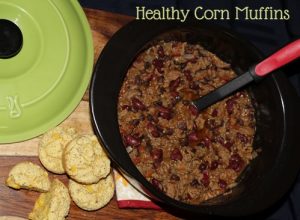 1 1/2 cups of cornmeal
1/2 cup whole-wheat pastry flour
2 tablespoons ground flaxseed
2 teaspoons baking powder
1/2 teaspoon salt
1 cup unsweetened coconut milk
1/2 cup no-sugar-added applesauce
1 cup corn kernels (frozen-then-thawed or fresh will do)
1/4 cup raw unprocessed honey
Get your oven nice and toasty by preheating it to 350 degrees. Grease your muffin pan with coconut oil.
Mix together the dry ingredients (cornmeal, flour, flax, baking powder and salt). In a different bowl, mix the coconut milk, honey and applesauce. Stir the wet ingredients into the dry ones. Once mixed together, stir in the corn.
Fill the muffin cups a little over halfway full and bake for 20 to 25 minutes.
You'll be sure to fill up on this classic comfort food without the added fat or sugars found in this traditional recipe.
Baked Mozzarella Sticks
Bar food favorites can be loaded with fat thanks to deep frying. Don't give up your favorite foods just because they are loaded with grease. You can make many of these comfort foods healthy by omitting the fryer all together and baking the dish.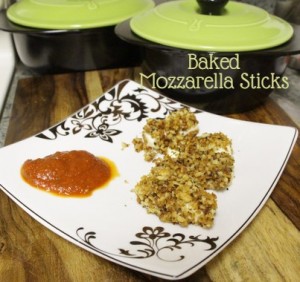 Here, homemade mozzarella sticks are lightened up in the oven.
1 cup seasoning Japanese panko breadcrumbs
1 tablespoon butter
1 garlic, minced
3 sticks part-skim mozzarella string cheese
3 tablespoons egg substitute or 1 egg white
1/4 cup marinara sauce
Preheat the oven to 450 degrees.
Heat a skillet over medium heat and saute the garlic and butter for two minutes. Add the panko and stir until the panko has lightly browned with the butter for about three minutes. Toss the panko onto a plate.
Cut the mozzarella cheese sticks in half. Dip the cheese bites into the egg mixture, followed by rolling it in the panko breadcrumbs. Line the cheese bites on a baking sheet and bake in the oven for about five minutes or until the cheese is warm and soft.
Heat the marinara sauce in a microwave-safe bowl for about 30 seconds in the microwave. Dip the crunchy cheese bites in the sauce and enjoy.
Healthy Shepherd's Pie
Nothing says winter comfort food quite like shepherd's pie. But ground beef, mashed potatoes and gravy can make this classic comfort dish a diet disaster. Healthy comfort food recipes can help turn that around. Load up this dish with lean protein and vegetables so you can still enjoy this comfort food casserole without having to work it off for hours at the gym.
2 cups prepared mashed potatoes
3/4 lb ground lean turkey
3/4 cup picante sauce
1/3 cup water
1 tablespoon ground cumin
1/8 teaspoon salt
1 can kidney beans, drained and rinsed
1/2 cup shredded reduced-fat extra sharp cheddar cheese
Preheat the oven to 400 degrees.
Prepared mashed potatoes can be found in the refrigerator section of most stores. If you'd rather, you can use two cups of any instant mashed potatoes brand. Prepare the product according to package directions.
Brown the ground turkey in a large skillet over medium-high heat. Stir in picante sauce, water, cumin, salt and the beans. Make sure everything is well mixed. Bring the pot to a boil. Reduce the heat and keep it at a simmer until it reduces.
Put the meat mixture in an oven-safe pan. Top it with the mashed potatoes and cheese. Bake the dish for about 10 minutes, or until the cheese is melted and bubbly.
This comfort dish is filling and low in fat thanks to lean turkey and plant-based protein found in beans. Now, you can enjoy your favorite winter comfort foods without the worry of winter weight gain.
Lightened Mac and Cheese
When it comes to comfort food, mac and cheese might win the popularity contest. But even this meal can be made into a healthy version of a comfort dish. Next time you crave this childhood classic, try the lighter version. It plays on some of the tips listed above. By swapping white pasta for whole wheat and making healthy swaps in the meat and dairy categories, this dish stays satisfying without breaking the calorie bank.
3 1/4 teaspoons salt, divided
12 ounces whole wheat or gluten free quinoa elbow pasta
4 teaspoons all-purpose flour
1 1/2 cups skim milk, divided
2 cups finely shredded, reduced-fat sharp cheddar cheese, divided
1/4 cup sliced green onions
1 teaspoon hot sauce
1/4 teaspoon pepper
2 slices turkey bacon, cooked and sliced
Start out by preheating your broiler. Bring a pot of water to a boil and add 1 teaspoon of salt.
Toss the pasta into the pan and let it cook until al dente. Drain the pasta.
In a saucepan, combine the flour and ½ cup of milk. Bring it over medium heat on the stove top and slowly add 1 cup of milk as you bring it to a boil. Let it cook for about a minute. Turn the heat off and let it cool a bit. Stir in 1 and ½ cups cheese with ¼ teaspoon salt, the onions, hot sauce, turkey bacon and pepper.
Add the pasta and mix it all together. Pour the pasta into a greased pan and top with ½ cup cheese. Broil about 5 to 7 minutes or until the cheese is melted and bubbly.
Made-Over Chicken Fried Steak
1/4 cup all-purpose flourYou might wonder if it's even possible to make a beautiful, crispy chicken fried steak without the loaded fat and grease. We're here to tell you: You can have your steak and eat it too.
2 large egg whites, lightly beaten
1/4 cup cornmeal
1/4 cup whole-wheat flour
1/4 cup plus 1 tablespoon cornstarch, divided
1 teaspoon paprika
1 lb cube steak, cut into 4 portions
3/4 teaspoon kosher salt, divided
1/2 teaspoon freshly ground pepper
2 tablespoons canola oil, divided
1 14-ounce can reduced-sodium beef broth
1 tablespoon water
1/4 cup half-and-half
Preheat your oven to 350 degrees. Spray a baking sheet with oil and set it aside.
Spread the flour on a plate. Mix the egg whites in a shallow pan — a pie dish often works well. Mix the cornmeal, wheat flour, ¼ cup of cornstarch and the paprika in another pie pan or similar shallow dish. Season the steak with salt and pepper.
Pat the steak, one side at a time, in the flour. Next, dredge it in the egg mixture. Shake off any excess. Pat the steak, each side, in the cornmeal mixture.
Heat some oil in a large skillet set at medium-high heat. Once it's hot, turn it to medium and add two pieces of steak, cooking until brown and crispy on both sides. Place the browned steak on the baking sheet and finish cooking the rest of the steak in the skillet. Bake the rest of the steak in the oven for about 10 minutes until it is cooked through.
While it bakes, add the broth to the skillet and bring the liquid to a boil. Let it reduce to about 1 cup of liquid.
Add the rest of the water and 1 tablespoon cornstarch and whisk until it's smooth. It will thicken up in about two minutes. Pour in the half and half and season with the rest of the salt and pepper. Pour the gravy over the steak and enjoy.
Simple and Healthy Mini Meatloaves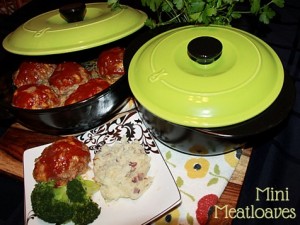 Do you remember loading up your grandmother's homemade meatloaf with gravy or ketchup? There are ways to still enjoy this meal without feeling guilty later. Try this healthy comfort food dinner for your next family gathering. You might have dinner guests asking for the recipe.
1 small onion, finely chopped
1 stalk celery, finely chopped
1/2 cup milk
2 large egg whites
1/2 cup quick cooking oats
½ cup low fat cheddar cheese
1 lbs grass fed ground beef
1/4 cup chopped fresh parsley
1/3 cup ketchup
1 heaping tablespoon of brown sugar
1 tablespoon of mustard
Preheat the oven to 350 degrees.
Whisk the egg whites and milk together and then add the oats, celery, onion, parsley, and cheese. Next thoroughly mix in the beef and separate into 6 mini loaves and evenly place them into a ceramic dish.
Bake for 45 minutes or until the internal temperature reaches 165 degrees.
Chicken Pot Pie
Nothing can warm your soul quite like a bowl of chicken pot pie. It's a popular winter comfort food for a reason — it's filled with rich gravy, a buttery flakey crust and a boat load of calories. Thankfully, it can be made into a healthy comfort food with a few tweaks. Now, you can enjoy a serving for less than 350 calories.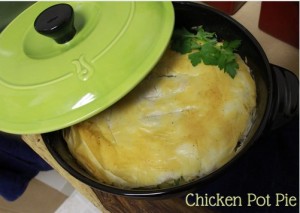 1/4 teaspoon dried thyme
1 lbs chicken breasts, skinless, boneless and cut into 1-inch chunks
1 large onion, finely chopped 1 ¾ cups low sodium chicken broth
3 cloves garlic, chopped
2 medium parsnips, peeled and thinly sliced
3 medium carrots, thinly sliced
2 stalks celery, thinly sliced
6 sheets frozen phyllo, thawed
2 tablespoons cornstarch
1/2 cup water
2 cups frozen peas, thawed
1/4 cup finely chopped fresh flat-leaf parsley, plus more for garnish
Preheat the oven to 425 degrees.
Season the chicken with thyme, salt and pepper. Coat a skillet with oil and turn the heat to medium-high. Cook the chicken until it is lightly brown. Set it on a plate to wait.
Add the onion and ¼ cup broth to the same skillet. Scrape the bottom of the pan to get the small bits off the bottom and cook it until the onion is soft. Add the garlic, parsnips, carrots and celery. Stir in the rest of the chicken stock and bring it all to a boil. Cover the pan and let it simmer for about 10 minutes or until the vegetables are cooked.
While it continues cooking, spray each phyllo sheet with olive oil and then on the top layer brush 1 tablespoon of butter making sure every part is covered. In a bowl, mix the cornstarch and water. Add it to the vegetable mixture and let it thicken while it simmers. Add the peas, parsley and cooked chicken. Add salt and pepper to taste.
Transfer everything to a baking dish that is around 10 inches in diameter. Layer the phyllo on top and cut slits in the dough. Bake it for 15 minutes or until it's golden brown. Top it with the rest of the fresh parsley and serve for dinner.
Eat Well
It's possible to enjoy delicious, comfort foods without the extra calories. Now that you're ready to make your favorite foods a little healthier, use the best cookware to bring out the mouth-watering flavors. Find the Xtrema cookware you need to turn your healthy comfort food snacks and meals into reality.