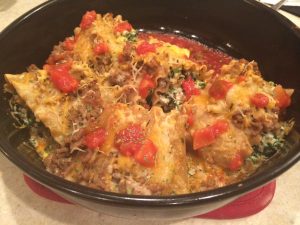 We just love Mexican Dishes and they just taste some much better in Xtrema 100% Ceramic Cookware.   We didn't have any planned out meal for dinner tonight so we just made this from scratch– no recipe needed.  We have done Italian Lasagna Roll-ups in the past so we just switched it up a bit and added some Xtrema Spice!
Xtrema South West Lasagna Roll-ups:
Lean Turkey Burger Seasoned with Cayenne Pepper
Tomatoes
Hot Salsa (we like spicy)
Ricotta Cheese
Zucchini
Spinach
Onion
Cilantro
Whole Wheat Lasagna Noodles
Directions:
It's really simple. Saute the veggies in our Xtrema Ceramic Skillet, cook the turkey burger and cook whole-wheat noodles in Xtrema 3.5 Qt Ceramic Saucepan once water has boiled.  Then layout the lasagna noodles flat on cutting board and in separate bowl mix veggies, turkey burger, ricotta cheese and spinach.  Then spoon mixture on the noodles, spread out evenly and roll up.  Place on Xtrema Ceramic Skillet that has salsa layered on bottom.  Sprinkle Mexican Cheese on top. Bake in then oven on 375 for 15 minutes.  Serve up with salsa, hot sauce and sour cream.   ENJOY!