Winter is officially upon us…

It's time for warm soup and sitting by the fireplace!

Who would of thought we would have snow up and down the East Coast in October?? Given the cold weather, snow and being stuck inside, we decided to cook up some of Mom's Homemade Vegetable Barley Soup. I had to give her a call because the recipe isn't written down anywhere– she just kind of throws stuff in and it turns out great.
So here's how you make this healthy, quick and easy vegetable soup:
Ingredients:
1/2 Cup Chopped Onion
1 Clove Garlic Minced
5 Cups Water
2 (14 1/2 oz) Can of Tomatoes (Petite Diced)
3/4 Cup Quaker Quick Barley
1/2 Sliced Celery
1/2 Cup Sliced Carrots
2 Beef Bouillon Cubes
1/2 Dried Basil
1 Bay Leaf
1 Turnip Peeled and Diced
1/2 Cup Frozen Peas
Directions:
In your Xtrema Saucepan, sautee onion and garlic until tender. Stir in remaining ingredients except frozen peas. Cover, bring to a boil. Reduce heat, simmer 10 minutes, stirring occasionally. Add frozen peas; cook about 10 minutes or until vegetables are tender. Additional water or beef broth may be added if soup becomes to thick upon standing.
This pretty simple vegetable soup recipe packs a tasty punch and delivers a healthy warm meal for the coldest of days….
Give it a try and let us know what you think? If your looking to spice it up a bit like I do, then I would suggest adding some Melinda's Hot Sauce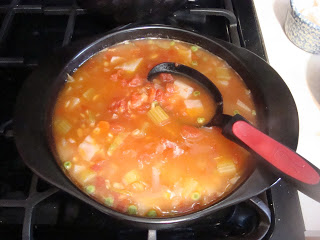 Happy Healthy Cooking,
Patrick Bergstrom
www.xtrema.com