Enjoy our new line of Natural Wild Cherry Wooden Utensils by Jonathan Spoons.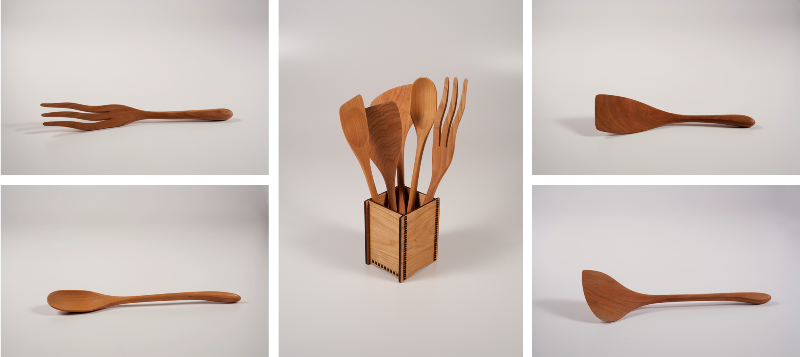 It's time to do away with those potentially unsafe metal utensils you are currently cooking with and replace them with these USA Made all natural Wild Cherry Wooden Kitchen Utensils. Jonathan's® Wild Cherry Spoons ~ THE LEADER IN WOODEN SPOON DESIGN ~ The perfect gift for holiday giving. Handcrafted in Pennsylvania from sustainably harvest wood. Beautiful and functional these wooden utensils bring a sense of beauty and inspiration to any kitchen.
The Original Lazy Spoon® is a favorite of Rachael Ray and was featured as one of Oprah's favorite things in 'O' Magazine. Christina Perillo, health advocate, and host of the PBS cooking show 'Christina Cooks' loves Jonathan's® Wild & Crazy collection. Jonathan's® Spoons create spoons for all your kitchen needs: baking, cooking, mixing and stirring; plus we offer spoons for left handed chefs! Our folding tongs are fantastic for serving salads and baked potatoes, as well as multiple kitchen tasks. Every kitchen in America needs a collection of these wooden spoons and utensils.
This line of wooden kitchenware by Jonathan Spoons is a perfect compliment to our All Natural 100% Ceramic Xtrema Cookware. Have a look below and see how nice they go with each other. You can buy the utensils individually or you can have them all with our custom 6 Piece Set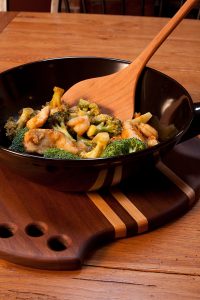 Our new line of Wooden Kitchen Utensils includes:
Wild Cherry Natural Wood 6 Piece Set
Wild Cherry Natural Wood Wok Tool – 14″
Wild Cherry Natural Wood Spaghetti & Salad Fork – 13.5″
Wild Cherry Natural Wood Large Spatula 11.5″
Wild Cherry Natural Wood Spootle – 12″ Spoon & Turner
Wild Cherry Natural Wood Slim Spoon – 13″
Wild Cherry Natural Wood Utensil Holder