Sure, some mornings are full pancake, bacon and egg mornings, complete with orange juice and coffee and all the little details in between. Of course, we'd all like it if every day started with a big old plate of French toast, prepared lovingly by someone else and perhaps served in bed, alongside a big bouquet of flowers.
Alas, real life is not quite so perfect. For one, we're usually stuck on a time crunch — subject to early work schedules, plus kids to get dressed, brushed and out the door just in time for school. With all those commitments, breakfast often takes a backseat. We eat energy bars in the car, if anything at all. If we're lucky, maybe a bacon, egg and cheese sandwich on the way to the office. Many of us claim we're simply not in the mood for the most important meal of the day.
Yet, the fact remains — most of us start the day with a little more pep in our steps when we actually get to eat something great first thing in the morning. It's your fuel for getting the ideas going, and doing all that moving around. Because we understand the challenges of balancing eating and cooking with all of life's myriad challenges and obligations, we've come up with just the solution you need to turn your breakfast conundrum into a full-fledged resolution.
Enter the one-cup-wonder. In case you're not following, we're talking full meals made in one cup, in less than five minutes. These meals are easily made in the microwave and are the perfect way to "hack" the breakfast system, so to speak.
If you're still not completely sold, check out these recipes below. You'll be a muffin in a mug evangelist in no time! We promise.
Vegan Raspberry Muffin in a Mug
We all love muffins, but sometimes you just want one hot one at a time. This easy-to-make muffin in a mug recipe will help you get breakfast done and eaten, and yourself out the door, in under ten minutes, and provides an easy hack for the days where nothing sounds better than a freshly baked muffin.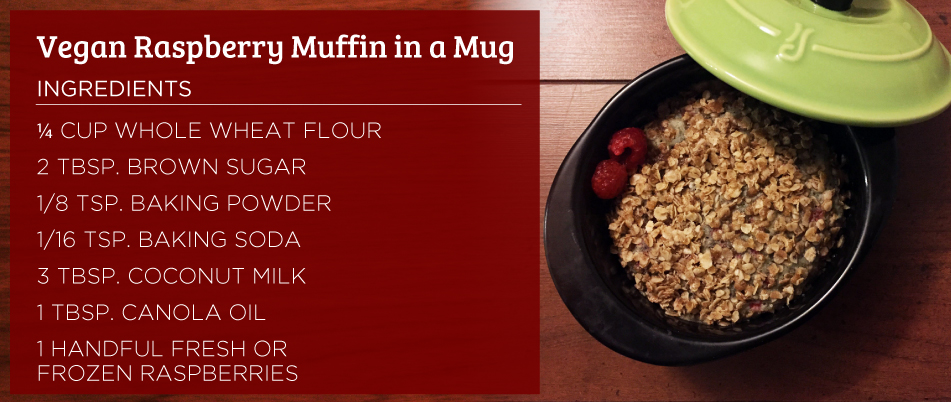 Ingredients:
¼ cup whole wheat flour
2 tablespoons brown sugar
1/8 teaspoon baking powder
1/16 teaspoon baking soda
3 tablespoons coconut milk
1 tablespoon canola oil or grapeseed oil
1 handful fresh or frozen raspberries
Crumble topping:
2 tablespoons brown sugar
3 tablespoons rolled oats
1 teaspoon cinnamon
¼ teaspoon ghee
Instructions:
In a large, microwave-safe mug or in Xtrema's 1 Qt saucepan, mix all the ingredients in the muffin portion of the ingredient list, other than the raspberries, and mix until thoroughly blended.
Add raspberries and stir together gently.
In a separate mixing bowl, mix the crumble topping.
Drop the crumble over the top of the muffin batter, and then stick in the microwave.
Microwave for about 90 seconds, then let cool and enjoy! You can also make this the night before and then warm up in a toaster oven to make it extra crispy on top the next morning.
Easy Ham Quiche in a Mug
Okay, so quiche in a mug doesn't sound like any easy undertaking at all. On the one hand, you know this is typically a lovingly prepared dish that emerges from the oven to feed hungry breakfasters. Yet, it seems most people don't know about this delicious hack that makes a personal quiche easy, whether you're running late for work or you've got time to read the paper.
Ingredients:
2 eggs
1 tablespoon whole milk (or non-dairy milk of your choosing)
¼ cup ham, cut into cubes
¼ cup fresh spinach
¼ cup shredded Swiss cheese
Salt and pepper to taste
Instructions:
First, place the spinach in a large, microwave-safe mug with a couple teaspoons of water. Microwave for about 30 seconds and drain the water if it hasn't evaporated.
Add eggs, cheese and ham, along with salt and pepper. Mix thoroughly, until all ingredients are combined, including the spinach.
Cover the mug with a moist paper towel (so ingredients don't dry out) and microwave on high for about four minutes, or until the eggs are cooked to your preference. Let cool, and eat up!
Brown Rice Breakfast Mug
A sweet take on last night's leftovers. A little cinnamon and spice takes your favorite workhorse grain to a completely new level. Plus, it only takes a few minutes to whip this whole thing up. Sub out the rice for quinoa, bulgur or any other grain you've got a little too much of in the fridge — heck, you can even use plain old oatmeal if you're so inclined. This one microwave breakfast leaves no excuses for wasted food!
Ingredients:
1-½ cups leftover brown rice
1 teaspoon cinnamon
3 teaspoons almond milk
½ teaspoon nutmeg
¼ cup raisins
4 tablespoons sliced almonds or other nuts
2 tablespoons brown sugar
Instructions:
In a large mug, add rice and break apart with a fork.
Combine cinnamon, nutmeg, raisins, almond milk and almonds in the same mug, mixing together with the brown rice until each ingredient has been evenly distributed.
Top with brown sugar and place in the microwave.
Cook for a minute and a half, or until the ingredients are heated all the way through and the brown sugar becomes a bit crystallized.
Let cool and serve.
Oatmeal Cookie in a Mug
A little bit of a treat, this oatmeal-based recipe makes for the perfect decadent microwave breakfast in a mug for all those mornings where you need something special to get you motivated. Pair with a cup of coffee, add some fruit and eat it on the go!
Ingredients:
1/3 cup quick-cooking oatmeal
½ teaspoon vanilla extract
3 tablespoons trail mix (or just nuts and raisins)
2 teaspoons brown sugar
1 egg
1 teaspoon butter or ghee
¼ teaspoon cinnamon
3 tablespoons almond milk
Instructions:
In a large, microwave-safe mug, beat the egg then stir in vanilla extract, butter, brown sugar, oatmeal, milk, cinnamon and trail mix.
Microwave the mug on high for about a minute. Remove from the microwave and stir. Cool for another minute or until the edges look golden brown.
Let cool and serve.
Peanut Butter Chocolate Breakfast Mug

A little decadent for a breakfast mug recipe, but hey — you only live once, and peanut butter has some protein and healthy fats. Probably not an everyday breakfast occurrence, but some days deserve a little more of a reward than others.
Ingredients:
1 egg
4 tablespoons flour
3 tablespoons unsweetened cocoa powder
4 tablespoons sugar
3 tablespoons peanut butter
3 tablespoons coconut milk
3 tablespoons vegetable oil
Instructions:
In a large coffee mug, whisk egg until fully blended. Then, add all the other ingredients. Mix together until thoroughly blended and the mixture is smooth.
Microwave on high for about two minutes. Check to see if the ingredients are fully cooked. Use a toothpick to test by poking the middle. If it comes out clean, you're in the clear. If it needs a little more time, microwave for another minute.
Let cool and serve.
Breakfast Bagel in a Cup
Rather than make all the ingredients individually, simplify the process and use fewer dishes for a low-key, deconstructed breakfast sandwich straight out of the mug. Sure, you do have to eat this one with a fork for best results, but the eggs, sausage and more will all be ready to go in less than five minutes. Enjoy!
Ingredients:
1 egg
2 teaspoons milk
½ bagel, cut into smaller pieces
3 tablespoons chopped onions
2 mushrooms, sliced
1 cooked chicken sausage, sliced
1/3 cup cheddar cheese
Instructions:
In a large coffee mug, add egg and milk, whisking together until thoroughly blended.
Add sausage, onions, mushrooms and bagel pieces and gently mix together, coating all contents with egg mixture.
Add mug to the microwave and cook on high for about a minute.
Top mug with cheese and cook for another minute, or until cheese is melted.
Remove from the microwave and serve.
Microwave Breakfast Pudding
Part dessert, part hearty way to start the day, a quick and easy pudding is a great alternative to the usual milk and cereal drudgery. A little fig, nuts and cinnamon provide the perfect companions to a hot cup of coffee. In addition, you'll be full right up until lunchtime rolls around!
Ingredients:
5-7 figs, chopped finely
2 tablespoons pecans
2 tablespoons chia seeds
3 tablespoons almond or coconut milk
¼ teaspoon cinnamon
¼ teaspoon cloves
½ egg
1-½ tablespoons hot water
1/8 teaspoon baking soda
1-½ tablespoons oil (vegetable, grapeseed, or avocado oils are all good choices)
1-½ tablespoon wheat flour
1 tablespoon butter or ghee
4 tablespoons brown sugar
Instructions:
In a large, microwave-safe mug, place the dates, chia seeds and hot water.
In a separate container, crack the egg and whisk the yolk and whites together.
Add the baking soda to the seeds and figs and stir into the mixture. Let stand for about a minute.
Add butter or ghee to the mixture and microwave for about 45 seconds, allowing the butter to melt.
Add the nuts, flour, brown sugar, cinnamon, cloves, oil and milk to the mug, whisking the ingredients together.
Add half of the egg mixture to the mug, stirring until all ingredients are completely blended together.
Microwave on high for about a minute or so, or until all the contents of the mug have been heated all the way through.
Let cool and enjoy.
Huevos Rancheros Breakfast Mug
Dress up your eggs with a bit of salsa! This fresh take on huevos rancheros lets you bypass your favorite brunch spot when you're running low on time. Eggs and beans are a great source of protein, while fresh pico de gallo adds a little more flavor than your basic scrambled eggs.
Ingredients:
2 eggs
3 tablespoons milk
3 tablespoons pico de gallo
1/3 of an avocado, sliced
1/3 cup black beans
Salt and pepper, to taste
Handful of tortilla chips, crunched up (use as topping)
1/3 cup cheddar cheese
Instructions:
Whisk together eggs and milk in a large, microwave-safe mug.
Add beans and salt and pepper to the mixture and stir in the cheddar cheese.
Microwave for about a minute, and then remove the mug, stirring once.
Add the chips and place back in the microwave for another minute, or until the eggs are cooked to your preference.
Remove from microwave and top the contents of the mug with avocado slices and pico de gallo.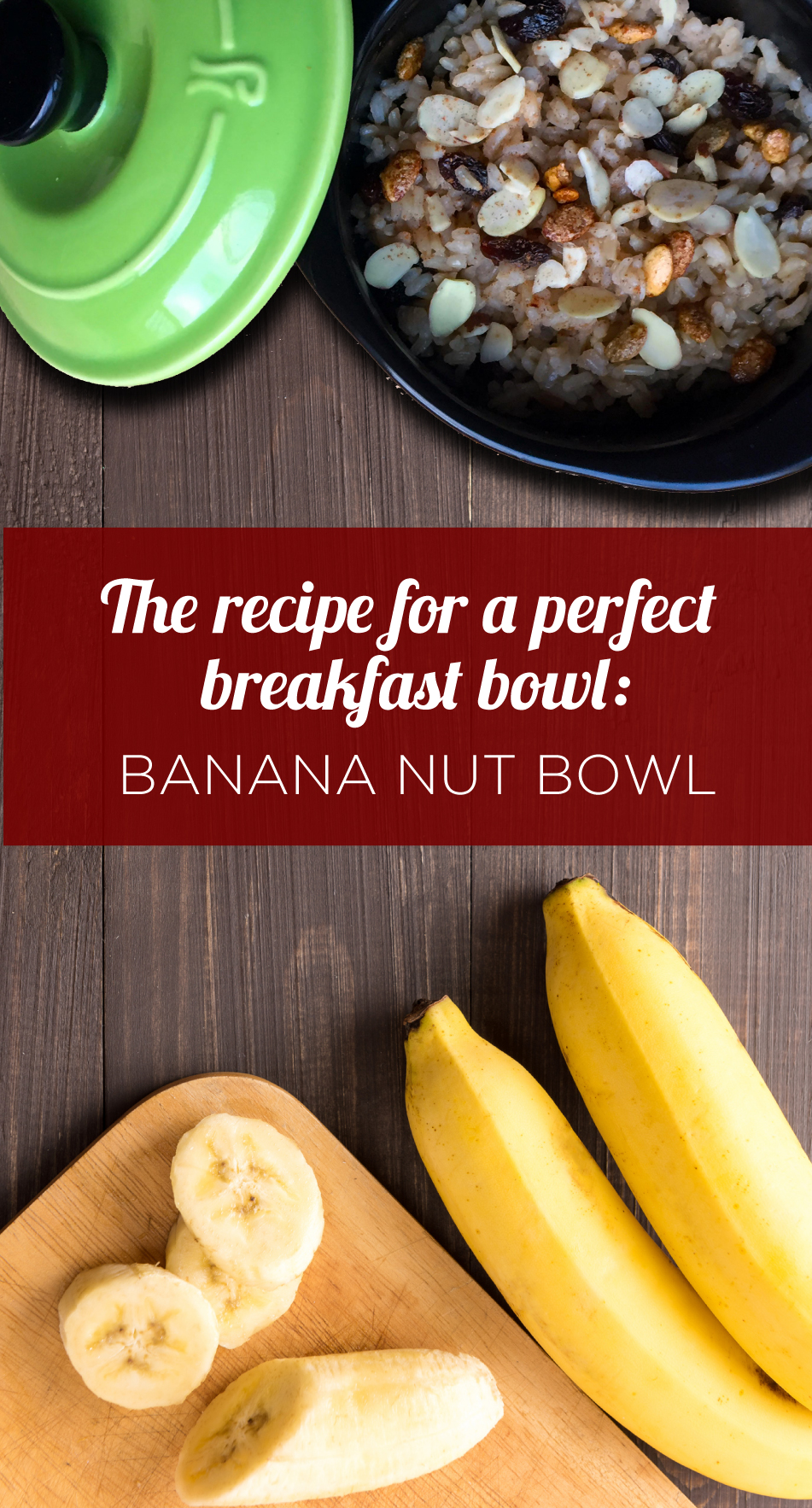 Banana Nut Bowl
A little fruit and protein is the best way to fuel up when you have a long day ahead. This banana nut bowl is the perfect breakfast for a smoothie lover looking for a warmer alternative, complete with rich almond butter and a hint of crunchy oats and nuts.
Ingredients:
1 banana, sliced
¼ cup quick-cooking oats
3 tablespoons almond butter
4 tablespoons almond milk
1 tablespoon maple syrup
4 tablespoons mixed nuts (almonds, walnuts, pecans, peanuts — anything goes!)
2 tablespoons shredded coconut
Instructions:
In a large, microwave-safe mug, mix the banana, oats, almond milk, almond butter and maple syrup.
Microwave for 45 seconds, taking the mug out to stir the contents.
Microwave for an additional 30 seconds and remove from heat.
Top the entire mug with coconut shreds and mixed nuts.
Blueberry Pancake in a Mug
For those mornings when you don't exactly have time to spend slaving away in front of a griddle. Here's a quick way to get your pancake fix without all the hassle, and in a reasonable portion size. We opted to do blueberry, as it's a perennial favorite for adults and kids alike, but feel free to swap out the berries in favor of something else — banana, chocolate chips, strawberry, raspberry and apple cinnamon are all solid choices as well.
Ingredients:
4 tablespoons flour
¼ teaspoon baking powder
1-½ tablespoons sugar
1 tablespoon vegetable oil
Blueberries (a handful will do)
2 tablespoons milk (any kind)
1 egg
1/8 teaspoon salt
Non-stick cooking spray
Maple syrup or jam, if desired
Instructions:
Coat a large mug with non-stick cooking spray.
Add egg, flour, salt, milk, oil, baking powder and sugar to the mug and whisk ingredients together until thoroughly combined.
Gently stir in blueberries.
Place the mug in the microwave and cook on high for about a minute in a half. Poke the pancake with a toothpick to make sure it's done — it should come out clean.
When ready, top with jam or maple syrup and serve.
Ready to Shop? Ceramcors Got Mugs!
You may already be familiar with our lineup of Xtrema cookware and bakeware, as well as our Fridgex storage containers. Well, we've added some more items to the Ceramcor family!
Our line of Ovenex mugs is perfect for coffee, tea and more — including one-cup breakfast recipes, muffins in a mug, or anything else that strikes your fancy. These mugs are dishwasher- and microwave-safe, so feel free to go nuts!
Whether you're looking to fill your mug with something sweet, savory or something a bit more traditional, like your favorite brew, our mugs are of the perfect, oversized variety — great for slow sips on a cold day, or using as a more versatile bowl.