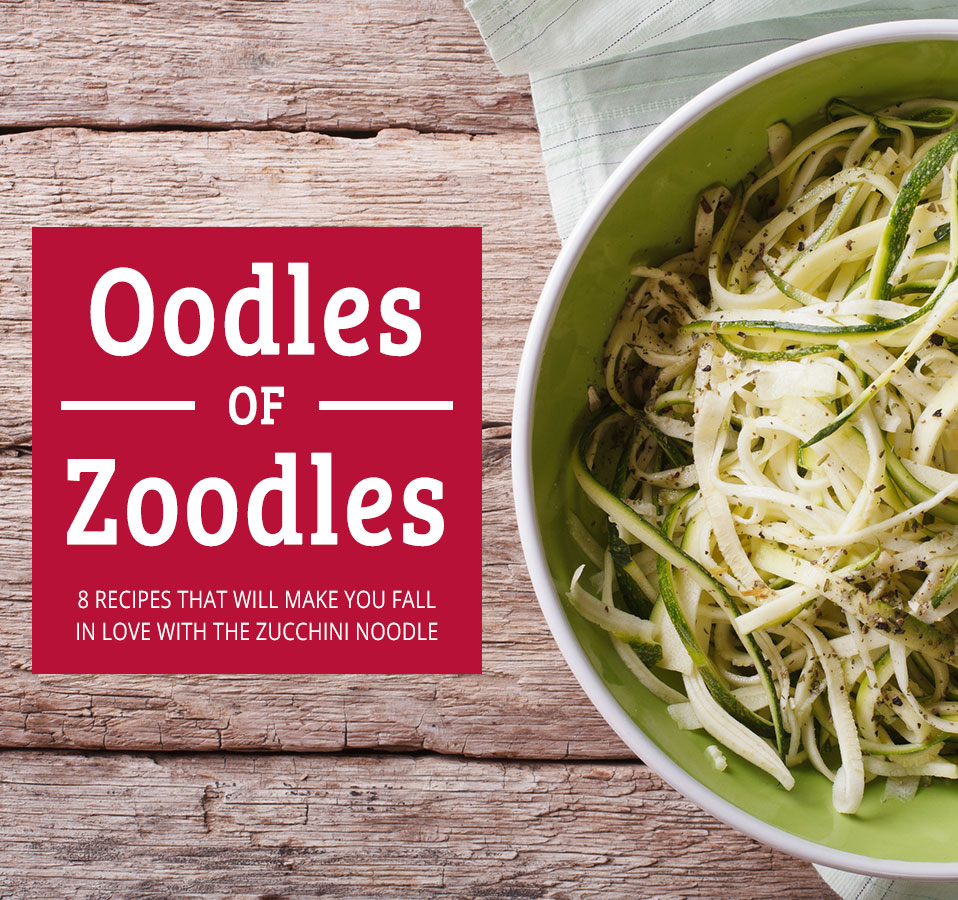 Admittedly, zucchini noodles (aka zoodles) do sound like they're just a substitute for the thing we really want — a big heaping pile of carb heavy pasta. But, hear us out. With the right toppings and a bit of crafty preparation, you'll be a zoodle convert before you know it.
First things first, while you can sloppily try to carve you zoodles freehand, we recommend using a spiralizer for the best results. While a spiralizer makes the zoodling process a breeze, if you don't have one on hand, you're not out of luck.
Here's a few alternatives you likely already have in your kitchen cabinet.
Cheese grater — This is probably the least ideal alternative, as your zucchini will resemble shredded cheddar, but it works.
Mandoline — These contraptions tend to terrify people, but their sharp blades make slicing any veggie into really thin pieces a breeze. Be sure to use the hand protector when making your zoodles, and you'll be all set to make some tasty zucchini pastas.
Julienne Peeler — A little better than the cheese grater option, the julienne slicer gives the zoodles a slightly longer length, but these are generally used for shredding carrots and beets for salads, so you won't get the same spiral-y heap of zoodles you'll get from a spiralizing tool.
Whether you've gone paleo, gluten free or are just trying to shave some calories off an otherwise decadent dish, we've got some ideas to help you stay healthy without cutting any corners when it comes to taste. Here's some zucchini noodle recipes that promise to delight.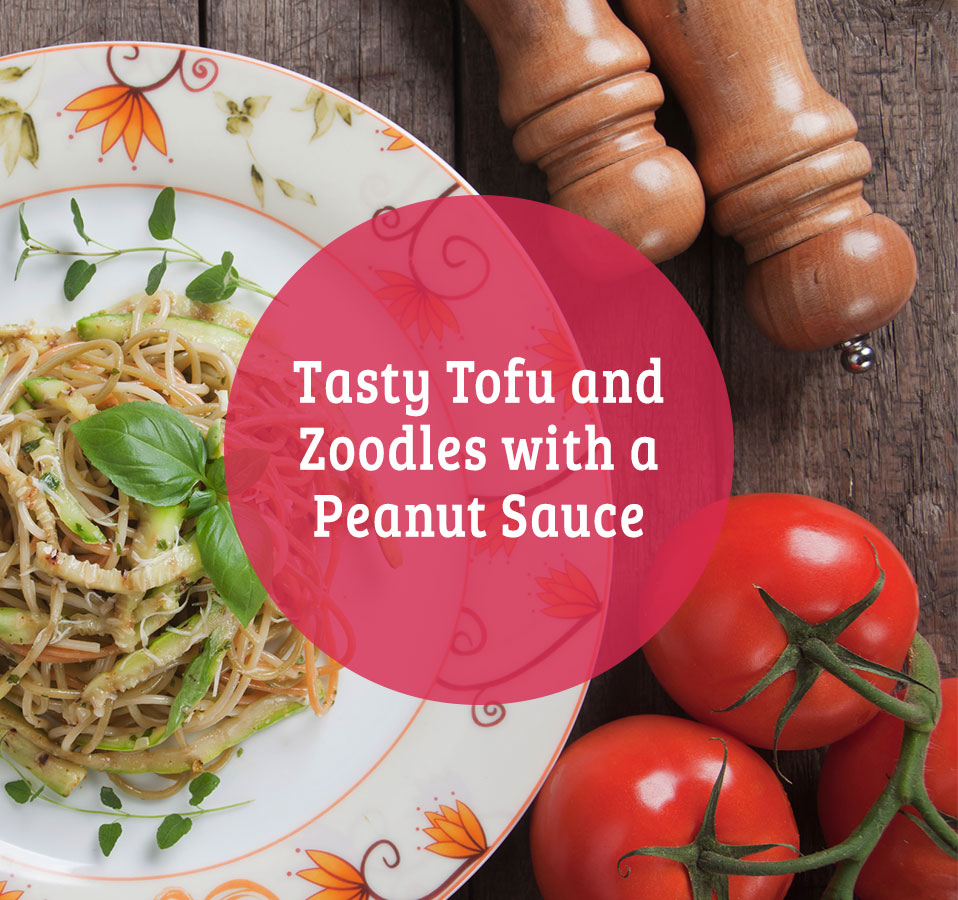 Super easy, but also super delish, this zoodle recipe is loaded with spicy peanut sauce and crispy, browned bits of tofu. If you haven't come around to the whole zucchini noodle idea, this recipe has a broad range of flavors that will have you singing the praises of zoodles almost immediately.
Ingredients
The Sauce:
½ cup peanut butter
⅓ cup sesame oil
⅓ cup light low sodium soy sauce
¼ cup rice vinegar
2 tablespoons chili paste (like sambal oelek)
2 tablespoons sugar
1 clove garlic, minced
1 knob of fresh ginger, peeled and grated
Zoodles and Tofu
12 ounces extra firm tofu
4-6 zucchini
sesame seeds and scallions for topping
Instructions
1. Start with the sauce. Add all ingredients to a food processor and blend until completely smooth and blended. That's it. If you're thinking you'd rather serve this dish cold, refrigerate the sauce until it reaches your desired temperature.
2. Squeeze the excess moisture from the tofu brick and slice into small squares. Heat the oil in a large pan and add the tofu, stir frying until its golden brown. Then add ½ cup of the sauce, simmering until it boils down, making the tofu crispy. Keep going until the tofu reaches your desired level of crispness. Hint — the crispier the better here.
3. Get your zoodles in gear, spiralize the zucchini, then toss with remaining sauce. Top it off with tofu, scallions and sesame seeds. Eat up.
Unless you want a really watered down sauce, don't cook the zoodles. Zucchini releases a ton of moisture when cooked.
Cajun Zoodle Pasta
Looking for a hot way to spice up those zucchini spirals? This quick and easy Cajun-inspired dish features a solid lineup of veggies cooked to perfection in a flavorful seasoning. While the recipe is vegan, feel free to add anything else that hits the spot — shrimp, chicken or sausage would all work wonderfully with the Cajun flavors.
Ingredients
Seasoning
1 teaspoon sea salt
2 teaspoons garlic powder
2 teaspoons paprika
1 teaspoon onion powder
1 teaspoon cayenne pepper
1 teaspoon dried oregano
1/2 teaspoon red pepper flakes (optional)
The Main Event
2 zucchini squash, peeled (about 1 lb.)
1 tablespoon coconut oil
1/2 red onion, thinly sliced
1 red bell pepper, thinly sliced
1 green bell pepper, thinly sliced
8 oz. sliced mushrooms
2 tomatoes, chopped
2 teaspoons Cajun seasoning
Salt and pepper, to taste
Instructions
1. To make the seasoning, add all ingredients to a small container and shake until evenly dispersed. Keep the mixture in an airtight container until ready for use.
2. First get those zoodles in order: spiralize, grate or julienne, and add to a colander and sprinkle with salt. Place the colander over the sink or a bowl to catch excess water from the zucchini. This salting process allows the zucchini to release moisture, so you'll be able to cook them without making the rest of the dish watery.
3. While the zucchini sweats, melt the coconut oil over medium heat in a large pan, and sauté onions and peppers until tender. Add the tomatoes and mushrooms, and continue to sauté for another 5 minutes.
4. Once the zoodles are done draining, rinse them off and pat dry with a paper towel. Add the zoodles and Cajun seasoning to the mix and cook for another 2-3 minutes and serve.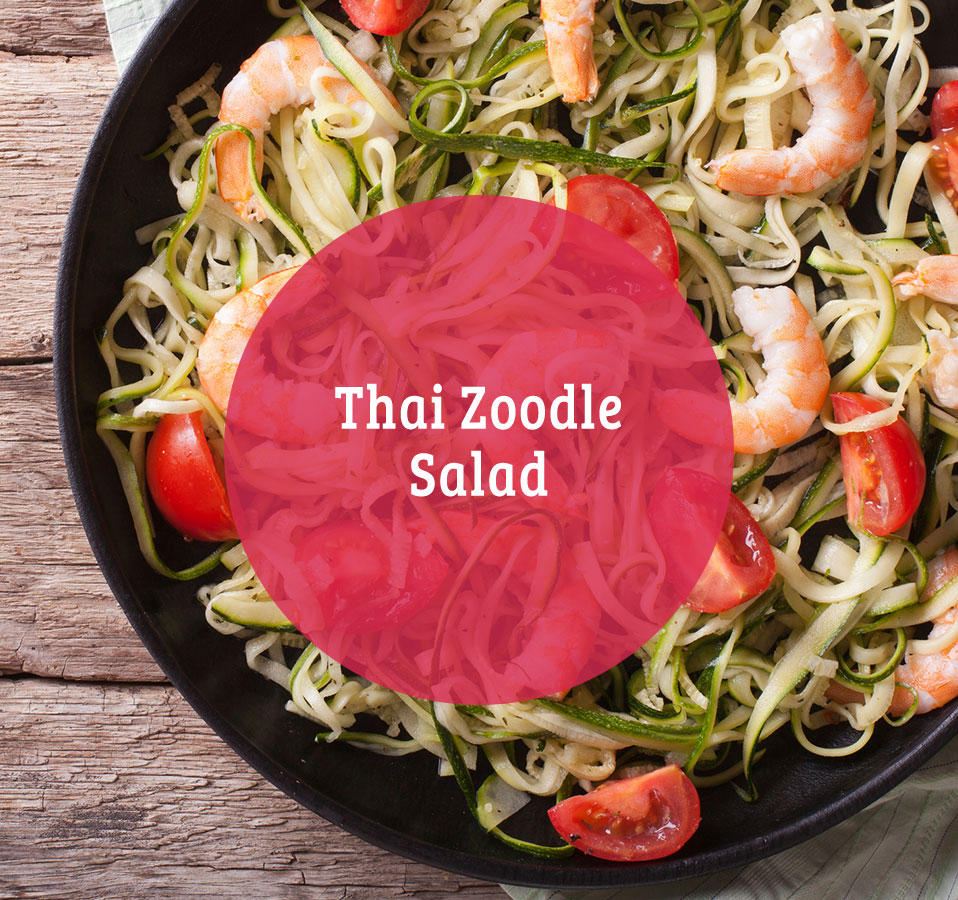 This delicious take on Pad Thai, is as colorful as it is fresh and healthy. And while it may look a bit complicated due to all the colors and textures in the mix, this vegan zucchini noodle recipe is super quick and easy — and sure to get you into zoodles if you're not completely convinced yet.
Ingredients
The Veggies
1 medium zucchini
2 large carrots, julienned
1 red pepper, thinly sliced
1 cup thinly sliced red cabbage
3/4 cup frozen edamame, thawed (or try tofu)
3 green onions, thinly sliced
1 tablespoon hemp seeds
1 teaspoon sesame seeds
Almond Butter Sauce
1 garlic clove
1/4 cup raw almond butter
2 tablespoons fresh lime juice
2 tablespoons low-sodium tamari
2 tablespoons water
2.5 teaspoons pure maple syrup
1/2 tablespoon toasted sesame oil
1 teaspoon freshly grated ginger
Instructions
1. Prepare vegetables, and then add them to a large bowl, combining with hands until completely mixed.
2. Add all sauce ingredients to a food processor, blending until completely smooth. If you don't have a food processor, a whisk will certainly do.
3. Top off the veggie mixture with edamame, seeds and green onions, then pour the almond butter sauce over the top.
Zoodle Carbonara
If you're in a low carb slump and craving something a bit heartier, this carbonara is the perfect cure. Loaded with eggs, cheese and pancetta, you won't miss the starchy standby one bit. Plus, it only takes about 20 minutes to whip this baby up.
Ingredients
2 whole eggs
1 egg yolk
2/3 cup of shredded Pecorino cheese
2 tablespoons olive oil
2 ounces of cubed pancetta
1 extra-large zucchini — spiralized
2 tablespoons of shredded parmesan cheese
2 teaspoons of black pepper
Instructions
1. Add the two eggs and egg yolk to a bowl and whisk, then add Pecorino cheese, mixing thoroughly.
2. Next, you'll heat two tablespoons of olive oil in a large pan over medium heat. Add pancetta and cook thoroughly — but make sure it's not crispy. Add the zoodles, cooking for about 5 minutes or until they've become warm, and the pancetta has a slight crisp. Remove the mixture from heat.
3. Pour egg mixture over the zucchini noodles, stirring until evenly coated. Finish it off by topping with parmesan cheese and black pepper.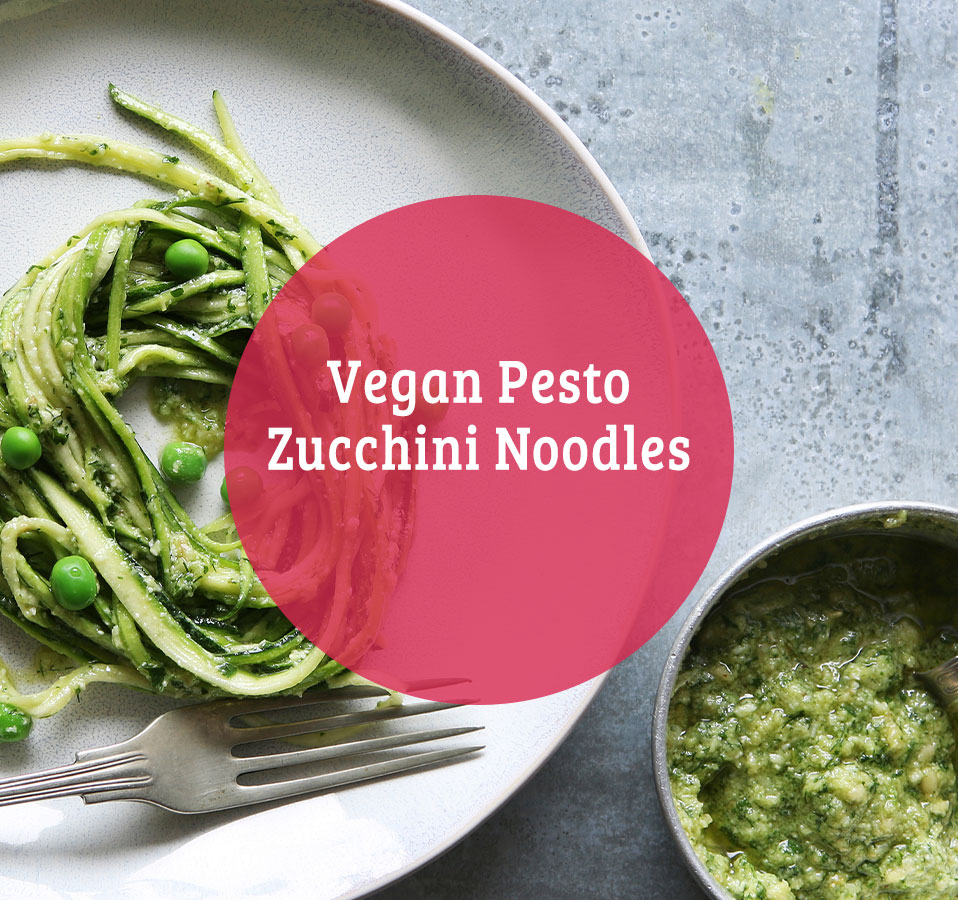 Who needs cheese and carbs? A quick and tasty vegan pesto dish, that barely requires instructions, but we included them anyway for good measure.
Ingredients
2 zucchini — spiralized
1 cup raw pine nuts
½ cup extra virgin olive oil
1 teaspoon sea salt
1 teaspoon pepper
Juice from 1 lemon
3 cups of fresh basil
Instructions
1. Spiralize zucchini.
2. Combine nuts, olive oil, basil, lemon juice, salt and pepper, then blend until completely smooth.
3. Toss with zoodles, and serve.
Mason Jar Ramen Zoodles
A healthy alternative to those sodium laden cup o' noodles we're all so familiar with. And, we'll say it's much tastier too! Make your own portable soups to take to work, school or just enjoy at home when you're not in the mood for whipping up something more complicated.
Ingredients
2 chicken breasts
1 tablespoon salt
8 ounces of chopped mushrooms
1 tablespoon coconut oil
2 large zucchini
2 cups sliced red cabbage
2 cups sliced greens (anything goes here, chard, kale, spinach — it's really up to you)
The Broth
1/2 cup nutritional yeast
2 tablespoons salt
2 tablespoons garlic
1 1/4 teaspoon sugar
1 teaspoon turmeric powder
1 teaspoon dried thyme
1/2 teaspoon dried sage
1/2 teaspoon dried basil
1/2 teaspoon dried oregano
a pinch of powdered ginger
Instructions
1. Start by pre-heating the oven to 400 degrees. As it heats up, sprinkle salt over the two chicken breasts, and place them on a baking sheet. Bake the chicken breasts until they're cooked all the way through, which should be about 20 minutes, but will vary according to the thickness. Once cool, cut chicken into small pieces — roughly a half inch each.
2. Heat the oil over medium-high heat in a large pan. Once it's hot, add mushrooms and sauté until they're tender and brown. Remove from heat.
3. Spiral zucchini, and set the zoodles aside.
4. For the bouillon, mix dry ingredients together in a large bowl until thoroughly blended. Note that this recipe makes more than enough for 6 soup cups. Store in a cool dark place until ready for use in future soups or noodle cups.
5. To put it all together, distribute the chicken, mushrooms and greens evenly among 6 wide mouth mason jars. Top the mixture with 1 tablespoon of the bouillon mixture in each jar, and fill to the top with zoodles. You can store these cups for up to a week in the fridge — making this a great make-ahead lunch to bring to work or school.
6. When you're ready to eat, add one cup of boiling water to the mason jar, and seal. Let stand for about 5 minutes (like you do with those Styrofoam noodle cups), and empty the contents into a bowl.
Fig Zucchini Pasta
Few raw vegan dishes are this inviting. This beautiful pasta dish brings out the subtle nuances of summer flavors like fig and avocado, which stand out against a backdrop of homemade zoodles. Top it off with a hempseed crumble, and you've got a satisfying dish that'll leave you feeling proud of yourself for eating like a vegan food blogger.
Ingredients
Pasta
2 large zucchini, spiralized
2 cups fresh figs (about 150g), quartered
½ avocado, diced
juice of 1 lemon
1-2 tablespoons of olive oil
sea salt and black pepper to taste
Hemp Crumble
⅓ cup walnuts, raw
¼ cup hemp seeds
¼ cup pine nuts, lightly toasted or raw
2 tablespoons nutritional yeast
pinch of sea salt
1 clove of garlic
Instructions
For the Pasta Portion
1. Make zoodles and place them in a large bowl.
2. Next, add avocado and figs, and stir until ingredients have been evenly distributed.
3. Then, you'll juice the lemon directly over the zoodles, add a generous drizzle of olive oil, and sprinkle salt and pepper to taste.
4. Finally, you'll top it all off with the hemp crumble (instructions below). Add some additional protein, like chicken or shrimp for a more filling dish.
For the Crumble Topping
1. Add nuts, seeds, nutritional yeast and garlic to a food processor, pulsing until the mixture begins to look like a pie crumble.
2. Add salt to taste.
3. If you don't end up using all of the crumble in your zoodle recipe, it lasts up to 3 weeks in the fridge.
Enjoy!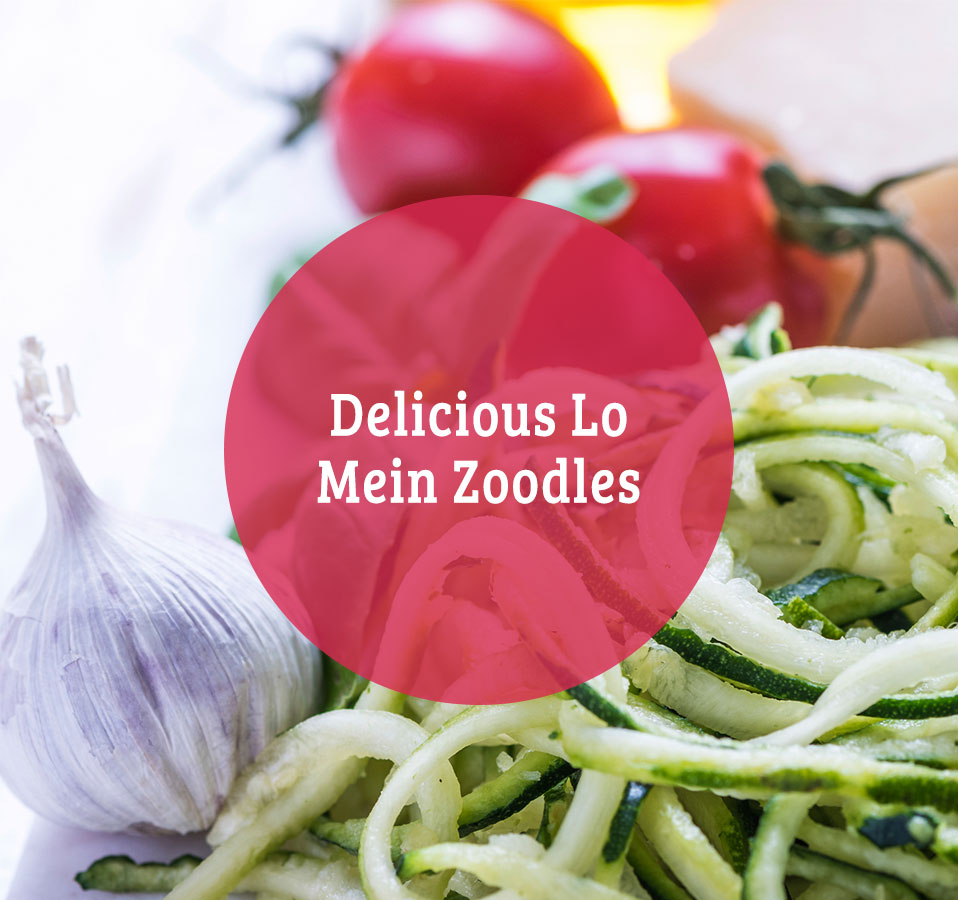 Love chow mein, noodles but find the calorie count a bit scary? Yeah, us too. We've found a great zoodle recipe that gives into your Chinese food cravings, but won't derail your healthy habits. This one involves a bit more prep work than some of the other recipes we've selected, but believe us, it's really worth the extra effort.
Ingredients
3 medium yellow zucchinis
2 teaspoons salt
1 cup ground meat (pork, beef, chicken, turkey, or a mixture)
1 teaspoon freshly minced ginger
1/4 teaspoon fish sauce
1/4 teaspoon sea salt
1/4 teaspoon white pepper powder
1/2 large onion, chopped
2 teaspoons toasted sesame oil
2 teaspoons lard
1/2 tablespoon sesame seeds
1 stalk scallion, chopped thinly
1/2 teaspoon Siracha
Extra scallions and sesame seeds for garnishing
Instructions
1. Start by marinating the ground meat with the ginger, fish sauce, salt and pepper. Store in the fridge for one hour.
2. While the meat marinates, get your zoodles ready. Spiral or julienne the zucchini into noodles, and add to a large bowl. Sprinkle with salt, and let them sit for about 30 minutes, sweating out all the excess moisture. Drain liquid and rinse of the salt. Dry the zoodles with a paper towel. If you prefer a firmer zoodle, leave them uncovered in the fridge for another hour.
3. Brown meat in a frying pan, breaking it apart as it cooks, and set aside when done.
4. Next, add the lard to the same pan, tossing in the onions. Stir until soft, and set aside with the meat.
5. Again, add two tablespoons of lard to a frying pan over medium heat, then add sesame oil. Dry off your zoodles once again, and add them to the pan. Stir fry until soft, then add the meat and onions back in the mix, plus scallions and sesame seeds. Stir until all ingredients have been evenly distributed, and remove from heat.
6. Garnish with sesame seeds and fresh scallions, and you're ready to eat.
Getting Hungry for Zoodles?
Now that you've got some zoodle ideas in your head, we're sure you're itching to get cooking. If you're in the market for some new cookware we've got the perfect sauce pans, skillets, bakeware and a whole lot more. Our Xtrema non-stick ceramic cookware works great for preparing all kinds of healthy meals, zoodles or otherwise. Check out our full selection, and you're sure to get excited about food.