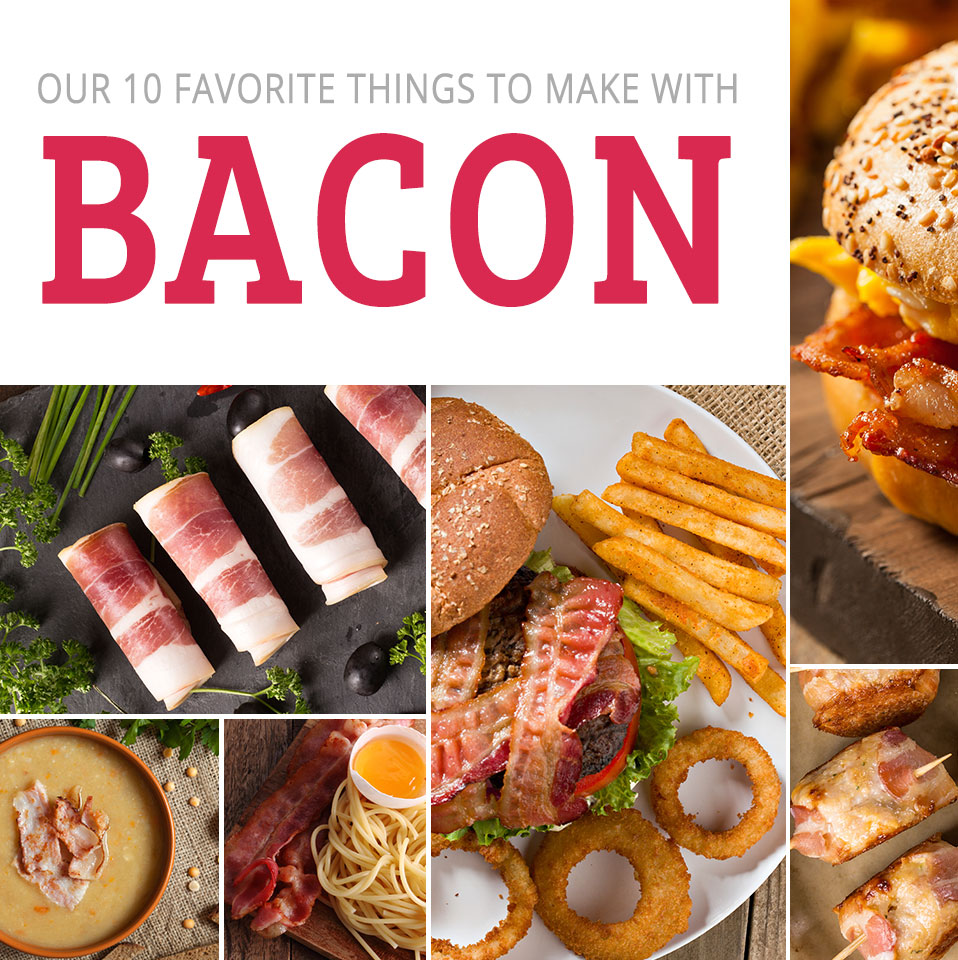 Foodies all over the country know that we are in the midst of a bacon renaissance.
In fact, in 2013, marketwatch.com reported that bacon was a $4 billion industry in the United States. Yes, that is billion with a "b."
While bacon has long been a staple breakfast food, the meat's salted deliciousness has found its way into our sandwiches, wrapped around our seafood and even atop our ice cream.
However, with so many ways to prepare and serve bacon, it can be difficult to know where to start. That's why we wanted to put together a list of easy recipes with bacon. Included are our favorite dinner recipes with bacon, breakfast recipes with bacon and bacon appetizers. Each one is guaranteed to make your mouth water and leave your deepest bacon craving satisfied.
 Bacon Preparation, a Wealth of Options

Before we get to our best bacon recipes, we wanted to provide a quick overview of the different ways you can prepare bacon.
Baked Bacon
If you want a crispy, drier strip of bacon, then baking is the way to go. Just make sure you use a use a pan that can catch the drippings. Recipes recommend baking at 375 degrees for about 15 to 20 minutes. This is a great way to prepare bacon bits for salads or baked potatoes.
Stovetop
This is the classic bacon preparation technique. Using a frying pan, simply cook bacon over low medium heat. When you're done, you'll want to dry the bacon with a paper towel to remove excess grease. Just make sure you have a good pair of tongs to turn the strips of bacon, as grease can splatter. We highly recommend an Xtrema ceramic easy clean skillet. They're 100% green and come complete with easy grip silicon handles, making the process of cooking bacon a snap!
Grill
Recently, grilling bacon has become popular. The process is pretty simple, but there are a couple of things to keep in mind. First, you want to make sure you cook the bacon over indirect heat. Bacon grease drips, and if it is directly over the coals, you are liable to have flare ups. Like stovetop cooking, make sure to use a paper towel to remove excess grease when you're done.
Microwave
You may be surprised, but if you like crispy bacon, the microwave is actually a good option, especially if you don't have much time. On a microwave safe plate, lay out a paper towel, and then place the bacon on top, being careful not to overlap any of the strips. Place another paper towel or two on top of the bacon and microwave on high four to six minutes.
Now that we have some of the basic preparation techniques out of the way, here are our 10 favorite easy bacon recipes!
Breakfast Casserole With Bacon

This is one of those classic recipes with bacon. It feeds up to six people and requires very little prep, making it perfect for the family on the go!
6 eggs
2 cups milk
1 tsp salt
1/2 tsp mustard powder
6 to 9 slices bread, cubed
12 slices bacon, cooked and chopped
1 cup shredded cheddar cheese
Mix the eggs, milk, salt and mustard together. Next, layer the bread cubes on the bottom of a greased 9 x 13 baking dish. Layer the bacon and cheese over the bread, and then pour the egg mixture over both. Cover with plastic wrap and refrigerate over night. In the morning, bake at 350 degrees for 45-60 minutes.
Bacon Wrapped Barbecue Shrimp

What's better than a perfect shrimp? The perfect shrimp wrapped in crispy bacon! Considering how tasty these shrimp are, you will be shocked with how easy they are to prepare.
16 jumbo shrimp, peeled and deveined
8 slices bacon
Your favorite barbecue seasoning
Preheat the oven to 450 degrees. Wrap the shrimp with a half slice of bacon and secure it with a toothpick. Place on a baking rack resting on top of a foil-lined jelly roll pan and sprinkle both sides with the seasoning. If you like more kick, just use more seasoning. The jelly roll pan is there to catch the drippings while keeping the shrimp from becoming limp.
Cook for 10 to 15 minutes.
Cheesy Bacon and Grits

If you're southern, this is sure to be a go-to comfort food. But that doesn't mean the rest of the country can't enjoy it, too. Plus, it's a very easy bacon recipe, so it is a great option if you want to whip something up in a hurry.
1/2 lb bacon
4 1/2 cups milk
1/4 cayenne pepper
1 Tbs butter
2 cups quick grits
1 cup shredded cheddar cheese
Start by rendering the chopped bacon in a sauce pan, using medium high heat. After about four minutes, add the milk, butter and cayenne and bring it to a boil. Add the grits and bring down the heat, stirring for 30 seconds. Next, add the cheese and stir until the cheese has melted. Finally, cook uncovered for four to five minutes. Serve immediately.
This warm, gooey and flavorful dish is sure to make any grit hater into a bonafide Southerner!
Bacon Roasted Chicken

One of the primary complaints about chicken is that it easily dries out. One perfect way to keep chicken moist and tender is to cook it wrapped in bacon. Plus, all of that wonderful saltiness from the bacon will impart its flavor onto what is often a bland meat.
Although the idea of bacon wrapping may at first appear intimidating, this recipe for chicken wrapped in bacon is actually deceivingly easy. So if you want to impress your guests or even the pickiest of kids, try this recipe out.
2 Tbs butter
1 whole chicken
Salt and pepper to taste
1 tsp dried thyme
2 carrots, cut up into chunks
Paprika to taste
8 slices bacon
2 cups beef broth
Preheat your oven to 450 degrees. Rub the chicken with butter and season with salt, pepper and thyme. Place the carrots in the cavity of the chicken and tie the legs together. Place the chicken in a roasting pan, breast side up. Securing with toothpicks, lay the strips of bacon across the breasts and season with paprika. Add the broth to the roasting pan, but do not pour it over the bacon.
Roast the chicken in the oven for 15 minutes, and then reduce the oven temperature to 350 degrees. Baste with the broth, and then continue to roast for an additional hour and 15 minutes. Every 15 minutes baste with the broth.
Remove the chicken and take off the bacon — if you want to garnish with the bacon, make sure to set it aside. Roast for a final 15 minutes to brown the skin of the chicken. Next, remove the carrots and dispose of them.
Once you place this perfectly roasted and extraordinarily juicy chicken on a platter, your family will come to believe that they'd never truly tasted chicken before then!
Slow Cooker Chicken and Bacon Soup
This is another easy and tasty chicken and bacon recipe. This one uses a slow cooker, which is a great option for families that want well-cooked meals but don't necessarily have time to cook all day. So prepare the meat, load up the slow cooker and leave it. You won't regret it!
4 slices bacon, chopped
1 Tbs all-purpose flour
1 Tbs Montreal chicken seasoning
1/2 tsp salt
6 chicken thighs, boneless
2 cartons (32 oz) chicken stock
1 cup uncooked wild rice
1 bunch sliced green onions, whites and greens separated
1/2 cup diced celery
1/2 cup diced carrot
4 cups shredded cheddar cheese
1 cup heavy cream
In a skillet, cook the bacon until crispy, and then use a slotted spoon to transfer it to a paper towel.
In a bowl, mix flour, salt and seasoning. Dredge the chicken in the mixture.
In the same skillet, on medium-high heat, cook the chicken, four to five minutes on the first side, and one to two minutes on the other.
Next, add the stock, rice, onion whites, celery and carrots to a greased slow cooker. Refrigerate the onion greens and bacon.
Add the chicken to the slow cooker, along with any pan drippings, and cook for seven to eight hours on low. After that time is up, chop the chicken and return it to the cooker, adding the heavy whipping cream along with four cups of cheese. Once the cheese has melted, serve in a bowl and top with remaining cheese, onions and bacon.
Bacon Guac

This is a great recipe if you need to bring something to a party or a tailgate. It is a wonderful take on a classic snack. Plus, it's super easy!
2 avocados
1/2 cup chopped tomato
1/2 cup chopped cilantro
1/4 cup chopped bacon, cooked
1/4 cup chopped onion
1/2 of a jalapeño, minced
Lime juice
Salt
Mash the avocados. Add the tomatoes, cilantro, bacon, onion and jalapeño and mix together. Finish it off with a splash of lime juice and a pinch of salt. Voila! You'll have a dip that will live up to the toughest of critics.
Bacon-Apple Sandwiches

This is a fancy sandwich that is incredibly simple to make. Each ingredient gets a chance to shine and is a perfect combination of sweet, salty and creamy.
1 small baguette
Honey mustard
4 slices cooked bacon
1 apple, sliced thin
4 slices of brie
Split the baguette and spread both sides with honey mustard. Layer the cooked bacon, apple slices and brie. We recommend using bacon that is still warm so the brie gets soft and melted.
Grilled PB, B, & B

This sandwich sounds a little weird, but we dare you to try it. It might be you new favorite take on grilled sandwiches!
2 thick slices of bread
1 banana, sliced
2 Tbs peanut butter
4 slices bacon, cooked
1 Tbs butter
Butter the pan side of each slice of bread. Place one slice of bread in the skillet and layer the banana, peanut butter and bacon slices. Cover with the other slice of bread. Grill the sandwich in a pan over medium heat until each side is brown. Serve warm.
Harvest Bacon Mac n' Cheese

This is one of the best autumn bacon dinner recipes. Using seasonal butternut squash, it is a wonderfully warm comfort food that is perfect for when you're preparing for the coming winter. It uses a number of ingredients but the prep work is easy, so don't feel intimidated. Plus, it serves 6 to 8 people, so it is great if you have a lot of hungry mouths to feed.
1 box penne pasta
1 butternut squash, cubed
2 Tbs butter
1 yellow onion, diced
1 tsp garlic, minced
1 tsp fresh sage, minced
1 pinch nutmeg
3 Tbs flour
2 cups whole milk, divided
4 oz shredded sharp white cheddar
4 oz grated parmesan
6 slices bacon, cooked and crumbled
Salt and pepper to taste
First, cook the pasta as directed on the package. While the pasta is cooking, steam the cubed Butternut Squash until soft. Blend the squash along with 1/2 cup of milk in a blender, until smooth. In a Dutch oven, melt the butter and sauté the onions for three to five minutes, until translucent. Add the garlic, sage and nutmeg and cook for an additional minute. Whisk in the flour and cook over medium heat until it starts to brown. Then, whisk in the remaining milk.
Stir in the cheddar, parmesan and butternut squash puree and whisk until the cheese has melted. Allow the liquid to slowly simmer, and then add the cooked pasta and cooked bacon. Season to taste and serve!
Candied Bacon

Perhaps the most important revelation from the current bacon boom is that bacon can be a dessert food! This recipe for candied bacon is a versatile topping. It goes well with vanilla ice cream, but is also great on apple pie, or even sweet breakfast foods, like maple syrup topped pancakes. You can just eat it by itself, too — it's that tasty.
12 slices thick-cut bacon
1/3 cup dark brown sugar
3 Tbs 100% maple syrup
2 tsp Dijon mustard
1 tsp apple cider vinegar
Salt, pepper and cayenne pepper to taste
Preheat the oven to 325 degrees.
Combine all of the ingredients, except the bacon, into a bowl. Places the slices of bacon in the in the mixture and coat thoroughly.
Place the coated strips on a baking sheet lined with parchment paper. Take the remaining mixture and sprinkle it over the top of the bacon strips.
Take another piece of parchment paper and cover the bacon, and then place another baking sheet on top of the paper so the bacon stays flat as it cooks.
Cook for 20 minutes. Check to see if the bacon has crisped. Under no circumstances should you increase the heat. If the bacon is not yet crisp, don't be afraid to cook for an additional 10, 15 or even 20 minutes. The low heat is key, and so depending on the thickness of the bacon or the heat balance of your oven, cooking times may vary greatly.
Once your bacon is crisp, you can eat it as is or crumble it on top of your favorite creamy dessert!
We hope you find these recipes as rewarding as we do. We take our bacon very seriously, but that shouldn't come as a surprise, as we take our cookware very seriously.
If you want the best tools for cooking what is arguably the best food in America, check out the Xtrema line of ceramic healthy cookware!