It's BBQ Chicken Quinoa Salad time Xtrema Style.   
One of our family members who is a stay at home mom and aspiring mommy blogger sent us this recipe from How Sweet It Is and we just had to share it with all of you.  Of course, it was cooked up in our best-selling Xtrema 10″ Ceramic Skillet.   Have a look at this amazing dish!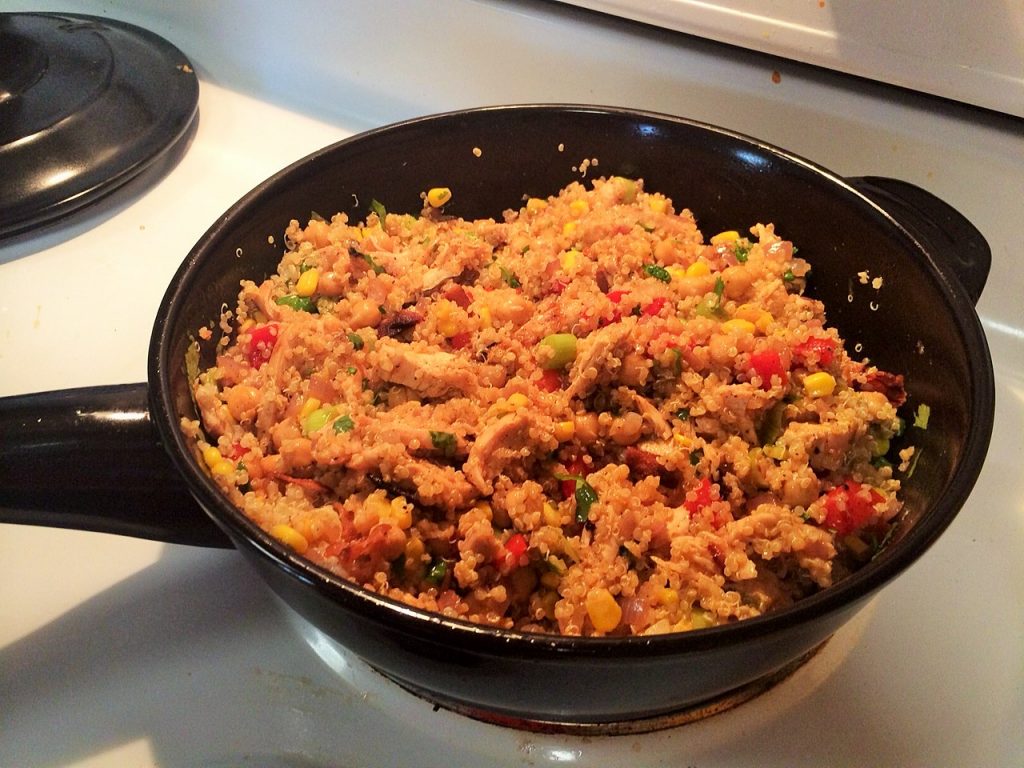 Here is the Recipe from the How Sweet It Is Blog. 
Ingredients:
2 cups cooked quinoa
4 slices thick-cut bacon, chopped
1 red onion, sliced
2 garlic cloves, minced
2 boneless, skinless chicken breasts, cut into pieces
1 teaspoon salt
1 teaspoon pepper
1/2 teaspoon smoked paprika
1/2 teaspoon onion powder
1/3 cup BBQ sauce + more for drizzling
1 cup cooked chickpeas
1 cup sweet corn kernels
1 (12-ounce) jar roasted red peppers, drained and chopped
1/2 cup freshly torn cilantro
4 green onions, sliced
Directions:
Heat a large skillet over medium heat and add the bacon. Cook until crispy and fat is rendered, then remove the bacon with a slotted spoon and place it on a paper towel to drain. Add the onions to the skillet and toss to coat in the bacon grease. Cover the skillet, reduce the heat to low and cook until the onions begin to caramelize, about 10-15 minutes, stirring occasionally while cooking. Stir in the garlic and cook for 30 seconds, then remove the onions and the garlic and place them in a bowl.
Season the chicken with the salt, pepper, paprika and onion powder. Add it to the same skillet over medium-high heat and cook until it is browned and golden on all sides, about 10 minutes. Once the chicken is cooked through, stir in 1/3 cup of the BBQ sauce and reduce the heat to low. Add in the cooked quinoa, onions, chickpeas, corn, red peppers and half of the cilantro and green onions. Toss well to mix. Right before serving, stir in the bacon, reserving a little bit for topping. Serve and garnish with the remaining cilantro, green onions and bacon.
Try this out in your Xtrema Skillet and let us know what you think!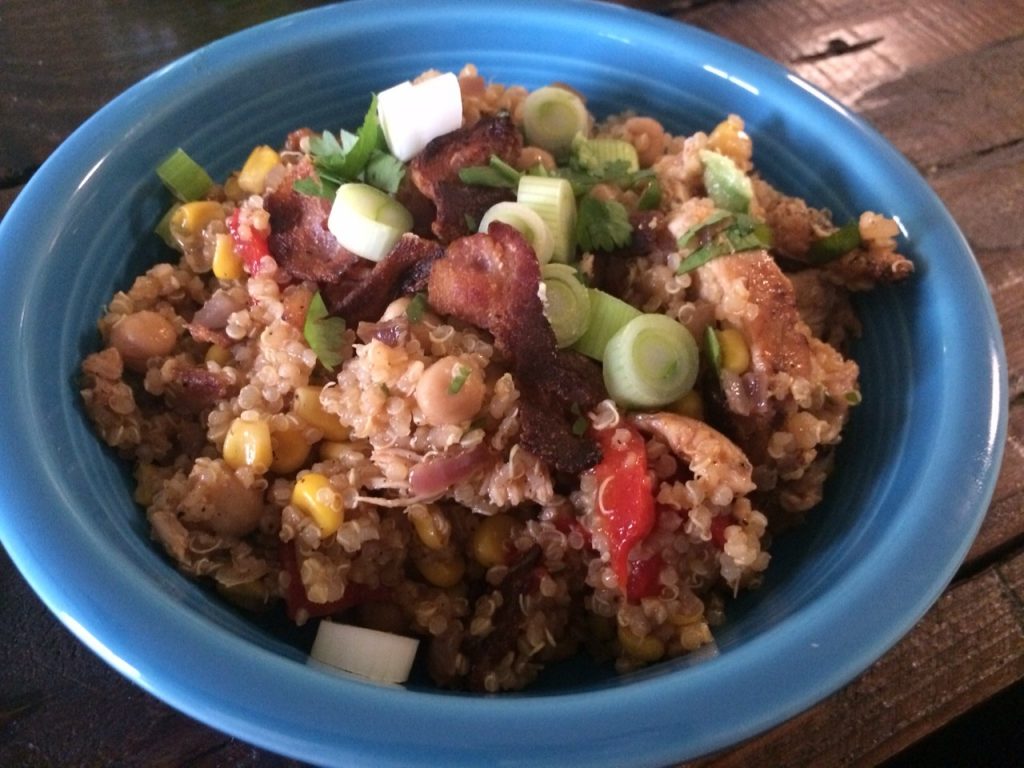 Follow us on our Xtrema Instagram Page for more food photography and recipes.