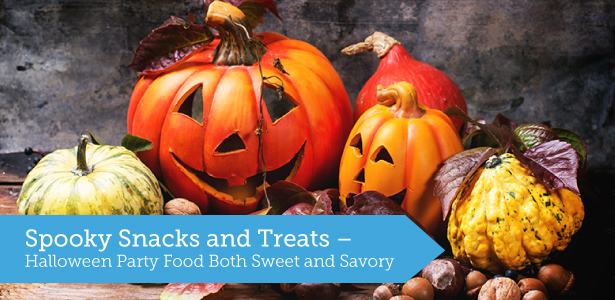 With pumpkin spice everything on the horizon, back-to-school season is upon us — meaning it's about time to start planning that spooky costume.
Whether you're hosting a party for yourself or your kids, Halloween snacks and treats require a bit more creativity concerning presentation. It's not just wing night at the house, nor is it the right holiday for putting together your prettiest tart.
Nope. Halloween is in a league all its own, with treats that rival the costumes. With that in mind, here are some spooky, silly ideas for easy Halloween treats that'll get you gobbling up your fears like there's no tomorrow.
Halloween Treat Recipes
Halloween isn't just about candy — let's think about it as an all-inclusive treat kind of holiday. Think Halloween cookies and cakes — some of which may or may not include your favorite fun-sized bars.
Ghost Brownies
Ooey, gooey and oh so spooky, this recipe combines cute marshmallow ghosts with — dare we say — one of the best brownie recipes around. We'll take a slice of these s'mores-like goodies with a dash of pecans over that pillowcase full of candy, no contest.
For the ghosts:
20 large, jet-puffed marshmallows
1 ½ cups of white chocolate chips
1 tablespoon of oil
1 tube of black frosting
For the brownies:
½ cup of unsweetened cocoa powder
1 stick of butter
2 eggs
¾ cup of sugar
¼ cup flour
1 cup chopped pecans
1 teaspoon of vanilla extract
Pinch of salt
Instructions
Heat oven to 325 degrees.
Meanwhile, in a skillet or saucepan, melt the butter. Stir in unsweetened cocoa powder until the mixture is smooth.
Set the pan aside, and let it cool for about five minutes, then transfer the cocoa-butter blend into a large mixing bowl. Add eggs, whisking with the cocoa, then stir in the vanilla.
Then, in a separate bowl, combine flour, sugar and pecans. Add to the cocoa-butter mixture. Stir until just combined.
Pour batter into the baking dish, spreading the mixture evenly. Place in the oven for about 25 minutes.
Remove from heat and arrange marshmallows and white chocolate chips on top of the brownies. Place in the oven for another five minutes and remove from heat.
Brownies should be gooey, so be careful not to overbake. Remove from heat and let cool completely. Draw eyes to make ghost shapes and cut into smaller pieces.
Mini Apple Pie Pumpkins
These mini apple pies are the perfect embodiment of all things fall. Cinnamon and nutmeg, plus plenty of apple — all packed into bite-sized jack-o-lanterns.
Ingredients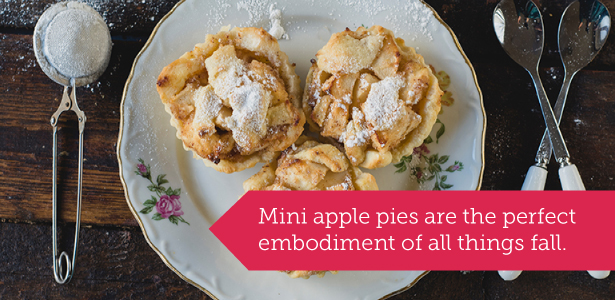 3 cups of flour
4 tablespoons of sugar
1 cup of coconut oil
3 tablespoons of apple cider vinegar
3 tablespoons of cold water
1 cup of applesauce
1 cup of chopped apples
1/4 cup of brown sugar
1 teaspoon of cinnamon
1 teaspoon of nutmeg
1 teaspoon of ginger
1 teaspoon of vanilla extract
2 large egg yolks
1 beaten egg for glaze
Instructions
In a large mixing bowl, combine the sugar, flour and salt. Add butter and gently blend ingredients with an electric mixer.
Next, you'll add apple cider vinegar and water, mixing the dough until it's crumbly, but sticks together if squeezed.
Divide dough into three disc shapes, cover and place in the refrigerator for at least one hour.
While the dough cools, make the filling. In a skillet or saucepan, mix applesauce, chopped apple, cinnamon, nutmeg, ginger and brown sugar.
Cook for about 7 minutes over medium-high heat, then stir in vanilla. Remove from heat and add egg yolks.
Preheat oven to 400 degrees. Remove dough disks from the fridge and flour your working surface.
One at a time, roll disks onto the work surface and cut into 14 round pumpkin shapes.
Cut jack-o-lantern faces into half of the cutouts — these will be the tops — and place the bottom pieces on a greased cookie sheet. Add two tablespoons of the apple pie mixture to each of the bottoms and gently position the top over each pie. Leave a small border on each edge, and brush the pie with remaining egg.
Press pie edges together with a fork, so the filling doesn't escape.
Place in the oven for 20 minutes, or until pie crusts are a light, golden brown.
Remove from heat and let cool before serving.
Buttercream Pumpkin Cupcakes
A sweet treat for Halloween — vanilla cake with a citrusy compliment. These cupcakes feature homemade orange buttercream frosting, sure to make these delectable delights the favorite at any party or school function.
Ingredients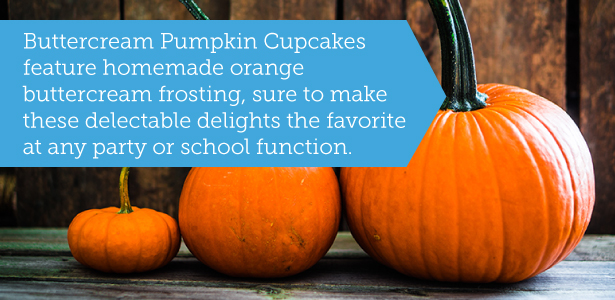 2 cups of all-purpose flour
1 3/4 cups of sugar
1 teaspoon of baking soda
1 teaspoon of baking powder
1 teaspoon of salt
2 large eggs
1 cup of coconut milk
1 tablespoon of pure vanilla extract
¾ cups of unsalted butter, melted
2 cups of buttercream frosting — recipe below
Green decorative icing
Orange Buttercream Frosting
1 ½ cups of butter
3 cups of powdered sugar
1 cup of orange juice
1 teaspoon of vanilla extract
Orange food coloring
Instructions for frosting:
In a large mixing bowl, add butter and beat until it reaches a smooth consistency.
Then, slowly add powdered sugar, sifting through a mesh strainer.
Add orange juice, vanilla extract and food coloring.
Beat with an electric mixer until thoroughly combined and set aside.
Instructions for cupcakes:
Preheat oven to 350 degrees.
Grease your cupcake pan with nonstick spray or line with cupcake paper.
In a large mixing bowl, add flour, baking powder, baking soda, sugar and salt.
Stir gently, then add eggs, coconut milk, vanilla and butter.
Beat until all ingredients are thoroughly blended.
Fill cupcake liners with batter and place in the oven for about 20 minutes.
To determine whether the cupcakes are done baking, stick a toothpick through the center of one cake. If it comes out clean, remove from heat and let cool on a wire rack.
Let cool completely.
Top each cupcake with a healthy dollop of frosting, then draw a little green stem on each to complete the pumpkin.
Pumpkin Spice Sheet Cake
Lean into the pumpkin spice love! 'Tis the season, after all. This cake takes the latte craze a bit further, pairing fall's signature flavor with chocolate and coconut for a well-rounded, rich initiation into autumn. And on the plus side, it's dairy-free and requires little assembly.
Ingredients
1 large egg
1 ½ cups of all-purpose flour
¾ cups of sugar
½ cup of cocoa powder
1 cup of chocolate chips
1 teaspoon of cinnamon
1 teaspoon of pumpkin spice mix
½ teaspoon of salt
½ cup of coconut milk, plus two extra tablespoons
½ tablespoon of baking powder
1/3 cup of canned pumpkin
1 tablespoon of vanilla extract
¼ cup shredded coconut for topping
Instructions
First, preheat the oven to 375 degrees. Grease an 8-inch baking dish with nonstick cooking spray or a bit of butter.
Stir together pumpkin spice, cinnamon, cocoa powder, salt and baking powder. Add flour and gently stir until all ingredients are combined.
In a separate bowl, whisk together canned pumpkin with coconut milk, sugar, vanilla and coconut milk.
Then, pour wet mixture into the dry ingredient blend and blend with an electric mixer until all dry bits have been folded into the batter. Add chocolate chips and stir with a wooden spoon.
Pour the cake batter into the baking dish, making sure contents are evenly distributed.
Place cake in the oven, then cook for about 25 minutes. The cake should look slightly gooey in the center — it's supposed to — just make sure the edges start to crisp up.
Remove from heat and let cool for 15 minutes, top with shredded coconut, then serve.
This cake works as well on its own as it does alongside a heaping scoop of ice cream, vegan or otherwise, and a big cup of coffee.
Crispy Rice Monsters
An easy twist on your favorite rice snack, these tasty monsters can be whipped up in a breeze and are sure to delight adults and kids alike.
Ingredients
5 cups of marshmallows
5 cups of rice cereal of your choice
¼ cup of butter
Food coloring of your choice
White chocolate chips
Black decorating icing
Instructions
Turn burner to low heat and melt butter in a large pan.
When butter is melted, add marshmallows and melt down completely.
Remove from heat and add a few drops of food coloring.
Separate into different bowls if you wish to make a few different colors. Stir in the rice cereal.
Next, line a baking dish with waxed paper.
Spread marshmallow cereal mix onto the sheet in a single, even layer.
Let cool for 10-15 minutes.
Using your cookie cutter of choice — or a knife, for simple rectangle-shaped monsters — cut the cooled mixture into smaller pieces.
Press two white chocolate chips on each treat to make edible eyes, then make the pupils by adding black icing.
Set aside and serve.
Halloween Party Food Ideas
Hey, we get it, we really do. As the often lone proponent of healthy snacks and meals, it's hard to give up on delicious savories for the sake of fun. So here you have it: a mix of veggie-centric bits of real food, apps and more — and you don't have to fear the calories.
Jack-O-Lantern Stuffed Peppers
This cute take on carved pumpkins works just as well as a means to get kids more enthused about the possibility of eating vegetables as it does at a party. These jack-o-peppers, or whatever you want to call them, have a curious way of charming their way into any situation. Anyway, this versatile recipe can be switched up with different veggies, however you see fit.
Ingredients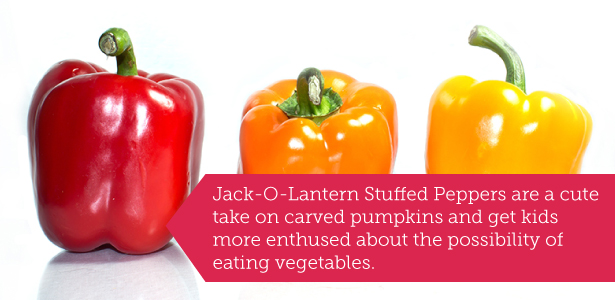 2 tablespoons of olive oil
1 red onion, diced
3 cloves of garlic, minced
3 tablespoons of chili powder
2 teaspoons cumin
2 cups of chopped kale, stems removed
1 cup of ground turkey
1 cup of cooked rice — use purple rice for an extra-festive effect
1 cup of diced tomatoes
1/4 cup chopped fresh cilantro
2 cups of black beans, drained and rinsed
4 bell peppers — any color, but who are we kidding, orange is probably your best bet
Salt and pepper, to taste
Instructions
Preheat the oven to 350 degrees and carve jack-o-lantern faces into peppers.
Then, lightly brush bell peppers with olive oil and arrange in a baking dish.
Place peppers in the oven for about 10 minutes.
In a large skillet, add olive oil and turn the burner to medium high.
Add turkey, garlic, cumin and chili powder, and cook until meat is browned.
Set aside.
Sauté kale and onion in additional olive oil for about three minutes, or until onions have a translucent sheen.
Combine diced tomatoes, cilantro, rice, turkey, beans and vegetables.
Fill peppers with mixture and place the baking dish back in the oven for about 20 minutes.
Top with cheese, if desired, or enjoy as-is.
Sugar Skull Mini Pizzas
These cutie-pie pies are colorful and loaded with veggies. These work really well for parties — it's easy to make several, and the topping possibilities are endless. You'll need to sculpt your crust a bit artfully, but this ranks relatively low on the crafty food spectrum.
Ingredients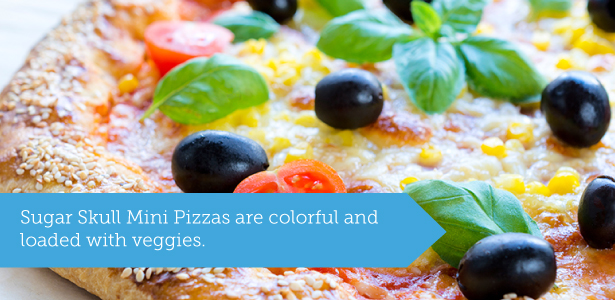 16 ounces of pizza dough
1 cup of marinara sauce
1 cup of shredded cheese
1 cup of fresh Parmesan
Chopped black olives
Canned pineapple, drained and rinsed
Mini bell peppers, sliced
Sliced mushrooms
Red onion, thinly sliced
Cherry tomatoes, sliced
Jalapeños or banana peppers, sliced
Instructions
Grease two large baking sheets with olive oil or nonstick cooking spray.
Preheat the oven to 425 degrees.
Meanwhile, divide crust into two separate dough balls and place each on their own baking sheet.
Roll out each ball, one by one, flattening with your hands. Rather than forming the traditional circle, mold crust into an oblong skull shape. Aim for pizzas around 10" apiece.
Place both sheets in the oven for about 10 minutes and remove from heat.
Divide sauce into two portions and spread over half-baked dough. Then, layer mozzarella cheese over both pies.
Next, add the pizza toppings of your choice, arranging in colorful, Day of the Dead-inspired designs.
Top it all off with Parmesan cheese and place baking sheets back in the oven.
Let the pizzas bake for another 10-15 minutes and remove from oven.
Shop Ceramcor for Scary Good Deals on Cookware, Bakeware and Nonstick Everything
We certainly hope you're feeling a little less scared about taking on Halloween food ideas — regardless of whether you're whipping up something sweet or savory. From nonstick skillets that prevent hours of scrubbing to serving platters and storage bins for easy transport, we've got everything you need to take your spooky shindig to the next level. Check it out by clicking here.