Making delicious meals doesn't have to be difficult. It's so easy to prepare nutritious, healthy and succulent meals using simple ingredients and the right tools. Quality cookware lets you prepare meals quickly and bring them to the table without having to transfer food to a serving dish. For example, the stuffed zucchini sausage boats recipe from "The Wellness Mama Cookbook" can be made with the Ceramcor Ovenex 2 Qt or the larger 4 Qt Rectangular baking dish.  Cleanup is a snap and you can bring the pot right to table, serving without having to re-plate.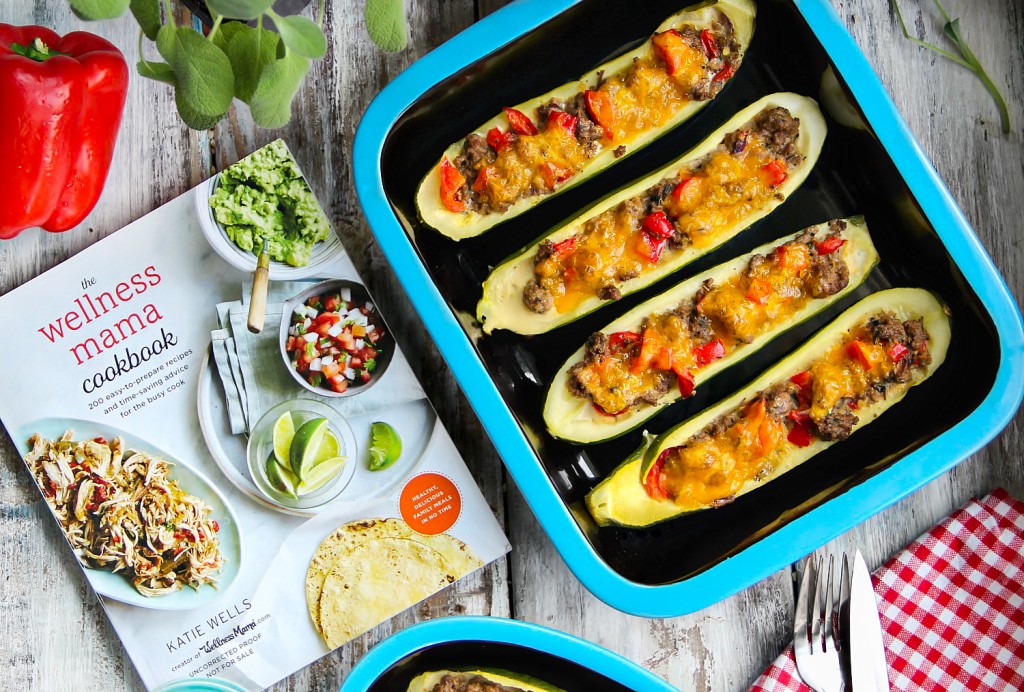 Why the Wellness Mama?
"The Wellness Mama Cookbook" features family friendly and easy recipes. Get the flavor of a take-out meal, sure to please yourself or guests, without having to spend all day in the kitchen. Simple to follow recipes in the cookbook pack in lots of tantalizing flavor without breaking the bank or requiring hours of prep time.
How about those wonderful stuffed zucchini sausage boats?  In the summer, farmers markets and stores have plenty of fresh zucchini. Many people also grow this vegetable in their own garden. If you're looking for something a little different to do with nature's bounty, this recipe is it.
Full of nutrients, vitamins and flavor, these zucchini boats combine the mouthwatering taste of zucchini with onions, beef, peppers, cheese and spices. Many of the ingredients are probably already in your kitchen and with only 30 minutes of cooking time, you'll have a meal on the table quickly. This recipe is even quite adaptable. You can make a vegan version by swapping out the dairy for soy and the meat for beef-imitation products. Already gluten-free, these zucchini boats are waistline-friendly and are a hearty meal or as a side dish at your dinner party.
We know we should be eating more greens to stay healthy. If you're not getting in your servings of veggies each day, this zucchini recipe will make you look forward to eating well. Delicious and fresh, this zucchini dish can also be re-heated and it would work as a brown-bagged lunch. If you have leftovers, you can also chop up the boats and toss them with pasta or a brown rice to create a completely new dish. Serve the boats on a bed of potatoes, crusty bread, and brown rice or on their own.  Also the shapes look great on the plate and would be fun for kids of all ages.
Try these scrumptious and healthy boats yourself for dinner tonight.
Are you interested in more recipes like this? Preorder your copy of "The Wellness Mama Cookbook."
With six kids, a popular blog and no free time, Katie Wells, creator of the incredibly popular Wellness Mama website, knows firsthand how difficult it is to cook a healthy, homemade dinner every night. Faced with her own health challenges, and concerned about the frightening statistics on the future health of her children's generation, Katie began to evaluate the foods she was eating and feeding to her family. She became determined to find a way to create and serve meals that were wholesome, easy to prepare, budget-friendly and family approved. "The Wellness Mama Cookbook" is a compilation of all that she has learned, with 200 simple, delicious recipes using all-natural ingredients, meal plans, timesaving tips and advice that takes the guesswork out of dinner.