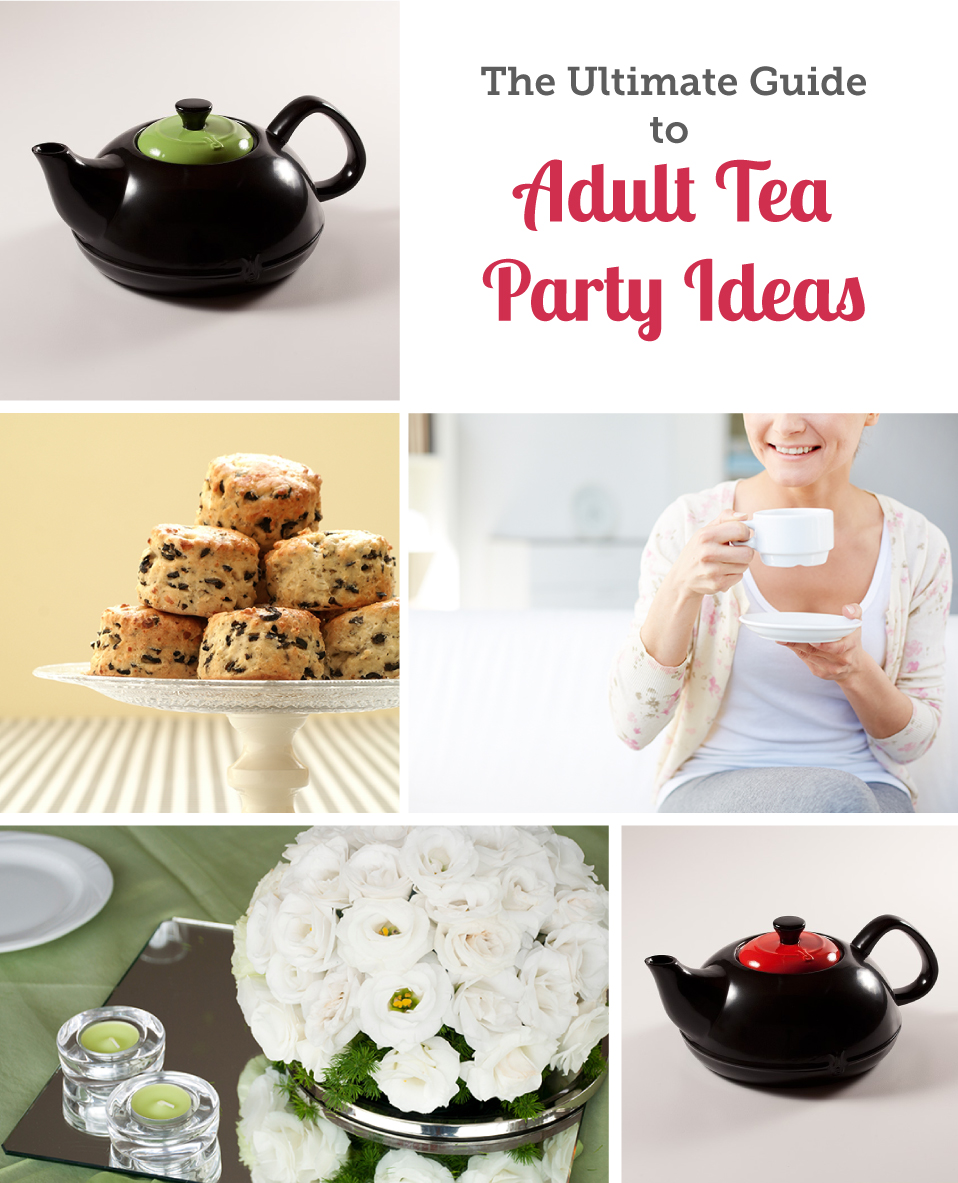 Most people associate the idea of tea parties with well-to-do women dressed in formal attire or little kids drinking tea with their stuffed animals. But adult tea parties can be a fun event filled with laughter and friendship. To help you host your first tea party, we've compiled this list of tea party ideas for adults.
Tea parties have been hosted for several centuries and were an important part of English, Indian and Asian cultures. The most popular tea party traditions include the:
English tea party — British tea parties date back to the 1600s and are the stereotypical scenario that comes to mind when most people think about tea parties. These parties were usually attended by the well-to-do of society and featured tea served with milk and sugar.
Afternoon tea — Initially developed as an afternoon opportunity for high society ladies to meet and gossip, the afternoon tea party soon became an expected social date between the hours of 4 p.m. and 7 p.m. Since most formal dinners were hosted around 8 p.m., these teas provided a bridge between lunch and dinner. Afternoon tea events were large, formal occasions when guests would stop in to one tea, spend a few minutes, then leave to attend another tea. Some members of British society only hosted afternoon tea when it marked a special event, such as a birthday or wedding. Afternoon tea menus featured small sandwiches and elaborate desserts that were set out for attendees to enjoy while they socialized about the latest events. Guests would sit in chairs, as opposed to sitting at a table.

High tea — Members of England's working class did not arrive home from work until 6 p.m. or later, which made it difficult for them to plan an afternoon tea. The costs associated with these parties was another barrier, but many people still wanted to enjoy a social tea setting within their budget. As a result, a high tea menu was enjoyed as part of the evening meal while sitting at their regular (higher) dining table. Many of the recipes for a high tea party were the same as an afternoon, just in a smaller serving size.
When it comes to how to host a high tea party today, there are no hard and fast rules. You can pick any time and any day to hold your tea party.
Adult Tea Party Ideas
Since this is a modern adult tea party, you can choose any theme you wish. While you might traditionally think about more child-based themes for a tea party, there are many ways to add a more mature — and still fun! — atmosphere.
Alice in Wonderland
This classic children's story is one of the most popular themes for a tea party, whether for adults or kids. Scatter clocks, playing cards and keys around the room for decorations. Instead of name tags at table settings, use phrases from the book, such as "Drink Me" and "Off With Her Head" to bring back memories. You can even encourage your guests to dress as one of the characters or bring a fun hat to wear. They might also bring a favorite memory related to the story, maybe a book they read or a quote from one of the characters.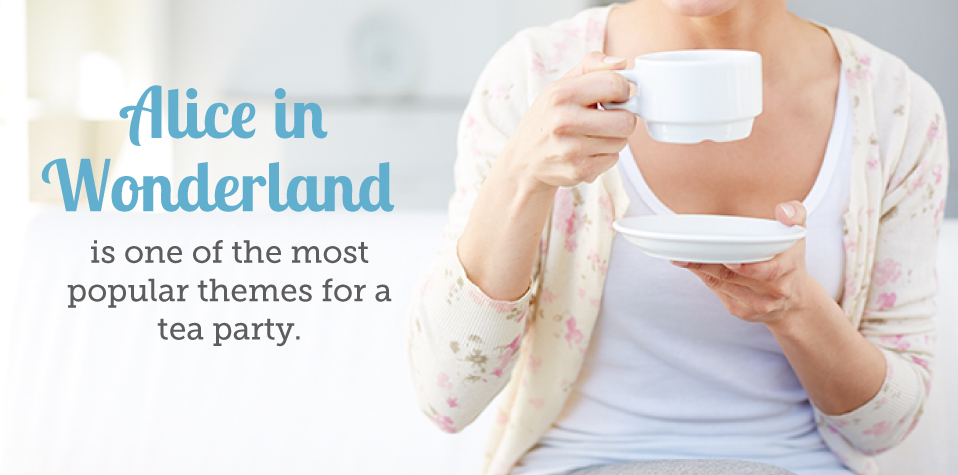 Downton Abbey
While the show may be officially retired, you can't discount the formal influence it had on modern-day tea party ideas. Use fancy chinaware — you can purchase them second hand from a yard sale or consignment shop — or mix-matched white tea cups. Preplan a viewing party of your guest's favorite episodes or find some online videos that provide an overview of the series that can be played in the background while you serve food. Invite guests to get involved in trivia games.
Musical Acts
A tea party should be themed around a common interest you share with your guests, such as music. Even if it's a musical influence (such as the British-based Beatles or a Broadway play such as "Singing in the Rain"), you can plan your decorations around album covers and song choices. Be sure to include a pre-selected playlist on your iPhone to run through the hits from the period.
Doctor Who
What's more British than this BBC classic and still widely popular Doctor Who series? Use blue-based china and table settings to mimic the famous TARDIS and choose space-aged music for the background. Print out some of the Doctor's more famous expressions ("Bow ties are cool!") and scatter them around the table. Quiz your guests on Doctor Who trivia or ask them to share stories about their favorite doctor and companion.
Mother's Day
Celebrate your favorite mom-friends by setting up a tea party that their children help create. Although this may require more pre-planning than some of the other themes, the payoff is worth it. Have the children draw and color place settings with their mom's name. Kids can also help serve the food, as long as they understand to be on their best behavior during the party. This is also a great way to teach young girls how table manners.
Culture
If you or a group of your guests has a particular interest in a specific culture, you can base your tea party theme around it. Even if the culture isn't one that typically celebrates with tea, there's no reason you can't incorporate it.

For example, maybe you live in New England but have a fondness for "Gone with the Wind." Ask your guests to dress in formal, vintage wear and incorporate elbow-length gloves and parasols, just like Scarlett O'Hara. On the flip side, if you live in the south and are enamored with New England, you can plan your theme around the rocky coasts of Rhode Island by using seashells as place settings and asking your guests to dress in navy blue and white to reflect the sea-faring history of our first states.
Pot Luck Tea Party
Ask your guests to bring a sample size (about 6 ounces) of their favorite tea in loose tea leaves or a few tea bags. You'll need to prepare and serve the tea, but it's fun to sample a variety of them. If your guests don't have a favorite tea, they can bring a dessert or finger sandwich to share.
Once you determine your tea party theme, it should be easy to come up with some tea party activities for adults. Playing games based on your theme, listening to appropriate music or just having a few theme-related questions in mind to ask everyone will complement any adult tea party.
Invitations
Once you decide on a theme, you can set the stage for your tea party with the invitations. You can decide how formal you want the tea party to be. If you just want a gathering of friends a simple text message or Facebook even invite would suffice. However, if you are planning on going all out you can actually have tea party invites printed and mailed.
Make sure to include any requests in the invitation — from appropriate formal wear to pot luck suggestions. This will help your guests plan appropriately from the minute they RSVP and will give them a good idea of the expectations you have for the event.
Tea Party Decorations for Adults

Your tea party theme will easily come together based on the decorations you choose. Below are some quick — and inexpensive — tea party decoration ideas.
Candles
Set both tall and short candles around the room. You can find inexpensive candle holder sets at dollar stores or second-hand shops. Keep in mind that scented candles might clash with your food choices, so pick unscented colored candles that fit your theme.
Flowers
Save money by taking the time to find your own wild flowers from your backyard. You can also visit your local flower shop or grocery store to buy a few mini potted plants. Cut flowers in unused tea pots make great centerpieces. Let your guests take home the potted plants as a party favor after the tea party.
Pearls
Buy long, decorative pearl strands in your theme color at a craft store and cut them into smaller pieces. Place them around the table, counter tops and window shelves.
Favors
Although it's up to you if you want to send your guests on their way with a party favor, this can be a fun way to tie your theme together and give your friends a reminder of the day. Favors can be as simple as handmade soap wrapped in paper that matches your theme or just some tea bags that the guests can take home to enjoy the tea you served again.
Including a favor will add more to your to-do list, but it can also be a fun way to continue your tea party theme. You can also use some of your decorations as the favor — if you have floral displays at each place setting, tell your guests to take it home with them. Not only will you be providing a beautiful favor, but you'll also be making the most use of your decorations, which will just take up space in your home after the party. Why not use these as a parting gift?
How to Serve Your Tea
Although it's a good idea to serve more than one variety of tea at your party, you don't want to overwhelm your guests with too many options. Three tea choices are usually plenty — anything more, and it will be difficult to pair the tea with the food you are serving.

To brew perfect hot tea, follow these easy steps:
1. Fill your Xtrema Tea Pot halfway with water. Bring it to a rolling boil, then dump the water out through the spout. This will rinse out any leftover tea from the last time the pot was used and it will warm up the kettle.
2. Bring the kettle to a boil again. If you aren't using our Xtrema Tea Pot (which is also a kettle), now would be the time to transfer your water to your decorative tea pot for serving.
3. Since different teas require different temperatures for brewing, be sure to look up what temp you should have your water before adding your loose leaf tea or tea bags. Follow your tea's instructions based on how many cups you will be brewing.
4. Serve your guests the tea while it's still hot and pour it through a strainer to avoid getting any stray leaves in it.
5. Provide your guests with sugar, honey and milk on the table so they can customize their tea to their own liking. In most cases, you can direct your guests to the accompaniments rather than adding it yourself.
6. Once all guests are served, place the pot on the center of your table and cover with a tea cozy to keep the pot warm.
7. When most of the tea has been served, you should make a new pot.
Many people prefer cold tea over hot, especially if you're hosting your tea party in warmer months, so keep that in mind when you develop your tea party menu. Since you can prepare cold tea before the party, it takes away some of the stress of timing your drinks for just the right moment to serve.
1. Take a large, clean pitcher and add your tea. You should plan on two tea bags per 3 cups of water.
2. Add hot water and stir. If you want to add sugar for sweet tea, now would be the time while the water is hot. Let it come to room temperature before putting it in the refrigerator to prevent the heat from affecting the other food.
3. Let the tea sit, or steep, for several hours, even overnight.
4. Just before serving, remove the tea bags and pour over ice.
Although many people prefer to add sugar or other flavors to their tea during the steeping process, keep your guest's preferences in mind. Some people would rather stir in their own sweetener when the tea is served fresh.
Tea Party Recipes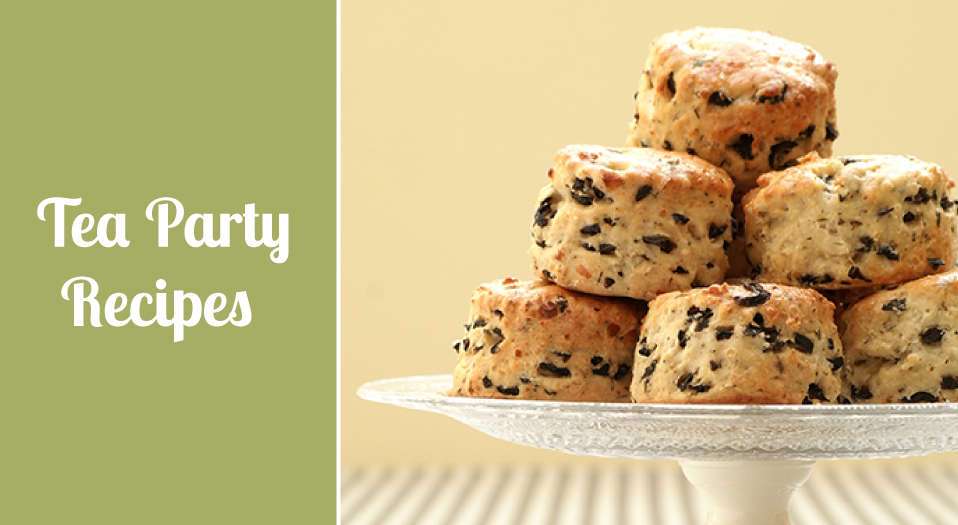 Since you're the host of your tea party, the rules are completely up to you, feel free to experiment with tea party food ideas. You can serve traditional food, such as scones and sweet food for a dessert theme, or go with tea and cucumber sandwiches for a fuller afternoon meal.
Don't feel the need to whip everything up from scratch. A few handmade items accompanied by a fancy, store-bought dessert is more than okay for a modern tea party.
A few of our favorite tea party recipes are:
Scones
Ingredients:
2 cups flour
1 egg
8 tablespoons frozen butter (unsalted), grated
1/2 cup raisins
1/2 cup sour cream
1/3 cup sugar, plus a bit to sprinkle
1 teaspoon baking powder
1/2 teaspoon table salt
1/4 teaspoon baking soda
Steps:
1. Preheat oven to 400 degrees and make sure the baking rack is on one of the lowest levels.
2. Stir together the flour, sugar, baking powder, salt and baking soda.
3. Once the dry ingredients are blended, stir in the grated butter.
4. Hand-mix in the raisins.
5. In a separate bowl, whisk together the egg and sour cream.
6. Fold the egg mixture into the flour blend and stir until clumps begin to stick together.
7. Hand-form the dough into a large ball, then roll the ball flat to 3/4-inch thickness.
8. Sprinkle a thin layer of sugar on top of the dough.
9. Using a cookie cutter or knife, cut the dough into eight equal-size pieces.
10. Place the dough on a cookie sheet lined with parchment paper, separated by at least an inch.
11. Bake for approximately 16 minutes or until the scones are golden.
12. You can serve scones warm or at room temperature and accompanied by butter or jelly. Place your scones on Xtrema's Black Magma luncheon plates for a fancy finish.
Tea Sandwiches
Ingredients:
6 tablespoons butter, unsalted
1/2 cup green pitted olives
1 tablespoon plus 1 1/2 teaspoons capers, drained
20 thin slices white bread
10 slices smoked salmon
Steps:

1. Finely chop the olives and set aside.
2. Drain, rinse and chop the capers and set aside.
3. In a medium bowl, stir the butter together with the tablespoon of olives and capers.
4. Place the salmon slices on half of the bread pieces.
5. Spread the butter mixture on the remaining bread slices.
6. Layer the salmon bread and butter bread together.
7. Spread the remaining 1 1/2 teaspoons of capers on top of the sandwiches.
8. If desired, use a cookie cutter to cut out moon shapes from the sandwiches or simply cut them into triangles.
Cucumber Sandwiches
Ingredients:
4 ounces plain cream cheese
1/2 cucumber, thinly sliced in rounds
1/4 cup roasted red bell peppers
Juice from 1/2 lemon
12 thin slices white bread, crust removed
Steps:

1. Finely mix the cream cheese, red peppers and lemon juice. The result should be a spreadable mixture.
2. Spread a thin layer of the cream cheese mixture on six slices of bread.
3. Top each layer with a cucumber slice.
4. Press the remaining white bread on top of the cucumber. This should make six sandwiches.
5. Place the sandwiches in your refrigerator for at least three hours or until chilled.
Cheesecake Bars
Ingredients:
24 ounces cream cheese, softened
1 cup flour
3 large eggs
3/4 cup white sugar
1/3 cup light brown sugar, firmly packed
1/3 cup sour cream
1/4 cup butter, softened
1/2 teaspoon vanilla extract
15 ounces chocolate frosting, ready to spread
1 cup fresh raspberries
Steps:

1. Preheat your oven to 350 degrees.
2. Beat together the flour, brown sugar and butter until well-blended and crumbly.
3. Spread mixture into a lightly greased and powdered 13×9-inch pan.
4. Bake for 14 minutes, until lightly brown.
5. Meanwhile, beat the cream cheese until smooth.
6. Add white sugar and eggs, one at a time, until blended.
7. Mix in sour cream and vanilla extract.
8. Pour blended cream over the baked crust.
9. Bake at 350 degrees for 25 minutes.
10. Let set for an hour, until completely cooled.
11. Cover with a clear wrap and chill in the refrigerator overnight.
12. Slice into equal size bars.
13. Spoon the chocolate frosting into a sealable, plastic bag. Snip off one corner of the bag.
14. Squeeze the chocolate frosting into each guest's initials on top of the bar.
15. Garnish around the edges with raspberries.
Fresh Fruit Bars
Ingredients:
1/2 cup softened butter
1 cup sugar
1/2 Crisco shortening
1 egg
1 teaspoon vanilla extract
2 1/2 cups flour
3/4 teaspoon table salt
1/2 teaspoon baking soda
2 tablespoons milk
Steps:

1. Preheat oven to 350 degrees.
2. Using a hand mixer, blend the butter, Crisco and sugar.
3. Add in the vanilla and egg, and then mix until smooth. Set aside.
4. In a separate mixing bowl, sift the flour, salt and baking soda together until combined.
5. Add the dry ingredients to the butter mixture until well-blended.
6. Stir in milk until a dough forms.
7. Spread the dough into a half sheet pan sprayed with nonstick spray.
8. To prevent puffing during the baking process, poke some holes evenly throughout the dough with a knife or fork.
9. Bake for approximately 13 minutes until golden along the edge.
10. Remove from oven and let completely cool (at least an hour) before adding the frosting.
Frosting Ingredients
1 stick butter
1 pound powdered sugar
8 ounces cream cheese
1 teaspoon vanilla extract
Several tablespoons milk
Fresh strawberries and blueberries
Steps:

1. Beat together the butter and cream cheese.
2. Add in the vanilla and powdered sugar.
3. Beat in a tablespoon of milk. Continue adding a tablespoon of milk at a time until the mixture is spreadable.
4. Spread the frosting evenly across the top of the baked dough.
5. Slice the dough and frosting into evenly distributed bars. You can also use cookie cutters to make fun shapes.
6. Prior to serving, wash and chop the strawberries and blueberries and sprinkle them on top of the bars. Dotting blueberries in the middle with strawberries on the edge, or in reverse, makes a nicer presentation compared to randomly added berries.
Tea Etiquette

Even though we've let go of many of the etiquette requirements of Victorian Britain, it's still fun to incorporate some of the formal requirements of a proper English tea party. Since many of these former rules are forgotten, print up a list of etiquette tips and include it with your invitations.
It can seem silly at first, but as your guests get comfortable with the formality, it will make for a memorable afternoon that you'll be talking about until your next tea party.
Attire
You want your guests to be comfortable, but it's perfectly fine to request they dress in semi-formal attire. Elbow-length gloves and hats are available inexpensively at party stores and costume shops. If you're sticking with a fancy theme, men should wear ties and jackets. If you have a less formal theme, you can suggest that your guests wear a particular color or try to find clothing that fits a period.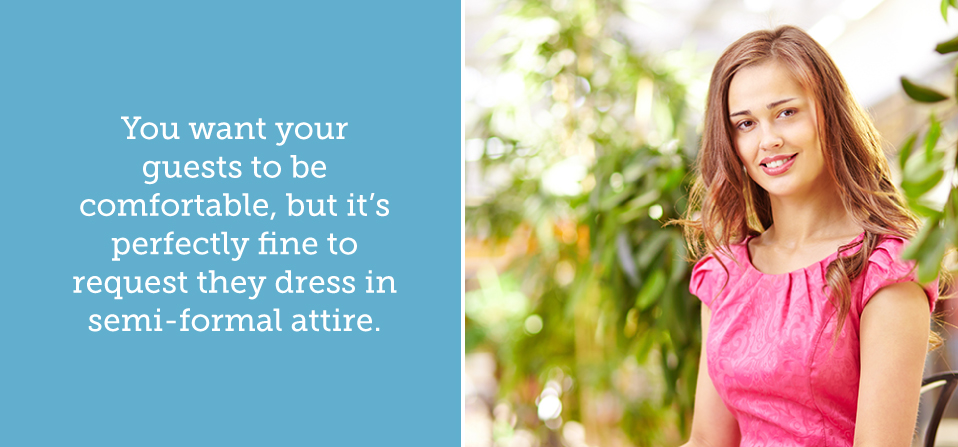 Greeting
When welcoming your guests, extend your hand and say "Welcome. How are you doing?" Introduce them to other guests by first naming the higher ranking individual to you. For example, when introducing your boss to a neighbor, say your supervisor's name first, as in "Mr. Decter, I'd like you to meet my friend, Michelle." Then allow them the opportunity to speak to one another.
Keep in mind, though, that some guests may not be familiar with such formal introductions. Be ready to move them along to another part of the party if they seem uncomfortable with making small talk.
Table Manners
After a guest is seated, she should place her purse on the back of the chair and the napkin on her lap. Men should help women by sliding their chairs in. If the men prefer to remove their coats, it should be draped on the back of their chair.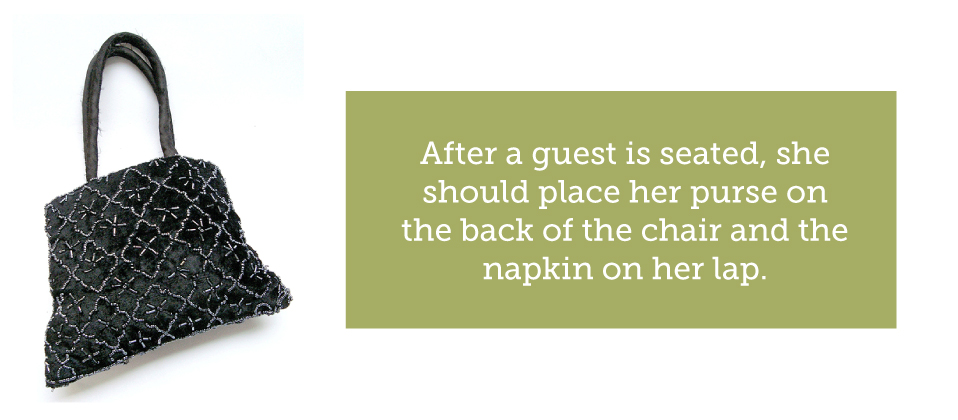 Tea Serving
When guests serve themselves with additional sweeteners or flavorings in their tea, the sugar should be used first, followed by lemon (if desired) and milk.
If you're planning your own adult tea party, you might be overwhelmed by the options. Keep in mind that you're in charge of the rules — it can be as formal or casual as you're comfortable with. There's no reason a tea party can't be dressed down and modernized or kept within the traditional confines of an English tea party.