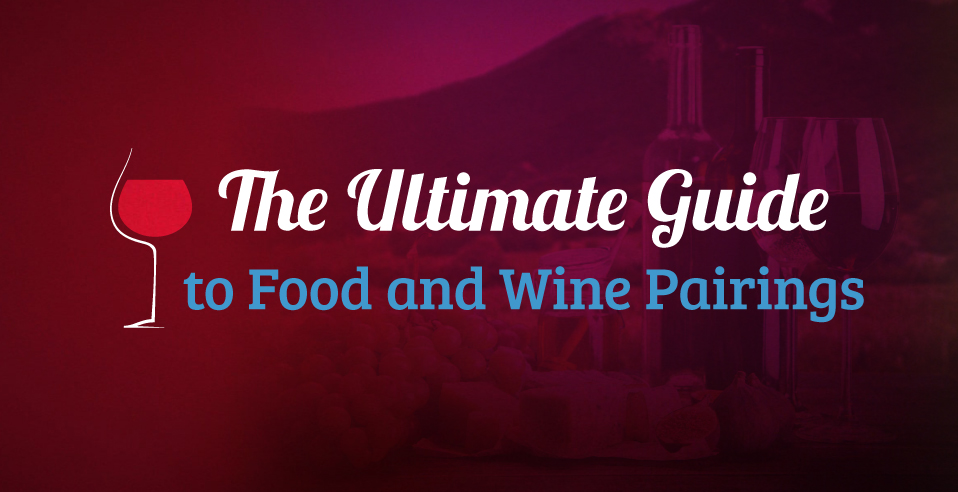 The art of pairing wine with food is something that diners of all stripes can agree is worth mastering, as it truly takes the dining experience to the next level. Rather than merely going through the motions of basic human sustenance, your taste buds will really have something to talk about at the table.
Whether you're new to wine and aren't sure what dishes will really bring out all those tasty notes, or you simply have the untrained palate of a picky child (hey, it's okay!) — wine tasting can, at first blush, seem nothing short of intimidating. However, why should it be? Food and beverage is a bridge of sorts into great conversation and new discoveries, so wine and food pairings should be accessible and fun.
For that reason, we've put together a guide that will have you tasting your way through the wine aisle with the ease and sophistication you've always dreamed of. Gone are the days of simply picking a wine based on the label on the bottle or any other arbitrary choices.
Tips and Tricks: Taking on the Wine Aisle
We don't tend to think about food in the same terms as we think about wine, instead embracing a range of quality in the foods we eat on a daily basis. Perhaps that's because food isn't exactly an option, while wine is seen as more of a luxury item, or at least more of a treat meant to be savored. You're probably not a sommelier nor a world-class chef — we could be wrong, but it's definitely a safe bet. What makes this whole idea of pairings seem so daunting is the idea that you need to transform into a wine connoisseur.

Wine can really enhance the overall dining experience, and tasting and smelling the different notes and nuances really helps train your palette, as it begins to notice small details. Once you get the experience of how wines work with different foods, you'll take your dinner parties or Tuesday pizza nights to the next level, impressing friends and family as you share your newfound pairing chops.
To get started, we'll go over a few ground rules that will make things easier next time you hit the supermarket in search of the perfect food and drink combination, and then we'll dive right into specific types of wine and the flavors that make them sing (or is it the other way around?).
Now, the old wisdom that you're supposed to color-match your wine and choice of meat does hold up — yet, at the same time, it's a little over-simplistic, even if you're a beginner.
Here's a few little things that will help you become a wine pairing expert in no time at all.
Pair low-alcohol wines with spicy dishes — Alcohol can throw more fire on the flame, so to speak. If you'd like to alleviate the spice factor with a sip of something, look for something that has a lower alcohol content. As a point of reference, most wines hover between 9 and 11 percent.
Play a game of matchmaking — The easiest way by far to tackle the wine tasting debacle. Pairing foods with a wine that has similar characteristics is the best way to narrow down your options in an endless sea of choices. Robust meats work best with bold and powerful reds. Whites tend to bring out the best in lighter fare, as fresh-caught seafood topped with fruity salsa, or fragrant herbs fresh from the garden.
Pair red meats with red wines — Okay, this one isn't a hard and fast rule (more of a starting point), but the tannic properties found in red wines definitely have what it takes to stand up to the higher fat content found in red meats. While chicken, turkey and other birds tend to work best in combination with white wines, there's an exception for poultry dressed in tomato sauce or balsamic vinegar, as the acids in the sauce echo the subtle fruit flavors found in wines like Cabernet Sauvignon or a versatile, medium-bodied Merlot.
For desserts, look toward the light — White wines tend to work best with desserts, as reds are better suited to experiences that are more savory. However, it can be easy to fall prey to sweetness overload here. Dessert wines work best when the wine itself is the dessert, so to speak.
Earthy foods go best with earthy wines – Starting to see a pattern here. That musty umami flavor found in mushrooms has a wine counterpart, or several! Certain reds, like Pinot Noir, work really well with the savory properties of mushrooms, truffles or bison meat. Perfect for a cozy night in.
Acidic wines cut through fattier dishes — For this reason, red wines totally kill it when they team up with a fatty piece of steak or a roasted duck. The naturally occurring acids found in red wines really take the edge off overly heavy meat dishes. It's the same idea as adding a citrus glaze to liven up a really dense piece of pork, or why oil and vinegar have proven themselves a winning combination time and time again.
While they work with most fats, acidic wines do not go with dairy — Blech. Trust us on this – the robust-tasting notes of cherry and dark fruits definitely work best when paired up against something that would taste good with a fresh squeeze of lime on top. Naturally, you would not do that to a glass of milk, right. Curdle city.
Acid to acid — On the flip side, acidic wines do work well with their acidic food counterparts. Tart wines (red or white) work great with citrus-tinged sauces, vinaigrette dressings and tangy tomato sauces.
But do not mix bitter with bitter — While things like dark chocolate and red wine sound like an exercise in decadence, a bitter (or tannic) wine pairs better with the opposite end of the flavor spectrum — sweets.
Think regional — This is perhaps the most obvious pairing trick you haven't yet thought of. Consider pairing wines with foods from the same region. Think Italian wine with your favorite pasta dish or oven-roasted pizza, or a Pinot Noir with a rich duck confit. It doesn't always work, but combined with some of the other "rules of pairing" we've outlined here, it should all work out for the best.
The Reds
Silky, sophisticated and best served at room temperatures, this stain-prone family of wines is best paired with cuisine that stands up to the full-bodied nuances that come into play. At the base level, red wines work best with rich flavors like red meat, duck and other foods with a higher fat content, which helps balance out the acidic properties you'll generally find in reds across the board.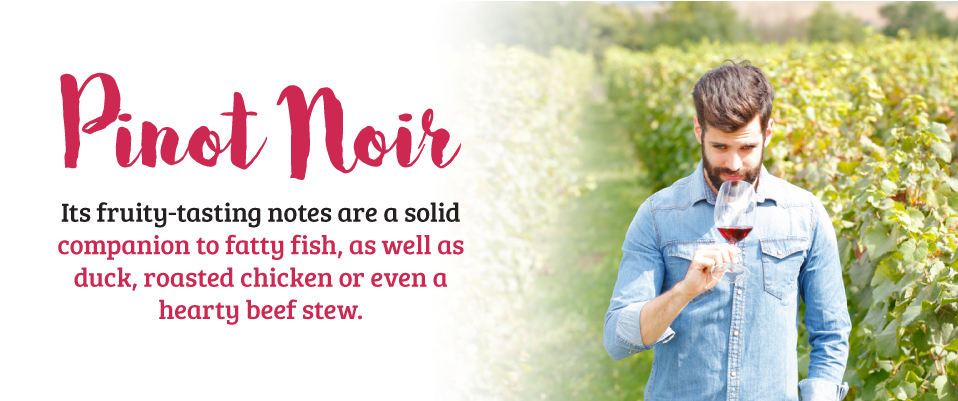 Pinot Noir — This wine is a real workhorse when it comes to partnering up with foods. Its fruity-tasting notes are a solid companion to fatty fish, as well as duck, roasted chicken or even a hearty beef stew. Sharper cheeses play nicely with this red wine. Try pairing Pinot Noir with medium-sharp cheddars, Roquefort or Epoisse. Even Parmesan or feta go nicely with this wine.
Cabernet Sauvignon — Due to notes of ripe, dark fruits and heavy tannin content, cab is an excellent partner in crime for a big, juicy steak. Your reddest and most decadent meats work best with this red wine. Or, if you're looking for something less obvious than a thick-cut porterhouse, try pairing Cabernet Sauvignon with classic meatballs, braised short ribs or a roasted leg of lamb.
Sharp cheeses like cheddar, Swiss or Gruyere work really well in a cheese plate, and best complemented with the addition of nuts, salami and other bite-sized snacking items.
Syrah — Rich, full-bodied Syrah seeks a mate that can stand up to its bold combination of tasting notes that range from tobacco and smoke to plums, pepper and blackberries. Try foods from the Mediterranean, like a roasted lamb amplified with flavors like mint, clove or allspice. A fatty, rich pork shoulder also works well with a Syrah.
Add a little pepper or some pungent spices like cumin or turmeric to the mix for a full range of flavors. Smoky or sharp cheeses like Comte or other Alpine cheeses best complement Syrah.

Merlot — We know! We've really entered the realm of meats here. Merlot, with its hint of sweetness and easy-drinking berry notes, is a surprisingly versatile red, playing nicely with grilled chicken and heartier vegetables like zucchini, eggplant or mushrooms, as well as the usual roast beef or lamb. Surprisingly, glazed ham or even chicken sausage also work really well with a Merlot.
What it doesn't work with is anything creamy, like a Fettuccini Alfredo or with overly tart sauces. When assembling a cheese plate, you have a number of options. Blue cheeses like Gorgonzola, or cheeses made from goat or sheep's milk, are all excellent choices.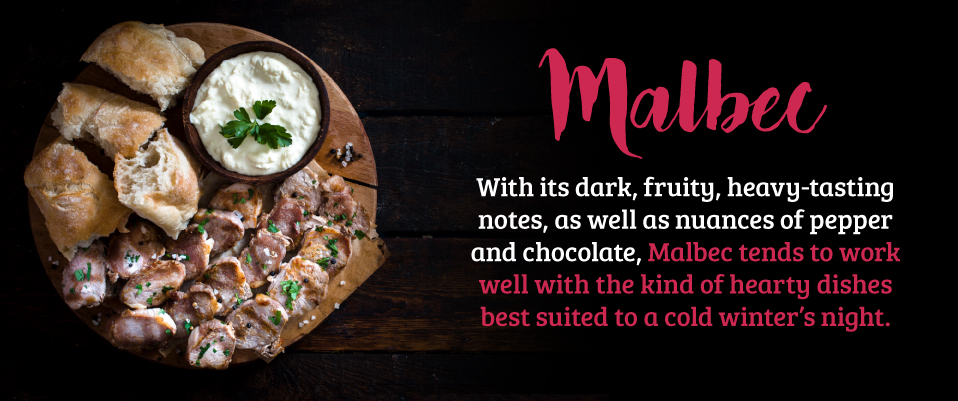 Malbec — With its dark, fruity, heavy-tasting notes, as well as nuances of pepper and chocolate, Malbec tends to work well with the kind of hearty dishes best suited to a cold winter's night. Beef Bourguignon, venison, lamb curry or duck are all excellent companions to this French red wine.
When considering the right meat to accompany a glass of Malbec, stick to rich reds or other savory staples like lamb, duck or maybe, more boldly, some dark meat from a roasted turkey. As far as cheese goes, you'll want to stick to the stink here. We're thinking Roquefort, Camembert, Blue Cheese and Stilton — all welcome additions to the Malbec-centric cheese plate.
The Whites
Veggie lovers rejoice! After all those meat-loving reds, we'll give you guys a break. White wines in general work really well with lighter fare, like chicken or fish, as well as a full spectrum of fresh, green vegetables. Most white wines boast bright, fruity flavors with hints of citrus and a full spectrum of sweetness, from tart Sauvignon Blanc to the dessert-like Riesling or the buttery Chardonnays.
Here's a quick guide to what works with some of the most common varieties of white wines. Enjoy!

Pinot Grigio — Keep things ultra-light here. We're talking light seafood accompanied by flavors like citrus, garlic or pesto. Think grilled shrimp or scallops with a bit of zip added. Other fresh flavors like tomato, cucumber, cilantro and fresh basil work some serious magic when they join forces with Pinot Grigio — its notes of lime, lemon, honeysuckle and green apples really sing when teamed up with other light and fresh fare.
In terms of meats that work best with Pinot Grigio, you'll be happy with pretty much anything from the sea — shrimp, squid, scallops, halibut and so forth are all perfect companion proteins to this white wine. If you're looking to put together a solid cheese plate, Pinot Grigio-friendly cheeses include soft varieties like Ricotta, Mozzarella, Brie or Burrata.
Chardonnay — Fish, fish, fish. Steamed, baked, grilled or broiled, Chardonnay is definitely the go-to-wine that will perfectly complement a seafood feast. If fish isn't really your thing, Chardonnay also works well with chicken, vegetables or anything really heavy in the cream department. As far as meats go, you'll want to think white and lean when it comes to pairing with Chardonnays — turkey and chicken, or fish like salmon, halibut or trout.
If you're making a cheese plate, mild cheeses — either cow or goat milk — works wonders on the palate when paired with Chardonnay. The buttery nuances present in the wine are the perfect complement to ultra-creamy cheeses.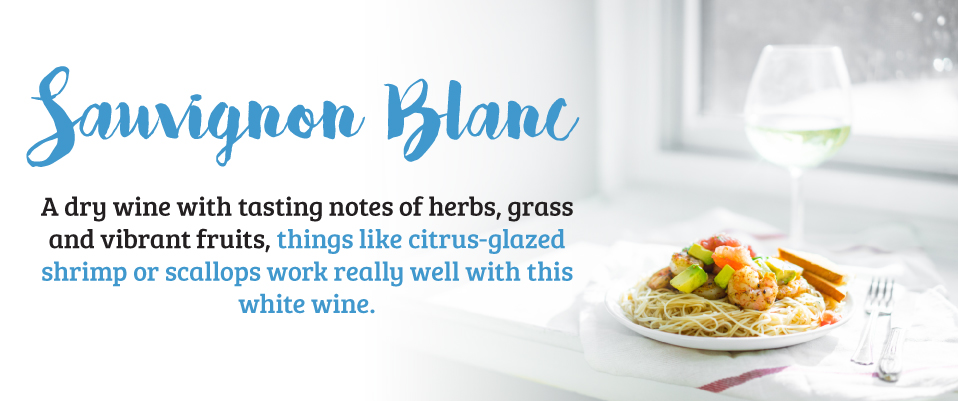 Sauvignon Blanc — A dry wine with tasting notes of herbs, grass and vibrant fruits, you'll want to think all things tart next time you get your hands on a bottle of Sauvignon Blanc. Things like citrus-glazed shrimp or scallops work really well when placed up against this tart yet easy-to-drink white wine.
This wine boasts a variety of nuances, both vegetal and fruity, and teams up for an exciting meal full of flavors with a variety of veggies, white fish and light vinegar-based sauces. Salty or creamy cheeses best complement the natural sweetness of this wine — again, blues and bries are great options.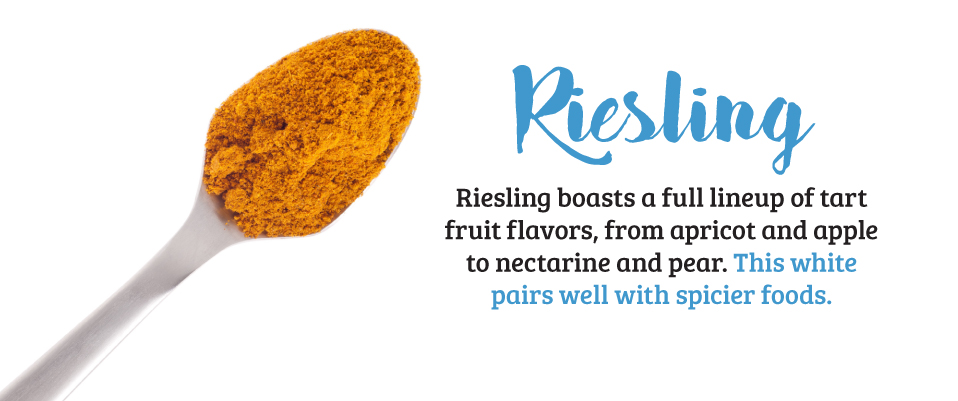 Riesling — The sweetie of the wine world, Riesling boasts a full lineup of tart fruit flavors, from apricot and apple to nectarine and pear. You'll also get hints of honey and really out-there notes of petrol or rubber. With its undeniable sweetness, Riesling tends to work really well with foods that fall on the spicier side of the spectrum — think Indian foods, with their variety of spices and intense heat, or Szechuan cuisine with its crazy hot peppers.
Meats that work well with Rieslings include pork, chicken, duck, bacon, crab, lobster and shrimp. As far as cheese goes, you'll want to steer clear of really sharp cheeses, go for softer cow's milk cheeses like brie or look for something salty like a Stilton to balance out the sweetness.
Moscato — Another wine with dominant sweetness, Moscatos also work really well with spicier food, not to mention they're a key player at the dessert table. Moscato works extremely well with Asian cuisines —Korean, Szechuan and Thai, in particular — due to the combination of pungent flavors and high heat. The natural sweetness in the wine tempers any excess spiciness, creating a well-balanced meal.
If you'd like to go the more traditional pairing route, a cheese plate is always appreciated, no matter the occasion. Look for cheeses like a salty blue cheese, soft and creamy brie, or goat cheese. For the traditionalists out there, you can't go wrong with the old tried-and-true Moscato and dessert combo. Apple pie or pear tarts are always great choices, as are desserts that feature nuts (almonds, in particular), or are heavy on the butter.

Champagne — Everyone's favorite party drink works some serious magic when it teams up with salty foods. While we're not advocating you bust out the potato chips at your next dinner party, we do recommend pairing champagne with something with a salty umami quality. Some other surprising food pairings include a lot of less-than healthy comfort foods, such as mac and cheese, barbecue chicken and chili. Talk about a real high-low combination!
The reason these unlikely partners in crime are so effective is that most sparkling wines have a hint of sweetness to them, which makes for a refreshing contrast to anything with a little extra salt involved.
Meats that work with champagne: lighter meats like chicken or turkey work best, especially with that salty component we've just talked about. White fish also works wonders when paired with the sparkly stuff. Try a fish taco and champagne for your next get together! Champagne and other sparkling wines, like Prosecco, work really well with ultra-creamy cheeses.
If you're tasked with putting a cheese plate together, think triple-creamed varieties like brie or go more savory with a Parmigiano-Reggiano or a buttery Alpine cheese.

Making the Wine Pairing Process Even More Magical
While, for many of us, simply drinking a nice glass of wine is an enjoyable experience in and of itself, there's a few simple steps you can take to elevate the process even further:
1. Bite the food and chew. (Duh? Stay with us — it gets better!)
2. Sip your wine while the food is still in your mouth.
3. Let the flavors mingle and wait for all the nuances to reveal themselves.
4. Repeat.
Simple, right? Again, don't take this whole thing too seriously. Good food and good wine really are some of life's greatest pleasures. It's all about balance, and thinking about how the flavors work together to create a really magical experience. Or, sometimes they don't. Creamy shrimp pasta, for example, is simply no good with a full-bodied Cabernet Sauvignon. Red wine and chocolate may simply be one giant myth (Seriously — they just work together to make the most bitter combination of all time.), and dessert wine is meant to be the dessert rather than an accompaniment to a big slice of chocolate cake.

Optimal recommendations aside, when you drink wine, your preferences are what matter most. Maybe you don't like white wine with your chicken or fish. No worries! First, only drink what you like. For example, there are many red wines that also work with fish or chicken — it's just is a bit more challenging to make it work. However, when it does, like when a Red Bordeaux teams up with grilled salmon, the results are superb.
Rules are meant to be broken, after all and we're just here to provide some guidance. From there, do with it what you will.
Need to Up Your Wine Game? Check Out Our Collection of Wine Accessories
All that talk about wine and the foods that love them is sure to be stirring up a craving or two. At Ceramcor, we've got a whole lot more than a great selection of ceramic cookware. If you're on the lookout for some top-notch wine accessories, we've more than got you covered.
Browse our growing lineup of kitchen accessories, from plates perfect for serving cheeses and charcuterie, to wine stoppers, coasters and other accoutrement that will make your home feel like the tasting room of your dreams.