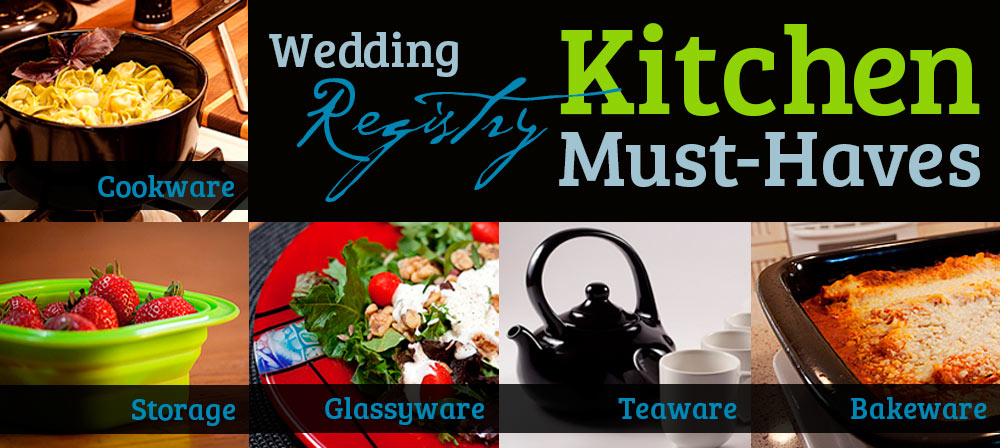 You're getting married, and you're thrilled. You've got the dress (almost), the flowers and the perfect spouse-to-be. Now all you have to do is sort out your registry. It should be simple after choosing the bridesmaids dresses, right?
Maybe not.
A wedding registry can stump even the most prepared of couples. There's a lot you probably need and lots of options. You'll want items for every area of your home — especially the kitchen. The kitchen is where you and your spouse will probably spend a lot of time, so it's a good idea to put some thought into the registry items you want for the most important part of the house.
What gifts do you really want? Which ones will you use every day? What do you really need? Is a melon baller really important? It's normal to have questions. Luckily, we've got just the answers.
Before You Start
Before putting any item on your list, sit down and take stock of what you and your future spouse already have for the kitchen. Then, write down what you need and what needs to be replaced. Still stumped? Take a look at this checklist of questions to figure out what to put on your registry:
Do both of you cook?
What are your go-to meals and what kitchen equipment do you need for that?
What kitchen items do you use most often now?
What kitchen items do you wish you had?
How big is your kitchen space?
What kitchen gear do you need to replace soon?
How often do you entertain?
Is your entertaining formal or casual?
What Do You Really Need?
You want wedding gifts that'll be practical, beautiful and remind you of your big day. They can't do that if they're hiding out in a dusty box in the garage or basement because you never use them. Sure, you might find the world's most adorable cookie cutters, but they won't do you much good if you hate to bake and rely strictly on Oreos when you need your sugar fix.
Take stock of your cooking triumphs and disasters. That way, you're not tempted by that citrus zester when you should be looking at ceramic cookware.
A Few Things to Watch Out For
It's easy to get swayed by a bright box or the idea of what you might make in the kitchen someday in all of your domestic bliss, but there are a few things that don't belong on your registry:
Anything that you're going to have to replace often
Things that you will only use once a year (or less)
Things that represent what you want to make, rather than what you actually cook
Things you've never used before or wanted to use before
Things that are very trendy
Things that are cute but low quality
Very specialized items (avocado peelers, we're looking at you)
Kitchen gear you think you should want
Anything you don't love or really need
All inexpensive or all expensive items — have some budget items, but don't be afraid to include high-end items that will last you years
Registry Must-haves to Add to Your List
So, what does go on your registry? No matter who you are and what your cooking style is like, there are a few things you'll want to send thank you notes for:
A good omelet pan
Breakfast is the most important meal of the day. It's a lot easier to make great eggs and slide them perfectly onto a plate if you have a proper omelet pan. A good pan can take you to lunch and dinner, too. With a quality, versatile pan such as the Xtrema Ceramic Omelet Skillet with Removable Silicone Handle Potholder, you can cook a wide range of meals.
This skillet is lightweight, 9.5 inches in diameter and 100% ceramic. The flared edges of the pan make it easy to slide your meal from pan to plate, and the pan can handle temperature changes easily. You can go from stovetop to freezer without worry. Easy-to-clean, non-scratch and handcrafted, this pan holds up beautifully. It's made with eco-friendly practices and a non-toxic ceramic glaze surface, which means chemicals and toxins don't leach into your healthy meals.
2) Collapsible food containers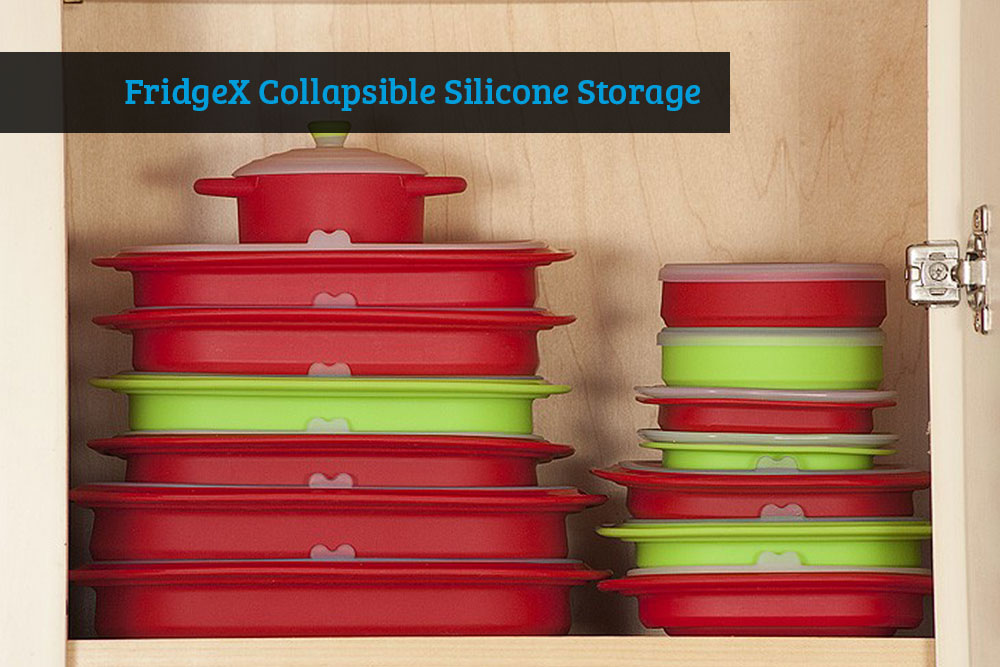 Even if your idea of cooking is calling up the local take-out place, food containers are a must-have item on your registry. Whether you're brown-bagging your lunch, making extra veggies for supper or need a place to stash your take-out from the local Chinese restaurant, quality storage containers make your life a lot easier. Quality containers that last years are a perfect registry item. It's even better if they're collapsible — you'll save a ton of space.
FridgeX Collapsible Silicone Storage containers are perfect — they're space-saving, eco-friendly and charming for any kitchen. Not just storage, these 100% silicone containers go from oven to fridge. They are very durable and won't warp, chip or flake, even with high temperatures.
They also act as bakeware. That's right — you can use these containers to cook meals in the oven (up to 450° F) or in the microwave, and then store the leftovers in the fridge, meaning less clean-up. Designed not to stain or stick, these storage containers are your future go-to solution for storing and cooking.
3) Ceramic pots and pans
There's lots of debate out there about what materials for pots and pans are safest. Some pots and pans in our kitchens contain aluminum, polytetrafluoroethylene (PTFE) and other toxins that can be dangerous if they find their way into our food. When we cook — especially with higher temperatures — some of these toxins can leach into our food and find their way into our bodies. This is not something you want to worry about during your married life.
One solution is to turn to quality, 100% green ceramic pots and pans. Xtrema ceramic pots and pans are eco-friendly, handcrafted and designed to last. These stain-proof and non-reactive pots and pans can withstand high temperatures without warping, rusting or flaking. The natural ceramic glaze leaves you with peace of mind because you don't have to worry about dangerous chemicals leaching from the cooking surface into your food.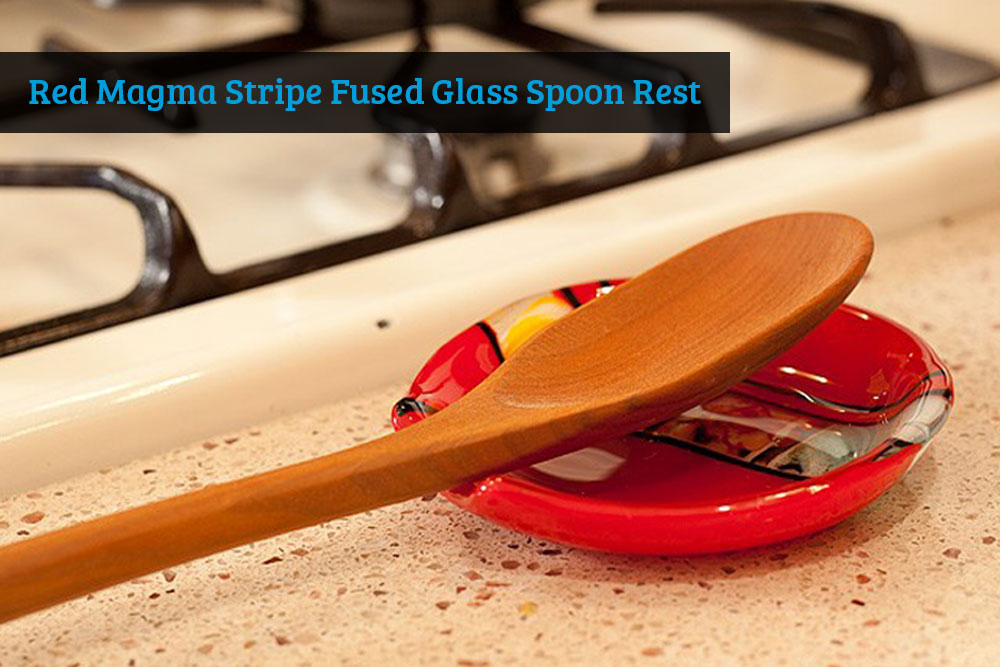 4) A glass spoon rest
You want to include a few budget-friendly items on your wedding registry. A glass spoon rest is a great option. Why a spoon rest? Well, it protects your counters and tabletops while you're cooking.
Choose an attractive glass one, and you'll have an extra way to serve food or even an item you can use as a home décor accent. Don't think a spoon rest counts as a décor item? Check out the Red Magma Stripe Fused Glass Spoon Rest. Professionally designed and pretty enough for any table, this little rest is versatile enough to be used as an accent piece.
5) A ceramic tea kettle or tea pot
You don't have to be British to want a good ceramic tea kettle or tea pot. A kettle boils water fast for anything you want, including tea, hot chocolate or instant soup. A ceramic tea pot, such as the Asiana 100% Ceramic Tea Pot, is versatile enough to deserve a place in any kitchen. Use it as a centerpiece for lunch, or serve up tea or other drinks — even cold drinks — in it. If you develop the sniffles, a pot of tea might be just the thing.
A Dutch oven (ceramic, please)
A Dutch oven, ceramic pot or casserole dish: This type of pot has lots of names all over the world. No matter the name, you need one in your life and on your wedding registry.
A ceramic Dutch oven is a heavy pot with a tight-fitting lid. You can use it on the stovetop or in the oven, and it can be used to cook anything, from chicken to slow-simmering dishes. Get one large enough to accommodate a pot roast for maximum versatility.
Xtrema's 10 Qt Dutch Oven with Cover offers excellent heat distribution and lots of cooking space. In fact, it's the largest ceramic Dutch Oven available for sale. Like all Xtrema cookware, it's handcrafted, 100% green, and designed to be healthy and safe for you and your new family.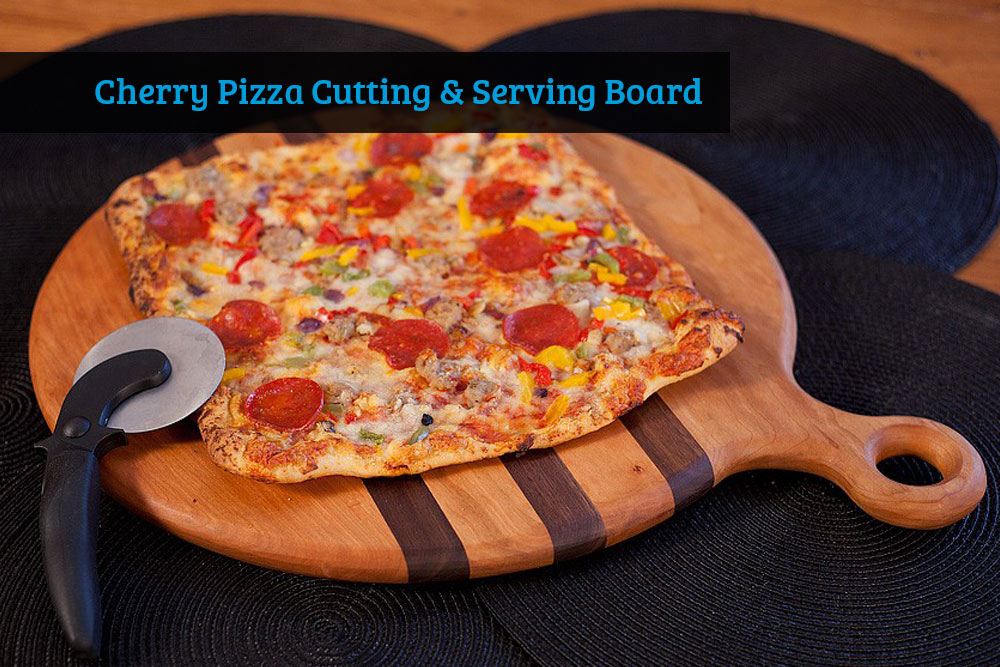 7) A quality cutting board
A great wood cutting board can last for years. Find one attractive enough — such as this Large Cherry Pizza Cutting & Serving Board — and you can use your cutting board not only to prepare food but also to serve it. A great cutting board is just something you will reach for again and again, whether you're a seasoned cooking pro or just someone who heats up frozen pizzas.
8) Knives
You don't have to be a gourmet chef to need good-quality knives in your kitchen. Sure, you can buy knives yourself at almost any store, but putting quality knives on your wedding registry is something you will thank yourself for through the years.
A good knife is not just a must in the kitchen — it can be a safety feature. Dull, poorly designed knives can make it more likely you'll cut yourself because the knife can glance off whatever you're chopping. Chef-quality knives are important if you're serious about cooking or plan on taking a cooking class. Even if you just want to slice some tomatoes for a sandwich because you could burn water, an excellent knife can make the job easier — and can save you a trip to the ER.
9) A stand mixer
The ubiquitous wedding registry item, a stand mixer can make your life a lot easier if you love to bake and cook. It can whip up dough and even help you make spaghetti in a flash. Choose one that looks great on your countertop and comes with lots of attachments for maximum functionality. A stand mixer or any kitchen appliance on your registry should be quality. Some appliances give out after a few years — you want something that will last.
Before you add this item on your wedding registry, though, make sure that you cook enough to justify it. While it can seem like everyone gets a mixer, keep in mind that it takes up a lot of real estate in the kitchen. If you stick with simpler meals and don't see that changing soon, you might want to consider adding something more practical — such as knives or dinnerware — to your registry, instead.
10) Coffee and espresso makers
When you and the love of your life stay up late or get into a busy spell, you're going to want to fuel up. In most homes, caffeine helps to keep domestic bliss, well, blissful.
You could just buy a standard two-pot coffee machine, but a quality espresso and coffee maker on your registry can help you enjoy a perfect cup of coffee every morning. If you entertain, a good-quality espresso or coffee maker will make a big difference. Just look for a brand-name model that will last for years and make an excellent cup of brew.
Hopefully, you should have an idea of the right kitchen items to add to your wedding registry. Know anyone who's getting married? Share this list with them.