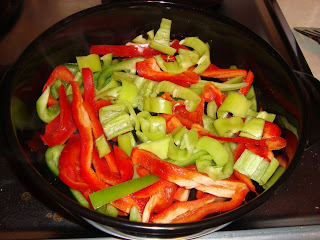 It was a beautiful hot summer night here in Maryland and we decided to fire up the grill, break out the Xtrema Cookware and cook up some delicious hot Italian sausage topped with fresh onions and peppers.
We are by no means cooking experts or gourmet chefs, we just love food and cooking with Xtrema! This is a quick and simple meal. Here is what we did–
Diced up some fresh onions and peppers from the garden, then dropped them into the 12-inch Xtrema brassier skillet with a bit of EVO and cooked them on medium heat for 10 minutes.
While the onions and peppers where sauteing on the stove, we fired up the grill and cooked up the hot sausage. We added a bit of sun dried tomato salad dressing to add a bit of flavor to the sausage. When the sausage was cooked, we placed them on the Xtrema Skillet and garnished them with fresh parmesan and parsley. We then melted the cheese on the grill and brought the skillet right to the table. Hot and tasty!!!
For a side, we chopped up a few potatoes, added some seasoning salt and oil and baked them in the over for about 20 minutes.
Preparation time was just around 30 minutes or less. Not bad at all. Check out the finished work and WOW was this good…..XTREMA GOOD!
Good Food, Good Fellowship and Great Fun!
Happy Eating,
The Xtrema Cook