Do you love Italian food and cooking healthy…
Then your sure to love this Weight Watchers Spinach Lasagna Rolls Recipe from Chef Mommy–Family friendly eats from my kitchen to yours…Enjoy!
We had a few friends over last night and tried this recipe for the first time and it was a huge success!  Everyone went back for seconds as one piece just wasn't enough.  What's even better is that it's healthy so you don't have to feel guilty about going back for more. Of course we cooked this meal in the Xtrema Ceramic 4 Qt Oblong Baking Dish and served it right to the table from the oven. Because Xtrema retains the heat so well, those second helpings of Lasagna were still nice and hot!  Wow! This dish was delicious and we recommend that you give it a try and let us know what you think…
Here is a picture of how it turned out for us—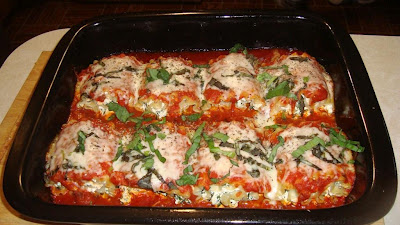 You can find this fabulous healthy recipe if you click here
 To learn more about Xtrema Healthy Cookware please click here


This is a must try so pass this tasty meal along to all your family and friends. Here's to living healthy and happy!  Make your next meal an Xtrema Experience!
For Health,
Patrick Bergstrom
patrick@xtrema.com