Come join Xtrema Healthy Cookware on Pinterest, the newest Social Media page on the web!  If your not familiar with Pinterest then visit http://pinterest.com/  to learn more about it.  You can also visit the Xtrema Cookware Board at http://pinterest.com/xtremacookware/  to see all the healthy and green things we're pinning! Our page is full of everything from healthy and green living, to tasty recipes, to the latest Xtrema Products.
Check out this Super Fast Light Italian Recipe for White Pizza with Tomato & Basil we found on Pinterest: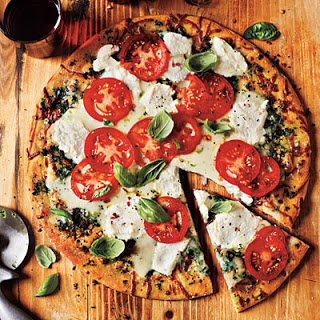 Ingredients
1 (10-ounce) Italian cheese-flavored thin pizza crust (such as Boboli) 1 teaspoon cornmeal Cooking spray
3 tablespoons refrigerated pesto with basil (such as Buitoni) 1/2 cup (2 ounces) shredded fresh mozzarella cheese
1/2 cup part-skim ricotta cheese 1/2 cup sliced small tomatoes (such as Campari tomatoes) 1/4 teaspoon black pepper
1/4 cup small basil leaves Crushed red pepper (optional)
Preparation
1. Preheat broiler to high.
2. Place a baking sheet in oven; heat for 10 minutes.
3. While baking sheet heats, place crust on another baking sheet sprinkled with cornmeal. Lightly coat crust with cooking spray. Spread pesto evenly over crust, leaving a 1-inch border; sprinkle mozzarella evenly over pesto. Dollop ricotta, by teaspoonfuls, evenly over mozzarella. Slide crust onto preheated baking sheet, using a spatula as a guide. Broil 5 inches from heat for 5 minutes or until cheese begins to melt. Remove from oven; top evenly with tomatoes, black pepper, and basil. Sprinkle with red pepper, if desired. Cut into 8 slices.
Recipe by David Bonom, Cooking Light


So get signed up and pin the things you love!! 
Happy Pinning,
Patrick Bergstrom
Xtrema Healthy Cookware