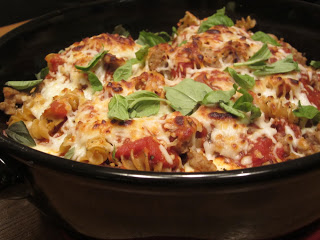 We cooked up a simple Italian Pasta Bake Meal last night in the Xtrema 10″ Braiser/Baker. (look for this product to be available again in 2013). You can use any Xtrema Bakeware product depending upon how much you want to make.
Check out our line of bakeware right here. 
No recipe, just put it together with what we had in the kitchen.
Ingredients:

Ground Turkey Meat
Jar of your favorite pasta sauce or homemade
Box of wholewheat pasta noodles
Fresh Mozzarella  and shredded Mozzarella
Fresh Basil and Crushed Red Pepper for extra zest
We first browned the turkey meat in our Xtrema 10″ Skillet and cooked the pasta in our Xtrema 2.5 Qt saucepan. We then sprayed the bottom of the Braiser with Olive Oil and then added pasta, then sauce, and chunks of fresh mozzarella. We layered this until we run out of pasta. We then topped off the dish with shredded Mozzarella, fresh Basil and Crushed Red Pepper. Bake for around 8 minutes and broil for 3 minutes or so to crisp the top. What you get is a delicious and simple 30 minute meal!The best part is that you can take your Xtrema Skillet and serve it right to the table– it will keep the food warm and moist! Plus it looks great on the table too!