16 Piece Set Giveaway Winner for February 2010: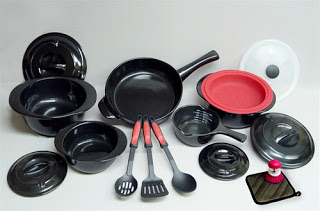 Owner Rich Bergstrom of Ceramcor Xtrema Cookware announces the first 16 Piece Set Review Sweepstakes winner today. After receiving many excellent reviews and photos, it has been determined that the winner is Georgia Mindrup who posted herXtrema Wok Review on 2/27/2010.
Thank you Georgia and to everyone who posted wonderful Xtrema Reviews. Please continue to follow the Xtrema Blog, Twitter and Facebook pages for details on the next Xtrema Giveaway Contest.
Here is the review Georgia posted: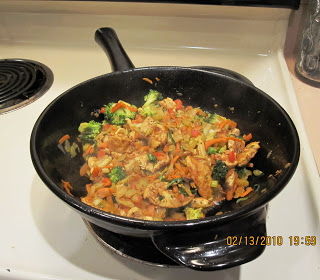 Xtrema Ceramcor Wok Review
February 27, 2010
I love trying to live a healthy lifestyle & so I'm very conscientious of what I put in my body & how I treat it. I love to cook & experiment with new techniques & I love sharing the fruits of my labor.
I enjoy the "science behind" of how food can help you — or how it can harm you. One must learn how to choose wisely to keep their bodies healthy. I am a 100% ingredient list inspector for all my food!
So it is no surprise that I've become an ingredient list inspector (so to speak) of products that will help me prepare my food for consumption in a healthy way. Years ago, I threw out my old aluminum & Teflon pans & have been gradually replacing them over the years with healthier choices.
Thank goodness that more & more people are joining the bandwagon of wanting healthier choices in life while also caring for our environment. Manufacturers are urged to improve products without an expense to environment & health.
I have been searching for a long time for cooking pans that are a healthy choice. So thank goodness I stumbled upon XtremaCeramcor Cookware – – – 'green' for the environment & healthy for the body. As I read the company's philosophy, how they make their product, & understood why it's considered green & why there are no harmful metals or chemicals that can leach out that could possibly harm the body, I knew I just had to make my first Xtrema purchase.
I thought I'd start with one item, test it out, and see if it proved to be up to my high standards so I bought the Xtrema Wok to replace my old one. I love my Xtrema wok!
I have been testing it out with many of my standard recipes. I use the wok not only for your typical stir fries, but also for prepping dishes. I've made dishes from Singapore Noodle with Seared Chicken, to Vegetable stir fry, to Chinese Vegetable Lettuce Rolls, to vegetarian Pasta Molto Verde, to vegetarian Tamale Pie & many other dishes. So I am using it frequently. I love the fact that you can put it in the dishwasher! It really does clean up wonderfully with ease.
To be honest, I was very surprised at how well the wok cleaned up actually – – – stir fries are messy & if you do cook at high heat…even more the fun to clean. I was concerned about clean up when I did my Singapore Noodle dish since it is more of a dry spice curry….no worries, I couldn't believe how great the Xtrema wok cleaned! When I was finished, it looked brand new without me having to put in a great deal of effort—I just used a SOS steel wool for a few pass overs; didn't have to use excessive scrubbing & was done in no time. I still can't believe I can get away with using steel wool on Xtrema if I need to (I'veonly needed to use it once).
What I also love about my Xtrema Wok is that is light weight. My wrists are not very strong, so for me, the light weight wok is very helpful. Much lighter than my cast iron skillets! The look of the Xtrema is a classic look— really nice. The size of the wok is your typical size & since I love cooking & using a lot of greens (kale, swiss chard, spinach, collard greens,etc), the Xtremawok has no problem fitting all of my greens & whatever else I throw in the pan. I'm able to get a really nice sear &caramelization for meats. I fried up mushrooms as a topping for my Pasta Molto Verde recipe—really nice browning on the mushrooms. I have noticed that I am using just a tad bit more of oil when frying up certain foods in the wok –but not much more & am not concerned. I always use healthy fats anyway.
Interestingly, I've tested the Xtrema Wok for some non-typical dishes—like poached eggs! I love poached eggs but clean up can be burdensome (I crack an egg into boiling water…). A couple of years ago I bought a 3 qt. non-stick stock pot specifically to poach my eggs—obviously it's been great for clean because of the non-stick but then I 'smartened' up—I now know non-stick pans are just not healthy for you. So I tested poached eggs in my Xtrema wok. They came out perfect—from the runny softness of the yolk to the actual flavor of the egg. So the Xtrema ceramic passed my test here, I will be replacing my 3qt non-stick in near future.
I also need to replace my fry pan so I fried up some pork chops in my Xtrema wok for a test. Beautiful caramelization & the flavor was super, I really do believe those pork chops where the best I had ever made from the flavor to the tenderness. I'venoticed that whenever I cook meat in the wok, I've really noticed a difference in an improved flavor of the meat. I also fried up some eggs in the wok as a test & they came out fine despite the convex bottom of the wok & so I'm looking forward to when I can purchase my Xtrema fry pan!
Because the wok has met my high expectations, I am hoping to purchase a lot more Xtrema pieces. Even the bake ware is on my wish list. I would have loved to have used the 5×7 Xtrema bake pan for my Tamale Pie —I used my Xtrema Wok for the prep work (because I use so many vegetables & need a large pan to hold it all!). The customer service is personal, friendly & has a quick turnaround time. Before I made my initial Xtrema Wok purchase, I had a lot of questions & Bob Bergstrom was quick to respond & explained all of my questions.
I'm recommending Xtrema to all my friends & family. ~~Here's to a healthy life!
Georgia Mindrup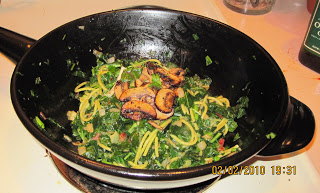 Thanks again for all those who participated in the first ever Xtrema Sweepstakes Giveaway!!
Have an Xtrema Day!!
The Xtrema Cook