It's Xtrema Giveaway Time!  
We have teamed up with Dr. Anastasia from Healthy Mama Info to offer our best-selling Xtrema 11″ 100% Ceramic Wok with Cover as a giveaway for one lucky winner.  She was also nice enough to provide us with a healthy Gluten-Free Cauliflower Cheese Pancake recipe which she cooked up in her own Xtrema Wok.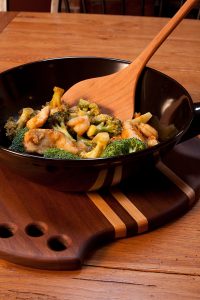 For your chance to win the 11″ 100% Ceramic Wok with Cover & Red Silicone Handle Pot Holder valued at $134.99 value, do all of the following:
1. Pin an image from this post onto Pinterest
2. Follow Healthy Mama Info on  Twitter @healthymamainfo.com
3. Comment on her post with your email address and tell us what your favorite cookware is.
4. Enter through Rafflecopter ( see link below)
*Click Here to Enter Giveaway*
Cauliflower Cheese Pancake Recipe
Ingredients:
1  head of cauliflower, in florets
1/3 cup grated cheddar cheese
2 cloves of garlic, minced
1 teaspoon sea salt
½ cup Gluten Free all purpose flour
2 pasture-raised organic eggs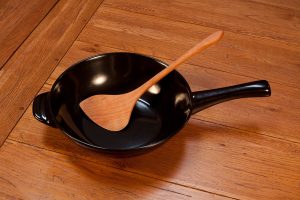 Directions:
Process the cauliflower in a food processor or a high speed blender.
Add all other ingredients and mix to combine.
Set the mixture in the refrigerator for 15 minutes to help the batter set.
Heat some coconut oil in 11″ 100% Ceramic Wok.
Drop the batter onto the pan, using a ¼ cup measure.
Fry on medium heat for about 3 minutes on each side.
May the luck of the Irish be with you on this Xtrema Wok Giveaway!  
Enjoy those healthy pancakes!