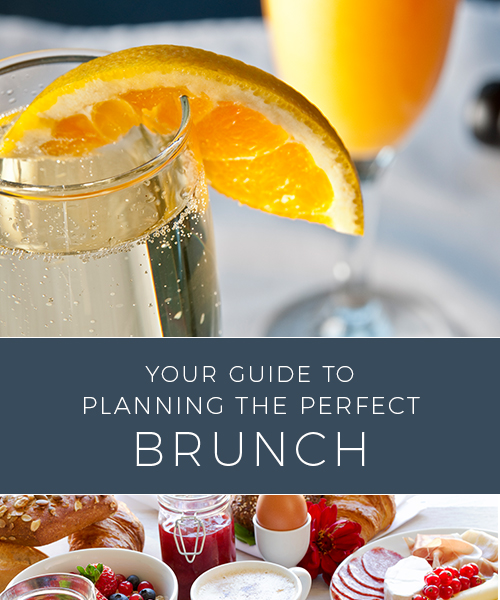 Whether it's for a weekend, a holiday or just because, brunch is a great way to get everyone together. Not quite lunch and not quite breakfast, brunch has become an early-afternoon way to catch up with our favorite people and enjoy some tasty food and drink. But, while the idea of brunch brings to mind all the usual trappings of waffles, fresh omelets and pancakes for days, as a host you don't want to get stuck behind the griddle playing short-order cook for the afternoon. To help you out, we've put together a guide to throwing the perfect, stress-free brunch party that you can actually enjoy.
Prep the Night Before
You'll want to do as much prep ahead of time as possible. We'll get into this more when we dive into food, but making some baked goods in advance, as well as getting place settings together, drinks mostly mixed and all your dishes cleaned the night (or in some cases, week) before will serve you well on the day of, when you're running around. Here's are some easy brunch party ideas to lessen the stress:
Decorations
Unless you're Martha Stewart herself, committing to a major decorating theme is an unnecessary source of stress. If you want to go all out, do your thing, but we say a clean house and some small touches are all anyone needs. Regardless, here are a few ways you can make it look like you've got the flair of a lifestyle blogger:
Flowers — Head to your local florist and pick up a couple of bouquets, or better yet, cut some from your own backyard. We're in the throes of spring, meaning there's plenty of beauty blooming outside. Make some simple arrangements — think wildflowers, tulips or daffodils, and stick to no more than three colors.
Accessorize, But Don't Go Overboard — Got some cool vintage dishes or a vibrant pitcher for serving juice or mimosas? Splashes of color from cookware or knick-knacks you've already got on hand make for a pretty table setting and require exactly zero extra effort — you'll want more room on the table for food, after all.

Opt for Easy Place Settings — Don't get fixated on things like whether or not your place settings match or that your cloth napkins are folded the right way. Make sure everyone has a plate, the appropriate utensils, a cup for coffee and another for cocktails or juice. If you have cool napkins, use 'em — but don't fret over the small details. Make sure everything is clean the night before and take inventory to make sure you're not missing any key elements.
Mix Drinks Ahead of Time — If you plan on serving any cocktails or "mocktails" during the big brunch, it's a good idea to make them ahead of time, if possible. Bloody Marys and sangria involve a bit of assembly, but putting together a good mix a day or two before will be a lifesaver. Store your premixed beverages in the fridge, then simply stir and garnish when your guests arrive.
Don't Do Any On-the-Spot Foods — Like the drinks, table settings and just about anything else, you'll want to make as much food ahead of time as possible. When planning menu items, think of dishes you can toss in the oven, like a baked hash, scones or even breakfast pizza. An omelet station or on-demand flapjacks will have you burnt out before the first few guests have even been served, and you'll likely be rethinking this whole brunch idea.
Don't Be Afraid to Ask for Help — While it's nice to be a gracious host and not require that everyone bring a dish, if your friends are kind enough to offer some assistance, take them up on it. A quiche, muffins or even some extra napkins are sure to come in handy — saving you a little time better spent outside the kitchen visiting with your favorite people.
The Food
The most important part of the brunch, of course, is the food. While it's great to have all your friends, family and place settings ready to go, getting the menu down — from eggy crowd pleasers to pastries and other delights  — will be the key to brunch-hosting success. Here are some great brunch recipes for a crowd, most of which you can make ahead.
1. Easy Homemade Bloody Mary Mix

A brunch staple served alongside your favorite egg dishes, the Bloody Mary is the perfect prep-ahead drink. Here's a recipe for a homemade mix you can store in the fridge until it's time to serve.
Mix
4 cups of tomato juice
2 ounces of freshly squeezed lemon juice
½ teaspoon of garlic paste
2 teaspoons of grated, fresh horseradish
1 ½ teaspoons of sea salt
1 teaspoon of ground black pepper
1 teaspoon of hot sauce
For Serving
16 ounces of vodka
1 bunch of celery stalks
Pickle spears
Instructions
Place all mix ingredients in a large one-quart jar or pitcher and shake with the lid on or whisk together. Make sure whatever container you decide to use has an airtight lid, so ingredients stay fresh. Also, be sure to use glass or plastic, as metal will react with the tomato juice.
Place in refrigerator overnight, or for a minimum of two hours, to let the flavors meld.
To serve, shake or stir the mixture to recombine.
Fill four eight-ounce glasses halfway with ice, then add two ounces of vodka to each, along with four ounces of the mixture.
Top each glass with celery stalks or pickle spears, if desired.
Double the recipe if you have more guests, or think they'll enjoy another round.
2. Ham and Asparagus Quiche
Quiche is the ideal make-ahead breakfast recipe — perfectly contained, yet still filled to the brim with classic breakfast staples. Change up the veggies, if you wish, or use bacon, sausage or salmon — it's up to you. Here's a relatively easy egg dish you can serve to brunch diners without breaking a sweat. A great alternative to omelets or too many batches of scrambled eggs, this quiche has everything you need — ham, veggies and cheese all deliciously combined in a premade pie crust. Enjoy!
Ingredients
2 cups of ham, cut into small pieces
1 bunch of asparagus, cut into one-inch strips
1 cup of milk (or milk substitute)
¼ cup of chopped leeks
6 large eggs
1 9" frozen pie shell
1 cup of shredded cheddar cheese
Salt and pepper, to taste
Instructions
Preheat oven to 350 degrees.
In a large Ovenex ceramic mixing bowl, beat all six eggs together with the milk, then add ham, asparagus, leeks, cheese, salt and pepper. Mix contents together and pour into frozen pie crust.
Place pie crust on a large baking sheet and place in the oven for about 45 minutes, or until top of quiche is browned.
To make sure quiche is cooked sufficiently, stick a knife through the middle. It should come out clean. If not, give it another few minutes or so.
Remove from heat and serve.
This can be made ahead of time and reheated, or made the morning of the brunch.
3. Baked Salmon Hash
A brunch classic with smoked salmon and plenty of potatoes, this hash dish is super-easy to make, hearty and perfect for serving to a group of people without much fuss. Though this can be cooked in a skillet the morning of, you can also make this ahead of time and reheat in the oven for about 10 minutes before the guests show up.
Insider tip: our Xtrema short-handled skillets work great with this recipe—just remove the handle when it's time to stick this in the oven.
Ingredients
8 ounces of smoked salmon, cut into smaller pieces
½ cup of chopped kale, stems removed
3 cups frozen hash brown potatoes
1 cup of sweet potatoes, chopped into small pieces
1 yellow onion, diced
2 tablespoons of butter (or butter substitute)
1 tablespoon of olive oil
2 tablespoons dried rosemary
2 cloves of garlic, minced
Instructions
In a large skillet, heat the butter and olive oil over medium high heat and add the onions, garlic, sweet potatoes and hash browns.
Cook for about 10-12 minutes, or until the potatoes are golden brown.
Add spinach, rosemary, salt and pepper and cook until kale is turns bright green.
Stir in salmon and serve, or store in the refrigerator overnight.
4. Breakfast Pizza

OK, get the idea of cold pizza out of your head and consider making a couple of breakfast-y oven-baked pizzas for your guests. A couple of pies, along with some of the other recipes suggested here, gives you a chance to focus on other things, while still offering plenty of food. Think veggies, breakfast meats and, of course, eggs.
Ingredients
Dough (recipe below will make enough for two 10" pizzas, or one extra-large pizza)
1 ½ cup marinara sauce
3 cloves of garlic, sliced
1 onion, halved and sliced
1 cup cooked bacon, chopped
½ cup fresh basil
1 cup cherry tomatoes, halved
¾ cups of shredded cheese
3 eggs
2 tablespoons of olive oil
Ground peppercorns
Instructions
Preheat oven to 500 degrees.
Stretch dough over the Xtrema ceramic 12" Pizza baking dish.
In a large Xtrema ceramic skillet, add two tablespoons of olive oil, and sauté onions and garlic over medium high heat. Cook for about three minutes.
Spread sauce over pizza dough, and top with the onions and garlic.
Layer cheese over the top and add bacon, tomatoes and basil. Crack eggs over the top of the pizza and top with the ground peppercorns.
Cook pizza for about 15-20 minutes, or until crust is browned around the edges, and egg whites have set.
Remove from oven and serve.
5. Thin-Crust Pizza Dough
Best prepared a day or so ahead, use this as the basis of your brunch-friendly pie, or keep this recipe on hand for whenever a pizza craving strikes.
Ingredients
¾ cups of room-temperature water
1 teaspoon of instant yeast
1 ½ teaspoons of salt
2 cups of all-purpose flour
Instructions
Combine water and yeast in a large Ovenex ceramic mixing bowl, stirring gently to dissolve the yeast.
Add the salt and flour to the bowl, mixing together until you achieve the consistency of a rough dough.
On a clean working surface, knead the dough until all loose flour has been thoroughly mixed in. The dough should feel both smooth and elastic.
Cover dough in an Ovenex large ceramic mixing bowl with a moist towel for about an hour, or until the dough has doubled in size.
Then, prepare your pizza (see above).
6. Fruit, Fruit, Fruit

There's no need to get any more complicated here, but while eggy dishes and baked goods tend to take center stage, fruit is a key component in any good brunch. Now that we're looking toward summer, stock up on fresh fruits, including all types of berries, as well as pineapple, mango, watermelon or sliced citrus fruits. Skip the cantaloupe, as it kind of feels like a filler fruit.
7. Baked Goods
If you or your friends like to have pastries on hand, either pick some assorted breads, scones and various croissants and sticky buns at your local bakery the day before. You can get away with not making everything from scratch, especially if you buy fresh. Serve with coffee, alongside your prepared breakfast fare, and you'll look like a brunch party pro.
8. A Note About Breakfast Meats
While most of the stuff we've listed can be made ahead of time, you'll definitely want to make things like bacon, sausage or scrambled eggs the morning of. There's nothing sadder than a soggy piece of bacon or a sausage grown hard and grey from lack of freshness. Cook these guys in the oven the morning before for best results, easy cleanup and no bacon grease burns. Here's a quick how-to:
Ingredients
2 pounds of uncooked bacon*
Equipment
Baking pans
Paper towels
Tongs
Instructions
Preheat oven to 400 degrees.
Arrange bacon on the bottom of the Ovenex ceramic baking pan, and stick in the oven for 15-20 minutes.
Remove from heat, and transfer bacon to a plate lined with paper towels. Blot off the excess grease and serve.
*If you decide to do breakfast sausages, cook for about 15 minutes in 350-degree heat.
As far as eggs are concerned, stick to ready-made quiches, hashes, frittatas and strata's — you'll thank us for the hot tip.
Host Brunch at Your Place — Stock Up on Kitchen Staples Today!
Now that you're armed with great ideas for how to host brunch, it's time to make sure you have the right supplies. At Ceramcor, we've got everything from short-handled skillets perfect for an easy, oven-made hash, ceramic baking pan for pastries, bacon and beyond, and a whole range of wooden cherry utensils that can stir up any egg dish imaginable. Check out our selection of wares, perfectly crafted to help you make a healthy meal with minimal cleanup.