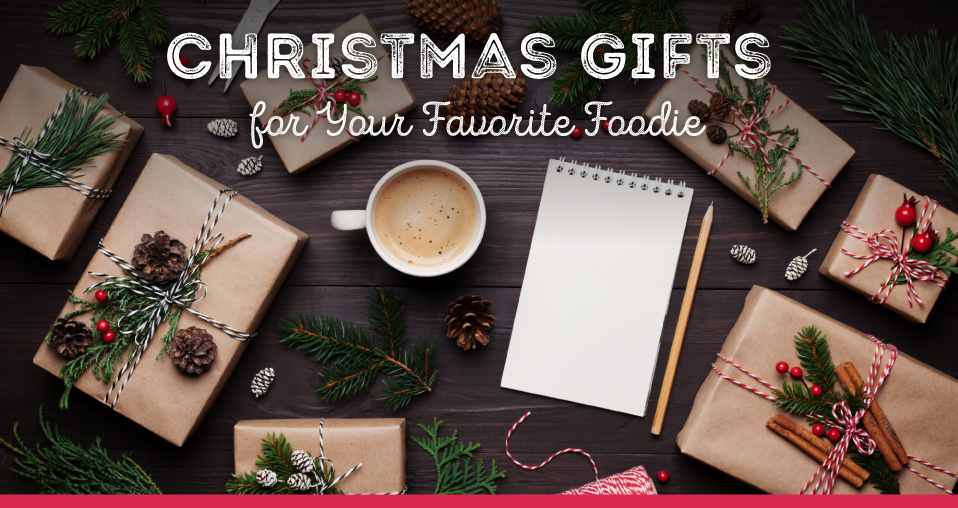 It's that time of year. There's a nip in the air; the stores are filling up with pumpkin-tinged goodies, and there's a sudden sense of urgency only a long list of gifts can instill. The Christmas buying guides are rolling out—and for better or worse—that means you'll need to start making your list and checking it twice. And maybe a third time for good measure.
While we may not be experts in helping you find a gift for those awkward acquaintances (hello, child's teacher, your hairdresser, the new neighbor, etc.), the outdoor enthusiast or the pet fiends in your life, we do have a pretty strong foodie game.
Whether you've got a food-centric gadget nut in your life, a by-the-books home chef that won't skimp on quality or an Instagram-addicted beer lover; we've got it covered.
And hey, if you don't know what someone likes — food is the great equalizer. We all need to eat, right?
Cookware and Bakeware — Gifts for Chefs of All Kinds
Classic cookware can't be beat — and we're not just saying that because we sell the stuff. For the foodie on the hunt for a Dutch oven that performs or a frying pan that beautiful piece of fish won't stick to, pots and pans —when done right — are never dull.
Invest in a big soup pot like the Ceramcor Dutch Oven. This bad boy will serve up soups and stews, braised chicken, and down-home chilis for years to come. Our version is non-stick and free from inorganic chemicals and other unsavories.

If you're feeling generous — we've got sets of pots and pans, too. Replace those cheap dorm room pans and get your favorite foodie a whole new set.
If you've got a burgeoning baker on your hands, consider upgrading some of their gear. Aside from this merely being a nice gesture, getting your loved ones some solid solutions is sure to keep the cookie pipeline full of aromatic goodies. We've got a range of Ovenex bakeware sure to up anyone's baking game. From baking dishes to mixing bowls, we've got the oven territory covered.
Gadgetry
Kitchen gadgets are a real mixed bag. For one, they've stirred up a reputation for being frivolous, impractical, the polar opposite of the minimal, Scandinavian aesthetic that's risen to prominence over the last decade or so.
But the techie food lover is a unique breed of cooking enthusiast. You've probably got one in your life. They're the person with an app for everything, a whimsical streak, someone who doesn't mind being surrounded by things.
Here are some ideas for the person who can't get enough of the stuff that supposedly makes things easier —broken down from most practical to those items that mainly exist to bring joy:
The Practical
Many home chefs prefer to keep things practical — trading novelty for functionality any day of the week. While the items listed below may fall toward the more expensive end of the gift spectrum, for the right person, these items can transform their in-home cooking experience by broadening both horizons and recipe repertoires.
Blender: Whether you go for the larger, heavy-duty Vitamix or the smaller more affordable Ninja or NutraBullet, a decent blender stands to shake up any kitchen monotony — bringing smoothies, shakes, sauces, and homemade hummus into the kitchen with ease.
Stand Mixer: Got a baking fanatic on your list? A friend that likes to try new recipes from ice creams to pasta? Or someone always making something with dough? The stand mixer can do it all and then some, if you factor in the many attachments.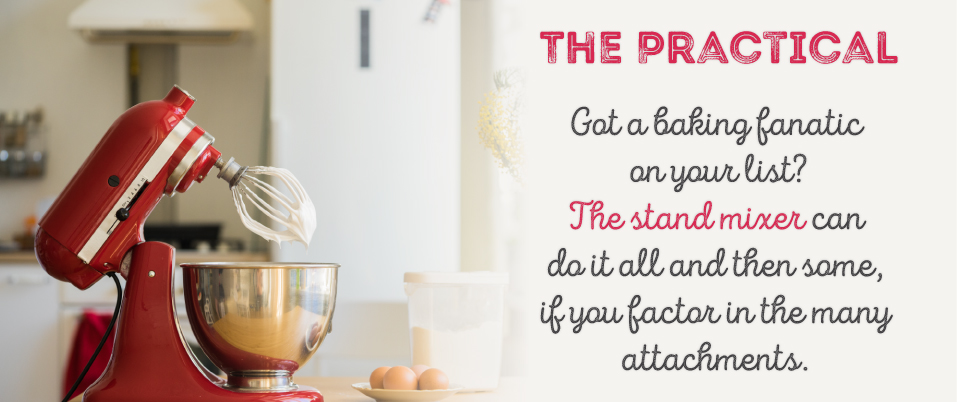 New Ways to Cut: Think spiralizers, choppers, and mandolin slicers. While an extra tool in the kitchen isn't for every home chef, simplifying the prep work will be an unexpected lifesaver for many folks that spend hours in the kitchen.
A Sous Vide Cooker: It's all about precision for the passionate foodie. Give your loved one the gift of perfectly cooked steaks, moist and flaky salmon, and the kind of poached eggs that dreams are made of.
Good Knives: A lightweight Japanese knife will be a welcome addition to any chef's kitchen, whether they're old pros or just starting out on their home culinary journey. Japanese knives are more flexible than their Western counterparts and will work wonders on chopping ingredients like fresh veggies.
Pasta Tools: Most of us are perfectly fine purchasing dried pasta from the supermarket alongside a jar of whatever is on sale — tomato basil, anyone? But the real food enthusiast knows that wherever there's flour, there's the ability to make pasta. Help out a friend and get them a KitchenAid attachment or a new board and rolling pin.
The Silly, but Potentially Useful
Silly gadgets should be used sparingly, but the right one can inspire a laugh and maybe even major functionality down the road. Pro-tip, skip things like the avocado cuber or the quesadilla maker—these guys won't get a ton of mileage and will make you seem like you're re-gifting. Below, we've listed a few ideas sure to delight:
The "Finer" Things — Tasty Christmas Food Gifts
There's always the gift basket route, too. But to impress your food-loving friend, you'll need to step it up, beyond the usual selection of chocolates, jerky, and junk food. We're thinking new flavors — truffle oil, decadent dry rubs, wine, and select spirits.
Again, gift giving done right provides the recipient with a few things that they wouldn't buy for themselves on a regular basis, so don't hold back when it comes to selecting something unique.
Some things to include:
Adult Beverages and Pairings: You can't eat a delicious treat without having a beverage to keep it company! Consider gifting your foodie friend something special to sip on for those cold days ahead. We're talking rare beers from a local brewery, fine wine, or that single malt scotch you know they're all about.
And rather than putting together a boozy basket, consider pairing your drink selection with some complimentary snacks, such as pairing red wine with rich, dark chocolates, baked brie, and figs. If the person you're gifting is more of a beer person, put together a microbrew gift basket—with a handpicked tasting selection and some gourmet snacks to go with it.
Or go for something more straightforward, choose a couple of bottles of good wine. It's impossible to go wrong there.
Fancy Spices and Oils: Tis the season… for seasoning. Get your foodie friend a nice bottle of extra virgin olive oil and a good balsamic vinegar. From there, you can build out a more substantial gift basket with things like capers and olives, jarred antipasti, and a selection of spices for any occasion.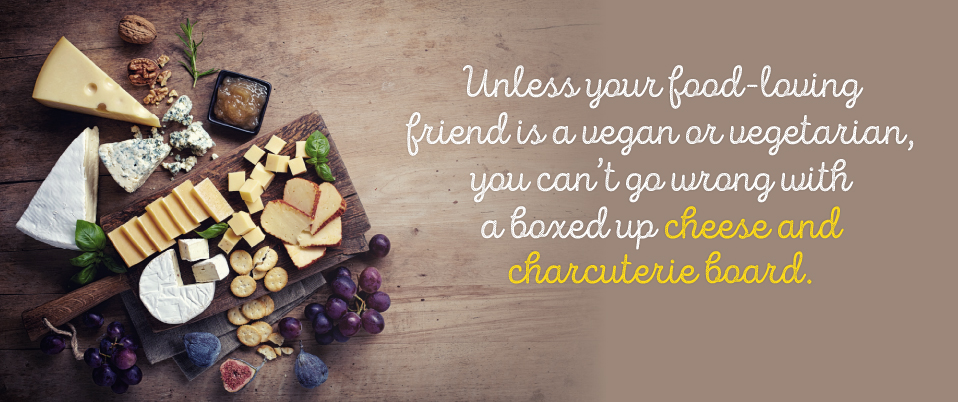 Interesting Cheeses and Meats: Unless your food-loving friend is a vegan or vegetarian, you can't go wrong with a boxed up cheese and charcuterie board. Prosciutto, salamis, and cheeses both soft and hard bring joy to loved ones who live in the kitchen, as much as those who prefer to leave the heavy lifting to the pros and eat out. Round it out with a honeycomb, smoked almonds, olives, and pickles — anything that strikes your fancy. And if you're feeling exceptionally generous, add a couple of items built to last, such as a cheese monger's board and a set of cheese knives. Maybe you'll inspire a night of hors d'oerves at their place?
Build that Culinary Library
Cookbooks may be a thing of the past for most of us since we now can quickly pull up any old recipe on the web and start cooking. But there's still something to be said for a physical book that's guaranteed to get some mileage.
Sure, hard copies aren't exactly for everyone in this cloud-based world we live in, but some well-placed cookbooks in a well-designed kitchen will inspire users on an aesthetic level. After all, we buy books these days for their functionality as much as their ability to transform the space.
On a more digital note, you could always get the chef in your life a new tablet, preloaded with some meaningful recipes. A handy tool in the kitchen, an iPad or similar item has the potential to replace all those recipe cards and clippings.
Accessorize
Sometimes the pleasures lie in the details. If you're shopping for the foodie that cares as much about presentation as the contents of their dish, get an item that elevates the experience — from dinner parties to the perfect brunch spread — and makes for the excellent photo op. Here are a few ideas, from the cute to the cool to the just plain practical:
Moscow Mule Mugs: Perfect for the at-home mixologist, Moscow Mule mugs are a sleek, simple, and timeless addition to any bar cart. And if they end up using them for regular drinking cups, so be it, they'll look cool doing it.

A New Set of Cups or Glasses: We all have vessels to drink from, to be sure, but sometimes our selection of coffee mugs starts to look a bit tired. Our wine glasses break, and there's nothing on hand for a glass of water. Upgrade their kitchen with some new mugs to kick off the new year — these guys are perfect for coffee and tea drinkers looking for a large hot beverage on a cold winter day.
Tea Sets: For your favorite tea drinker, you can offer a few different things. A tasting selection of single origin teas is a good place to start. Try roasted rice-spiked green tea, Genmaicha, powder green tea superfood, matcha, and some exotic black teas like the smoky LapsangSouchong or the fermented Pu-erh. From there, double down and add some accessories. We're thinking sturdy tea infusers, a gorgeous cast iron tea kettle, or one of our slick ceramic ones. Our ceramic teapots come in a few different styles — all of which are scratch-resistant with awesome heat retention properties.
Coffee Gear: For the coffee lover in your life, grab a bag or two of some high-end, locally roasted beans and the gear to go with it. Go for a scale to weigh the beans, a French press or pour over system, a grinder, or even a cute barista apron to top it all off. Granted, coffee aficionados may already have a well-stocked gizmo and gadget selection, so do some research before committing to buying anything. If every other option is already taken, you can't go wrong with beans, beans, beans.
Pot Holders and Silicon Grips: These practical powerhouses are never the first things that come to mind during your routine Target run or online browsing binges. Chances are, same goes for your loved ones. Get them a whimsical potholder if they like a specific animal or print, or think hot and go for these ultra-protective FridgeX Oven Mitts. It's the little things we skip, and your friend or family member will be pleased as punch that you thought about protecting them from burns. And as an added benefit, the FridgeX Mitts protect against cold, too. It's all about versatility.
The "Make Your Own" Kit
Another great idea is a food-related hobby. Got a kombucha enthusiast on your hands? An aspiring homebrewer or someone who's always wanted to make their own gin? There's a kit for everything these days from sourdough to spirits, and from pasta to bone broth to in-home herb gardens.
Subscriptions and Gift Cards
Alright, gift cards are kind of a cop-out, but if you're giving the gift of a great meal at a favorite restaurant or a new hotspot, they are always appreciated.
The same goes for subscription services. They're a dime a dozen these days, but there are so many cool options for foodies of all stripes. Think wine of the month clubs, bacon sampling clubs, a membership to a CSA — the possibilities are endless.
Ceramcor — AKA Your New Source of Holiday Gifting
Before the holiday stress starts breathing down our necks, it's time to put together your gift-list and get to it. With artisanal overload and gadgets galore, it can be a real challenge to put together the kind of gift that shows you care.
Not sure where to start shopping? Not to worry, Ceramcor is a great place to stock up on new non-stick pans, tea sets, bakeware, and accessories — both for you and that special chef in your life. Come on, take a look.