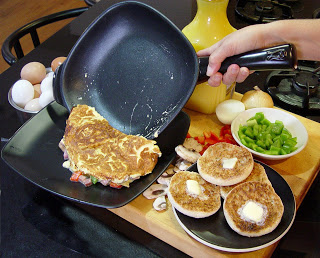 Healthy Pancakes??
Xtrema is all about healthy and green living. We make our products with the customer and the environment in mind. We are always searching for healthy living tips, tricks and great recipes. Recently we came across Runner's Pancakes on Spark Recipes! If you like to get a good workout in then these batch of Pancakes are for you!
Here's how we suggest cooking these pancakes with Xtrema:
Heat your skillet on medium for 60 seconds and then spray on coconut or canola oil. Place batter in the skillet. Flip when the top of the batter bubbles & remove the pancakes when done to your liking.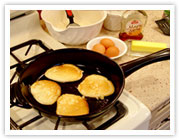 Runners Pancake Recipe:
1/2 cup uncooked oatmeal
1/2 cup fat free egg beaters or egg white equivalent
1/2 cup fresh blueberries
1 tablespoon honey
Stevia (optional)
Place mix all ingredients in small bowl and blend using a stick blender or can be made in a food processor or stand blender!!! Mix only until berries a slightly broken–2-3 pulses should be sufficient!!!
Let stand 5- 10 minutes to thicken!!! Can be made the night before and cooked in the morning!!!
Use olive oil or spray a non stick pan with non stick spray and heat before adding batter!!! Divide evenly into 3 pancake and cook thoroughly before attempting to turn!!! Cook evenly on both sides and cook even golden brown! Get outside early in the morning for a nice run and then come back and fire up that Xtrema and get cooking.
This recipe was found at http://recipes.sparkpeople.com/recipe-detail.asp?recipe=416405
Happy Healthy Living,
Patrick Bergstrom
Marketing
The post How to Cook Pancakes with Xtrema appeared first on Xtrema Ceramic Cookware Blog - Ceramcor.