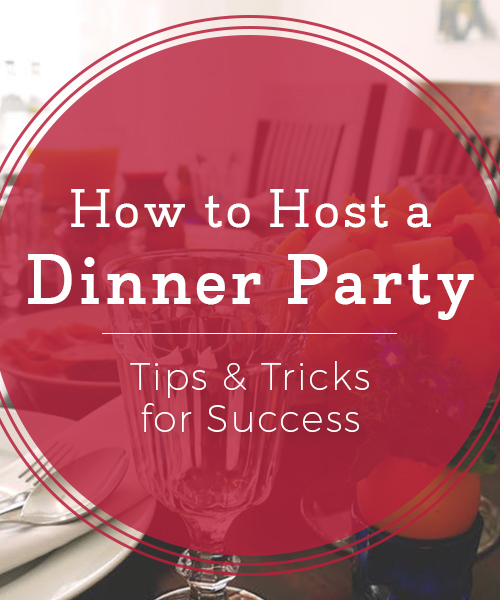 A dinner party may be representative of a bygone era, but they don't have to be relegated to the past. Sure, they might be associated with stress on the part of the hosts, an old dusting off of Emily Post's guide to etiquette or an old timey evening with your spouse's boss, but that doesn't need to be the case.
A dinner party that's both comfortable and a reflection of you as a host can be a great way to make lasting memories with friends both old and new.
Whether you're looking for elegant or fun dinner party ideas, here's a guide on how to host a dinner party that's destined for success.
Invite the Right Guests
Okay, getting your guest list right may be the most important step in throwing a great dinner party. When putting together the ideal dining roster, you'll want to be sure you're curating the type of crowd that plays well with one another, avoiding an uncomfortable situation where a guest or two feel awkward when sitting down to eat.
The key is to pick the friends who have similar interests or at least a few things in common. While merging friend groups is great, making introductions you aren't quite sure about is a challenge best saved for the next happy hour or house party. However, if you have a new friend or couple who might have a nice time, feel free to add those new faces to the mix if you think they'll fit in.
Our thought here is this: You're not throwing an obligatory family gathering, so skip the stress and save the volatile friends for a different event.
How to Invite Your Guests
This all depends on your style. Feel free to call or email, but don't write off the small pleasure of sending an official invite in the mail. If this is a last minute kind of thing, an email certainly works. No matter how you go about getting invites to your guests, though, ask them to let you know if they're coming. An RSVP will be your best friend when trying to plan your dinner party.

Another thing worth mentioning, should you decide you're throwing a themed party, be sure to let guests know exactly what they should wear and whether or not they need to bring anything. While it may sound nitpicky to remind others of the dress code, keep in mind, people don't like worrying about what they're wearing to an event.
Assigned Seating or Not
Assigned seating used to be this whole strategic play on dispersing guests according to disposition, how much they talk, etc. While it's no longer necessary for the host and the hostess to sit at opposite ends of a long table, flanked by the oldest in attendance, there may be something to planning where people will sit.
Think about your guests who may not know anyone else, and sit them by someone who will help draw them out and feel more at ease. For example, our loudest talkers ideally should be placed next to people who are active listeners and won't turn the conversation into a competition.
The goal with the seating arrangement isn't to exercise control over your friends and family. It's to facilitate good conversation, particularly in larger groups. If you're toying with small dinner party ideas and are only looking at inviting six to eight people, take some pressure off and let them pick their own seats.
Decorations, Setting the Table and More
Less is more should be the motto when you're looking at dinner party ideas. Don't get carried away with details like whether or not the dishes are fancy enough, if the chairs match or whatever other tiny thing your guests 100% do not care about. However, you do want to put on a great event, so here are some tips for getting the non-food stuff in working order:
Napkins — Make sure you have cloth napkins. They don't have to match, but this small detail takes the vibe from paper towel casual to elegant dinner party in no time.
Flowers — A couple bouquets or a pretty seasonal center piece goes along way. Grab a bouquet at the market when you pick up your supplies or pick a few blooms from your backyard.

Candles — These are another small detail that helps set the mood and makes your place smell extra good, too. Don't crowd the table with too many candles, but keep them nearby for ambiance.
Setting the table — Keep it simple. Set the table the night before — you'll thank yourself later — making sure everyone gets a wine glass, a glass for water, a plate, napkin, fork, spoon and knife. Stick to the basics and don't overwhelm your guests with extra fish knifes and scalloped spoons.
Setting the table well in advance also gives you some time to arrange name cards and play with the seating arrangement.
Clean your dishes ahead of time — We're talking a week in advance. Getting this done early can reveal if you need to pick up some more utensils, a couple extra plates or a new set of wine glasses. You don't want any last minute surprises, after all.
Inspect linens in advance — Wash, inspect and iron tablecloths and napkins ahead of time. That way, you're not scrambling to find the tablecloth when you're also trying to get the food ready.
Mains and Sides — Easy Dinner Party Ideas
While you may be tempted to show off all your culinary chops, save yourself some trouble and skip the soufflés, multi-step chocolate cheesecakes or complicated meat dishes requiring a very specific set of skills — one-pot meals are a great foundation to build your dinner party upon.
Aside from staying relatively near your comfort zone when planning this party, here are a few tips to get your mind in planning mode, one step at a time:
Allow ample planning time — We can't tell you how far in advance to start planning, but at least start thinking about the menu a week or two before the big day. If you have a long guest list, maybe give yourself a little extra time.
Do your research — Hunker down with some cookbooks or take to the web, keeping track of recipes you'd like to use. We'd advise not trying too many new things when cooking for a crowd, but doing some research can really help you put together a cohesive menu.
Think about ingredients — Seasonal fruits and vegetables are a great place to draw inspiration from for your dishes, and they are cheaper — and fresher — than products flown in from the other side of the world, too.
Write down your shopping list — Write down everything you'll need, from drinks to every spice, oil and garnish on the menu. Leave nothing to chance, especially the quantities. You should plan for enough food for each person to have a recommended serving and a half, and throw in a few extra portions for good measure. You never know if someone will bring an extra guest.
Consider the different components of the meal — You'll need a main dish, potentially a meat and vegetarian option, a few sides — roasted vegetables, green beans, potatoes, etc. — and perhaps a salad or two. Don't forget dessert, appetizers and drinks, too.
Cheese Plates and Charcuterie Platters
Cheese plates, or a more comprehensive selection of charcuterie is a good, easy option to get people settled into the dinner party. You don't want people to fill up on snacks before that beautiful meal is served, of course, but wine and cheese or cocktails and small bites is a great way to get people to mingle and feel comfortable before sitting down to eat.

Here are some tips for creating the ultimate appetizer platter:
A good rule of thumb for appetizers is, you should provide enough food for people to have about six pieces each — and don't replenish the portions.
When it comes to charcuterie — salami, pate, smoked fish, whatever floats your boat — limit the amount of meat to two ounces per person. Again, you don't want people to fill up.
Mix up the textures. With charcuterie, look for a balance between hard salami and softer cured meats like prosciutto, or something more interesting like a sour sausage or a fish that isn't salmon — though salmon is always a great choice.
With cheese, the texture rule still applies. Go for variety. Soft cheeses like brie are always a welcome addition, as are sharper cheddars and pungent bleu cheeses.
Don't forget the extras! Stock up on water crackers, sliced baguette and plenty of veggies to go with the richer stuff.
The Cocktails, Drinks, Etc.
For your dinner party, drinks are to be expected. For example, you'll want to make sure there's enough non-water beverages to go around. Get some beers, sodas and seltzer water and stick them in a cooler to save on fridge space. For wine and cocktails, here's a look at how to make things a bit easier.
Wines
With wines, make sure you have enough to go around. That generally translates to having at least enough wine for each guest to have two glasses. As a point of reference, one 750 mL bottle of wine contains about six glasses of wine, meaning, if you're expecting 12 guests, you'll want at least 24 glasses of wine, or four bottles.
We'd suggest getting a couple extra — hey, worst comes to worst, you'll have leftovers — and providing a healthy mix of reds and whites to accommodate differing preferences.
As far as pairing is concerned, and we know that's the next question on the menu, keep it simple. Rich reds like cabernet sauvignon or Malbec works best with red meats, while chicken and seafood-centric dishes are best complemented by Chardonnays and Champagnes, as well as light reds like Pinot Noir.
That cheese plate we mentioned? Soft cheeses work great with a sweet white like a Riesling or Moscato, while sharp cheeses are ideal with rich whites like Chardonnay. Don't stress too much about trying to come up with the perfect pairing, though. At the end of the day, most people just drink what they like, regardless of expert opinions.
Cocktails
Big batch cocktails will be your best bet in crushing that dinner party game with ease. It definitely depends on what foods you're going with, but a cocktail that reflects the theme of the party can be a great lubricant for small talk and a wonderful companion to hors d'oeuvres. Think sangrias, a large batch of Moscow mule with a twist or an adult lemonade with a few unexpected elements like lavender or rosemary.

A note about serving sizes: You'll want to make enough for guests to have about two eight ounce cocktails a piece.
If you decide to make an alcohol-free large batch drink, you may want to up the amount of servings, as people may opt for larger glasses.
Other Stuff
The devil is in the details, after all. Tunes, centerpieces and accommodating the food sensitive among us are things an amateur host might overlook, but do know these are key components of cultivating that good time you promised your guests:
Allergies — Food allergies are fun for no one, be it the chef trying to accommodate specific dietary issues, or you know, the person with the issue. When you send out your invites, ask your guests if there's anything you should be aware of allergy-wise so you have plenty of time to make accommodations. Sure, it might be a little extra work, but it means a lot to the allergic population — inclusivity truly goes a long way.
Music — There's a lot of flexibility with how to compile your music. You can make your own playlist or put on some records to set the right mood. You can also look toward Spotify, Apple Music and the like for a mood-specific playlist that's sure to please.
Either way, consider the vibe you're trying to create. For example, if you're looking for a low-key hang out, old school jazz is always a treat, or for a more modern feel that brings about chill vibes, look toward a softer indie mix, or something with rich, ambient sound. Be sure to plan your music lineup in advance — we'd recommend at least a few days before the party to minimize your stress levels.
Lighting — Consider the lighting. Fluorescent bulbs don't do anyone any favors at all. Lower the lights, and bring some cool lamps into the mix. Dim lighting is more flattering and creates that sense of warmth and coziness that'll take your party to the next level, with virtually no work on your end.
Delegate to others — If you're hosting friends, ask a reliable buddy or two to bring a dessert, a bottle of wine or an appetizer for the group. There's no need to spread yourself thin to be a perfect dinner party host, and many of your friends will ask what they can bring. Seriously.
Stock up on Supplies for Dinner Party Success
Ready to dive into planning mode? Need some cookware, bakeware or a fresh set of utensils? Look no further than Ceramcor. We have everything from Xtrema pans perfect for sautéing up a storm, to FridgeX storage containers for those inevitable leftovers.
The post How to Host a Dinner Party — Tips and Tricks for Success appeared first on Xtrema Ceramic Cookware Blog - Ceramcor.